Covering 180 miles of Oregon coast travel: Astoria, Seaside, Cannon Beach, Manzanita, Nehalem, Wheeler, Rockaway, Garibaldi, Tillamook, Oceanside, Pacific City, Lincoln City, Depoe Bay, Newport, Wadport, Yachats & Florence.
4/11/07
Mysterious 'Magic Rock' Beaches of the Oregon Coast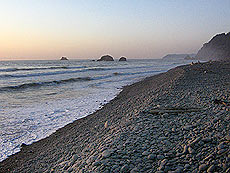 Tiers of rocks at "Magic Rocks Beach," near Cannon Beach
(Oregon Coast) – It mostly happens on the north Oregon coast: a weird delight for tourists and locals alike. It's called "magic rocks," and it's a puzzling, esoteric noise created by stones moving and crackling in the tide.
Some beaches have a proliferation of small to large, rounded stones that have been polished by the tides. These rocks, in turn, will make an odd rattling noise when disturbed by the tides as they wash across them in the sand. In some places, the noise is soft, rare or infrequent, but occurs in places you wouldn't normally think it would. In others, it is loud, even to the point of almost a roar, and so constant it inspires the term "magic rocks."
It's as if the tides momentarily give these rocks life, and they shimmy, shake and shudder as they make a rattling noise, like giant Mexican jumping beans that have grown to freakish side and now inhabit the tideline.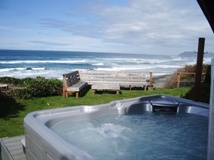 Arch Cape Property Services. Dozens of homes in that dreamy, rugged stretch between Cannon Beach and Manzanita known as Arch Cape. Oceanfront and ocean view , or just a short walk from the sea.
All homes are immaculate and smoke free; some pet friendly (with a fee). Some with broadband, indoor or outdoor hot tubs, fireplaces, decks, and fire pits or barbecues. Call about tempting winter specials that go until March (not valid holidays, however). www.archcaperentals.com 866-436-1607.
The name "magic rocks" actually comes from a nickname the locals have given to a beach just south of the Arch Cape Tunnel - one that's almost completely made up of these polished stones, and where the sound is almost continuous. They call it "Magic Rocks" beach, and it is unusual in other ways.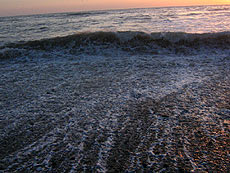 Waves do some spectacular things at Magic Rocks Beach because of the steep incline and the large amount of rocks
If you're heading south, going from Cannon Beach to Manzanita, you'll pass the Arch Cape Tunnel, and then emerge to a few stunning viewpoints that allow high vista glimpses of the ocean and Cape Falcon, towards Manzanita.
Immediately after these viewpoints you'll find Falcon Cove Road, which is a residential district. So you'll want to be respectful here as you park near a somewhat slippery, muddy beach access.
But once on the beach, you'll find one of the more intriguing spots on the coast. Here, the beach is mostly comprised of large, polished cobblestones. It's a strange place: essentially you're walking on a huge pile of rocks, sometimes carved into odd tiers, making it hard to traverse in places.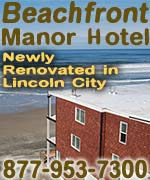 The water crashes loudly on the steep shore, dissipates quickly, then it makes a weird noise as the waves recede and pull on the rocks. The rattle is so constant that some in the area have taken to calling it Magic Rocks Beach. It is perhaps more noticeable here than most any other beach on Oregon's coast.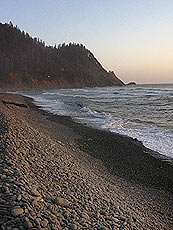 The southern side of this unique hidden spot
On the south side, things are covered in large boulders and you can sometimes make it around another, intriguing and secretive point. If you look closely, you can see fossils embedded in the rock wall here.
Follow this hidden beach to the north and you'll run into the point bordering the other side of Arch Cape.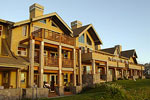 The Ocean Lodge. There will not be another property built like this in Cannon Beach in our lifetimes. Rare, premiere ocean front location; handsome, dramatic architecture and tasteful, fun (nostalgic) beach interiors. Overlooks Haystack Rock. 100 percent smoke free. Imaginative special occasion packages. Massive wood burning lobby fireplace. Library w/ fireplace, stocked with impressive book collection. Pet and family friendly. Lavish continental buffet breakfast. In-room fireplaces, mini-kitchens. Jacuzzi tubs in select rooms. DVD players, complimentary movies. Morning paper. Warm cookies. 888-777-4047. 503-436-2241. 2864 Pacific Street. Cannon Beach, Oregon. www.theoceanlodge.com
A funky TV commercial for a local product was filmed here in the early 00's, featuring a small group of young men huddling in the cold and commenting on the "babes" approaching – all of which are also bundled up for coastal weather.
Behind this interesting phenomenon lays a fascinating bit of geology.
Tom Horning, geologist with the Coast Natural History Center in Seaside, said these stones usually come from nearby headlands. Which is why most magic rock beaches are next to some sort of headland or another.
The sizes of the stones differ from place to place, making different kinds of noises and higher or lower decibels.
"The size of the rock is an indicator of the energy of the water and size availability of the rock in the first place," Horning said. After they fall from headlands, the tides and currents move them around.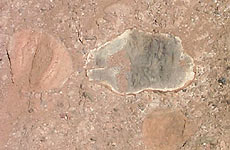 Fossils embedded in the rocks of the southern walls
"As the rocks are transported along, they jostle and grind against each other, becoming rounded," Horning said. "It takes only a few months in the surf to round most rocks. Some rocks come from source areas (cliffs and mountainsides) where fractures are abundant. They start as fractured rock and can fall apart quickly in the surf, forming small rocks. Other rocks begin as large, unfractured stone, so they resist breaking apart to smaller pieces, leaving a deposit of large boulders. Nature takes what is available and makes what is possible."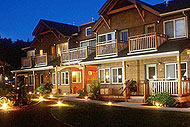 Inn at Cannon Beach. Beautifully wooded natural setting at quiet south end of Cannon Beach. Great during winter storms with a new book by the fireplace – or when the sun is out for family fun and beach strolling. Handsome beach cottage-style architecture. Lush flowering gardens and naturalized courtyard pond. Warm, inviting guest rooms. Continental buffet breakfast. Warm Cookies. Family and Pet Friendly. Welcome gifts. Smoke-free. Complimentary Wireless Connectivity. Wine and book signing events. 800-321-6304 or 503-436-9085. Hemlock At Surfcrest, Cannon Beach, Oregon. www.atcannonbeach.com.
There are more places to find the "magic rocks" phenomenon, and each of these places is strange and unique in its own way.
Arch Cape
Just north of the original Magic Rocks Beach, and a couple of miles south of Hug Point, you'll encounter the lovely little beach interlude known as Arch Cape. It's a tiny community that consists of a few homes and one or two businesses right on 101. But mostly it's a couple of beach accesses hidden behind some neighborhood streets.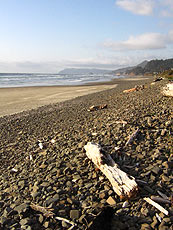 This thin, sandy beach reaches north all the way to near Hug Point (which is totally accessible after this two-mile walk if it's low tide.) But on its south side you'll find a small grouping of rock structures hugging a basalt point. At lower tides, you can walk between these and the cliffs and explore a rocky beach full of boulders and dramatic structures.
There are a lot of rounded stones here, nestled up against the cliffs. So much so, the sand itself can be nearly nonexistent at higher tides, with the stones comprising the beach almost entirely. When those high tides hit these, the sound happens with regularity and sometimes sizable volume.
It's interesting to note Arch Cape was not always covered in these stones. Locals say this entire layer just appeared one morning after a particularly heavy set of winter storms, back around 2000. Horning, a north coast resident, confirms that.
Some of the more elderly locals, however, note that these vast strips of rocks have appeared in Arch Cape at least once or twice in the last 80 years.

The dark sands of the eerie cobblestone beach beneath Yaquina Head, as seen from above
Yaquina Head
It's the massive headland that dominates the scenery in Newport, and it below it lays a stretch of rocky beach that is wild and weird in many ways.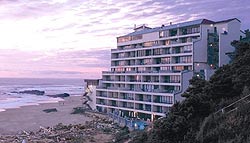 Inn At Spanish Head, Lincoln City. Lincoln City's only resort hotel built right on the beach with all oceanfront rooms - nestled against a rugged cliffside overlooking a soft, sandy beach. Dine in penthouse restaurant and bar, for casual meal or candlelight dinner. An array of seafood specialties, juicy steaks and other Northwest favorites, including decadent Sunday buffet. Rooms range from bedrooms to studios to 1-bedroom suites with microwaves and refrigerators to full kitchens. Also, wi-fi, spa, saunas, exercise room and year-round heated swimming pool. Kids will love the game room and easy beach access. Full-service conference/meeting rooms for that inspirational retreat; extensive wedding possibilities. 4009 SW Highway 101, Lincoln City. 1-800-452-8127 or 541-996-2161. www.spanishhead.com
These days, one of the headland's more popular features in the intertidal area, carved out of an old rock quarry. These wheelchair-accessible paved paths weave in and out of rocky tide pool areas that were created to see what happens when rocky shelves are left alone to become colonies of marine life.
The headland is, of course, also home to the biggest lighthouse on the coast. There's also an interpretive center here, as well as access to the noisy beach via a long staircase. This one's a bear coming back up, but it's worth it. The large cobblestones make quite a rattling noise when attacked by the tide – which tends to hit here with sizable force because the tide line is at a fairly steep incline.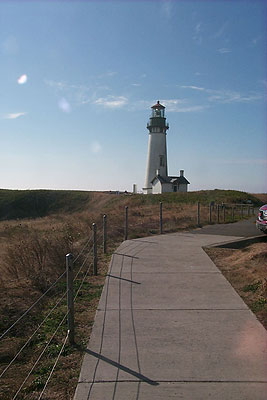 Yaquina Head Lighthouse
What's different here is the color of the rocks: often a dark blue or near black, as are the large, coarse sands of the area. It has perhaps the coarsest and darkest sand granules on the entire coast.
Its origin from the days of massive lava flows is different than those beaches up north, said Horning.
"The dark blue rock at Yaquina Head is very fine-grained basaltic lava, probably from some thin dikes or flows in the headland," Horning said. "That lava was chilled and cooled quickly."
This essentially kept other elements from creeping in and making the rock color lighter, as happened at Tillamook Head in Seaside. Horning said these coloring elements will spread through the cooling rock and settle throughout it – or disseminate – if the rock is cooling slowly and gives these chemical reactions time to occur. They then lighten the color of the cooled rock.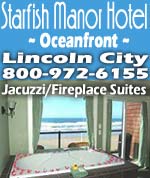 If the lava cools quickly, these elements don't have time to spread.
"Even though they formed from identical lavas, the rocks had different crystallization histories, so ended up looking different," Horning said. "The dark pigmenting minerals in basalt - dark green pyroxene and black magnetite - most effectively color the rocks when they are very finely disseminated in the rock texture. Thus, rapidly cooled, very fine-grained lava will look blue-black, whereas slowly cooled lava will be light gray in color."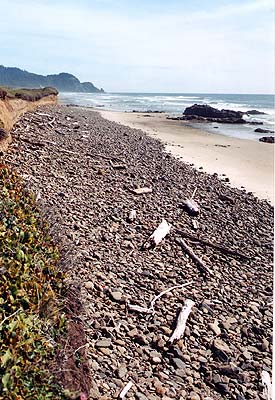 Bundles of rocks at Rock Creek/Roosevelt Beach
Rock Creek Campground and Bob Creek
Between Yachats and Florence sit a couple examples of the weird wonders you'll find in the cobblestone world. Rock Creek Campground (otherwise known as Roosevelt Beach) and Ocean Beach share this unique structure between them: a large, bulbous hill with identical dents on both sides, making the beaches look like mirror images of each other. On the Rock Creek side, the Forest Service operates this one, accessible by turning on a road inland, which then takes you to the entrance to this esoteric beach. 16 campsites are nestled in the forest here.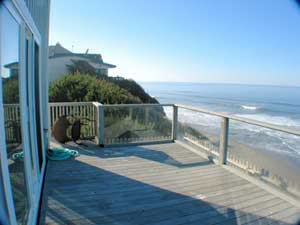 Lincoln City Vacation Homes There's something for everyone among this selection of wondrous homes: smaller homes with a view to a large house that sleeps 15. All the homes are either oceanfront or just a few steps away from the sand – all with a low bank access and fantastic views. Most are in the Nelscott area; one is close to the casino. You'll find a variety of goodies, depending on the home: fireplaces, multiple bedrooms, dishwashers, Jacuzzis, washer/dryers, hot tubs, cable TV, VCR, barbecues; there's a loft in one, and another sprawling home has two apartments. Pets are allowed in some homes – ask ahead. Each comes with complete kitchens so you'll have a home away from home. Most have the seventh night free. Prices range from winter $85 to summer $230 per night. www.getaway2thecoast.com. 541-994-8778.
If you're not camping here, you can find this gem by looking for a couple of unmarked dusty patches on the side of the road immediately south of a small bridge – and just the other side from the headland at Ocean Beach. You'll find a long stretch of bluffs which allow you access to Roosevelt Beach at various points.
You'll find this charming creek spilling into the ocean, and the other side of that headland from Ocean Beach looks strangely identical with that very similar cave-like structure in it. The strand wanders on for a while and disappears out of sight beyond the sandstone bluffs, meanwhile dotted with intriguing rock structures and covered half in stones and half in sand.
It's a fascinating and enchanting spot, made more so by the fact it's largely hidden and very unpopulated. The stones on this beach will sometimes make that dreamy, otherworldly noise, depending on the tide.
Another fine place for finding these noises is Bob Creek State Wayside, just south of the Lincoln County/Lane County line. Here, the landscape is covered in stones, but a portion of this unique beach features more tidepools than people.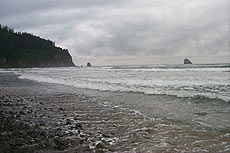 Cape Meares: the biggest and noisiest of the "magic rocks" beaches
Cape Meares and the Bayocean Spit
The Bayocean Spit and the neighboring community of Cape Meares could be the answer if you're searching for solitude – while the latter is filled with that freaky rattling sound, with an extra helping of volume. Bayocean is the spit that encompasses Tillamook Bay, and the entrance to it lies next to the tiny, fairly hidden Cape Meares - which sits about a half mile from the cape called Cape Meares.
Try the beach accesses at Meares for a little getaway, wander towards the enormous cliffs to check out the nesting wildlife above and maybe you'll get lucky and encounter the tide low enough to find the hidden cove. Either way, the beach here is mostly comprised of those bulky cobblestones that make that inspiring noise, creating quite a racket sometimes. They're large here, so the when the water wallops them, they are most certainly the nosiest of the magic rock beaches on the entire coast.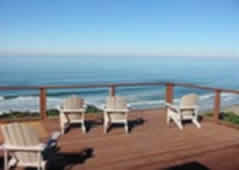 A1 Beach Rentals, Lincoln City. Perfect for large family vacations all the way down to a getaway lodging for two - with over 25 vacation rental homes to choose from. A breathtaking collection of craftsman or traditional beachfront homes, or oceanview houses – from one to seven bedrooms. In various areas of Lincoln City and overlooking the beach, with some in Depoe Bay. All kinds of amenities are available, like hot tubs, decks, BBQ, rock fireplaces, beamed ceilings and more. Some are new, some are historic charmers. Lincoln City, Oregon. 1-(503)-232-5984. www.a1beachrentals.com.
For more otherworldly pleasure, keep walking north to the spit - or take the road a mile into the spit - and hike Bayocean's big, fluffy dunes. This deliciously silent place, where an entire resort once stood, takes a round trip hike of about 3.9 miles if you walk through the sandy draw near the middle and come back around. Or you can hike the entire thing in an eight-mile loop.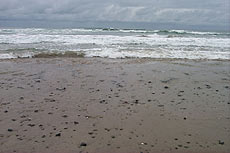 Small stones on the lonely Bayocean spit make weird noises in some spots
The beach is a salient reminder of the solitude possible on this coastline. You can walk for miles, depending on the day, and not encounter a soul. As you walk farther north, there are fewer stones and more sand, and soon the landscape changes abruptly to loose dunes. But the tideline hides a fair amount of rocks embedded in the sand, which will do their little semi-rhythmic song when the sea water gets hold of them. They do so quietly and subtly here, however, and only in a few spots.
Bayocean is a weird remnant of history. There was once a large resort town here, bustling with two hotels, a natatorium, a dance hall of sorts and five miles of roads. Some 4000 lots were created for homes, with perhaps 1600 actually being sold.
All this happened around the 1910's, with 1913 probably finding the place at its height. But heavy erosion in the area, failed business deals and finally the Great Depression ended the life of what was to be the "Atlantic City of the West."
By 1952 - when the spit was breached by a really bad winter – its streets were broken and crumbled and the place was a ghost town. A few years later, the government burned and bulldozed the majority of the buildings left. By 1971, the last of the remaining buildings had fallen into the sea.
These days, sandy bluffs are all that's left and you see no trace of the former resort. Although some locals say you can spot remnants of some parts of the community at extremely low tides – or even leftovers of foundations in shallow parts of the bay and nearby Meares Lake.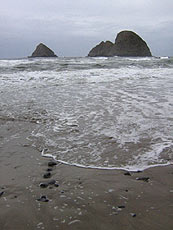 Small rocks at the hidden chunk of Oceanside will speak softly

Tradewinds Motel, Rockaway Beach. All rooms are immaculate and have TV's, VCR's and in-room phones with data ports. Oceanfronts all have a queen bed, a double hide-a-bed, kitchen, cozy firelog fireplace and a private deck. Both types sleep up to four people. Others are appointed for a two-person romantic getaway, yet still perfect for those on a budget. Elaborate oceanfront Jacuzzi suite has two bedrooms, kitchen, double hide-a-bed, fireplace and private deck, sleeping as many as six. For family reunions or large gatherings such as weddings, some rooms can connect to create two-room and three-room suites. Some rooms are pet friendly.523 N. Pacific St., Rockaway Beach. (503) 355-2112 - 1-800-824-0938. www.tradewinds-motel.com
The Mysteries Behind Oceanside's Cliffs
The beaches here are often shielded from the wind by the headland called Maxwell Point - about 100 yards north of the parking lot - looming above like a tall, dark, watchful god. To the south, it's about three miles of sandy beach leading straight to Netarts Bay, with not much else other than rocks, boulders and driftwood piled up next to the vegetation line. About a mile down, you'll find some minor trails meandering through the brush underneath the Three Capes residential development, and if you're lucky, oddly colored slabs of rock become visible if the tide is low enough.
Because of its relative protection from northwest coastal winds, the beach at Oceanside is often a great spot for sunbathing or for any activity which requires getting away from the cold.
The real fun of Oceanside's beach lies on the other side of Maxwell Point, however. The concrete tunnel here is a gateway to a stunning, secret world. Entrance into the tunnel is somewhat unadvisable in rainy weather, however, because of falling rocks from the cliffs.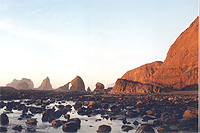 Odd landscape of the beach beyond the tunnel
But if conditions are calm, on the other side sits a stunning beach where enormous boulders and weirdly shaped sea stacks give the entire area a feel like something out of the old ``Star Trek'' series.
The entire area is cluttered with stuff to play on as well as a sense of the serene and the surreal. This includes a proliferation of cobblestones both large and small. Layers of the larger ones are piled up near the cliffs, covering the sandy portion of the beach in some spots. These are regularly rattled by the waves, especially as the tide gets higher.
Farther north along this rather limited beach, as you walk towards the unearthly rock structures, smaller, rounded stones cover the area, half embedded in the sand at the tideline. These too will make odd noises when touched by the tides, but less audible and much more subtle than most of the beaches containing these little wonders.

D Sands Condominium Motel, Lincoln City. Free, fresh baked cookie upon check-in is just the start. All rooms beachfront and up against Lincoln City's most famous stretch of beach: the D River. Each room comes as a suite or mini-suite, and has a kitchen and balcony or patio. Some w/ gas fireplaces, while all have a DVD Players; movies to rent come with free popcorn. Heated indoor pool, a spa, and this fabulous beach is lit at night. Rooms sleep from two, four to six - including a deluxe fireplace suite. Gift certificates orspecial occasion packages. www.dsandsmotel.com. 171 S.W. Highway 101. 800-527-3925.
RELATED STORIES
SPECIAL SECTIONS
oregon coast weather
oregon coast mileage chart & map
day trips, suggested itineraries
Oregon Coast Lodging Specials
Search BeachConnection.net's 1,000 pages
Oregon Coast Real Estate
OR TAKE THE VIRTUAL TOUR

ASTORIA
Where the Columbia meets the Pacific, Land of Lewis & Clark and loads of atmosphere & history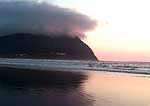 SEASIDE
The Promenade, Tillamook Head, family fun & broad, sandy beaches

CANNON BEACH
A mysterious lighthouse, upscale yet earthy, a huge monolith, fine eateries & an art mecca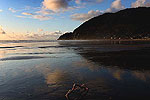 NEHALEM BAY
Manzanita's beaches, Nehalem and Wheeler's quirky beauty; laid back Rockaway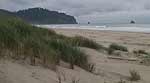 TILLAMOOK BAY
Garibaldi, Barview, Bay City, Tillamook & an oceanfront ghost town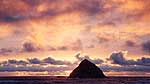 THREE CAPES LOOP
The hidden secret of the coast: Cape Meares, a lighthouse, Oceanside, Netarts and Pacific City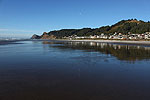 LINCOLN CITY
& THE CORRIDOR OF MYSTERY
Miles & miles of unbroken beaches, Cascade Head, Neskowin and many manmade attractions

DEPOE BAY
A spouting horn downtown, freaky hidden cliffs and whales, whales, whales

NEWPORT
Time-tripping Nye Beach, a bustling bayfront, marine science-central and two lighthouses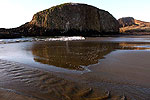 WALDPORT / SEAL ROCK
Pristine, even secretive sands and wild geologic landmarks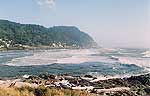 YACHATS
Constantly dramatic wave action, a mix of the rugged & upscale

UPPER LANE COUNTY
25 miles of deserted beaches & oodles of wonders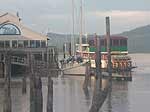 FLORENCE
A lighthouse, ancient bayfront and miles and miles of fluffy dunes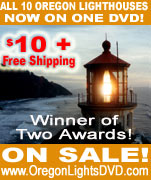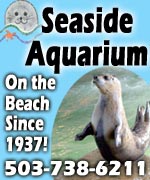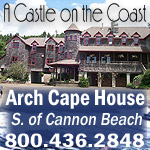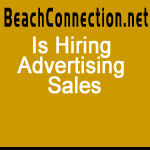 DIVE INTO LUXURY, HISTORY AT THE TIDES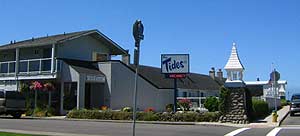 THE TIDES BY THE SEA, Seaside. For over 80 years a favorite of Seaside visitors. 51 oceanfront condos, individually owned and decorated. Suites for couples, small apartments with fireplaces and kitchenettes, one or two bed family units with fireplaces, kitchens and dining rooms. Oceanview cottages sleep anywhere from two to eight, w/ two bedrooms, some with lofts, fireplaces and kitchens. Heated outdoor pool, enormous grounds w/ picnic tables - all at quiet southern end of Seaside. 2316 Beach Drive. 800-548-2846. www.thetidesbythesea.com.
BREATHTAKING CLIFFTOP IN NEWPORT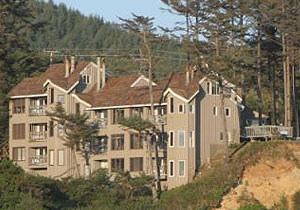 STARFISH POINT Newport - Offers only the finest in luxury condominium lodging. Every unit is focused on the beauty of the sea and the beach.
All units boast two bedrooms, two bathrooms, designer kitchens, wireless broadband Internet, fireplaces, Jacuzzi's and private decks. Friendly staff dedicated to high quality and superb customer service. 140 NW 48th Street, Newport. (541) 265-3751. (800) 870-7795. www.starfishpoint.com
For weekly updated info on lodgings and accomodation reviews, see the Travel News section
Weiss' Paradise Suites & Vacation Rentals - Seaside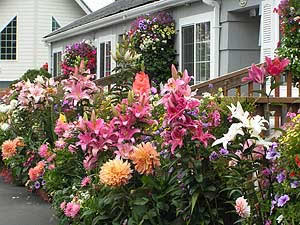 Unique Luxury Accommodations in Seaside. 1BR Suites, 1BR & 2BR Duplex Units and 3BR Houses, units for 2-8 people. Rent entire property for 20-26. Close to beach, river and Broadway St.
Suites are designed for two adults; vacation rental units for families. All units have kitchen and many have fireplace, deck and jetted tub. Comfy robes, slippers, luxury bath amenities, quality linens and more. 741 S. Downing St., Seaside. 800-738-6691. www.SeasideSuites.com