BEACH NEWS YOU CAN USE
Covering 180 miles of Oregon coast travel: Astoria, Seaside, Cannon Beach, Manzanita, Nehalem, Wheeler, Rockaway, Garibaldi, Tillamook, Oceanside, Pacific City, Lincoln City, Depoe Bay, Newport, Wadport, Yachats & Florence.
It's Fall on the Coast: Summer is Here Again.
Oregon Coast Travel: Wading In October's Warmer Waters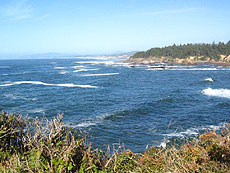 Saturday: waves at Boiler Bay are so calm they do little crashing
(Oregon Coast) – It's still a somewhat unknown secret that right now is the warmest time of the year on the Oregon coast – a slightly clandestine nugget that still somehow eludes most visitors to these beaches, especially those regular travelers from the nearby valley.
Yet here it is now, early October, and the region is still baking beneath bright skies and dark blue waters that are calm and a little bit warmer than usual.
DIVE INTO LUXURY, HISTORY AT THE TIDES
THE TIDES BY THE SEA, Seaside. For over 80 years, The Tides has been a favorite of Seaside visitors. History meets modern luxury here. 51 oceanfront condos, individually owned and decorated. Find suites for couples, small apartments with fireplaces and kitchenettes, one or two bedroom family units with fireplaces, kitchens and dining rooms. There are wonderful oceanview cottages that sleep anywhere from two to eight people, with two bedrooms, some with lofts, fireplaces and kitchens.
Meanwhile, the heated outdoor pool, enormous grounds with picnic tables and location at the quiet southern end of Seaside make for some memorable means of play and repose. 2316 Beach Drive. 800-548-2846. www.thetidesbythesea.com.
It's hard to say just how long this weather phenomenon will last, but the safe estimates are for at least another week, until the middle of the month. Even so, in recent years the warmer temps have lasted well into the latter half of the month. These conditions, including less wind and lesser clouds, are creating the perfect environment for finding some last minute joys splashing around the waters of the region.
Plus, with lodging prices now beginning their nosedive, and less crowds on the beaches, this year's "second summer" is turning into an especially vibrant and memorable one.
Currently (Monday, October 9), it is balmy in Newport's Nye Beach area, with seamless blue skies and a pristine, blue and placid ocean. It is almost unreal. So BeachConnection.net staff urges you to hit the coast in the next week and partake in some of this unbelievable beauty. Just keep an eye on the weather reports.
Here is a guide to some beach highlights that will welcome the traveler with open arms in such weather.
Diving Into Seaside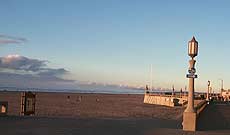 Almost two miles of sand stretch from the southern edge of the Necanicum River to the "Cove" area at the base of Tillamook Head in Seaside - probably the Northwest's single most popular beach. Along the way, you'll encounter the Promenade, about a mile worth of lovely walkway traveling alongside the beach and breakers. There's the Turnaround, with the statue of Lewis & Clark at its center, and the copious shops, arcades and restaurants bundled along Broadway, which begins (or ends) at the Turnaround. There are numerous cute cottages from the early part of the last century, and the replica of the salt boiling structure Lewis & Clark used - in the very spot it originally sat.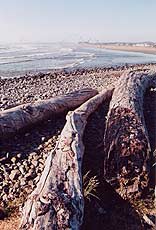 On the beach, it's an enormous expanse of soft sand, with the occasional pile of driftwood waiting for the would-be bonfire-maker and a bit of playground equipment here and there.
The closer you are to the town center, the more populated the beach. Wander closer to the rocky, cobblestone-strewn stretches of the Cove area to the south - or the bulky dunes of the estuary to the north - and you'll find less and less human beings. At the north end, and along the beaches of Gearhart, you'll also find more sand dollars than anywhere else on the coast, thanks to a variety of environmental conditions that come together and leave tons of whole ones littering the beaches, sometimes in the thousands.
Tillicum Beach Campground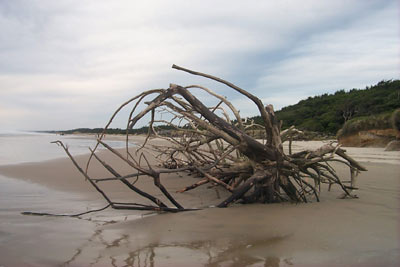 Almost exactly halfway between Waldport and Yachats, you'll find this funky little Forest Service campground that's been a longtime favorite of those in the know. It's a well-maintained gem, where nine miles of sand in either direction is the big attraction.
There' are 59 sites, full amenities, RV spots and even a small amphitheater that comes complete with an electrical system and a large outdoor movie screen - all of which helps make this one of the coolest campgrounds in existence.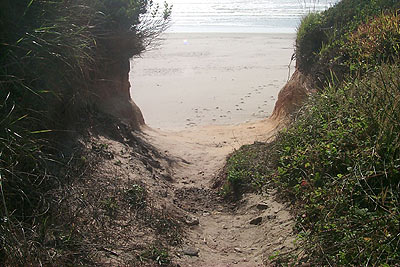 There are some interesting secret beach accesses about a mile south of here. About MP 161 (approximately a mile south of Tillicum) you'll find streets named after states. Look for Oregon St., turn west and you'll find a hidden beach access in between some homes. It's still fluffy sand around here.
Take care when parking as not to disturb the residents.
Another one lies close by, just a mile south. Around MP 162 - just kitty-corner from Brubacker St. - there's a patch of gravel on the west side of 101 and a small wooded trail wandering off to the beach. Here, it's a little less than a mile to the basalt-covered world of Yachats' beaches. But near this clandestine beach access, you'll also find some large, colorful boulders and a little hidden cove in the cliffs.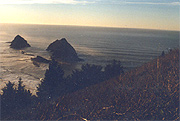 Oceanside
Cool off in the waters of one of the more magical beaches on all of Oregon's coast - in front of a tiny town that's like one big hidden secret, laying just west of Tillamook.
There's but a handful of businesses here: an espresso shop, two restaurants, and a smattering of motels and rentals. Most of the buildings are nestled up on the steep hill overlooking the ocean, looking a bit like Astoria or a primitive San Francisco.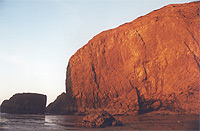 This pristine beach features miles of sand to the south, until you hit one end of Netarts Bay. Capping the northern end of town is the imposing Maxwell Point - and the Three Arch Rocks just offshore. But that's not the end of Oceanside. Indeed, there's a tunnel built here in the early part of the century which still survives, letting you visit the other side. This secretive strand contains a myriad of surprises, like coves, caves and giant rocky slabs and small sea stacks in odd shapes. It all looks somewhat like something out of the old "Star Trek" series.
Strange and Secret Sights Near Manzanita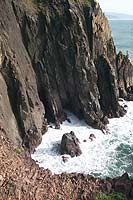 Just a few files north of Manzanita, you'll find Oswald West State Park. But somewhere between that town and the state park, it's impossible to miss the striking vistas of Short Sand Beach and the cliffs that form half of this crescent-shaped cove. You can't dive into these waters by any means, but this area is a fantastic sight and a memorable, even esoteric experience.
Pull over on one of the gravel parking spots off the side of the road, and there's the one-mile-plus hiking trail heading down to Short Sand. Walk down this trail a bit, veer to the left - instead of going down to Short Sand - and you'll encounter a totally different set of inclines and cliffs.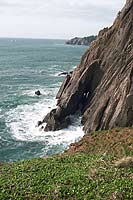 Giant basalt structures form the various headlands here, with craggy shapes jutting up from the ocean and bundling together. In one area, the sea boils and tumbles against a hidden cove, with black, jagged spires forming something akin to a creepy, post-apocalyptic cathedral (sort of reminiscent of the "Planet of the Apes" films). Another spot visible from these dangerous cliffs showcases more of the jagged shapes, this time with enormous holes and arches in them. Through these, you can see other headlands to the north. Be extremely careful here, however.
The drop-offs here are sudden and deadly. In fact, it was near here where a famed creator of the show "COPS" died about two years ago, after he fell from a cliff while hiking these bluffs.