Covering 180 miles of Oregon coast travel: Astoria, Seaside, Cannon Beach, Manzanita, Nehalem, Wheeler, Rockaway, Garibaldi, Tillamook, Oceanside, Pacific City, Lincoln City, Depoe Bay, Newport, Wadport, Yachats & Florence.
1/8/07
A Night in a Grand Victorian on the Oregon Coast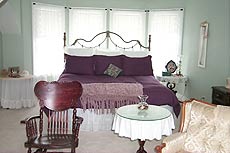 Victoria Room
(Newport, Oregon) - It's one of those delicious and slightly secretive spring days on Oregon's coast. It's late March, just after the main spring breaks have sprung, so the big tourist hubbub has subsided a bit, and you feel like you're part of the in-crowd with the weather this way – like you're in on something special. The sun is beating down through a blue sky, albeit still a bit chilly and windy. The nights are clear but cold, with an immense frosting of stars splattered across the blackness. It's like a teasing of summer, with that crystalline beauty of winter mixed with a touch of those things we all love about summer, giving the town of Newport an intense, almost otherworldly feel, along with that bulging sense of energy that spring conjures.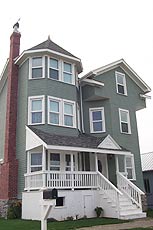 It's on this kind of a week where I become reacquainted with a remarkable lodging in the atmospheric and uber-charming neighborhood of Nye Beach, where the architecture and street designs already bring you back in time as the sea rolls in nearby. But this beautiful little B&B, with its affectations for bygone eras, takes that vibe to another level.
The Grand Victorian B&B is a striking beauty recently built to look and feel like a time trippin' jaunt to the distance past. Indeed, a graceful elegance fills this place, with hovering chandeliers, an almost spiral-like staircase that wouldn't seem out of place in a gothic romance novel or classic film, and rooms filled with interesting knickknacks that impart that sense of another age.
Terry and Eileen Obteshka run this place, having built it a few years ago to not only fit in with Nye Beach's historic-copping architectural guidelines, but they've made you feel like you could've walked onto the set of an old BBC show or the gushy fantasy Christopher Reeve flick, "Somewhere In Time."
Their Victoria Suite encompasses the entire third floor, providing a panoramic view of the ocean. There's a hot Jacuzzi bath, private balcony, king bed, sitting area, walk-through closet and private bath and shower. From here, the sounds of the surf and a whistle buoy on the distant ocean lull you to sleep, while the décor will send frissons through the parts of your brain that are activated by all things romantic or tasteful. Martha Stewart ain't got nothin' on this place.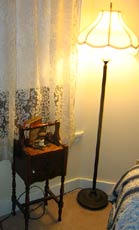 Bundles of knickknacks in Sir Charles Room
The Lady Catherine's Room is on the second floor, also overlooking the waves. It includes a queen bed, cable TV and VCR. Its décor is a bit more Spartan, but there's that distinctive Victorian charm and coziness that permeates the place, as in all the rooms.
I stayed in the Sir Charles Room, which is also on the second floor, but overlooking the bustling main street through this district (well, as busy as Nye Beach can get), along with a handful of charismatic little shops. The room has a bundle of little antiques dotted throughout, imparting memories of my grandparents' pads back when I was a wee one.
It simply screams Old World elegance, and again reminds me of Reeve's character from "Somewhere In Time." I feel like I should be dressed in period garb from at least 1910 or further back. I think about his character waking up, in costume, transported from the 70's into the early part of the century.
I kick myself for not having taken a date with me.
The staircase always mesmerizes me here. It looks so ancient, yet is so obviously new and polished, exuding a sense of the posh on top of the time travel thing. I've explored this place before, years ago, and took numerous pictures of the complex stairway, which is easy to make artful photographs of. Along the way, there's a small maritime-like window with a tiny game area next to it. Adorable details abound here.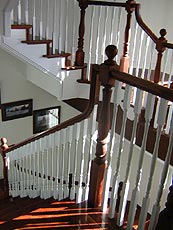 Downstairs, there's a living room packed with books and other knickknacks, where fat, comfy chairs create a seating area that's exceptional for lounging or chatting with other guests.
This place is also different in that you must remove your shoes upon entering, which somehow brings everyone to the same level in some small sense, giving all guests a tiny jolt of the unfamiliar they must all share. Pretension is assuredly shed in this laidback coastal paradise. Be you tycoon or typist, that hole in your sock will show.
The ocean is doing some intriguing things, with a bit of occasional wild wave action. Low tides are exceptional, however, sneaking way out and leaving a much larger than usual beach to play on.
At night, the stars are out in full force, and it's a taste of that in-crowd dynamic again as I get invited to a private after hours celebration at a local business. Some friends are whooping it over a particular triumph that week.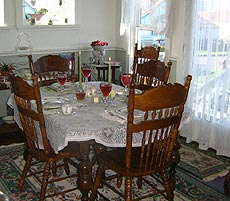 The breakfast table makes its first appearance
The other big highlight at Grand Victorian B&B is the gourmet breakfast in the morning, where, if you leave the table rolling instead of walking, you've done something wrong. This incredible feast will hold you past lunch. The enchanting retro kitchen, with its massive Aga stove, provides a bounty of delectable delights, led by the able hand of Eileen. The other guests and I walk in to discover a carefully set table, with fresh fruit juices inhabiting some lovely glassware, amidst these surroundings from another time. White, gauzy curtains create a dreamy feel to the scene, and again I'm struck with a sense of the cinematic about it all: this could be a movie about romantic time travel.
Bacon, French toast, eggs and organic coffee arrive at the table, where three other guests have joined me to try and be chatty so early in the morning. Some are better at this than others. In any case, the waffles were of some stunning whole grain variety that left me scarfing them up rather greedily.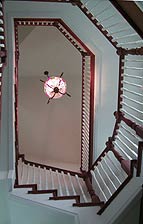 Oregon is a small state, and it's hard not to bump into someone you know just about anywhere – often with hilarious results. One man, it turns out, was sort of indirectly my boss once at a photography job I had for the community college back in Salem. I was kind of a screw-up at the time, and he was one of the reasons I was fired. He doesn't remember me, and it took me a little bit of time to remember who he was, but I had it figured out by the time the breakfast ended.
I could only laugh at this coincidence, especially since I had a blast talking to him and his wife about other coastal areas. He, too, had the same almost paranormal spiritual-like experiences I had with Neskowin. It was nice to talk to someone else who understood what I had sensed at that most special of Oregon coast beaches.
Nighttime brings out the cook again in Eileen. "Each evening I make either cookies, brownies, or apple crisp for their dessert," she said. "We also give guests optional times for their breakfast of either 9 a.m., 10 a.m. or 11 a.m."
Checkout time is noon at the Grand Victorian, which helps people like me who like to stay out late, whooping it up in whatever coastal burgh I'm in.
The Obteshkas also have a vintage rental cottage next door, which also has an old-world feel, although not quite as pronounced. This is more like the 1920's or 30's, with old-style heating fixtures and architecture mixed with the modern but cozy furniture. The front area is a sort of atrium, created by a porch that's enclosed, allowing you a view of that mesmerizing, flat ocean horizon. It's a perfect place to take in the sunny surroundings or watch the melee of an ocean storm.
There's a small dining room here, a full kitchen, two bedrooms, and the living room is a beauty.
You'll find the Grand Victorian B&B right on Coast Street, which is the main drag through Nye Beach. It's about a half block away from the Newport Performing Arts Center, and like everything in Nye Beach, a quick walking distance to eateries and attractions like the center for the visual arts, Panache, Blu Cork Wine Bar, Nye Beach Gallery, Nye Scoop and dozens of other attractive amenities and shops. 105 NW Coast Street, Newport. www.grandvictorianor.com. 503-508-4820.

Scenes of the vintage cottage rental home at Old Victorian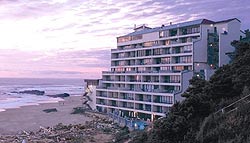 Inn At Spanish Head, Lincoln City. It's Lincoln City's only resort hotel built right on the beach with all oceanfront rooms - nestled against a rugged cliffside overlooking a soft, sandy beach. Enjoy dining in the penthouse restaurant and bar - whether you're in the mood for a casual meal or a candlelight dinner. They offer an array of seafood specialties, juicy steaks and other Northwest favorites, including a decadent Sunday buffet. Rooms range from bedrooms to studios to one-bedroom suites with microwaves and refrigerators to full kitchens. Hotel amenities include wi-fi, spa, saunas, exercise room and a year-round heated swimming pool. Kids will love the game room and easy beach access. Full-service conference and meeting rooms for that inspirational retreat; extensive, gorgeous wedding possibilities. Near the south end of Lincoln City at 4009 SW Highway 101. 1-800-452-8127 or 541-996-2161. www.spanishhead.com
DIVE INTO LUXURY, HISTORY AT THE TIDES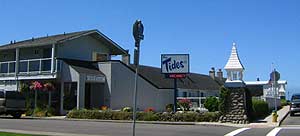 THE TIDES BY THE SEA, Seaside. For over 80 years, The Tides has been a favorite of Seaside visitors. History meets modern luxury here. 51 oceanfront condos, individually owned and decorated. Find suites for couples, small apartments with fireplaces and kitchenettes, one or two bedroom family units with fireplaces, kitchens and dining rooms. There are wonderful oceanview cottages that sleep anywhere from two to eight people, with two bedrooms, some with lofts, fireplaces and kitchens.
Meanwhile, the heated outdoor pool, enormous grounds with picnic tables and location at the quiet southern end of Seaside make for some memorable means of play and repose. 2316 Beach Drive. 800-548-2846. www.thetidesbythesea.com.
RELATED STORIES
SPECIAL SECTIONS
oregon coast weather
oregon coast mileage chart & map
day trips, suggested itineraries
Search BeachConection.net's 800 pages
Oregon Coast Real Estate
OR TAKE THE VIRTUAL TOUR

ASTORIA
Where the Columbia meets the Pacific, Land of Lewis & Clark and loads of atmosphere & history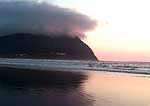 SEASIDE
The Promenade, Tillamook Head, family fun & broad, sandy beaches

CANNON BEACH
A mysterious lighthouse, upscale yet earthy, a huge monolith, fine eateries & an art mecca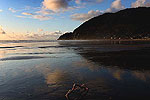 NEHALEM BAY
Manzanita's beaches, Nehalem and Wheeler's quirky beauty; laid back Rockaway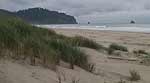 TILLAMOOK BAY
Garibaldi, Barview, Bay City, Tillamook & an oceanfront ghost town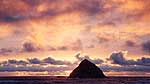 THREE CAPES LOOP
The hidden secret of the coast: Cape Meares, a lighthouse, Oceanside, Netarts and Pacific City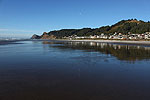 LINCOLN CITY
& THE CORRIDOR OF MYSTERY
Miles & miles of unbroken beaches, Cascade Head, Neskowin and many manmade attractions

DEPOE BAY
A spouting horn downtown, freaky hidden cliffs and whales, whales, whales

NEWPORT
Time-tripping Nye Beach, a bustling bayfront, marine science-central and two lighthouses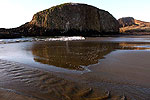 WALDPORT / SEAL ROCK
Pristine, even secretive sands and wild geologic landmarks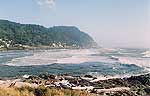 YACHATS
Constantly dramatic wave action, a mix of the rugged & upscale

UPPER LANE COUNTY
25 miles of deserted beaches & oodles of wonders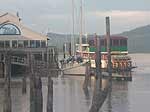 FLORENCE
A lighthouse, ancient bayfront and miles and miles of fluffy dunes
For weekly updated info on lodgings and accomodation reviews, see the Travel News section
Weiss' Paradise Suites & Vacation Rentals - Seaside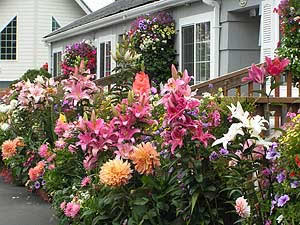 Unique Luxury Accommodations in Seaside. 1BR Suites, 1BR & 2BR Duplex Units and 3BR Houses, units for 2-8 people. Rent our entire property for 20-26. All units close to beach, river and Broadway St.
Suites are designed for two adults; vacation rental units for families. All units have kitchen and many have fireplace, deck and jetted tub. Enjoy comfy robes & slippers, luxury bath amenities, quality linens and more. See us on The Travel Channel's "Great Escapes" show in August 2006. 741 S. Downing St., Seaside. 800-738-6691. www.SeasideSuites.com