Covering 180 miles of Oregon coast travel: Astoria, Seaside, Cannon Beach, Manzanita, Nehalem, Wheeler, Rockaway, Garibaldi, Tillamook, Oceanside, Pacific City, Lincoln City, Depoe Bay, Newport, Wadport, Yachats & Florence.
1/5/07
More Oregon Coast Funky Facts: Odd Science to Paranormal
(Oregon Coast) - There's often more than meets the eye to the Oregon coast than just the lovely scenery and great chow. There are often some interesting stories behind what you see. And for trivia buffs, the coast has got more than enough interesting facts to fill a hungry mind. The following is a compilation of various fun facts about the coast, with a smattering of paranormal legends thrown in for fun.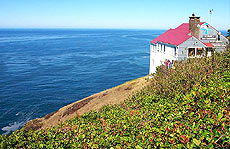 Cape Foulweather in nicer weather
Big Coastal Secret: Summer Doesn't End with Summer
It's nicknamed the "Second Summer," and it's something that's still a bit of a secret to many in Oregon. The best weather on the coast happens in September and early October, often quite warmer than during the summer. You'll find less winds and nicer temps – guaranteed.
The science of why involves the fact the ocean has been warmed up all summer and the temperatures inland start to decrease, so that the temperature differences between the coastal region and the land are markedly less. This lessens the coastal winds, allows warmer east winds in and generally ups the averages of dry, sunny and lovely days.
On top of it, lodging prices begin to drop and there are lesser crowds make that month and a half probably the best time to hit Oregon's sands.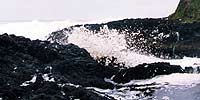 Crazed sea foam at Cape Perpetua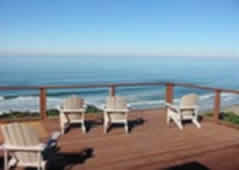 A1 Beach Rentals, Lincoln City. Perfect for large family vacations all the way down to a getaway lodging for two - with over 25 vacation rental homes to choose from. A breathtaking collection of craftsman or traditional beachfront homes, or oceanview houses – from one to seven bedrooms. In various areas of Lincoln City and overlooking the beach, with some in Depoe Bay. All kinds of amenities are available, like hot tubs, decks, BBQ, rock fireplaces, beamed ceilings and more. Some are new, some are historic charmers. Lincoln City, Oregon. 1-(503)-232-5984. www.a1beachrentals.com.
What Really is Sea Foam?
The billows of soapsuds that occasionally litter the beaches aren't from pollution. Sea foam is created from the breakdown of the skeletons of tiny single-celled plants called phytoplankton. When high wind and waves churn air into the water, their dissolved organic matter helps to create bubbles.
Protein from the dead microscopic plants increases the seawater's surface tension, producing bubbles when air is added.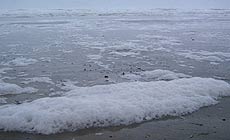 Awe-inspiring oddities can happen a little more often at this time of year and in the spring with sea foam, thanks to those phytoplankton. Bill Hanshumaker, public information officer for the Hatfield Marine Science Center in Newport, said these tend to bloom in greater numbers in the spring, and seasonal storms can result in incredible sights such as foam so frothy it moves like flurries of snow across the beaches and highways. Storms are so monstrous in winter it can happen at times during this season.
Courtesy Hatfield Marine Science Center, 2030 Marine Science Dr. Newport. Call: (541) 867-0167.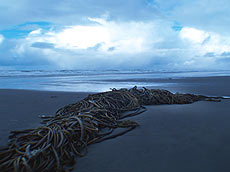 Odd Piles of Things Onshore
Bull Kelp are a large, brown algae that grow in "forests" near the shore. These kelp are annuals, completing their life cycle in one season, and can grow up to 20 meters (60 feet) in one year. At the bottom, their branching "holdfasts" anchor the kelp, although some are torn free in storms. Their long stipes (stems) tangle together to form large piles, as you see in the photograph. Their floats have a high proportion of carbon monoxide and to keep the blades (leaves) near the surface for photosynthesis. Their smooth, roundish shapes, when bobbing in the ocean, are sometimes confused with seals.
Courtesy William Hanshumaker, Hatfield Marine Science Center. 2030 Marine Science Dr. Newport. Call: (541) 867-0100. (photo: at Seaside, by Tiffany Boothe)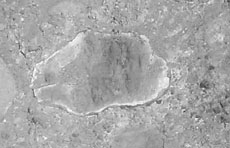 Scallop fossil embedded in north coast beach rock wall
Beach Fossil Madness
Did you know the coast has its own "Fossil Guy?" Newport's Guy DiTorrice runs fossil guide tours around the area, helping you to discover the fossilized remains of ancient lifeforms that dot the beaches. Check out. www.oregonfossilguy.com for more information on costs and arranging a time.
DiTorrice offers up some interesting tidbits of his own, such as Oregon's "beaches are home to one of the heaviest concentrations of 15- to 30-million-year-old fossils in North America." He also says some of the greatest shell locations are at Charleston, north of Florence at Strawberry Hill, the small parking lot north of Seal Rock and the section of beach just north of Ona Beach State Park (near Waldport.)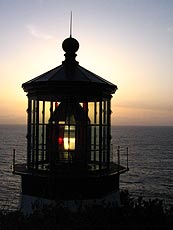 Cape Meares Lighthouse
Broken Records
Did you know Sea Lion Caves, just north of Florence, is the largest sea cave in the world? The Guinness Book of World Records confirmed that in the 90's, noting the cave clocked in at 310 feet long, 164 feet wide and about 50 feet high.
The D River in Lincoln City shares the distinction of being the shortest river in the world with one in Montana. It actually had that honor in the Guinness Book of World Records until a bunch of 5th graders in Montana disputed it, causing Guinness officials to eventually hand that honor to both in the 90's.
And what's the shortest lighthouse on the west coast? That's Cape Meares, near Tillamook, clocking in at a stumpy 38 feet high. Size doesn't matter here, however, as it stands on a 217-foot-high cliff.

Tradewinds Motel, Rockaway Beach
If expansive ocean views, close proximity to golfing, fishing tours and quick access to seven miles of pristine beaches is your thing, then this quintessential beauty in Rockaway Beach is your ticket to vacation fun for families, couples or large groups. Some rooms are pet friendly. All rooms at the Tradewinds Motel are immaculate and have TV's, VCR's and in-room phones with data ports. The oceanfronts all have a queen bed, a double hide-a-bed, kitchen, cozy firelog fireplace and a private deck. Some oceanfront units come with all those amenities but the kitchens. Both types sleep up to four people. The non-oceanfront rooms are appointed with a queen bed, small fridge, and coffee maker – sizable for a two-person romantic getaway, yet still perfect for those on a budget. There is an elaborate oceanfront Jacuzzi suite that has two bedrooms, coming with a kitchen, double hide-a-bed, fireplace and private deck, sleeping as many as six. For those wanting bigger accommodations for family reunions or large gatherings such as weddings, some rooms can connect to create two-room and three-room suites. 523 N. Pacific St., Rockaway Beach. (503) 355-2112 - 1-800-824-0938. www.tradewinds-motel.com
Oregon Beaches Declared Public and The Start of Highway 101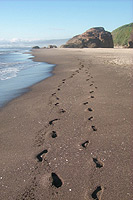 You probably haven't stopped to think about it, but there was a time when Highway 101 didn't exist. What did early Oregon settlers do to get from one coastal town to another?
Also, we don't always know how lucky we have it here in Oregon, with pristine beaches open to everyone (unlike most other coastal states, where the good beaches - that aren't private - all charge a cover.)
These two situations are connected.
Before the 30's, all that settlers of this area had for public roads were the beaches (evidence of which can still be seen at the road carved out of the rock at Hug Point, just south of Cannon Beach.) In 1914, Governor Oswald West declared the beaches public highways, and construction on what was to become Highway 101 began shortly after. The Columbia Highway was to run from Seaside to Astoria and then along the Columbia River to Pendleton. The Oregon Beach Highway was to run from Seaside down to the California line.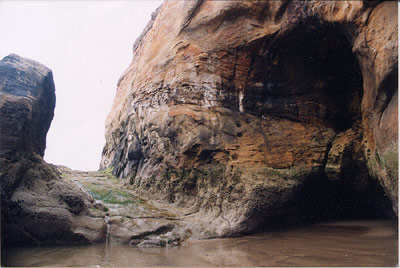 Ancient road over Hug Point
In 1915, an unpaved highway between Astoria and Portland opened up. And after several name changes, Highway 101 was paved and finished in 1931. Then, and only then, could coastal towns connect with each other. According to some state documents, Oregonians at the time discovered incredibly different cultures had evolved in each coastal town, the result of decades of isolation from each other and the rest of the state.
After West's declaration that beaches were to be public, several laws were passed giving the Highway Commission more control over the beaches over the years. The Oregon State Parks system was an offshoot of this legislation, starting under the highway department in 1925. All this helped pave the way for Gov. Tom McCall to finalize Oregon's beaches as public in the 60's.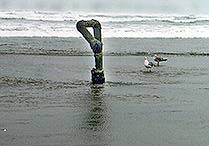 The Changing Face of Seaside
For at least a few generations, big pipes have often been seen around the tide line at the beaches of Seaside. One has been gone since the 60's, but since the early part of the century the other has been a constant. That one, found just a tad north of the Turnaround, once sucked seawater into a natatorium. In the 30's, the Seaside Aquarium began utilizing it and still does to this day.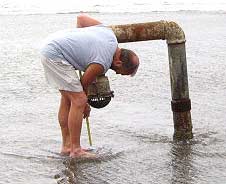 Regulars, however, may notice interesting changes. These photographs, taken in 1999 and then in 2006, show it as distinctly different shapes. When you go there now, you'll probably find it a different shape. That, according to Aquarium officials, is because sand levels change and that requires changing the shape of the pipe to continue the flow of water. All it takes is screwing on a new section of pipe and/or moving it a different direction. Hence the changes, which may puzzle some.
In the second photograph, you see aquarium manager Keith Chandler moving the pipe around.
Some Ghosts Tales on the Coast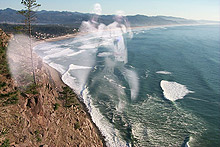 Ghostly happenings over Nehalem Bay
Weiss' Paradise Suites & Vacation Rentals - Seaside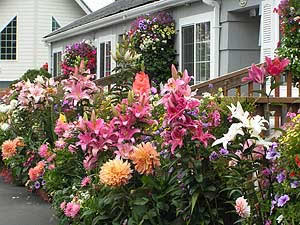 Unique Luxury Accommodations in Seaside. 1BR Suites, 1BR & 2BR Duplex Units and 3BR Houses, units for 2-8 people. Rent our entire property for 20-26. All units close to beach, river and Broadway St.
Suites are designed for two adults; vacation rental units for families. All units have kitchen and many have fireplace, deck and jetted tub. Enjoy comfy robes & slippers, luxury bath amenities, quality linens and more. See us on The Travel Channel's "Great Escapes" show in August 2006. 741 S. Downing St., Seaside. 800-738-6691. www.SeasideSuites.com
The scary side to Seaside: the Seaside Aquarium may have a closet containing something - or rather, an upstairs that could be haunted. When the building was a natatorium back about 80 years ago, there were apartments at the top floor. That area isn't used much at all now, but some employees there say they've heard whispers over the years the top floor is haunted. Various stories have been handed down through the generations about noises coming from there.
Talk to staff at Girtle's Restaurant and Lounge downtown and you'll hear tales of flying coffee pots, shadows of someone walking in what are empty rooms and apparitions appearing periodically. The rumor is that the old Seaside Hotel collected a long list of lingering souls in its 100-year-long history. When it was torn down in the 80's, many of the spirits followed staff there when they went to work for Girtle's.
Down in Wheeler, the Old Wheeler Hotel has plenty of haunted tales, enough that a few ghost hunters have sauntered through there over the years. Owner Winston Laszlo has had some experiences he can't explain, and he and his wife tell strange tales of how the building seemed "fight" them as it was being remodeled. (www.oldwheelerhotel.com. 877-653-4683.) Also in the bay area, locals talk about the lady who actually got a permit in the 90's to burn down her own property. She was apparently a descendent of local tribes and claimed the home was haunted by spirits of native children killed in a fire in that spot long ago. Nothing sits in that spot to this day.
Lincoln City Haunts: the North Lincoln Fire Station is said to have an apparition lounging in the recreation area. The Wildflower Grill has tales of a butt-pinching ghost named Matilda. The Siletz Bay has some crazy stories about a ghost ship appearing and disappearing.

DIVE INTO LUXURY, HISTORY AT THE TIDES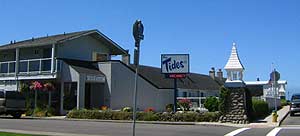 THE TIDES BY THE SEA, Seaside. For over 80 years, The Tides has been a favorite of Seaside visitors. History meets modern luxury here. 51 oceanfront condos, individually owned and decorated. Find suites for couples, small apartments with fireplaces and kitchenettes, one or two bedroom family units with fireplaces, kitchens and dining rooms. There are wonderful oceanview cottages that sleep anywhere from two to eight people, with two bedrooms, some with lofts, fireplaces and kitchens.
Meanwhile, the heated outdoor pool, enormous grounds with picnic tables and location at the quiet southern end of Seaside make for some memorable means of play and repose. 2316 Beach Drive. 800-548-2846. www.thetidesbythesea.com.
BREATHTAKING CLIFFTOP IN NEWPORT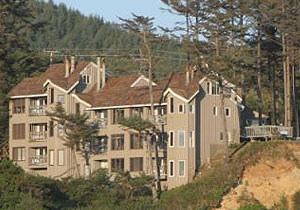 STARFISH POINT is located on the Central Oregon Coast - in Newport - and offers only the finest in luxury condominium lodging. At Starfish Point, every unit is focused on the beauty of the sea and the beach.
All of the units boast two bedrooms, two bathrooms, designer kitchens, wireless broadband Internet, fireplaces, Jacuzzi's and private decks - surrounding you in soothing relaxation. We have a friendly staff dedicated to high quality and superb customer service. 140 NW 48th Street, Newport. (541) 265-3751. (800) 870-7795. www.starfishpoint.com

D Sands Condominium Motel, Lincoln City. Getting a free, fresh baked cookie upon check-in is just the beginning. Every room is beachfront, and it's all right up against Lincoln City's most famous stretch of beach, next to the D River. Each room, comes as a suite or mini-suite, and has a kitchen and balcony or patio. Some have gas fireplaces, while all have a DVD Players with movies available for renting (and movie rentals come with free popcorn). There's a heated indoor pool, a spa, and this fabulous beach is lit at night. Rooms sleep anywhere from two, four to six - including a deluxe fireplace suite. Gift certificates are available, and they offer special occasion packages as well. To make a reservation and see a virtual tour of the rooms, visit our website at www.dsandsmotel.com. 171 S.W. Highway 101. 800-527-3925.
RELATED STORIES
SPECIAL SECTIONS
oregon coast weather
oregon coast mileage chart & map
day trips, suggested itineraries
Search BeachConection.net's 800 pages
OR TAKE THE VIRTUAL TOUR

ASTORIA
Where the Columbia meets the Pacific, Land of Lewis & Clark and loads of atmosphere & history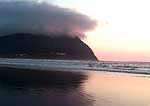 SEASIDE
The Promenade, Tillamook Head, family fun & broad, sandy beaches

CANNON BEACH
A mysterious lighthouse, upscale yet earthy, a huge monolith, fine eateries & an art mecca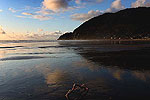 NEHALEM BAY
Manzanita's beaches, Nehalem and Wheeler's quirky beauty; laid back Rockaway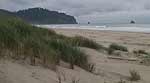 TILLAMOOK BAY
Garibaldi, Barview, Bay City, Tillamook & an oceanfront ghost town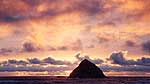 THREE CAPES LOOP
The hidden secret of the coast: Cape Meares, a lighthouse, Oceanside, Netarts and Pacific City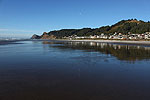 LINCOLN CITY
& THE CORRIDOR OF MYSTERY
Miles & miles of unbroken beaches, Cascade Head, Neskowin and many manmade attractions

DEPOE BAY
A spouting horn downtown, freaky hidden cliffs and whales, whales, whales

NEWPORT
Time-tripping Nye Beach, a bustling bayfront, marine science-central and two lighthouses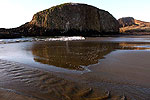 WALDPORT / SEAL ROCK
Pristine, even secretive sands and wild geologic landmarks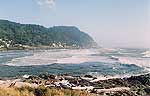 YACHATS
Constantly dramatic wave action, a mix of the rugged & upscale

UPPER LANE COUNTY
25 miles of deserted beaches & oodles of wonders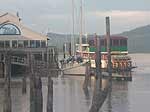 FLORENCE
A lighthouse, ancient bayfront and miles and miles of fluffy dunes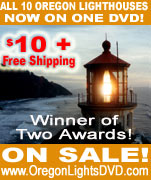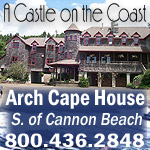 For weekly updated info on lodgings and accomodation reviews, see the Travel News section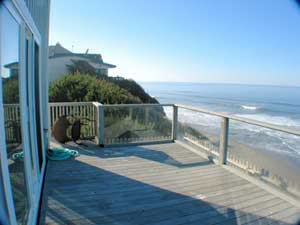 Lincoln City Vacation Homes There's something for everyone among this selection of wondrous homes: smaller homes with a view to a large house that sleeps 15. All the homes are either oceanfront or just a few steps away from the sand – all with a low bank access and fantastic views. Most are in the Nelscott area; one is close to the casino. You'll find a variety of goodies, depending on the home: fireplaces, multiple bedrooms, dishwashers, Jacuzzis, washer/dryers, hot tubs, cable TV, VCR, barbecues; there's a loft in one, and another sprawling home has two apartments. Pets are allowed in some homes – ask ahead. Each comes with complete kitchens so you'll have a home away from home. Most have the seventh night free. Prices range from winter $85 to summer $230 per night. www.getaway2thecoast.com. 541-994-8778.