Romance on Oregon's Coast: Four Cuddle-Inducing Lodgings
(Oregon Coast) – There is much on the Oregon coast's menu of lodgings that is the same-old, same-old, with pools, nice rooms, TV's, blah blah blah. And there's certainly nothing wrong with that. But it's the unique, even off-the-wall places that add the real spice to a coastal trip – and most of the truly individualistic lodgings are still a bit of a secret to many.
Nighty Night in Nye Beach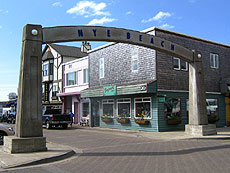 Newport's Nye Beach district is a sort of off-the-beaten path area for this bustling port town, even though if you want to play on the beach, you have to go here. With its historic ambiance, its slightly off-kilter moments and its growing upscale contingent, Nye Beach has more than a few things out of the ordinary.
One is the Sylvia Beach Hotel, which already has this rather illustrious and oddball history. Starting out as the New Cliff House in the 1910's, this was a time when Nye Beach was known as the "Honeymoon Capitol of the World." In later years, it became the Hotel Gilmore. In the 70's, this place got extremely strange, with a host of roughneck residents and regulars who would gather to have parties in the nude in the hallways.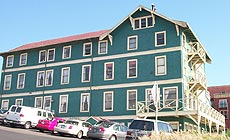 Now the Sylvia Beach Hotel is still one of the wilder curiosities of the Oregon Coast, with its kooky rooms all decorated like the lives of famous authors. Named after the American expatriate literary figure who dinged around Paris early in the century, it appropriately features rooms all gussied up to mirror the lives of Dr. Suess, Hemingway, Edgar Allan Poe and others. The Suess room features Horton the Elephant poking out of your shower, as well as other little fantasy critters inhabiting the room. The Hemingway room has that swagger of the hunter and world traveler. And the Poe room boasts a pendulum above the bed. Freaky but fun.

Tradewinds Motel, Rockaway Beach
If expansive ocean views, close proximity to golfing, fishing tours and quick access to seven miles of pristine beaches is your thing, then this quintessential beauty in Rockaway Beach is your ticket to vacation fun for families, couples or large groups. Some rooms are pet friendly. All rooms at the Tradewinds Motel are immaculate and have TV's, VCR's and in-room phones with data ports. The oceanfronts all have a queen bed, a double hide-a-bed, kitchen, cozy firelog fireplace and a private deck. Some oceanfront units come with all those amenities but the kitchens. Both types sleep up to four people. The non-oceanfront rooms are appointed with a queen bed, small fridge, and coffee maker – sizable for a two-person romantic getaway, yet still perfect for those on a budget. There is an elaborate oceanfront Jacuzzi suite that has two bedrooms, coming with a kitchen, double hide-a-bed, fireplace and private deck, sleeping as many as six. For those wanting bigger accommodations for family reunions or large gatherings such as weddings, some rooms can connect to create two-room and three-room suites. 523 N. Pacific St., Rockaway Beach. (503) 355-2112 - 1-800-824-0938. www.tradewinds-motel.com
The restaurant, although not as whimsical, is open to everyone, although reservations are required - and usually cost around $20 per person. The outstanding fare changes nightly, set up like "chapter one," "chapter two," etc. One recent night featured a salmon mousse appetizer, with entrée choices like baked halibut in a sweet red pepper sauce, rack of lamb in a pesto mint, roasted game hen, or black bean cakes. Other additions included a sesame bok choy, parsley potatoes and almond cakes with strawberries. Hungry yet? There's more good news: breakfast goes from 8:30 a.m. - 10 a.m. 267 N.W. Cliff. 888-795-8422. www.sylviabeachhotel.com.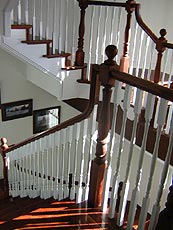 The Grand Victorian B&B is a striking beauty recently built to look and feel like a time trippin' jaunt to the distance past. Indeed, a graceful elegance fills this place, with hovering chandeliers, an almost spiral-like staircase that wouldn't seem out of place in a gothic romance novel or classic film, and rooms filled with interesting knickknacks that impart that sense of another era.
Their Victoria Suite encompasses the entire third floor, providing a panoramic view of the ocean. There's a hot Jacuzzi bath, private balcony, king bed, sitting area, walk-through closet and private bath and shower. From here, the sounds of the surf and a whistle buoy on the distant ocean lull you to sleep.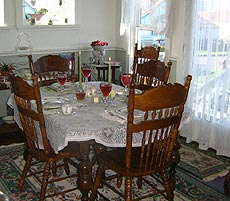 The Lady Catherine's Room is on the second floor, also overlooking the waves. It includes a queen bed, cable TV and VCR.
The other big highlight is the gourmet breakfast in the morning, where, if you leave the table rolling instead of walking, you've done something wrong. This incredible feast will hold you past lunch. They're running a special throughout April and May: rent one of the B&B rooms or their vintage vacation cottage for three consecutive nights and the fourth night is free. 105 NW Coast Street, Newport. www.grandvictorianor.com. 503-508-4820.
DIVE INTO LUXURY, HISTORY AT THE TIDES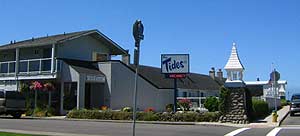 THE TIDES BY THE SEA, Seaside. For over 80 years, The Tides has been a favorite of Seaside visitors. History meets modern luxury here. 51 oceanfront condos, individually owned and decorated. Find suites for couples, small apartments with fireplaces and kitchenettes, one or two bedroom family units with fireplaces, kitchens and dining rooms. There are wonderful oceanview cottages that sleep anywhere from two to eight people, with two bedrooms, some with lofts, fireplaces and kitchens.
Meanwhile, the heated outdoor pool, enormous grounds with picnic tables and location at the quiet southern end of Seaside make for some memorable means of play and repose. 2316 Beach Drive. 800-548-2846. www.thetidesbythesea.com.
Nuggets of the North Coast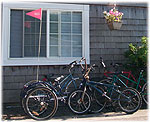 In Manzanita, a thick layer of woods covers the town and surrounds it, while above, mysterious Neahkahnie Mountain looms and oozes power and presence in many ways. Besides its visual prominence, there are legends there of buried treasure, and some say its use as a native people's sacred place has left a spiritual imprint on this area that is interesting and most pleasant – yet all at once mysterious. Some say the area is a bit of a good luck charm.
For your slumbering pleasure here, there is a real charmer of a motel called the San Dune Inn in Manzanita. Upon first approach, there's something obviously quite cute about it, but apart from that, nothing extraordinary. It's a bit like the Manzanita and the Nehalem Bay area itself: dig inside and you'll find much more.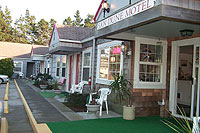 This place is super dog friendly, and really caters to kids as well. They have a large selection of movies, as well as other unique things rather uncommon to motels, like bikes for use of guests, volleyball equipment, beach balls and other beachy equipment. It isn't your average little motel - but then Manzanita is not your average sleepy coastal town, either.
They're currently hosting a special: dogs stay free during April. 428 Dorcas Lane. www.sanduneinn.com. 503-368-5163.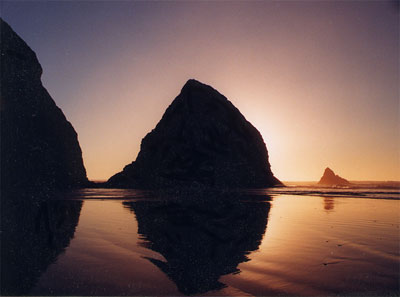 Near Cannon Beach, just a few miles north of Manzanita, one wonder stands like a combination gothic castle and ski lodge. On a bluff looking out over the forested stretch just above pristine Arch Cape, the Arch Cape House is a B&B with a world of difference.
Outside it is grandiose and impressive. Inside, it's rather jaw dropping as well, with a giant chandelier over the white living room, and a lovely white fireplace at the center. Part of the tower descends through here, creating a little roundish space in one corner that serves as a sort of game room.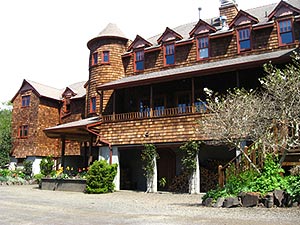 Guestrooms vary in decadence, with cozy Jacuzzi tubs, enormous, super-comfy beds, little nooks for reading (or cuddling), and at least partial ocean views that are thrilling. Arch Cape House screams romantic getaway at the top of its lungs. The Tower Room, at the top of the feature that most gives Arch Cape House its castle ambiance, is a sprawling place of fluffy white carpeting and dreamy atmosphere.
The garden is a bit of fantasia come to life, and the gourmet breakfast in the morning is legendary for good reason. East Ocean Rd. - S. of Cannon Beach. www.archcapehouse.com. 800-436-2848.