Covering 180 miles of Oregon coast travel: Astoria, Seaside, Cannon Beach, Manzanita, Nehalem, Wheeler, Rockaway, Garibaldi, Tillamook, Oceanside, Pacific City, Lincoln City, Depoe Bay, Newport, Wadport, Yachats & Florence.
1/10/07
Oregon Coast Beach Deaths May Be Declining, But Problems Loom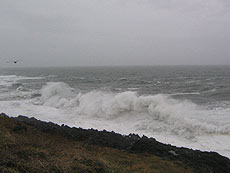 Central coast storms: statistics show more incidents on the central coast
(Oregon Coast) – Recently released statistics on beach safety and deaths on Oregon coast beaches have surprised some experts on the subject, but it's brought up a number of other related issues as well, showing the need for improvement in some areas and the successes in others. The numbers have caused parts of the tourism industry to reevaluate how it's approaching beach safety as well as tout what many are doing right - while it brings to light how Seaside may be the perfect model for beach safety.
A newspaper article about deaths related to beach activity brought out the fact that 46 people died on Oregon's coast since 2000, in the midst of playing on the beach or while standing or hiking on high vantage points. The statistics noted the numbers seemed to rise sharply in 2004 and 2005, but then dropped again in 2006.
The deaths occurred because of drowning, often the result of rip currents, getting caught on rocks and hits by sneaker waves, but there those who fell off cliffs, had sand tunnels collapsed on them and one child in 2000 was killed by someone who rolled a log off a cliff.
The statistics from the state:
| | | |
| --- | --- | --- |
| Year | Deaths | Rescues |
| 2000 | 7 | 3 |
| 2001 | 8 | 0 |
| 2002 | 3 | 7 |
| 2003 | 4 | 2 |
| 2004 | 10 | 16 |
| 2005 | 10 | 46 |
| 2006 | 4 | 22 |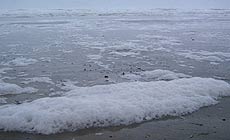 Nye Beach: beware of storm surges with lots of foam moving outward. This is a sign of a rip current.
It shows that rescues fluctuated wildly from year to year, while deaths increased steadily throughout the decade until sliding down again in 2006.
Robert Smith is in charge of beach safety education and outreach for the Oregon State Parks and Recreation Department, which oversees Oregon's coastline. He admitted the jury may be still out on whether the mortality rates for beachgoers is going down.
"We've seen a definite decrease in deaths due to logs rolling over, while we've seen more problems with people stranded on rocks or caught in rip currents," Smith said.
BREATHTAKING CLIFFTOP IN NEWPORT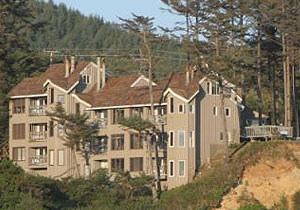 STARFISH POINT Newport - Offers only the finest in luxury condominium lodging. Every unit is focused on the beauty of the sea and the beach.
All units boast two bedrooms, two bathrooms, designer kitchens, wireless broadband Internet, fireplaces, Jacuzzi's and private decks. Friendly staff dedicated to high quality and superb customer service. 140 NW 48th Street, Newport. (541) 265-3751. (800) 870-7795. www.starfishpoint.com
Smith also admitted some of the increases in recorded deaths could be due to his department's improved ability to collect data. "Before, I would collect reports from newspapers, the Coast Guard, etc. Now, we're better at collecting the data."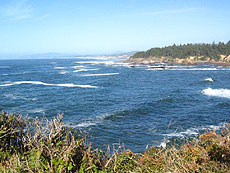 Two teens lost their lives in Boiler Bay this decade
While not every incident may be reported, the state simply has better ways of gathering the numbers, so more could be showing up.
Two of Oregon's high-profile beach experts were surprised by the 45-plus deaths reported since 2000. Seaside Aquarium manager Keith Chandler and Newport beach expert Guy DiTorrice (former head of the Oregon Coast Visitors Association) both said they were shocked by the numbers.
"There's none that I could remember in Clatsop County," Chandler said. There was, in fact, one in Fort Stevens in 2005.
While Chandler said he likes to claim his own Seaside beach is "the safest in the world," he admits he still sees people do a lot of unwise things on the beach. Chandler, Smith and DiTorrice noted seeing the same three problems rising up.
"A couple of things are popping up," Smith said. "People are ignoring closures. Especially this time of year, people underestimate the power of the ocean. And they're not paying attention to incoming tides, and a lot are still getting pulled off rocks."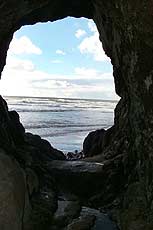 The tunnel through Oceanside is a big no-no during storms or heavy rain, as rocks can fall from above
The state's statistics seem to show a higher rate of incidents on the central Oregon coast – both rescues and deaths – counting the area from Florence to Pacific City (which encompasses upper Lane County, all of Lincoln County and southern tip of Tillamook County). That area is generally regarded as the central coast, and had about 62 of the incidents listed since 2000. 31 of them came from what is generally regarded as the north coast, which runs from about Oceanside (west of Tillamook) to the end of the state, at Astoria.
DIVE INTO LUXURY, HISTORY AT THE TIDES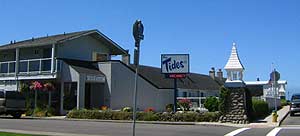 THE TIDES BY THE SEA, Seaside. For over 80 years a favorite of Seaside visitors. 51 oceanfront condos, individually owned and decorated. Suites for couples, small apartments with fireplaces and kitchenettes, one or two bed family units with fireplaces, kitchens and dining rooms. Oceanview cottages sleep anywhere from two to eight, w/ two bedrooms, some with lofts, fireplaces and kitchens. Heated outdoor pool, enormous grounds w/ picnic tables - all at quiet southern end of Seaside. 2316 Beach Drive. 800-548-2846. www.thetidesbythesea.com.
Smith said the central coast may have more trouble spots because of more broad, easily accessible beaches and because of increased tourist population. "If you have more visitors, you have more of opportunity for problems," he said.
DiTorrice said education on the subject of beach safety has greatly increased, especially when it comes to rolling logs, but some seem to still ignore it. "I'll see people sitting on logs when they shouldn't be," DiTorrice said. "Either they're ignoring the messages, or they have a 'it can't happen to me' kind of attitude."
Chandler had little patience for some of the dingy moves on the beach, referring to one notorious incident in 2002 when a group of people ignored the closure of a wayside near Garibaldi, and a storm surge picked up a car, caused two to be rescued and one to be injured. "If the state has roped something off and you go beyond there, they shouldn't even have to go looking for your body," Chandler said.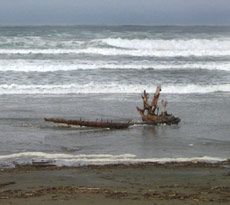 Waves and logs do not mix (Manzanita)
Cars can drive on a fifteen-mile stretch of Clatsop County from Gearhart up to Fort Stevens State Park, and Chandler said he hears about or sees someone get in trouble in those spots fairly often. "They drive there, unaware of conditions, and they lose their car when a big wave comes in kills the engine," he said. "It's gone. It's dead."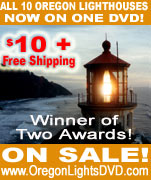 Smith said he's pleased to see his public education program having made a difference when it comes to rolling logs, as most of those deaths or injuries have almost been eliminated in the last six years. Smith's position was partially created by two women whose children were killed by rolling logs on the central Oregon coast, after they went to the legislature and convinced the state to mandate the program. Since then, he's talked about beach safety to as many as 40 schools and a total of 100,000 people.
The state hired three new rangers in recent years to cover three different areas of the coast, and their warnings have paid off. During the recent spate of storms where homes in Gleneden Beach were threatened by collapsing cliffs, one ranger shooed about eight people off the beach.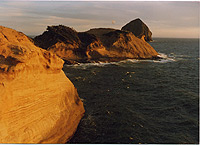 Cape Kiwanda is another danger spot
That was the same day in November that two women from Beaverton were killed by that raging surf, and authorities report having told them to get off the beach as well.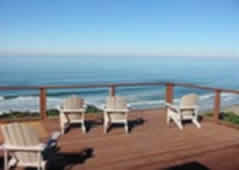 A1 Beach Rentals, Lincoln City. Perfect for large family vacations all the way down to a getaway lodging for two - with over 25 vacation rental homes to choose from. A breathtaking collection of craftsman or traditional beachfront homes, or oceanview houses – from one to seven bedrooms. In various areas of Lincoln City and overlooking the beach, with some in Depoe Bay. All kinds of amenities are available, like hot tubs, decks, BBQ, rock fireplaces, beamed ceilings and more. Some are new, some are historic charmers. Lincoln City, Oregon. 1-(503)-232-5984. www.a1beachrentals.com.
Still, with these successes comes further concern regarding the ignoring of closures, ignoring sneaker waves or incoming tides, and a rise in drownings because of rip currents. "I don't know if that's because there's an increase in rip currents or because there's more people in the water," he said.
While Smith's program can claim some serious successes, there may be something to Chandler's claim about Seaside being the "safest in the world." Both Cannon Beach and Seaside have those broad, sandy beaches with an easy access that are often the recipe for trouble in stormy times. But Seaside and Cannon Beach's main beach area (not Ecola State Park) are noticeably missing from the state's rescue and death numbers. Both have lifeguards on duty during the summer months, when the beach population swells enormously. Chandler said the city of Seaside comes and removes logs from the tide line, helping to keep people safe.
"All the motels on the beachfront keep a watch on folks, especially the kids," Chandler said. "You've got dozens of rooms looking out there. If somebody is doing something stupid, someone usually calls the police."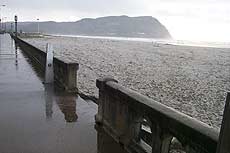 Seaside may be the safest beach in Oregon
Warnings of Beach Safety
The state publishes a sizable list of things to beware of when it comes to beach safety, but Chandler offered his own warnings. He said if you have any doubts or questions, ask a local resident and they will know the tides, moods and habits of the sea. He said this should apply to the entire coastline.

Tradewinds Motel, Rockaway Beach. All rooms at the Tradewinds Motel are immaculate and have TV's, VCR's and in-room phones with data ports. The oceanfronts all have a queen bed, a double hide-a-bed, kitchen, cozy firelog fireplace and a private deck. Some oceanfront units come with all those amenities but the kitchens. Both types sleep up to four people. Others are appointed with a queen bed, small fridge, and coffee maker – sizable for a two-person romantic getaway, yet still perfect for those on a budget. There is an elaborate oceanfront Jacuzzi suite that has two bedrooms, coming with a kitchen, double hide-a-bed, fireplace and private deck, sleeping as many as six. For those wanting bigger accommodations for family reunions or large gatherings such as weddings, some rooms can connect to create two-room and three-room suites. Some rooms are pet friendly.523 N. Pacific St., Rockaway Beach. (503) 355-2112 - 1-800-824-0938. www.tradewinds-motel.com
"Each beach is different," Chandler said. "Ask someone who lives there."
When it comes to storm watching, it's a good idea to stay off all the beaches, even if the wave action is a ways away on one of the bigger, sandy beach spots. Some beaches may be traversable, but that may be an illusion with many. Often, the waves will be making a scene at what seems a safe distance, but big surges or sneaker waves can come driving in abruptly and perhaps suck you into a rip tide or roll a nearby log onto you.
Chandler said you should either watch the tide for a while and see what the big surges do before descending onto the beach, or pay close attention to where the big waves have been. You can tell by looking at the beach where the highest waves have just been.
"If you can't see the horizon past the waves, don't go onto the beach," Chandler said. "A good rule of thumb is if you can count more than five or seven waves at a time, don't go there."
Chandler does a fair amount of outreach to local businesses when it comes to beach safety, and he likes to use some rather dark humor to illustrate his points. "I like to tell them that statistics show that 100 percent of those who drown don't come back to shop," Chandler said. "We like to talk about Seaside being more than a day at the beach, but we don't want it to be your last day." See http://www.respectthebeach.org for more beach safety.

D Sands Condominium Motel, Lincoln City. Getting a free, fresh baked cookie upon check-in is just the beginning. Every room is beachfront, and it's all right up against Lincoln City's most famous stretch of beach, next to the D River. Each room, comes as a suite or mini-suite, and has a kitchen and balcony or patio. Some have gas fireplaces, while all have a DVD Players with movies available for renting (and movie rentals come with free popcorn). There's a heated indoor pool, a spa, and this fabulous beach is lit at night. Rooms sleep anywhere from two, four to six - including a deluxe fireplace suite. Gift certificates are available, and they offer special occasion packages as well. To make a reservation and see a virtual tour of the rooms, visit our website at www.dsandsmotel.com. 171 S.W. Highway 101. 800-527-3925.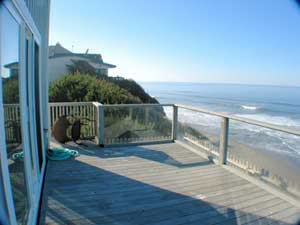 Lincoln City Vacation Homes There's something for everyone among this selection of wondrous homes: smaller homes with a view to a large house that sleeps 15. All the homes are either oceanfront or just a few steps away from the sand – all with a low bank access and fantastic views. Most are in the Nelscott area; one is close to the casino. You'll find a variety of goodies, depending on the home: fireplaces, multiple bedrooms, dishwashers, Jacuzzis, washer/dryers, hot tubs, cable TV, VCR, barbecues; there's a loft in one, and another sprawling home has two apartments. Pets are allowed in some homes – ask ahead. Each comes with complete kitchens so you'll have a home away from home. Most have the seventh night free. Prices range from winter $85 to summer $230 per night. www.getaway2thecoast.com. 541-994-8778.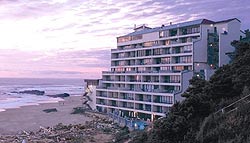 Inn At Spanish Head, Lincoln City. It's Lincoln City's only resort hotel built right on the beach with all oceanfront rooms - nestled against a rugged cliffside overlooking a soft, sandy beach. Enjoy dining in the penthouse restaurant and bar - whether you're in the mood for a casual meal or a candlelight dinner. They offer an array of seafood specialties, juicy steaks and other Northwest favorites, including a decadent Sunday buffet. Rooms range from bedrooms to studios to one-bedroom suites with microwaves and refrigerators to full kitchens. Hotel amenities include wi-fi, spa, saunas, exercise room and a year-round heated swimming pool. Kids will love the game room and easy beach access. Full-service conference and meeting rooms for that inspirational retreat; extensive, gorgeous wedding possibilities. Near the south end of Lincoln City at 4009 SW Highway 101. 1-800-452-8127 or 541-996-2161. www.spanishhead.com
RELATED STORIES
SPECIAL SECTIONS
oregon coast weather
oregon coast mileage chart & map
day trips, suggested itineraries
Seaside, Oregon Lodging
Lincoln City Lodging
Oregon Lodging Specials
Search BeachConection.net's 800 pages
Oregon Coast Real Estate
OR TAKE THE VIRTUAL TOUR

ASTORIA
Where the Columbia meets the Pacific, Land of Lewis & Clark and loads of atmosphere & history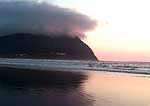 SEASIDE
The Promenade, Tillamook Head, family fun & broad, sandy beaches

CANNON BEACH
A mysterious lighthouse, upscale yet earthy, a huge monolith, fine eateries & an art mecca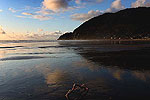 NEHALEM BAY
Manzanita's beaches, Nehalem and Wheeler's quirky beauty; laid back Rockaway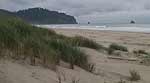 TILLAMOOK BAY
Garibaldi, Barview, Bay City, Tillamook & an oceanfront ghost town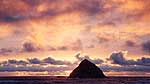 THREE CAPES LOOP
The hidden secret of the coast: Cape Meares, a lighthouse, Oceanside, Netarts and Pacific City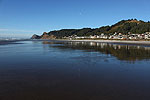 LINCOLN CITY
& THE CORRIDOR OF MYSTERY
Miles & miles of unbroken beaches, Cascade Head, Neskowin and many manmade attractions

DEPOE BAY
A spouting horn downtown, freaky hidden cliffs and whales, whales, whales

NEWPORT
Time-tripping Nye Beach, a bustling bayfront, marine science-central and two lighthouses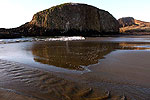 WALDPORT / SEAL ROCK
Pristine, even secretive sands and wild geologic landmarks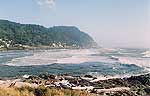 YACHATS
Constantly dramatic wave action, a mix of the rugged & upscale

UPPER LANE COUNTY
25 miles of deserted beaches & oodles of wonders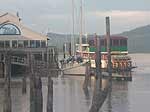 FLORENCE
A lighthouse, ancient bayfront and miles and miles of fluffy dunes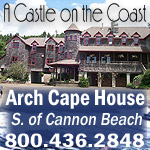 For weekly updated info on lodgings and accomodation reviews, see the Travel News section
Weiss' Paradise Suites & Vacation Rentals - Seaside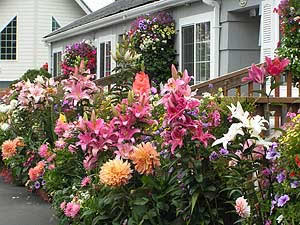 Unique Luxury Accommodations in Seaside. 1BR Suites, 1BR & 2BR Duplex Units and 3BR Houses, units for 2-8 people. Rent our entire property for 20-26. All units close to beach, river and Broadway St.
Suites are designed for two adults; vacation rental units for families. All units have kitchen and many have fireplace, deck and jetted tub. Enjoy comfy robes & slippers, luxury bath amenities, quality linens and more. See us on The Travel Channel's "Great Escapes" show in August 2006. 741 S. Downing St., Seaside. 800-738-6691. www.SeasideSuites.com