BEACH NEWS YOU CAN USE
Covering 180 miles of Oregon coast travel: Astoria, Seaside, Cannon Beach, Manzanita, Nehalem, Wheeler, Rockaway, Garibaldi, Tillamook, Oceanside, Pacific City, Lincoln City, Depoe Bay, Newport, Wadport, Yachats & Florence.
It's Fall on the Coast: Summer is Here Again.
Oregon Coast Dead Zone Dissipating, May Have Other Side Effects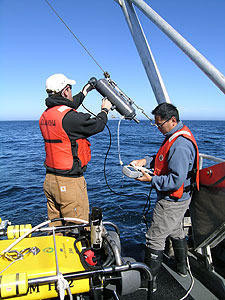 OSU scientists ready an underwater robot to explore the dead zone off the Oregon coast
(Yachats, Oregon) – The so-called "dead zone" off the Oregon coast is showing signs of dissipating, after a particularly severe season of killing off fish and other marine life with its unusually low oxygen levels.
This dead zone and its brand of marine mayhem was first identified in 2002, and has recurred each summer season, after going away when fall and winter roll in. This year it's been bigger, badder and lasted much longer than before.
Yet researchers say this event could be having some other interesting side effects in the world of fishing, crabbing and scientific oddities like the "glowing sand" phenomenon that may be not so bad, even as they express concerns about the marine ecosystem's ability to handle such large intrusions. But there may have been a few unusual and not thoroughly unpleasant impacts to the coast's tourism industry.
"We've seen these events each year since 2002, but it's normally not this low in oxygen and causing this much death in the ocean as it is this year," said Francis Chan, a marine ecologist with Oregon State University. "This event is much lower in oxygen and much more severe, and it's lasted longer."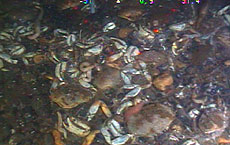 Graveyard of sea life in the dead zone (pictures courtesy OSU)
Some edges of this massive dead zone are showing signs of life again, with oxygen levels slowly rising in these areas. The shallower waters about a mile offshore have shown an improvement, but the larger, more deadly area still sits around 12 miles from land, stretching some 70 miles from north to south. Chan said these are the boundaries they know about, having tested waters from Cape Perpetua up to Cascade Head, near Lincoln City.

Tradewinds Motel, Rockaway Beach. All rooms at the Tradewinds Motel are immaculate and have TV's, VCR's and in-room phones with data ports. The oceanfronts all have a queen bed, a double hide-a-bed, kitchen, cozy firelog fireplace and a private deck. Some oceanfront units come with all those amenities but the kitchens. Both types sleep up to four people. Others are appointed with a queen bed, small fridge, and coffee maker – sizable for a two-person romantic getaway, yet still perfect for those on a budget. There is an elaborate oceanfront Jacuzzi suite that has two bedrooms, coming with a kitchen, double hide-a-bed, fireplace and private deck, sleeping as many as six. For those wanting bigger accommodations for family reunions or large gatherings such as weddings, some rooms can connect to create two-room and three-room suites. Some rooms are pet friendly.523 N. Pacific St., Rockaway Beach. (503) 355-2112 - 1-800-824-0938. www.tradewinds-motel.com
There have been reports of a dead zone off the Washington coast, and Chan admits there could be more in Oregon's waters than scientists have been able to find. "There have been reports of fish kills washing up onshore in Washington," Chan said. "But there haven't been any reports here. Some researchers have reported a lot crab carcasses around the Strawberry Hill beach access, although that's difficult to pinpoint that to this event."
The culprits behind the dead zone are completely normal occurrences in nature, said Chan. They just happen to come together to create this ecological problem.
First, the winds that drive the ocean currents have been active in such a way as to cause a lot of cold water, low-oxygen upwellings from the deep. Those winds haven't shifted to churn up the water and expose it to air. This has kept a flow of water currents going that have little oxygen.
Second, after organisms like fish, invertebrates and phytoplankton die, their decaying bodies suck more air out of the environment and add toxic gases as well.
BREATHTAKING CLIFFTOP IN NEWPORT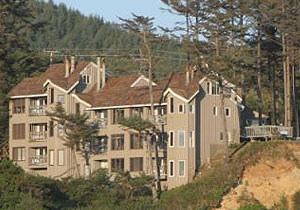 STARFISH POINT is located on the Central Oregon Coast - in Newport - and offers only the finest in luxury condominium lodging. At Starfish Point, every unit is focused on the beauty of the sea and the beach.
All of the units boast two bedrooms, two bathrooms, designer kitchens, wireless broadband Internet, fireplaces, Jacuzzi's and private decks - surrounding you in soothing relaxation. We have a friendly staff dedicated to high quality and superb customer service. 140 NW 48th Street, Newport. (541) 265-3751. (800) 870-7795. www.starfishpoint.com
A third situation adds even further. "These upwellings are rich in nutrients and cause large blooms of phytoplankton," Chan said.
The result is more bodies to decay in the area.
It's a bit like a vicious circle in the circle of life in the deep: a self-perpetuating set of conditions that can only go away when storms or certain wind conditions begin churning up the sea.
One theory for the cause of the wind directions is global warming, which keeps the winds quiet in one direction, disabling the churning mechanism of the ocean. Meanwhile, these conditions keep the winds in the directions that cause the upwellings.
The deeper waters contain less oxygen because they are further from the air. "The ocean is in layers," Chan said. "And the deeper you go, the more the layers do not have contact with the air. It's like they're capped, with various layers in between them and the surface, including large amounts of phytoplankton, keeping it all away from the atmosphere."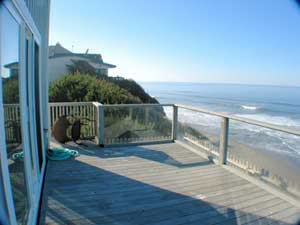 Lincoln City Vacation Homes There's something for everyone among this selection of wondrous homes: smaller homes with a view to a large house that sleeps 15. All the homes are either oceanfront or just a few steps away from the sand – all with a low bank access and fantastic views. Most are in the Nelscott area; one is close to the casino. You'll find a variety of goodies, depending on the home: fireplaces, multiple bedrooms, dishwashers, Jacuzzis, washer/dryers, hot tubs, cable TV, VCR, barbecues; there's a loft in one, and another sprawling home has two apartments. Pets are allowed in some homes – ask ahead. Each comes with complete kitchens so you'll have a home away from home. Most have the seventh night free. Prices range from winter $85 to summer $230 per night. www.getaway2thecoast.com. 541-994-8778.
The irony is that the dead zone may have had a couple positive side effects for tourism on the coast. There have been reports this summer of massive crab catches in the bays of Newport and Waldport, and many scientists in Oregon agree that it's likely the dead zone chased populations of crab into areas more convenient for humans to grab them.
The wild and weird glowing phytoplankton on the beaches this summer has been rather spectacular and perhaps even a little more visible than usual. Nicknamed "glowing sands," beachgoers can see small, bluish, green sparks in the sand at night, caused by washes of bioluminescent diatoms called dinoflagellates.
If there are more phytoplankton than usual, than there are greater chances to see this unusual phenomenon. More phytoplankton is caused by more nutrients in the water, which are brought up by these coldwater upwellings.
"It has been a very productive, rich year for phytoplankton," Chan said.
There have been anomalies in the tourism businesses because of this as well. The dead zone may have somewhat affected the charter fishing businesses that line the central Oregon coast. Chan said the fishing boat and charter boat captains have expressed concern over the dead zone, because they've found some areas much slower for fishing, and others extremely hot for catches. It appears as if the fish are running from the zone as well, congregating in certain areas and not in others.
"We've heard some things from the boat captains," Chan said. "We're meeting with a lot of the charter businesses next week to talk about it. But it makes sense that there would be pockets with more oxygen where the fish and invertebrates would take refuge. "
Chan said they'll be comparing notes on fish populations at the meeting.