Covering 180 miles of Oregon coast travel: Astoria, Seaside, Cannon Beach, Manzanita, Nehalem, Wheeler, Rockaway, Garibaldi, Tillamook, Oceanside, Pacific City, Lincoln City, Depoe Bay, Newport, Wadport, Yachats & Florence.
4/12/07
Cunning Culinary Feats Found on North Oregon Coast
By Andre' Hagestedt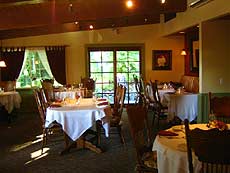 Nehalem River Inn
(Manzanita, Oregon) – While it's not nearly as populated as the central Oregon coast, the north coast seems to pull the most dining rabbits out of the hat and provide some the majority of the coast's most memorable eateries. Sometimes, you have to look a little harder for some of them, as a few of the best are lurking in little corners, or in coastal towns that are slightly hidden themselves.
Seaside has a few jewels just under the surface, including Taste of Tuscany, Phannie Phat's and the eye roll-inducing gourmet ice cream of Zinger's Homemade Ice Cream. In Cannon Beach, Fultano's Pizza cloisters some of the finest pasta on the entire coastline; while the Warren House, known a bit more for its nightlife, provides fantastic gourmet delights as well.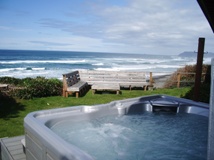 Arch Cape Property Services. Dozens of homes in that dreamy, rugged stretch between Cannon Beach and Manzanita known as Arch Cape. Oceanfront and ocean view , or just a short walk from the sea.
All homes are immaculate and smoke free; some pet friendly (with a fee). Some with broadband, indoor or outdoor hot tubs, fireplaces, decks, and fire pits or barbecues. Call about tempting winter specials that go until March (not valid holidays, however). www.archcaperentals.com 866-436-1607.
In smaller places like Manzanita, Left Coast Siesta cooks up a storm with its nouveau fast food Mexican that must be tasted to be experienced. Off-the-beaten-path Nehalem hides Wanda's Café and its wild culinary forays, as well as the Nehalem River Inn's dazzling upscale presentation and expertise.
Then there's Wheeler, just south of Nehalem, which, well, you'll see.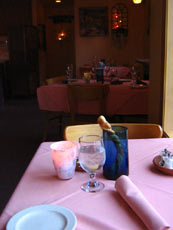 Terra Cotta Cafe
Terra Cotta Café, Manzanita
At this gem in the tiny town of Manzanita, owners Harvey and Sandy have brought a bit of heaven to this already dreamy burgh. The interior is done ib pastel pinks and given a romantic, intimate vibe that is upscale yet beach flip-flop friendly.
Next door, the pair ran The Malt Shop for years until recently. This was also famous for exquisite burgers and lots of other pleasures: simple Americana dishes done with mouth-watering flair. They dropped that business earlier this year, understandably, because it caused them to work nearly 20-hour days when paired with the evening hours of the Terra Cotta.
It all begins with the breadsticks. They are unique: not hardened, upright oblong chunks of bread, but rather, limp, braided creations that sing upon impact with your mouth. They are moist, tender and full of life.
DIVE INTO LUXURY, HISTORY AT THE TIDES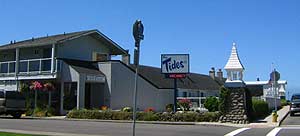 THE TIDES BY THE SEA, Seaside. For over 80 years a favorite of Seaside visitors. 51 oceanfront condos, individually owned and decorated. Suites for couples, small apartments with fireplaces and kitchenettes, one or two bed family units with fireplaces, kitchens and dining rooms. Oceanview cottages sleep anywhere from two to eight, w/ two bedrooms, some with lofts, fireplaces and kitchens. Heated outdoor pool, enormous grounds w/ picnic tables - all at quiet southern end of Seaside. 2316 Beach Drive. 800-548-2846. www.thetidesbythesea.com.
I suck them down like there's no tomorrow (because, according to the melee of my growling, starving stomach, there isn't another day). Another set of them comes just as my soup does, and I get halfway into this grouping as well, voraciously nibbling on these after dousing them with the real (oh yum) butter.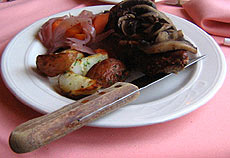 New York Steak at Terra Cotta
Next up comes a soft, silky bisque made of artichokes and tomatoes. This is a personal recipe of Sandy's, and it's wowing to say the least. The whole thing goes down smooth and creamy, but there's a touch of a zing, given by the artichokes, yet subtle and far from overpowering.
Then comes the New York steak – which I must say may be the best specimen of steak I've ever come across. It's a perfect blend of charred layers on the outside and rich, juicy meat on the inside.
This whole experience set me back about $18.
The menu consists of a few pasta specialties, many kinds of seafood, and meat and chicken dishes – all with an innovative flair that would make these plates at home on some cable TV foodie show. Prices generally range from $17 to $25. Manzanita. (503) 368-3700.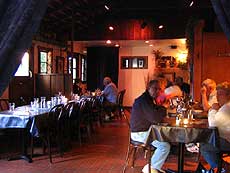 Inside The Bistro
The Bistro, Cannon Beach
It's hard to beat this legend on the north Oregon coast for consistency and sheer pleasure, with a fierce following that is so devoted it's almost like a cult. Eat here once and you'll be converted too.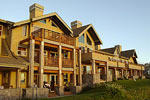 The Ocean Lodge. There will not be another property built like this in Cannon Beach in our lifetimes. Rare, premiere ocean front location; handsome, dramatic architecture and tasteful, fun (nostalgic) beach interiors. Overlooks Haystack Rock. 100 percent smoke free. Imaginative special occasion packages. Massive wood burning lobby fireplace. Library w/ fireplace, stocked with impressive book collection. Pet and family friendly. Lavish continental buffet breakfast. In-room fireplaces, mini-kitchens. Jacuzzi tubs in select rooms. DVD players, complimentary movies. Morning paper. Warm cookies. 888-777-4047. 503-436-2241. 2864 Pacific Street. Cannon Beach, Oregon. www.theoceanlodge.com
From the outside, it appears to be a hole in the wall: the title "Bistro" furthers that impression. Inside – just like that Dr. Who character's time-tripping spacecraft – it's a lot bigger than it looks. But the food here, as well as the drink mixology, seem to defy the laws of physics.
The bar sits at the very front, in a tiny room that contains three tables and about six or so places at the bar. Behind that structure, their booze-craft enters brave new territory with loads of inventive drinks. All sorts of wild, brilliant colors show up in ingenious martinis, or you'll see them putting together some wacky concoction using fire and sparks – as if some ancient knowledge of wizardry has been passed down to this generation of bartenders.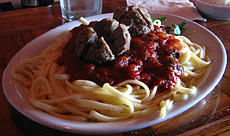 Linguini and meatballs
Next to the front room, another much larger space opens up, with high, vaulted ceilings and a feel not unlike some backwoodsy French eatery in a forest.
Their meals often start off with this stunning Greek Lemon soup that is sleek and silky smooth. The orzo rice are tender and delicate, but there's a bit of tang to this glorious creation. It is warming but light, a perfect segue into the heartier territory to come.
Their breads are magnificent, reminding me again of something you'd find in an old country inn in rural France. They are rustic and woodsy; a bit of white, sourdough heaven.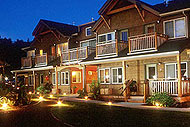 Inn at Cannon Beach. Beautifully wooded natural setting at quiet south end of Cannon Beach. Great during winter storms with a new book by the fireplace – or when the sun is out for family fun and beach strolling. Handsome beach cottage-style architecture. Lush flowering gardens and naturalized courtyard pond. Warm, inviting guest rooms. Continental buffet breakfast. Warm Cookies. Family and Pet Friendly. Welcome gifts. Smoke-free. Complimentary Wireless Connectivity. Wine and book signing events. 800-321-6304 or 503-436-9085. Hemlock At Surfcrest, Cannon Beach, Oregon. www.atcannonbeach.com.
There is a wonderful spaghetti and meatballs that is offered, but not usually on the menu. It's like a secret you have to know about: apparently reward for being part of this cult of fans. In this case, no actual spaghetti noodles were on hand, but instead linguini, which was just as fine and just as outstanding.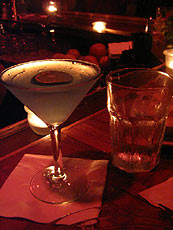 Outstanding mixology at The Bistro
The sauce is this thick, bold and flavorful thing, yet still delicate. Big, fat mushrooms add an earthy touch, while green peppers bring an occasional zing. The whole thing is rich and hearty and feels like a garden is unfolding over my palate.
The meatballs are gargantuan: a bold blend of spices and almost tangy. I'm a sucker for great meatballs and relish every mouthful.
At one point, I realize the only thing this is missing is more sauce. For some reason, my dish was a bit low. Just as I was thinking this, the wise and observant waitress asked me if I'd like some more sauce. Just in time.
Their famously imaginative menu includes a bundle of interesting entrees and flavors, with influences from all over Europe and the Mediterranean. There are pansotti (swiss chard and cheese-filled triangles with walnut pesto and marinara sauce), sautéed oysters served in a lemon sauce, broiled chicken with a Thai slant, a famous seafood stew with fish changing regularly, and a broiled lamb with an eggplant relish I heard someone cooing about all night. Items range from $15 to $25. 263 N. Hemlock. Cannon Beach, Oregon. 503-436-2661.
Guido's Ristorante, Wheeler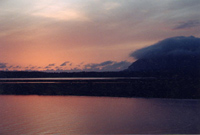 View from Guido's
Overlooking the Nehalem Bay, tiny, six-block-long Wheeler has a lion's share of great restaurants: there are three packed into this miniscule but addictive place. There's the growing buzz of the Sea Shack, the legendary experimentations of the Treasure Café, and then there's Guido's.

Tradewinds Motel, Rockaway Beach. All rooms are immaculate and have TV's, VCR's and in-room phones with data ports. Oceanfronts all have a queen bed, a double hide-a-bed, kitchen, cozy firelog fireplace and a private deck. Both types sleep up to four people. Others are appointed for a two-person romantic getaway, yet still perfect for those on a budget. Elaborate oceanfront Jacuzzi suite has two bedrooms, kitchen, double hide-a-bed, fireplace and private deck, sleeping as many as six. For family reunions or large gatherings such as weddings, some rooms can connect to create two-room and three-room suites. Some rooms are pet friendly.523 N. Pacific St., Rockaway Beach. (503) 355-2112 - 1-800-824-0938. www.tradewinds-motel.com
This charming eatery was once home to the famous Nina's Italian eatery, which wowed the north coast for a couple of decades until its demise two years ago. Then, the first version of Guido's entered the building, with some truly amazing pizza creations that were out of this world.
Now, the newest version may not have that cutting edge gourmet vibe, but it's still a wonderful inheritor of the legacy of Italian food joints in this spot – and it has its own exceptional slant on the genre.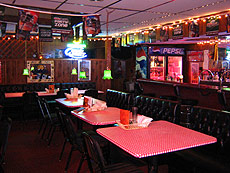 Exquisitely retro lounge in the back of Guido's
Their pastas and pizzas are becoming well known for being simply good quality family fare with a homemade feel. First, you're greeted with a lovely little collection of antipasto: good cheeses and meats, along with fresh vegetables.
Their minestrone soup is fabulous, and introduces you to the made-with-loving-care sense you get from all the meals here. It's a soup like your grandma would've made – if she was a really good cook. Lots of spinach adds a nice touch.
Their garlic bread is tasty in this Old World kind of way, again like a sweet relative made it from scratch.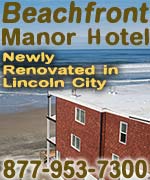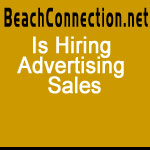 I've become addicted to the calzone ($11.95), which is somewhere between pasta and a pizza, and probably shows off what their capable of in both worlds. The meat sauce covering this golden, glazed beauty of a crescent is hearty, thick and rich with meat and flavors. The crust is juicy and moist, adding much to the total of the layered flavors.
The whole dish is presented nicely, with cantaloupe and grapes.
Inside the calzone, it's packed with a potpourri of stuff. Beef, sausage, mushrooms, olives and gobs of cheese form a nice rush of tastes from this gleefully varied, inverted pizza.
The view here is addictive. It's hard to not stare out at the bay and Neahkahnie Mountain and become almost hypnotized. It's likely the most beautiful dining view on the coast that isn't of the surf. 675 Hwy 101, Wheeler. (503) 368-7778.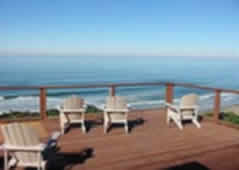 A1 Beach Rentals, Lincoln City. Perfect for large family vacations all the way down to a getaway lodging for two - with over 25 vacation rental homes to choose from. A breathtaking collection of craftsman or traditional beachfront homes, or oceanview houses – from one to seven bedrooms. In various areas of Lincoln City and overlooking the beach, with some in Depoe Bay. All kinds of amenities are available, like hot tubs, decks, BBQ, rock fireplaces, beamed ceilings and more. Some are new, some are historic charmers. Lincoln City, Oregon. 1-(503)-232-5984. www.a1beachrentals.com.

D Sands Condominium Motel, Lincoln City. Free, fresh baked cookie upon check-in is just the start. All rooms beachfront and up against Lincoln City's most famous stretch of beach: the D River. Each room comes as a suite or mini-suite, and has a kitchen and balcony or patio. Some w/ gas fireplaces, while all have a DVD Players; movies to rent come with free popcorn. Heated indoor pool, a spa, and this fabulous beach is lit at night. Rooms sleep from two, four to six - including a deluxe fireplace suite. Gift certificates orspecial occasion packages. www.dsandsmotel.com. 171 S.W. Highway 101. 800-527-3925.
Weiss' Paradise Suites & Vacation Rentals - Seaside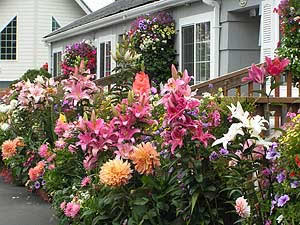 Unique Luxury Accommodations in Seaside. 1BR Suites, 1BR & 2BR Duplex Units and 3BR Houses, units for 2-8 people. Rent entire property for 20-26. Close to beach, river and Broadway St.
Suites are designed for two adults; vacation rental units for families. All units have kitchen and many have fireplace, deck and jetted tub. Comfy robes, slippers, luxury bath amenities, quality linens and more. 741 S. Downing St., Seaside. 800-738-6691. www.SeasideSuites.com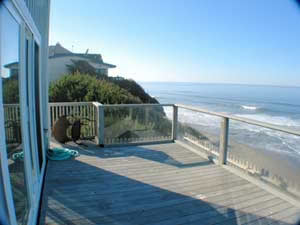 Lincoln City Vacation Homes There's something for everyone among this selection of wondrous homes: smaller homes with a view to a large house that sleeps 15. All the homes are either oceanfront or just a few steps away from the sand – all with a low bank access and fantastic views. Most are in the Nelscott area; one is close to the casino. You'll find a variety of goodies, depending on the home: fireplaces, multiple bedrooms, dishwashers, Jacuzzis, washer/dryers, hot tubs, cable TV, VCR, barbecues; there's a loft in one, and another sprawling home has two apartments. Pets are allowed in some homes – ask ahead. Each comes with complete kitchens so you'll have a home away from home. Most have the seventh night free. Prices range from winter $85 to summer $230 per night. www.getaway2thecoast.com. 541-994-8778.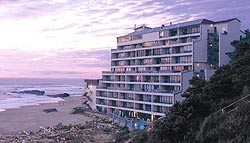 Inn At Spanish Head, Lincoln City. Lincoln City's only resort hotel built right on the beach with all oceanfront rooms - nestled against a rugged cliffside overlooking a soft, sandy beach. Dine in penthouse restaurant and bar, for casual meal or candlelight dinner. An array of seafood specialties, juicy steaks and other Northwest favorites, including decadent Sunday buffet. Rooms range from bedrooms to studios to 1-bedroom suites with microwaves and refrigerators to full kitchens. Also, wi-fi, spa, saunas, exercise room and year-round heated swimming pool. Kids will love the game room and easy beach access. Full-service conference/meeting rooms for that inspirational retreat; extensive wedding possibilities. 4009 SW Highway 101, Lincoln City. 1-800-452-8127 or 541-996-2161. www.spanishhead.com
RELATED STORIES
SPECIAL SECTIONS
oregon coast weather
oregon coast mileage chart & map
day trips, suggested itineraries
Oregon Coast Lodging Specials
Search BeachConnection.net's 1,000 pages
Oregon Coast Real Estate
Oregon Coast Pictures
Atypical Things to Do
Oregon Coast Camping
Seaside, Oregon Lodging
Cannon Beach, Oregon Lodging
Manzanita, Wheeler, Rockaway Beach Lodging
Lincoln City Lodging
Depoe Bay Lodging
Cannon Beach Complete Guide
Lincoln City Complete Guide
Seaside, Oregon Complete Guide
OR TAKE THE VIRTUAL TOUR

ASTORIA
Where the Columbia meets the Pacific, Land of Lewis & Clark and loads of atmosphere & history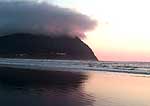 SEASIDE
The Promenade, Tillamook Head, family fun & broad, sandy beaches

CANNON BEACH
A mysterious lighthouse, upscale yet earthy, a huge monolith, fine eateries & an art mecca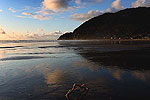 NEHALEM BAY
Manzanita's beaches, Nehalem and Wheeler's quirky beauty; laid back Rockaway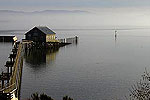 TILLAMOOK BAY
Garibaldi, Barview, Bay City, Tillamook & an oceanfront ghost town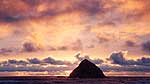 THREE CAPES LOOP
The hidden secret of the coast: Cape Meares, a lighthouse, Oceanside, Netarts and Pacific City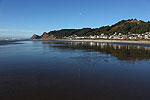 LINCOLN CITY
& THE CORRIDOR OF MYSTERY
Miles & miles of unbroken beaches, Cascade Head, Neskowin and many manmade attractions

DEPOE BAY
A spouting horn downtown, freaky hidden cliffs and whales, whales, whales

NEWPORT
Time-tripping Nye Beach, a bustling bayfront, marine science-central and two lighthouses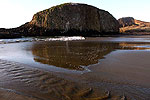 WALDPORT / SEAL ROCK
Pristine, even secretive sands and wild geologic landmarks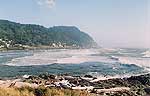 YACHATS
Constantly dramatic wave action, a mix of the rugged & upscale

UPPER LANE COUNTY
25 miles of deserted beaches & oodles of wonders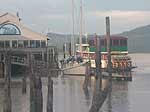 FLORENCE
A lighthouse, ancient bayfront and miles and miles of fluffy dunes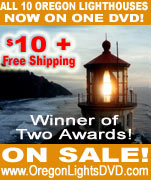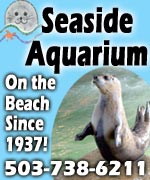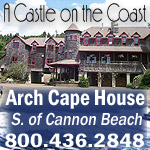 BREATHTAKING CLIFFTOP IN NEWPORT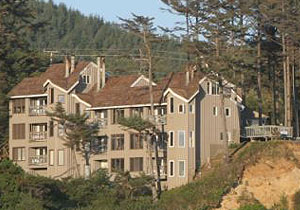 STARFISH POINT Newport - Offers only the finest in luxury condominium lodging. Every unit is focused on the beauty of the sea and the beach.
All units boast two bedrooms, two bathrooms, designer kitchens, wireless broadband Internet, fireplaces, Jacuzzi's and private decks. Friendly staff dedicated to high quality and superb customer service. 140 NW 48th Street, Newport. (541) 265-3751. (800) 870-7795. www.starfishpoint.com