BEACH NEWS YOU CAN USE
Covering 180 miles of Oregon coast travel: Astoria, Seaside, Cannon Beach, Manzanita, Nehalem, Wheeler, Rockaway, Garibaldi, Tillamook, Oceanside, Pacific City, Lincoln City, Depoe Bay, Newport, Wadport, Yachats & Florence.
It's Fall on the Coast: Summer is Here Again.
Inadvertent Comic Relief - and Hard Lessons - on the Oregon Coast
By Andre' Hagestedt
(Oregon Coast) - Exploring Oregon's coast has its hazards and freaky moments. It's a place that is bountiful in its beauty and grandeur, and there are seemingly endless moments of joy and discovery. But it has its way of showing you whose boss as well. It can turn around and swat you in the back of the head.
I have learned much during my many years of bouncing around the beach. This place can be more adventure than you bargain for. It teaches you lessons the hard way. But often, the learning can be pretty funny.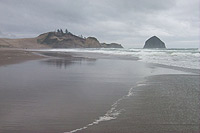 Cape Kiwanda State Park
Lesson One: Don't leave your keys on the beach. One autumn day in 1993 at Cape Kiwanda State Park, I should have been a little more on the obsessive-compulsive side than I usually am about checking for my keys. Somewhere along this sunset walk, my rather old, torn shorts let my keys loose into the surf of the Oregon coast.
And the sun was going down fast.
An hour after calling a locksmith, he arrived, and it turned out he had vision problems and couldn't create a replacement key. After two hours of shivering in the cold, aching from hunger and too much coffee earlier, I was left with a steering column that was ripped open so I could at least start the car. This cost me 75 bucks.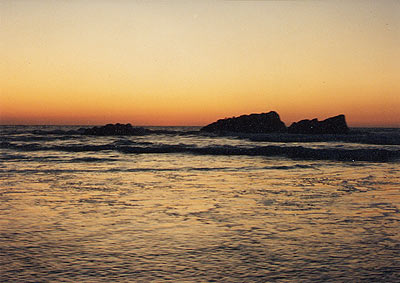 Lincoln City
Lesson Two: Buy enough gas to head out to the coast. One night in November 1994, my friend Ruth and I abruptly decided we should drive (from Salem) to Lincoln City. It was 1 a.m., and about halfway there I noticed we were low on gas. I assured her there was an all-night gas station there. After all, I'd agreed to drive back, so she could sleep, because she had college classes in the morning.
It turned out, no, there was no gas to be had. At this time, stations in Lincoln City weren't open all night during the dead season - although they are now. We were a bit panicked, but luckily I remembered a little secret about some businesses that may have gas stored for such a situation. Whew.
However, like a total ass, I wind up passing out in the passenger seat, forcing her to drive back.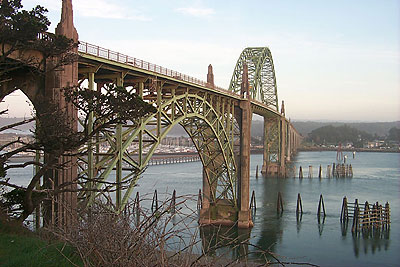 Yaquina Bay, home of the Discovery Tours
Lesson Three: Watch out for karma. About 1997, my girlfriend at the time and I went out on one of those Discovery whale watch tours in Newport. We overheard one lady tell the crew she was a journalist doing a story on the tour. Within 15 minutes, she, of all the 20 people onboard, was the only one to get really seasick.
Kathy and I snickered about this a bit, and relished in the fact we felt fine, practically boasting to ourselves. I even stood at the front of the ship and made goofy impressions of that scene in "Titanic" with my arms outstretched. (Hey, it was 1997 and that gag wasn't overdone as yet).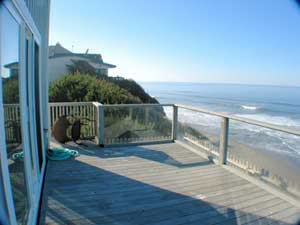 Lincoln City Vacation Homes There's something for everyone among this selection of wondrous homes: smaller homes with a view to a large house that sleeps 15. All the homes are either oceanfront or just a few steps away from the sand – all with a low bank access and fantastic views. Most are in the Nelscott area; one is close to the casino. You'll find a variety of goodies, depending on the home: fireplaces, multiple bedrooms, dishwashers, Jacuzzis, washer/dryers, hot tubs, cable TV, VCR, barbecues; there's a loft in one, and another sprawling home has two apartments. Pets are allowed in some homes – ask ahead. Each comes with complete kitchens so you'll have a home away from home. Most have the seventh night free. Prices range from winter $85 to summer $230 per night. www.getaway2thecoast.com. 541-994-8778.
By the last half hour of the trip, Kathy and I felt increasingly queasy and awful. It felt like punishment for making fun of the sick journalist.
Lesson Four: Follow your intuition. In fall of 2004, I decide to take my little Toyota Corolla onto that same beach at Cape Kiwanda where I lost my keys eleven years earlier. Yet something nagged me inside about this being a bad idea, partially because I nearly got stuck in the sand last time, a few months ago. Sure enough, I get totally stuck. If it wasn't for a family from Coos Bay who were used to pulling others out of the sand at home, I would've spent the night on this beach. How dopey I felt admitting to them my job was editor of this publication.
Lesson Five: Beware showing the coast to goofy relatives from afar. A few years ago, one of my off-the-wall relatives showed up from Germany and annoyed the hell out of me all day as I as took her and her boyfriend on a coastal tour. He was alright - most of the time; she was a caustic ditz who constantly irritated me and those who had the misfortune to serve us in restaurants over the course of the trip from Oceanside down to Lincoln City.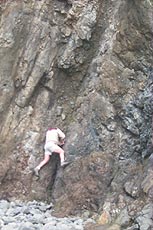 My brother entertains by climbing the wall at Oceanside
Luckily, the waitstaff couldn't speak German and didn't catch all the crap we had to put up with, but she did force us to constantly change seating or some other idiotic demand. I have a lot of friends in the server industry who have to deal with crummy tourists, so this was a particular afront to me.
Then, as she got increasingly drunk on regional microbrews, I had to sit and listen to a barrage from both of them of "how come you're not married?" or "why don't you have a girlfriend?"
The lesson learned? Such trips, especially in close quarters, are special torture if your companions are socially unwieldly in some manner or another.
However, my brother Norman was a kick in the pants, as he tried to crawl up a basalt cliff in Oceanside.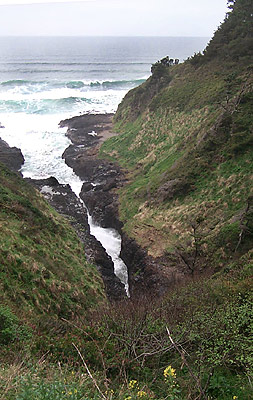 Rocky shelves of Devil's Churn
At other times, however, I'm just a plain maniac and I've either been a major part of my own adventures or I totally create them. Like the times I hung out on the coast in the mid-90's with the young nutcases in a band called The Stanleys. They would play gigs in Newport, we'd all hit the bars later and get ripped. Then the next day, hangovers be damned, we'd go bonkers on the beaches. There was one game in particular, on the rocky slabs next to the Devil's Churn near Yachats, where we'd take turns tossing large rocks into pools of water near another, trying to drench each other.
Doing this - and watching them cavort on the beach and do really dumb things like fall into creeks - helped me learn the importance of bringing along a change in clothing.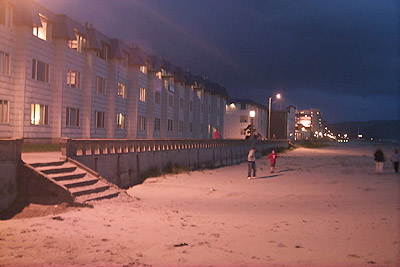 Nocturnal Seaside
One unforgettably kooky, surreal incident happened in Seaside in the summer of '99, where the girl I was dating and I were wandering the beaches after the bars had closed. We noticed this goofy trio of guys at a nearby bonfire, taking turns smacking their heads into wooden boards, trying to break them. Out of curiosity, we joined them and discovered one was a transient, another was a teen from Montana and the other a local - all of them drunk. Like a scene from a David Lynch flick, the transient kept accidentally setting his foot on fire.
Then there are those crazed moments at local bars - oh, but those are another set of stories. Suffice it to say the adventures and lessons continue.