BEACH NEWS YOU CAN USE
Covering 180 miles of Oregon coast travel: Astoria, Seaside, Cannon Beach, Manzanita, Nehalem, Wheeler, Rockaway, Garibaldi, Tillamook, Oceanside, Pacific City, Lincoln City, Depoe Bay, Newport, Wadport, Yachats & Florence.
11/14/06
Season's Weird Travel Surprises on Oregon Coast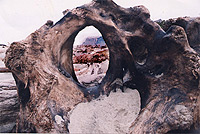 Storms bring all sorts of oddities onshore this time of year, such as driftwood in interesting shapes (pictured here: Lincoln City)
(Oregon Coast) – Between the hazy, lazy days of the post-second summer, latter half of October and the regular storms of December, November is a turning point with its growing squalls and tempestuous seas. It screams "go indoors" to stare in awe at the tidal ferocity, yet shockers lurk in the form of a surprising amount of calm, sunny days that are even warmer than your home inland.
It's like a story plot full of twists and turns, but it's a little known Oregon tourism factoid that there's more to November weather than meets the eye. It's a crazy guessing game, unless you keep a close watch on the weather reports. Even then, these can often change every few hours.
Hence this sampling of cool spots you may want to check out this month: how their character changes in different weather this time of year and what to do when you're there.
It begins with the indoor travel suggestions, but this story then makes a wide swath across a lot of coastal landscapes.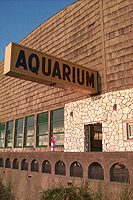 Fun and Funky Indoor Coastal Nuggets
In Seaside, should it rain excessively, part of the fun here is the nearly 70-year-old Seaside Aquarium. Located right on the Promenade, it features plenty of fish tanks, a touch tank, and a chance to feed the frolicking family of Harbor seals. Plus the enormous whale skeleton in the front window is quite an eye-catcher. (503) 738-6211.
In Newport, you may feel compelled to visit the various aquariums which draw thousands to the area each year.
There's the ever-famous Oregon Coast Aquarium (once the home of Keiko the Killer Whale), where you can dig into all sorts of marine life up close and personal, especially with its Passages of the Deep. Wander a giant glass-like tube that contains a 360-degree view of three distinctly different Oregon Coast underwater habitats and encounter all manner of shark and other fishies. It's OK to drop your jaw as you do so. In South Beach, across the bay from Newport. (541) 867-3474.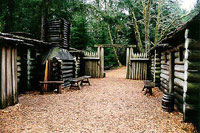 Fort Clatsop
The nearby Hatfield Marine Science Center provides some seriously scientific and cerebral fun, with its displays of a variety of interesting aspects of the ocean deep. You're also in the heart of some of the most cutting-edge research being done in the Pacific Ocean: from the pharmacological applications of various sea goo, the world-famous whale research of Bruce Mate's work to the awe-inspiring VENTS program, which digs into the underwater volcanoes lurking off our shores. (541-867-0100.)
Weiss' Paradise Suites & Vacation Rentals - Seaside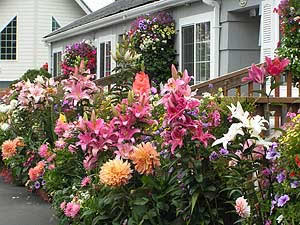 Unique Luxury Accommodations in Seaside. 1BR Suites, 1BR & 2BR Duplex Units and 3BR Houses, units for 2-8 people. Rent our entire property for 20-26. All units close to beach, river and Broadway St.
Suites are designed for two adults; vacation rental units for families. All units have kitchen and many have fireplace, deck and jetted tub. Enjoy comfy robes & slippers, luxury bath amenities, quality linens and more. See us on The Travel Channel's "Great Escapes" show in August 2006. 741 S. Downing St., Seaside. 800-738-6691. www.SeasideSuites.com

Up between Astoria and Seaside, discover history firsthand at the replica of Fort Clatsop. Here is approximately where Lewis and Clark's Corps of Discovery made their winter camp for 1805-06 (the exact location was lost a good 150 years ago). Explore the replica of their lives back then. You can almost smell the wet leather and mold from the 110-odd days of constant rain they experienced.
The modern museum facility tells the tale in deeper detail. That includes much about the Corps' dog. Appropriately enough, dogs are allowed on the premises of this National Park. Entrance is via a road approximately five miles south of Astoria, near MP 7.
Tillamook Bay, Its Graces and Its Ghost Town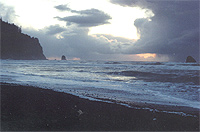 Wild and weird sunsets along the spit of Tillamook Bay (Bayocean)
Sunsets, if you can catch them in November, make for some dramatic shots on this bay between Tillamook and Garibaldi.
On its south side, just west of Tillamook, there's the Bayocean Spit, with miles and miles of sand stretching out over the mouth of the bay. Here, hiking as well as boating and fishing in the bay are king – not just for tourists but for day-trippers and locals as well. This deliciously silent place takes a round trip hike of about 3.9 miles if you walk through the sandy draw near the middle and come back around. Or you can hike the entire thing in an eight-mile loop.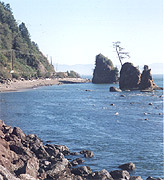 The Three Graces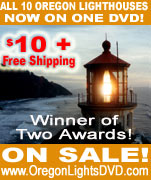 Bayocean is a weird remnant of history. There was once a large resort town here in the 1910's, bustling with two hotels, a natatorium, a dance hall of sorts and five miles of roads. Some 4000 lots were created for homes, with perhaps 1600 actually being sold. Hard economic times, erosion and storms rather quickly turned the place into a dilapidated ghost town. By the 70's, what remained was bulldozed by the government.
On the other side, just south of Garibaldi, sit the Three Graces - three sizable sea stacks, one with a tree growing on top. There are some pullouts here, where you can watch the wildlife, the trains or sometimes the U.S. Coast Guard doing practice maneuvers with a helicopter.
Newport's Yaquina Head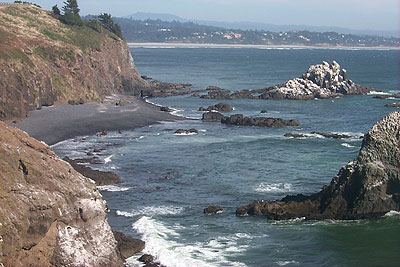 Strange black sands beneath Yaquina Head
The Yaquina Head Outstanding Natural Area boasts a manmade tide pool area, various hiking paths, a variety of rocky areas to climb around on, a strange, surreal beach and a visitors center. Oh yeah, and there's a wondrous old lighthouse.
These days, one of its more popular features in the intertidal area, carved out of an old rock quarry. These wheelchair-accessible paved paths weave in and out of rocky tide pool areas that were created to see what happens when rocky shelves are left alone to become colonies of marine life.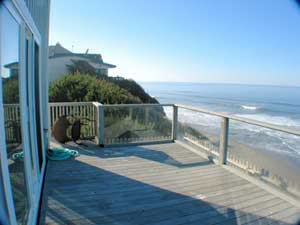 Lincoln City Vacation Homes There's something for everyone among this selection of wondrous homes: smaller homes with a view to a large house that sleeps 15. All the homes are either oceanfront or just a few steps away from the sand – all with a low bank access and fantastic views. Most are in the Nelscott area; one is close to the casino. You'll find a variety of goodies, depending on the home: fireplaces, multiple bedrooms, dishwashers, Jacuzzis, washer/dryers, hot tubs, cable TV, VCR, barbecues; there's a loft in one, and another sprawling home has two apartments. Pets are allowed in some homes – ask ahead. Each comes with complete kitchens so you'll have a home away from home. Most have the seventh night free. Prices range from winter $85 to summer $230 per night. www.getaway2thecoast.com. 541-994-8778.
Not far east of the intertidal area's parking lot lay some interesting boulder-filled areas, perfect for climbing on and exploring. And above, on Salal Hill, a couple of trails meander to various high and awe-inspiring points overlooking the world.
A noisy beach with black, polished stones is accessed via a long staircase. This one's a bear coming back up, but it's worth it. The large cobblestones make quite a rattling noise when attacked by the tide - which tends to hit here with sizable force because the tide line is at a fairly steep incline.
At the headland's tip sits the majestic Yaquina Head Lighthouse, which was built in 1873 and stands 93 feet high. There is a fee to enter Yaquina Head, and all attractions are fairly close to the parking lot should the weather turn.
Short Sand Beach/Smuggler's Cove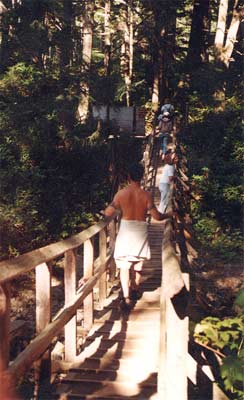 Oswald's suspension bridge
Travel just an hour and a half from Portland and you'll come to the stunning, pristine Nehalem Bay area and its myriad of mysteries and surprises, including this multi-leveled state park. The centerpiece to Oswald State Park, Short Sand Beach (sometimes called Smuggler's Cove), is a sprawling half-circle that's popular with surfers during nicer weather. It's also packed to the gills in summer and rather unOregon-like at that time. But in the fall and winter, it's yet another rugged, amazing place on these shores. Often, the tide turns Short Sand into an aptly named place with not very much in the way of walkable beach. But it's beautiful and inspiring nonetheless, and easy to watch the swirling madness from a safe vantage point above.
A rustic suspension footbridge provides some amount of excitement as you cross to access the southern part of the beach - if you're trying to avoid having to wade through the creek.
In the park, there are primitive campsites (which probably aren't much fun in most November weather) and some incredible views from various hiking trails.

Drama Between Yachats and Florence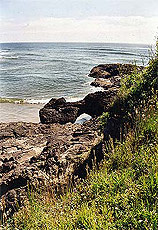 Unnamed access filled with wonders
For a serious sense of the rugged and hidden, check out the 25-mile stretch between Yachats and Florence. Most of these beaches are small and compact, so you usually can't wander too far from your car (which you may want to dart into when the storms hit).
Check out Neptune State Park for its sandy stretch and tiny cove-like area on its north side. It abruptly turns from sand to rocky boulders and slabs at its southern end, where the waves put on an amazing show as they slam into them.
A tad north of Neptune, there's an unmarked beach access full of surprises. Walk the winding, twisting path over the bluff to hop onto large basalt structures filled with cracks and crevices that give glimpses of churning waves beneath you. They'll sometimes squirt water up at you. Wander here to find tide pools and watch the sea knock logs around.
Or walk down a lengthy but smooth and paved trail from the parking lot to the sandy part of this beach, which makes for a cozy little cove, bordered by the cliffs of Neptune.
Farther south, there are little spots like Ocean Beach and Rock Creek, which is where the landscape begins to turn from the rocky landscapes to the sandy stretches typical of the areas around Florence. There's even the Heceta Head Lighthouse along the way. In any case, these beaches are often bereft of people and you'll likely find yourself the only beachcomber.
Pacific City's Revelations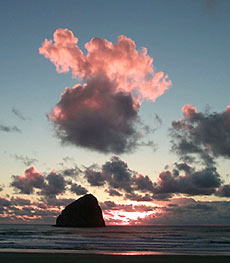 Pacific City's Haystack Rock
Just a wee walk from the main parking lot in town, Cape Kiwanda is the gargantuan sandstone structure jutting out into the sea, coming complete with a whopping sand dune towering above it. Sitting a ways offshore like an ancient, silent sentinel is the brooding form of Haystack Rock (not to be confused with the Haystack in Cannon Beach).
The entire area is one remarkable package of natural fun and frolic, rambling on for several hundred feet in different directions and hiding numerous wonders all over. Tide pools abound around the rocks at its base. Meanwhile, the dune at the top inspires kids of all ages to engage in all sorts of sledding behaviors, with kids of all ages zipping down it.
The top of the Cape Kiwanda is reached by ascending about 30 feet of annoyingly loose sand, and from there it's the gateway to a stunning, even sometimes alien landscape, full of remarkable views.
If the weather is unaccommodating, you can always sit in the scrumptious Pelican Pub & Brewery and take in this view from the safety of a fine restaurant and brewpub. (503) 965-7007.