BEACH NEWS YOU CAN USE
Covering 180 miles of Oregon coast travel: Astoria, Seaside, Cannon Beach, Manzanita, Nehalem, Wheeler, Rockaway, Garibaldi, Tillamook, Oceanside, Pacific City, Lincoln City, Depoe Bay, Newport, Wadport, Yachats & Florence.
It's Fall on the Coast: Summer is Here Again.
Oregon Coast Travel Picks, Secrets, Week of 10/16
(Oregon Coast) – The weather is supposed to be sweet and lovely this weekend, with temperatures in the 60's and sunny skies gracing the Oregon coast pretty much up and down the shoreline. It's a perfect time to explore a few hidden spots, coastal nooks and crannies, stay at some of the region's most stunning lodgings, and indulge in play and repose at some intriguing, unusual events – such as a wacky dog show in Cannon Beach or a festival that worships (and scarfs on) the mushroom in Yachats.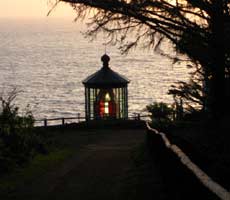 Cape Meares, just west of Tillamook. A lighthouse, a weird natural anomaly and a few hidden trails all create a whole new world to explore in this relatively small State Park – all a trifle north of MP 4, along the Three Capes Loop.
The facility has been closed a few days this week for some reconstruction, but should be open at any time, probably by the weekend. This makes this week a perfect time to visit this consistently stunning spot.
Here, you'll find an abundance of incredible panoramic ocean views as seals, whales and other wildlife frolic below you.
Take the paved walkway to the Cape Meares Lighthouse, where the ocean views become panoramic and really explode. This stumpy specimen is probably the smallest lighthouse on the Oregon Coast, standing only 38 feet high. But size isn't important here as it stands on a 200 ft high cliff, more than making up for its own lack of height.
Inside, this 1890 beauty sports a gift shop and a wrought-iron spiral staircase which leads you to the lens - a kaleidoscopic carnival of colors when the sun hits it just right. It's open during touristy times of the year.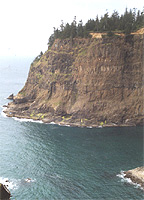 Another short trail brings you to the Octopus Tree, a freaky, huge organism which has grown eight very large limbs (until one was whacked off during a storm in the early `90s). The tree was featured in Ripley's Believe It Or Not for years.
From the Octopus Tree, more trails await. A trail to the highway darts off toward the road, going for about a half mile and passing several viewpoints. There are also long, meandering trails snaking down to the beach and a hidden cove at the community of Cape Meares (the village below the cliffs), as well as one which ends up at the community itself.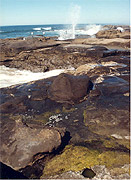 7th Annual Yachats Village Mushroom Fest, October 20 - 22. It's a celebration of all things fun and fungi. This event gives you the lowdown on this lowliest of plant-like thingy, where the town goes bonkers with the wild mushroom cuisine. There's guided mushroom walks, lectures and talks, exhibits and identification session, as well as Fungi products, music and entertainment. Mushroom-influenced cuisine happens at restaurants Adobe Resort Restaurant, Drift Inn Restaurant and Pub, Grand Occasions Gourmet Deli, La Serre Restaurant, Landmark Restaurant, Leroy's Blue Whale Restaurant and Topper's Ice Cream & Pizza. Numerous events happens all over, and it's the kind of blast that, well, it mushrooms…. $5 will get you a weekend pass to all events. http://www.yachats.org/MFest2006.html. 800-929-0477.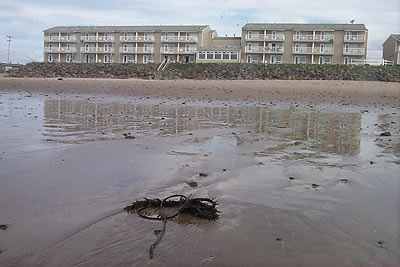 D Sands Condominium Motel, Lincoln City. On the beachfront, at Lincoln City's most famous D River access, the D Sands faces miles of stunning sand and surf. You get a free cookie at check-in, and that's just the beginning of the fun here. The figure of a lighthouse - created by a set of lights and including a beacon that actually works – sits on the side of the building, and inspires you to check the place out. Once you do, you'll find the rooms come as a suite or mini-suite, including a kitchen and balcony or patio. Some have gas fireplaces, while all have a DVD Players with movies available for renting (and movie rentals come with free popcorn). There's a heated indoor pool, a spa, and this fabulous beach is lit at night. Rooms sleep anywhere from two, four to six - including a deluxe fireplace suite. Gift certificates are available, and they offer special occasion packages as well. www.dsandsmotel.com. 171 S.W. Highway 101. 800-527-3925.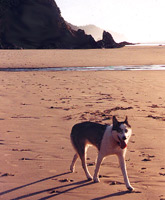 Dog Show at the Beach, October 21. Cannon Beach really goes to the dogs at the Surfsand Resort on Saturday, with this event that is a benefit the Clatsop County Animal Shelter. This canine competition features the family pet in exciting categories like best trick, the 25-yard doggie dash, cutest pup, biggest, fattest, most handsome, "so ugly you're cute," fluffiest, best costume, owner look alike, best handshake, longest ears and the surf rider division, among numerous others. It goes from 10 a.m. to 5 p.m., with a parade of contestants around noon. Pre-registration begins on Friday at 4 p.m. On the beach at Cannon Beach – dependent on weather. 800-547-6100.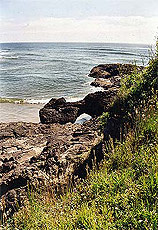 Secret Unmarked Beach Access South of Yachats. And what an access it is. A parking lot gives way to two routes to this varied and rather amazing beach.
Walk the winding, twisting path over the bluff to hop onto large basalt structures filled with cracks and crevices that give glimpses of churning waves beneath you. They'll sometimes squirt water up at you. Wander here to find tide pools and watch the sea knock logs around.
Or walk down a lengthy but smooth and paved trail from the parking lot to the sandy part of this beach, which makes for a cozy little cove, bordered by the cliffs of Neptune State Park to the south.
You can probably hop up and down the basalt structures from here as well, and part of the rock forms an intriguing arch in the sand. At its northernmost, there's a small cove and tiny patch of beach which ends in a large wall. It's all just a tiny bit after the county line between Lane and Lincoln Counties, almost at MP 168 – and it has no name. You'll just find only a parking lot.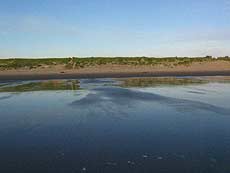 Gearhart - a perfectly peaceful place to find a vacation rental
BeachcombersNW.com. If you're looking to get lost in another coastal website – this one is it. Here, you can check out hundreds of rental properties on the Oregon and Washington coast.
It's probably the single biggest resource for vacation rentals along the coasts of Washington and Oregon, where you can hone in on a rental home that fits any criteria, such as romantic retreats, families, pet friendly houses, large groups, ocean front, ocean views and hot tubs.
BeachcombersNW includes a rental locator map, annual events calendar, seasonal specials listings, newsletter sign up, availability request forms, quick & easy rental search results, and much more. You can find vacation rentals in Astoria, Warrenton, Gearhart, Seaside, Cannon Beach, Arch Cape, Manzanita, Nehalem, Wheeler, Rockaway, Garibaldi, Oceanside, Netarts, Tillamook, Tierra Del Mar, Pacific City, Neskowin, Lincoln City, Gleneden Beach, Depoe Bay, Otter Rock, Newport, South Beach, Waldport, Yachats, Heceta Beach, Florence, Dunes City and rentals all the way down to Brookings….as well as Washington towns Moclips, Pacific Beach, Copalis, Ocean Shores, Westport, North Cove, Oysterville, Nahcotta, Ocean Park, Long Beach, Seaview and Ilwaco.