Covering 180 miles of Oregon coast travel: Astoria, Seaside, Cannon Beach, Manzanita, Nehalem, Wheeler, Rockaway, Garibaldi, Tillamook, Oceanside, Pacific City, Lincoln City, Depoe Bay, Newport, Waldport, Yachats & Florence.
07/28/07
Really Living on the Edge: Wonders of Oregon Coast Science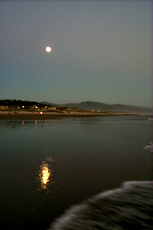 The moon isn't just a beautiful thing on the coast: it's constantly tugging at the tide
(Oregon Coast) – Someone once said about the Oregon coast, "They call it 'living on the edge of the continent' for a reason." They were actually referring to the proliferation oddball coastal characters, but the saying is quite true about the natural world.
Oregon's coastline is one dynamic and endlessly fascinating environment, with everything around you telling a story – and often a truly bizarre one. From the uncounted grains of sand and their origin, to what freaky delight may lay beneath them, the rocky cliffs at the edge of the beach, to that massive ocean itself: you are truly living on the edge in more than the geographically literal sense while out here.
Eye-popping wonders lurk all around you on these beaches. All you need do is take a quick look. Here's just a few examples.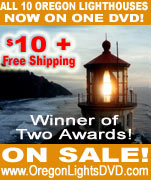 The Ocean Is Full of Bull – Bull Kelp, That Is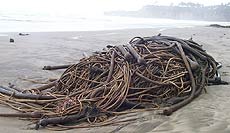 The oddest things pile up on shore. This shot was taken near the Devil's Punchbowl, just north of Newport, in 2002.
Bull Kelp are a large, brown algae that grow in "forests" near the shore. These kelp are annuals, completing their life cycle in one season, and can grow up to 20 meters (60 feet) in one year. At the bottom, their branching "holdfasts" anchor the kelp, although some are torn free in storms. Their long stipes (stems) tangle together to form large piles, as you see in the photograph. Their floats have a high proportion of carbon monoxide and to keep the blades (leaves) near the surface for photosynthesis. (Their smooth, roundish shapes, when bobbing in the ocean, are sometimes confused with seals.)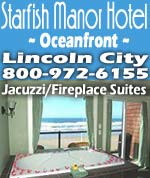 Courtesy William Hanshumaker, Hatfield Marine Science Center. 2030 Marine Science Dr. Newport. (541) 867-0100.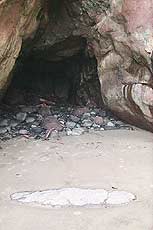 Bob Creek Cave
Cool Caves of the Oregon Coast
These are always fascinating endeavors: exploring these things that were once pockets of air in a sizzling, super heated moment of a lava flow, or maybe the result of millennia worth of wearing away at the basalt by
At Bob Creek Wayside, south of Yachats, more tide pools than humans populate this obscure but fascinating place. They really emerge at lower tides, clinging to odd, mushroom-shaped rocky blobs at the southern end.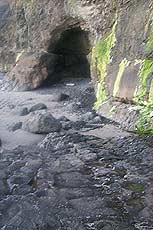 Cave at Oceanside
At this end, there's also a series of sea caves. First, you'll encounter a small one next to a huge boulder that creates a sort of arch by leaning up against the cliff. On the other side of the arch, there's a sizable sea cave that allows you to walk inside and check out the freaky debris deposited there by the tides. Water is dripping from the top and it gets a little dark, so watch the slippery stuff. You probably don't want to amble around the weird shapes at the very end of the cave, because things can get dangerous.
Along the Three Capes Tour, west of Tillamook, sits the tiny town of Oceanside. There, you'll find not a natural cave but a manmade tunnel leading through the headland to a wondrous hidden spot. These days, Oceanside seems to have wound up back on the radar of tourists, so it's exactly hidden anymore. But go through that concrete structure and there are other sea caves to explore - big and small - plus numerous interesting rocky slabs to play around and copious beachcombing possibilities.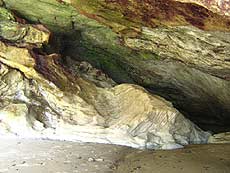 Hug Point's wild cave
Nothing beats the eerie sea cave at Hug Point, however – just south of Cannon Beach.
Weiss' Paradise Suites & Vacation Rentals - Seaside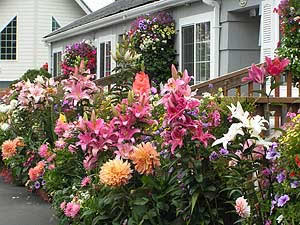 Unique Luxury Accommodations in Seaside. 1BR Suites, 1BR & 2BR Duplex Units and 3BR Houses, units for 2-8 people. Rent entire property for 20-26. Close to beach, river and Broadway St.
Suites are designed for two adults; vacation rental units for families. All units have kitchen and many have fireplace, deck and jetted tub. Comfy robes, slippers, luxury bath amenities, quality linens and more. 741 S. Downing St., Seaside. 800-738-6691. www.SeasideSuites.com
This eclectic strand contains a bundle of wonders, including other caves and the manmade road blasted out of the rock at the beginning of the century. Next to that remnant of history sits this rather large cave, with sweeping shapes and colors drifting off into the darkness, and a sort of central rock that almost seems to spiral into the ceiling of the large hole in the rock.
Don't venture near here if the tide is coming in, however. It's way too easy to get trapped in this area – maybe even inside the cave. Luckily, the tide is cooperative about exploring here about half the time.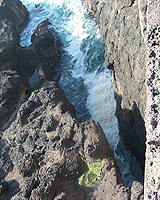 The chasm that creates the spouting horn
Science in Action: Depoe Bay's Spouting Horn
There's a unique feature to Depoe Bay that few - if any - cities on the Oregon Coast have. No other coastal town has a spouting horn right in the middle of downtown, anyway. Here, there are two views of this magnificent monster from the depths. One, during a spring day full of lots of breaker action, you can see the spouting horn in full force. It shoots sea water high into the sky with tremendous force. Watch out if you're driving by: it's certainly a strange and slightly silly sensation to find yourself having to use your windshield wipers because a chunk of ocean water just got sprayed all over your car.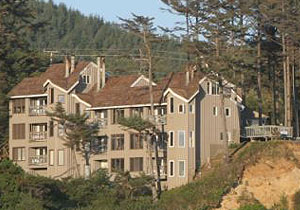 STARFISH POINT Newport - Offers only the finest in luxury condominium lodging. Every unit is focused on the beauty of the sea and the beach.
All units boast two bedrooms, two bathrooms, designer kitchens, wireless broadband Internet, fireplaces, Jacuzzi's and private decks. Friendly staff dedicated to high quality and superb customer service. 140 NW 48th Street, Newport. (541) 265-3751. (800) 870-7795. www.starfishpoint.com
In fact, businesses across the way, such as the Pacific Crown Inn, find they have to wash their vehicles quite frequently because of the constant exposure to salt water flying through the air.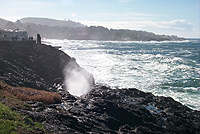 Spouting Horn in action
In the other shot, during a calmer day, you see the culprit. A large fissure in the basalt rock here compacts the waves and their immense energy into one huge aerial wallop - something akin to our own version of Old Faithful (except that it's very random and dependent upon certain tidal conditions.
Anomalies of Summer 2005
For reasons no one seemed to understand at the time, thousands of dead bugs washed up on shore all along the coast in the spring of 2005, especially Newport, Seaside and Cannon Beach. Gobs and gobs of carpenter ants and ladybugs - all dead - were found at the tideline in late May of that year.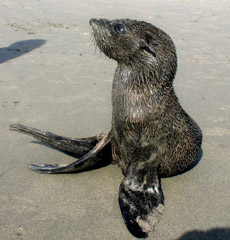 Fur Seal (Photo Seaside Aquarium)
Keith Chandler, of Seaside Aquarium, said he had no idea what's behind this event - how or why they would wind up in the ocean in such great numbers. Initially, one possible explanation was that a large nest had been washed into a stream and then into the ocean. But there are too many, and the event is too far reaching for this to be the cause, he said.
Chandler said he had seen many ladybugs flying around Seaside, which could mean the insects are simply so large in number that many are winding up in the ocean, where they are killed.
A variety of seal pups washed up on the north Oregon coast that year as well, including a fur seal (pictured here) - which normally live in colder waters near Alaska. It is illegal to get closer than 50 feet to one of these animals, no matter how helpless they may look. Authorities say it's usually just a matter of time before the mother seal shows up to reclaim her young. They can be left alone for days at a time. Still, it is illegal to approach them.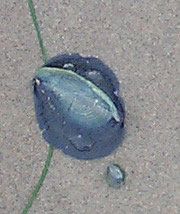 Purple sail
What's Missing This Year on the Coast? Attack of the Little Purple Thingies
Walking along the beach in a past springtime some year, you may have noticed the slimy, iridescent blue discs lying in the sand. These discs are a type of jellyfish frequently called Purple Sail Jellies (Velella velella).
But this year they didn't show up.
Unlike some of the more common jellyfish, the Purple Sails do not sting. They capture food with small, sticky tentacles while drifting on the surface of the ocean. Purple Sails are found in most seas, often preferring warmer waters, using their translucent "sail" to catch the wind. Unfortunately, when the wind blows out of the west, mass standings of Purple Sails occur on local beaches. Once washed ashore, they either become food for a variety of beach dwelling creatures like seagulls, crabs, etc. Or they dry up, leaving only their translucent "sail" behind.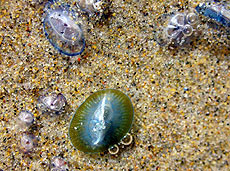 Baby velella this past spring (photo Seaside Aquarium)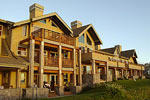 The Ocean Lodge. There will not be another property built like this in Cannon Beach in our lifetimes. Rare, premiere ocean front location; handsome, dramatic architecture and tasteful, fun (nostalgic) beach interiors. Overlooks Haystack Rock. 100 percent smoke free. Imaginative special occasion packages. Massive wood burning lobby fireplace. Library w/ fireplace, stocked with impressive book collection. Pet and family friendly. Lavish continental buffet breakfast. In-room fireplaces, mini-kitchens. Jacuzzi tubs in select rooms. DVD players, complimentary movies. Morning paper. Warm cookies. 888-777-4047. 503-436-2241. 2864 Pacific Street. Cannon Beach, Oregon. www.theoceanlodge.com
According the Seaside Aquarium and the Hatfield Marine Science Center, this year's lack of velella velella was probably the result of not many west winds. It takes those to bring them in en masse, but apparently there weren't many of those winds this past spring or early summer. However, early spring saw a fair smattering of baby purple sails, which was interesting and unusual.
More Places to Get Your Science On
Newport and Seaside seem to hold the big keys to coastal knowledge, with some major science facilities in both towns. Newport, of course, has the biggest ones – and most official-sounding ones, to be sure. But Seaside has some interesting contributions to opening up your brain to new things.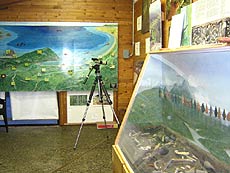 Gateway to Discover, Seaside
Gateway To Discovery. A coalition of historic, Native American and scientific entities have come together to create this jaw-dropping look at nature and native history. Of particular note are the catalogs of local animals and the freaky story behind the area's geology that will leave you blown away. 2674 Hwy 101, North Seaside, Oregon. 503-738-5618. http://nclctrust.org/gateway.html
Seaside Aquarium. One of the oldest aquariums on the west coast. Check out various freaky fish up close. Explore an intertidal zone complete with tide pool life, see a Tiger Rockfish search for prey, or ogle the enormous whale skeleton. Plus, playing with and feeding the seals has been a favorite here decades. On the Promenade in Seaside. Call: (503) 738-6211. www.seasideaquarium.com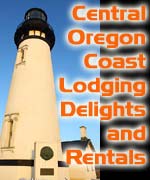 Oregon Coast Aquarium. Dive into all sorts of marine life close and personal, especially with its Passages of the Deep - a giant glass-like tube that contains a 360-degree view of three distinctly different underwater habitats. South Beach - across the bay from Newport. Call: (541) 867-3474. www.aquarium.org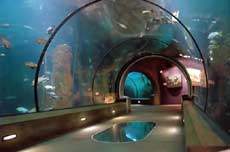 Oregon Coast Aquarium
Hatfield Marine Science Center. Check out the pharmacological applications of various sea goo, the world-famous whale research of Bruce Mate's work and the awe-inspiring VENTS program, which digs into the underwater volcanoes lurking off our shores. South Beach - across the bay from Newport. (541) 867-0100. hmsc.oregonstate.edu
Mariner Square: with the Undersea Gardens, Wax Works and Ripley's Believe It Or Not. Where else can you take a walk beneath the waves, see startlingly real wax replicas of various movie stars and historical figures and get an eyeful of some of the weirdest factoids in the world? Each keeps different hours and admission charges. 250 Bay Blvd., Newport. Call: (541) 265-2206. www.marinersquare.com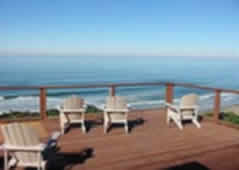 A1 Beach Rentals, Lincoln City. Perfect for large family vacations all the way down to a getaway lodging for two - with over 25 vacation rental homes to choose from. A breathtaking collection of craftsman or traditional beachfront homes, or oceanview houses – from one to seven bedrooms. In various areas of Lincoln City and overlooking the beach, with some in Depoe Bay. All kinds of amenities are available, like hot tubs, decks, BBQ, rock fireplaces, beamed ceilings and more. Some are new, some are historic charmers. Lincoln City, Oregon. 1-(503)-232-5984. www.a1beachrentals.com.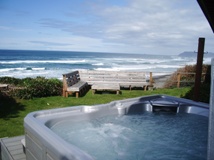 Arch Cape Property Services. Dozens of homes in that dreamy, rugged stretch between Cannon Beach and Manzanita known as Arch Cape. Oceanfront and ocean view , or just a short walk from the sea.
All homes are immaculate and smoke free; some pet friendly (with a fee). Some with broadband, indoor or outdoor hot tubs, fireplaces, decks, and fire pits or barbecues. Call about tempting winter specials that go until March (not valid holidays, however). www.archcaperentals.com 866-436-1607.

D Sands Condominium Motel, Lincoln City. Free, fresh baked cookie upon check-in is just the start. All rooms beachfront and up against Lincoln City's most famous stretch of beach: the D River. Each room comes as a suite or mini-suite, and has a kitchen and balcony or patio. Some w/ gas fireplaces, while all have a DVD Players; movies to rent come with free popcorn. Heated indoor pool, a spa, and this fabulous beach is lit at night. Rooms sleep from two, four to six - including a deluxe fireplace suite. Gift certificates orspecial occasion packages. www.dsandsmotel.com. 171 S.W. Highway 101. 800-527-3925.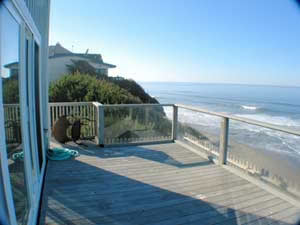 Lincoln City Vacation Homes Something for everyone: smaller homes with a view to a large house that sleeps 15. All are either oceanfront or just a few steps away – all with a low bank access and fantastic views. Most are in the Nelscott area; one is close to the casino. You'll find a variety of goodies: fireplaces, multiple bedrooms, dishwashers, Jacuzzis, washer/dryers, hot tubs, cable TV, VCR, barbecues; there's a loft in one, and another sprawling home has two apartments. Pets allowed in some homes – ask first. Each comes with complete kitchens. Most have seventh night free. Prices range from winter $85 to summer $230 per night. www.getaway2thecoast.com. 541-994-8778.

Tradewinds Motel, Rockaway Beach. All rooms are immaculate and have TV's, VCR's and in-room phones w/ data ports. Oceanfronts have queen bed, a double hide-a-bed, kitchen, cozy firelog fireplace and private deck. Both types sleep up to four people. Others are appointed for a two-person romantic getaway, yet still perfect for those on a budget. Elaborate oceanfront Jacuzzi suite has two bedrooms, kitchen, double hide-a-bed, fireplace and private deck, sleeping as many as six. For family reunions or large gatherings such as weddings, some rooms can connect to create two-room and three-room suites. Some rooms pet friendly. 523 N. Pacific St., Rockaway Beach. (503) 355-2112 - 1-800-824-0938. www.tradewinds-motel.com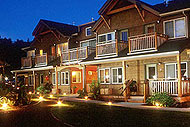 Inn at Cannon Beach. Beautifully wooded natural setting at quiet south end of Cannon Beach. Great during winter storms with a new book by the fireplace – or when the sun is out for family fun and beach strolling. Handsome beach cottage-style architecture. Lush flowering gardens and naturalized courtyard pond. Warm, inviting guest rooms. Continental buffet breakfast. Warm Cookies. Family and Pet Friendly. Welcome gifts. Smoke-free. Complimentary Wireless Connectivity. Wine and book signing events. 800-321-6304 or 503-436-9085. Hemlock At Surfcrest, Cannon Beach, Oregon. www.atcannonbeach.com.
RELATED STORIES
SPECIAL SECTIONS
oregon coast weather
oregon coast mileage chart & map
day trips, suggested itineraries
Oregon Coast Lodging Specials
Search BeachConnection.net's 1,000 pages
Oregon Coast Real Estate
Oregon Coast Pictures
Atypical Things to Do
Oregon Coast Camping
Seaside, Oregon Lodging
Cannon Beach, Oregon Lodging
Lincoln City Lodging
Cannon Beach Complete Guide
Lincoln City Complete Guide
Seaside, Oregon Complete Guide
OR TAKE THE VIRTUAL TOUR

ASTORIA
Where the Columbia meets the Pacific, Land of Lewis & Clark and loads of atmosphere & history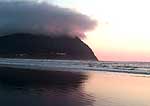 SEASIDE
The Promenade, Tillamook Head, family fun & broad, sandy beaches

CANNON BEACH
A mysterious lighthouse, upscale yet earthy, a huge monolith, fine eateries & an art mecca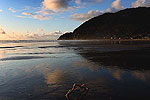 NEHALEM BAY
Manzanita's beaches, Nehalem and Wheeler's quirky beauty; laid back Rockaway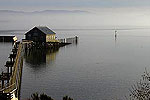 TILLAMOOK BAY
Garibaldi, Barview, Bay City, Tillamook & an oceanfront ghost town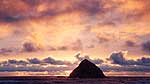 THREE CAPES LOOP
The hidden secret of the coast: Cape Meares, a lighthouse, Oceanside, Netarts and Pacific City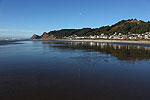 LINCOLN CITY
& THE CORRIDOR OF MYSTERY
Miles & miles of unbroken beaches, Cascade Head, Neskowin and many manmade attractions

DEPOE BAY
A spouting horn downtown, freaky hidden cliffs and whales, whales, whales

NEWPORT
Time-tripping Nye Beach, a bustling bayfront, marine science-central and two lighthouses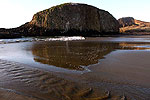 WALDPORT / SEAL ROCK
Pristine, even secretive sands and wild geologic landmarks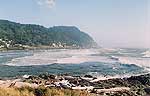 YACHATS
Constantly dramatic wave action, a mix of the rugged & upscale

UPPER LANE COUNTY
25 miles of deserted beaches & oodles of wonders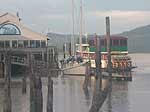 FLORENCE
A lighthouse, ancient bayfront and miles and miles of fluffy dunes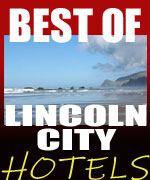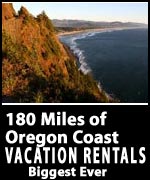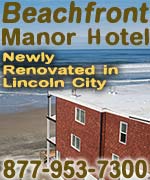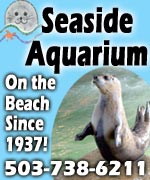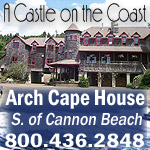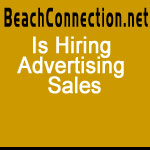 For weekly updated info on lodgings and accomodation reviews, see the Travel News section