Storm Causes Flooding, Winds on Oregon Coast – but Not All Unhappy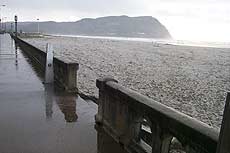 Rain-soaked Seaside
(Oregon Coast) – Heavy winds and rain are battering Oregon's coastal region with a particular ferocity and affecting travel in a myriad of ways, with flooding and road closures a problem alongside the pure spectacle of winds and waves that brings a sense of excitement to many coastal residents and tourists.
The southern part of Seaside is flooded, and the road is closed to all but larger vehicles that sit high above the ground. Other road closures because of water or landslides include Highway 53, which runs from Highway 26 to Wheeler, and parts of Highway 101 between Tillamook and Manzanita, and Highway 6 between Portland and Tillamook has been shut down due to high water. Students on the north coast from Tillamook to Manzanita were sent home around noon, and homes at the Salishan spit near Lincoln City are in danger of falling into the surf because of extreme erosion.
Six inches of rain has been reported in Seaside, Astoria has reported a record fall of 2.8 inches on Sunday and another record may be set again Monday, said KOIN TV meteorologist Jeff Baskin. The pounding is expected to continue through Tuesday morning, said Baskin, and then conditions will likely return to normal rainfall.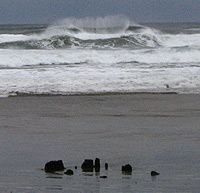 Heavy surf, Rockaway
A rare typhoon on the northern part of the Pacific Ocean is playing a part in the deluge, said Baskin. "It's not directly affecting us," he said. "But this system has pulled a large amount of tropical moisture from the central Pacific Ocean."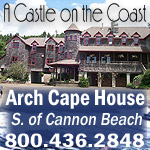 Up to six inches of more rain is expected along the coast, and various rivers are causing floods up and down the region. The Wilson River, by Tillamook, will be cresting on Tuesday around 10 a.m. The Nehalem River is expected to crest around 10 p.m. Monday night. Other flooding rivers to watch out for are the Trask, Siletz and Nestucca.
A high wind warning is also expected for the coast, topping out around 65 mph.
The weather has created a nightmare for some but a source of glee for others.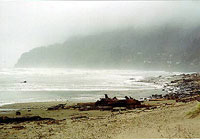 Stormy Manzanita
Keith Chandler, manager of Seaside Aquarium, said the winds were wrecking his phone lines and he wasn't able to use his Visa machine. He said crews will not be able to come and repair them until the weather lets up.
Mike Exinger, owner of Seaside's Zinger's Homemade Ice Cream, relayed what he saw. "The rain is horizontal," he said. "Wind is up and down – actually had a calm moment earlier this afternoon, and then it came back in torrents of rain and wind."
Weiss' Paradise Suites & Vacation Rentals - Seaside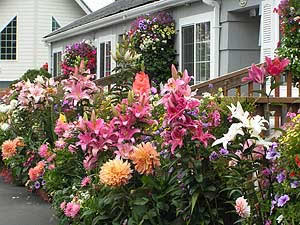 Unique Luxury Accommodations in Seaside. 1BR Suites, 1BR & 2BR Duplex Units and 3BR Houses, units for 2-8 people. Rent our entire property for 20-26. All units close to beach, river and Broadway St.
Suites are designed for two adults; vacation rental units for families. All units have kitchen and many have fireplace, deck and jetted tub. Enjoy comfy robes & slippers, luxury bath amenities, quality linens and more. See us on The Travel Channel's "Great Escapes" show in August 2006. 741 S. Downing St., Seaside. 800-738-6691. www.SeasideSuites.com
"The water is on many roadways, and of course, US 101 south of town is flooded - because of rain and the incoming high tides pushing water over the riverbanks. The river is way up, almost touching the underside of the bridges. Again, it's the incoming high tide that adds to the river's rise.
"We're not open again until Friday, and hopefully the weather will calm down a bit and the roads will be passable again. But the forecast does call for rain…uh-oh."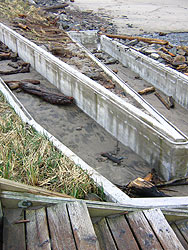 Storm surges battered the Tolovana area of Cannon Beach last year, leaving this debris
Wayne Chase, manager of The Tides in Seaside, just came back from the floodwaters of the southern end. "Lots of water throughout Seaside," Chase said. "The rivers have crested their banks and filling the low land areas. The Seaside Golf course has become a lake. I headed out to the junction for Portland and Cannon Beach, south of town, to find no cars were being allowed through - just log trucks and vehicles with high clearance. It is two feet to the bottom of my truck doors and the water was that high without wake. I was waiting to see it seeping through the doors but must have a good seal, because with the wake of other cars it was easily up half way on the doors. Very spooky drive to say the least."
Brian Hines, owner of San Dune Inn in Manzanita, noted some residents use the flooding at the post office parking lot to gauge the rain situation, utilizing an amusing nickname. "Lake Post Office is about at capacity," Hines said. "On my way in from Foley Creek at 8 a.m. the creeks were overflowing and flooding the lowlands pretty good. I didn't see any houses in trouble, but some were pretty close. The Nehalem River at the junction was beginning to flood."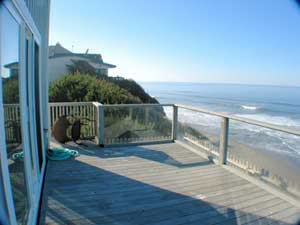 Lincoln City Vacation Homes There's something for everyone among this selection of wondrous homes: smaller homes with a view to a large house that sleeps 15. All the homes are either oceanfront or just a few steps away from the sand – all with a low bank access and fantastic views. Most are in the Nelscott area; one is close to the casino. You'll find a variety of goodies, depending on the home: fireplaces, multiple bedrooms, dishwashers, Jacuzzis, washer/dryers, hot tubs, cable TV, VCR, barbecues; there's a loft in one, and another sprawling home has two apartments. Pets are allowed in some homes – ask ahead. Each comes with complete kitchens so you'll have a home away from home. Most have the seventh night free. Prices range from winter $85 to summer $230 per night. www.getaway2thecoast.com. 541-994-8778.
Hines said the temperature was a "balmy 52 at 6:30 a.m.," and added the wind had not torn off any shingles from his motel's roof. The flooding has caused numerous problems for others, however, and several residents were hiding out at his motel.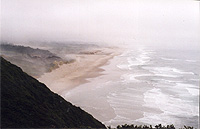 Wet and cold Florence
"We have one guest who has cancer of the lungs and liver and who is on oxygen, but the supply house in Tillamook can't get thru due to the flooding down there," Hines said. "Luckily he has reserve capacity."
"Another construction guy just checked in and said a landslide closed Highway 53. He had to back up with his big rig trailer a mile or so just to find a driveway to turn around and head back to 26."
Hines said he had one couple check in who couldn't make it out of the coastal region who also said Miami Foley Road was closed as well. One Manzanita woman has booked a room there because her basement is flooded, and the owner of the Big Wave Café just booked her cooks into the motel to make sure she can stay open. "Marcie from the Big Wave was just in and booked a room for her two cooks for tonight," he said. "They didn't show up until 2 p.m. for work due to floods in Seaside, so they didn't start any cooking at the Wave until then. They don't want the same to happen tomorrow a.m."

Tradewinds Motel, Rockaway Beach
If expansive ocean views, close proximity to golfing, fishing tours and quick access to seven miles of pristine beaches is your thing, then this quintessential beauty in Rockaway Beach is your ticket to vacation fun for families, couples or large groups. Some rooms are pet friendly. All rooms at the Tradewinds Motel are immaculate and have TV's, VCR's and in-room phones with data ports. The oceanfronts all have a queen bed, a double hide-a-bed, kitchen, cozy firelog fireplace and a private deck. Some oceanfront units come with all those amenities but the kitchens. Both types sleep up to four people. The non-oceanfront rooms are appointed with a queen bed, small fridge, and coffee maker – sizable for a two-person romantic getaway, yet still perfect for those on a budget. There is an elaborate oceanfront Jacuzzi suite that has two bedrooms, coming with a kitchen, double hide-a-bed, fireplace and private deck, sleeping as many as six. For those wanting bigger accommodations for family reunions or large gatherings such as weddings, some rooms can connect to create two-room and three-room suites. 523 N. Pacific St., Rockaway Beach. (503) 355-2112 - 1-800-824-0938. www.tradewinds-motel.com
There was a fair amount of humor to be found in the storm scene in the Wheeler and Nehalem Bay area. Peg Miller, of Ekahni Books, said she and her neighbors have seen some comical things washing past.
"We just saw a beautiful red Adirondack chair floating down Nehalem Bay and out to sea," Miller said. Her boyfriend, Garry Gitzen, made some other observations. "Garry just saw a boat going out to sea attached to a dock. Shortly after that came another boat chasing the first one to try and retrieve it. Personally, I'd just call my insurance company. The bay is loaded with stray logs and debris right now, so it's dangerous."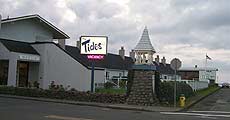 The Tides in Seaside on a stormy day
Businesses on the central Oregon coast aren't having as hard a time, however. "It's just starting to blow here," said Danielle Emerick of Newport hotel Starfish Point. "We just got back from Yaquina Head Lighthouse. It's a great time to visit. Besides the employees, we were the only ones there.
"We really love the storms. They are way better than the normal coastal weather alternatives we get, like fog, drizzle, gray something, etc. It adds a bit of excitement and you feel energized."
At D Sands Condominium Motel in Lincoln City, which is right on the ocean, manager Kevin Winters touted the benefits of such a wild display. "The wind and rain is making the ocean look great," Winters said. "There's no better time than to come to the beach to watch the storms roll in from the comfort of an oceanfront suite."