Covering 180 miles of Oregon coast travel: Astoria, Seaside, Cannon Beach, Manzanita, Nehalem, Wheeler, Rockaway, Garibaldi, Tillamook, Oceanside, Pacific City, Lincoln City, Depoe Bay, Newport, Wadport, Yachats & Florence.
11/04/06
It's Fall on the Coast: Summer is Here Again.
Oregon Coast Puts on a Show with First Storm of Season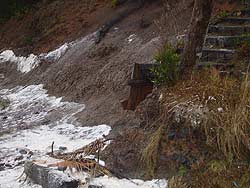 Waves lap at the bottom of the stairway at Starfish Point, Newport (courtesy photo)
(Oregon Coast) – "The Stormy Weather Arts Festival blew into Cannon Beach in a true celebration of the blustery fall," said a representative of the Cannon Beach Chamber. The tiny north coast is one of many in the throes of the first big wowing storm of the season, and it's the first Stormy Weather Arts Festival in a few years that had actually had wild weather.
A high wind warning is currently in effect from the National Weather Service for the north Oregon coast, but it apparently started smacking the central coast on Friday and Thursday. Powerful winds and large waves are expected for the region this weekend, caused by an unusual weather phenomenon – a major hurricane-like storm - that's parked off the coast about 900 miles.
In turn, it's expected to bring out a few more tourists than a turn in the weather would chase away.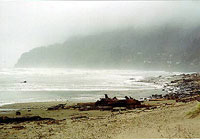 Stormy Manzanita
The high wind watch has been issued for the region between the southern Washington coast and Tillamook from Saturday morning through the evening hours. The area may see winds around 40 miles an hour, but gusts could hit as high as 60 miles per hour.
In Newport, Starfish Point manager Danielle Emerick was pretty amazed at the windy proceedings.
"Right now the wind is coming from the south by southeast, with wind gusts to 45 mph," Emerick said. "I would say the storm season is upon us and it's time to batten down the hatches."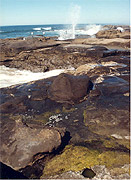 Yachats
She added the waves are lapping at the stairway at the bottom of the cliff, a good 100 feet from where the tide line usually is.
Weiss' Paradise Suites & Vacation Rentals - Seaside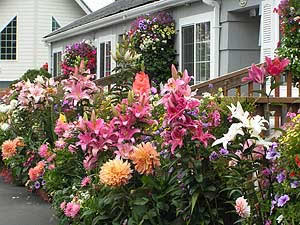 Unique Luxury Accommodations in Seaside. 1BR Suites, 1BR & 2BR Duplex Units and 3BR Houses, units for 2-8 people. Rent our entire property for 20-26. All units close to beach, river and Broadway St.
Suites are designed for two adults; vacation rental units for families. All units have kitchen and many have fireplace, deck and jetted tub. Enjoy comfy robes & slippers, luxury bath amenities, quality linens and more. See us on The Travel Channel's "Great Escapes" show in August 2006. 741 S. Downing St., Seaside. 800-738-6691. www.SeasideSuites.com
Newport resident Melissa Haines said the windy weather hit the central coast earlier than the north coast. She experienced some of it on Thursday night. "I slept so well that night," Haines said. "I always sleep really well when it's stormy out."
In Yachats, Yachats Wine Trader manager Marsii Charron said Friday the wind and rain had been pounding that part of the central coast all day and has been making a spectacle at the wine bar. "I have only had locals, maybe the only people crazy enough to brave the storm," Charron said. "I have been slow for a Friday night. Hopefully it picks up on Saturday. But the storm watching from the wine bar is fantastic right now."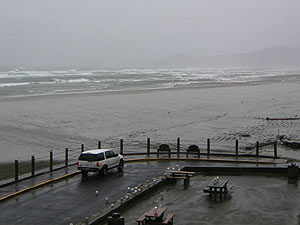 Stormy Nye Beach, Newport
The culprit is a rare subtropical storm, which usually does not come into existence this high in latitude. Scientists say the storm has hurricane characteristics. It looks like one from the satellite images, it has a cloudless eye, an eye wall of thunderstorms and winds around 50 knots. It is so powerful that it would normally be named if it had been in one of the routinely monitored hurricane basins. Because it formed outside the territory of any of the organizations which regularly monitor these storms, it was not named. The storm has been referred to as "Storm 91C" by the U.S. Navy.

Tradewinds Motel, Rockaway Beach
If expansive ocean views, close proximity to golfing, fishing tours and quick access to seven miles of pristine beaches is your thing, then this quintessential beauty in Rockaway Beach is your ticket to vacation fun for families, couples or large groups. Some rooms are pet friendly. All rooms at the Tradewinds Motel are immaculate and have TV's, VCR's and in-room phones with data ports. The oceanfronts all have a queen bed, a double hide-a-bed, kitchen, cozy firelog fireplace and a private deck. Some oceanfront units come with all those amenities but the kitchens. Both types sleep up to four people. The non-oceanfront rooms are appointed with a queen bed, small fridge, and coffee maker – sizable for a two-person romantic getaway, yet still perfect for those on a budget. There is an elaborate oceanfront Jacuzzi suite that has two bedrooms, coming with a kitchen, double hide-a-bed, fireplace and private deck, sleeping as many as six. For those wanting bigger accommodations for family reunions or large gatherings such as weddings, some rooms can connect to create two-room and three-room suites. 523 N. Pacific St., Rockaway Beach. (503) 355-2112 - 1-800-824-0938. www.tradewinds-motel.com
Lenore Emery, of EVOO Cooking School in Cannon Beach, was having a blast with the weather, along with the visiting artists. "They're having a heyday in CB with the Stormy Weather Festival," she said. "It is actually storming this year."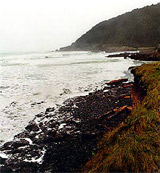 Neptune State Park, near Florence
"It's definitely the first storm of the season," said Melanie Richardson, manager of Inn at Arch Rock in Depoe Bay. "We took our American flag down as the Coast Guard put up the two red flags for 'Gale Warning!' Some good swells and lots of white caps. Even so I heard the Coast Guard Cutter go out at about 6 a.m. The clouds are hanging low enough to be dramatic, but high enough that we can look south across Depoe Bay and still see it in its entirety. The waves are crashing hard against our rocky shoreline. I'd say we're getting gusts between 30 and 50 miles per hour - just enough to make it exciting."
In Wheeler, on the Nehalem Bay, Old Wheeler Hotel owner Winston Laszlo was a little shocked. "Yeah, big storm," Laszlo said. "I'd almost forgotten what it's like. Here at the Old Wheeler Hotel it makes us want to hole up, drink hot chocolate, munch popcorn, and snuggle up in a down comforter while we watch one of our collection of classic films on DVD. This building is so solid we don't hear the wind howling outside, but we do like to look up every once in while to stare out the picture windows at the stark beauty of the storm."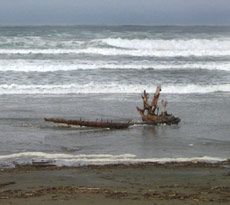 Rockaway Beach and big waves
On the ground floor beneath the hotel, store owner Peg Miller was taking in the sights of the bay about 11 a.m. "There are swells and whitecaps on Nehalem Bay," she said. "There are no fishing boats in the water right now, though they're at the Ghost Hole in Garibaldi (a fishing hole in Tillamook Bay, not the bar). It looked dangerous to me; maybe that's why they call it the ghost hole. Just saw three intrepid kayakers pull up to the dock here in downtown Wheeler. I couldn't tell from my shop if they were wobbly."

D Sands Condominium Motel, Lincoln City. Getting a free, fresh baked cookie upon check-in is just the beginning. Every room is beachfront, and it's all right up against Lincoln City's most famous stretch of beach, next to the D River. Each room, comes as a suite or mini-suite, and has a kitchen and balcony or patio. Some have gas fireplaces, while all have a DVD Players with movies available for renting (and movie rentals come with free popcorn). There's a heated indoor pool, a spa, and this fabulous beach is lit at night. Rooms sleep anywhere from two, four to six - including a deluxe fireplace suite. Gift certificates are available, and they offer special occasion packages as well. To make a reservation and see a virtual tour of the rooms, visit our website at www.dsandsmotel.com. 171 S.W. Highway 101. 800-527-3925.
Miller said visitors are traveling to the coast just for the spectacle. "Here at Ekahni Books, I have a sign on the front door of the bookshop saying, "It's reading weather! C'mon in." So I do have customers. One couple from Michigan stopped in to ask where they might get a Bloody Mary and I sent them over to the Sea Shack and told them to get a table by the window so they can watch the Bay. I also told them to order the cioppino."
On Friday night, on the north coast, residents and tourists there were getting ready for the action, though it was quite calm there until Saturday morning. Wayne Chase, manager of The Tides hotel in Seaside, told BeachConnection.net: "There's nothing on the storm yet."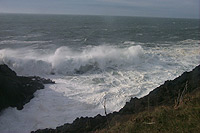 Monster waves near Depoe Bay
"Quiet here tonight - mild and a few folks walking around," said Mike Exinger, owner of Zinger's Homemade Ice Cream in Seaside. "I spoke to a few in the store this evening. They knew high winds were on the way, and said, 'Hey, that's the coast…we expect it this time of year.' "
In Rockaway, the folks who run the Tradewinds Motel are taking it all in strides, but they reiterate the warnings made by officials about staying away from the beaches and large waves. "While they have issued high wind warnings, this is quite normal for us for this time of year," said one representative. "It's windy outside but not too bad right now. It could get worse by afternoon when they expect the brunt of the winds. High tide was at 10:34 a.m. at 8.8, but didn't see the big wave because the winds are strong enough to knock the waves down. However. it remains bad out there and is dangerous to be out in. The high tide this evening is expected to be closer to midnight and so don't expect much at that time."
DIVE INTO LUXURY, HISTORY AT THE TIDES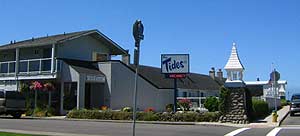 THE TIDES BY THE SEA, Seaside. For over 80 years, The Tides has been a favorite of Seaside visitors. History meets modern luxury here. 51 oceanfront condos, individually owned and decorated. Find suites for couples, small apartments with fireplaces and kitchenettes, one or two bedroom family units with fireplaces, kitchens and dining rooms. There are wonderful oceanview cottages that sleep anywhere from two to eight people, with two bedrooms, some with lofts, fireplaces and kitchens.
Meanwhile, the heated outdoor pool, enormous grounds with picnic tables and location at the quiet southern end of Seaside make for some memorable means of play and repose. 2316 Beach Drive. 800-548-2846. www.thetidesbythesea.com.
BREATHTAKING CLIFFTOP IN NEWPORT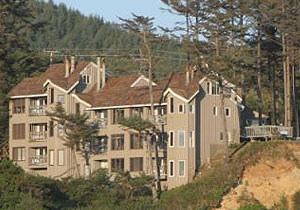 STARFISH POINT is located on the Central Oregon Coast - in Newport - and offers only the finest in luxury condominium lodging. At Starfish Point, every unit is focused on the beauty of the sea and the beach.
All of the units boast two bedrooms, two bathrooms, designer kitchens, wireless broadband Internet, fireplaces, Jacuzzi's and private decks - surrounding you in soothing relaxation. We have a friendly staff dedicated to high quality and superb customer service. 140 NW 48th Street, Newport. (541) 265-3751. (800) 870-7795. www.starfishpoint.com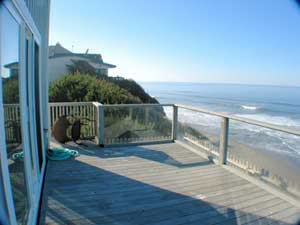 Lincoln City Vacation Homes There's something for everyone among this selection of wondrous homes: smaller homes with a view to a large house that sleeps 15. All the homes are either oceanfront or just a few steps away from the sand – all with a low bank access and fantastic views. Most are in the Nelscott area; one is close to the casino. You'll find a variety of goodies, depending on the home: fireplaces, multiple bedrooms, dishwashers, Jacuzzis, washer/dryers, hot tubs, cable TV, VCR, barbecues; there's a loft in one, and another sprawling home has two apartments. Pets are allowed in some homes – ask ahead. Each comes with complete kitchens so you'll have a home away from home. Most have the seventh night free. Prices range from winter $85 to summer $230 per night. www.getaway2thecoast.com. 541-994-8778.
RELATED STORIES
SPECIAL SECTIONS
oregon coast weather
oregon coast mileage chart & map
day trips, suggested itineraries
Search BeachConection.net's 800 pages
OR TAKE THE VIRTUAL TOUR

ASTORIA
Where the Columbia meets the Pacific, Land of Lewis & Clark and loads of atmosphere & history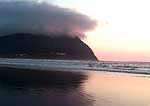 SEASIDE
The Promenade, Tillamook Head, family fun & broad, sandy beaches

CANNON BEACH
A mysterious lighthouse, upscale yet earthy, a huge monolith, fine eateries & an art mecca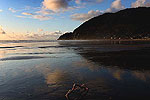 NEHALEM BAY
Manzanita's beaches, Nehalem and Wheeler's quirky beauty; laid back Rockaway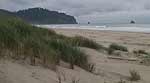 TILLAMOOK BAY
Garibaldi, Barview, Bay City, Tillamook & an oceanfront ghost town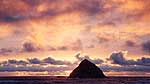 THREE CAPES LOOP
The hidden secret of the coast: Cape Meares, a lighthouse, Oceanside, Netarts and Pacific City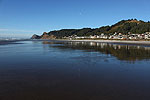 LINCOLN CITY
& THE CORRIDOR OF MYSTERY
Miles & miles of unbroken beaches, Cascade Head, Neskowin and many manmade attractions

DEPOE BAY
A spouting horn downtown, freaky hidden cliffs and whales, whales, whales

NEWPORT
Time-tripping Nye Beach, a bustling bayfront, marine science-central and two lighthouses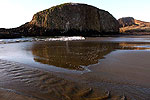 WALDPORT / SEAL ROCK
Pristine, even secretive sands and wild geologic landmarks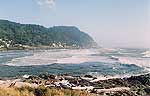 YACHATS
Constantly dramatic wave action, a mix of the rugged & upscale

UPPER LANE COUNTY
25 miles of deserted beaches & oodles of wonders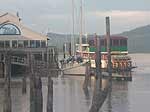 FLORENCE
A lighthouse, ancient bayfront and miles and miles of fluffy dunes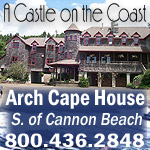 For weekly updated info on lodgings and accomodation reviews, see the Travel News section