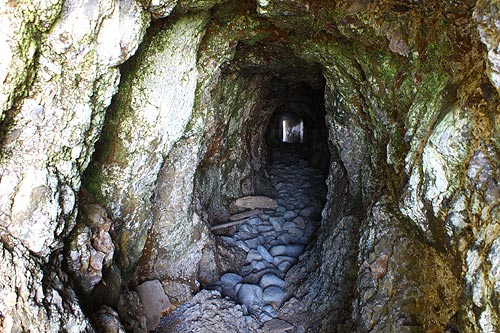 (Oceanside, Oregon) – What is sometimes called "Star Trek Beach" at this north Oregon coast hamlet is a hidden gem behind a tunnel the darts through the headland here at tiny Oceanside. The tunnel is usually the only way to reach it, and this beach is one of the coast's most distinctive beachy pleasures. It's known for its agate hunting and odd rock structures, but it's getting a bit more well known for its cluster of small caves (Above: the tunnel).
They abound with startling regularity, even at the very outer edge of the headland known as Maxwell Point. Some are mere cracks of sorts – but large enough to at least poke your head through. Most are large indentations in the rockface that could serve as shelter from some of the elements, if you huddled in close. But a couple are actual caves you can walk into – even if not very far.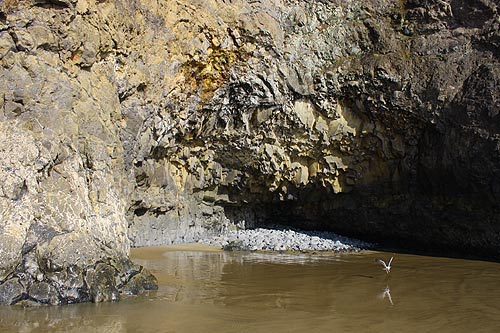 The biggest sits on the inside of that cajoling, mysterious beach on the other side of the tunnel. Right at the point of Maxwell Point it hides, directly behind what is usually a tideline too rambunctious to venture into the cave. In fact, you can't even see it as you exit the tunnel. If the tide is bouncing around close to that point, it won't allow you to get near enough to spot it.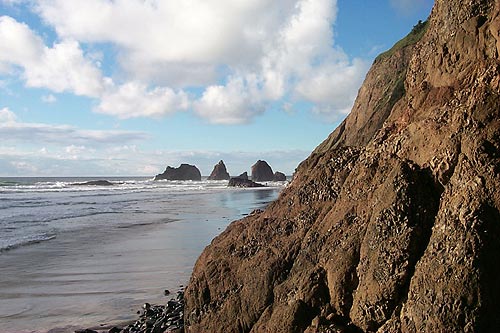 This cave lets you walk inside about 10 feet or so, and it has a high ceiling and wide opening. Wildly colored – and huge – starfish populate the walls here. That part is rather stunning. (This view is from the mouth of the cave).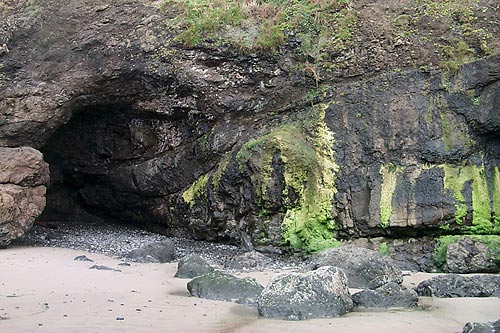 Keep on walking down this clandestine beach and you'll find about half a dozen of these cave-like indentations. Some are bigger than others, like this one that allows you to walk in a ways.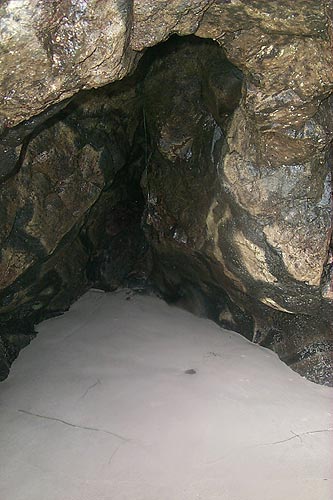 Others, like this one above, are simply big holes in the rock. But given lower sand levels, sometimes these too open up a bit more.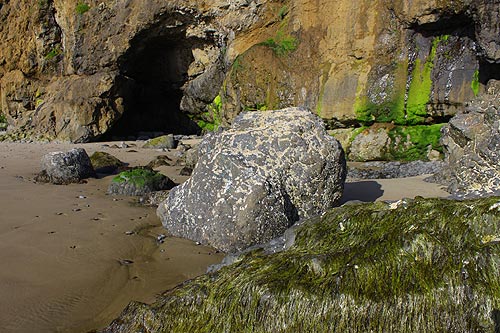 Another fascinating one sits in the middle of a set of fun and funky rock structures – many of which helped get this place its nickname of Star Trek Beach.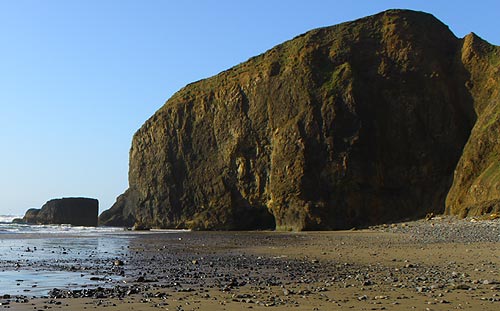 The climax of cave hunting and exploration here happens – interestingly enough – at the end of this wild little beach. The massive angular rock that allows you to go no further is sometimes called Hatbox Rock, and at its bottom is a fairly large, rounded cave. It only goes back about ten feet or so, but it's a captivating construct nonetheless. It really makes you want to look for buried treasure here.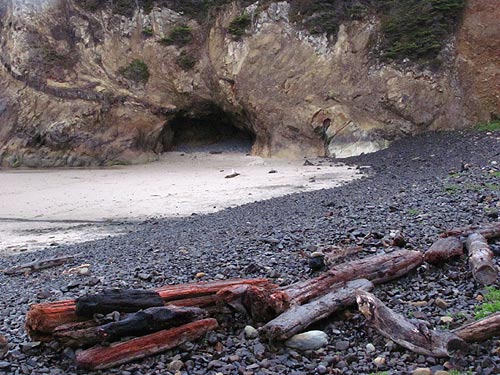 For another glimpse of a stunning sea cave in this area (below), you have to head up to Cape Meares – a few miles north of Oceanside. There, you can look back a few miles at a different angle of the famed Three Graces that so dominate the scenery of Oceanside, and see a massive opening in the closest sea stack. It's far enough away that in order to see this well you'll need a really good set of binoculars or a high-powered zoom lens.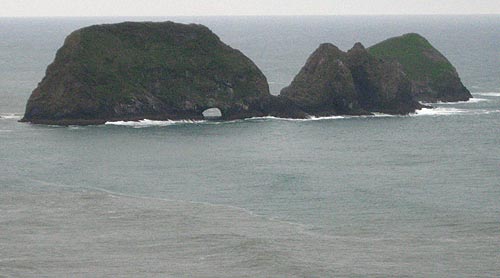 More About Pacific City, Oceanside, Netarts, Tierra Del Mar Lodging.....
More About Pacific City, Oceanside, Netarts, Tierra Del Mar Restaurants.....