Haystack Rock Up Close – Pacific City

Three Capes Loop Virtual Tour, Oregon Coast: Oceanside, Netarts, Tierra Del Mar, Pacific City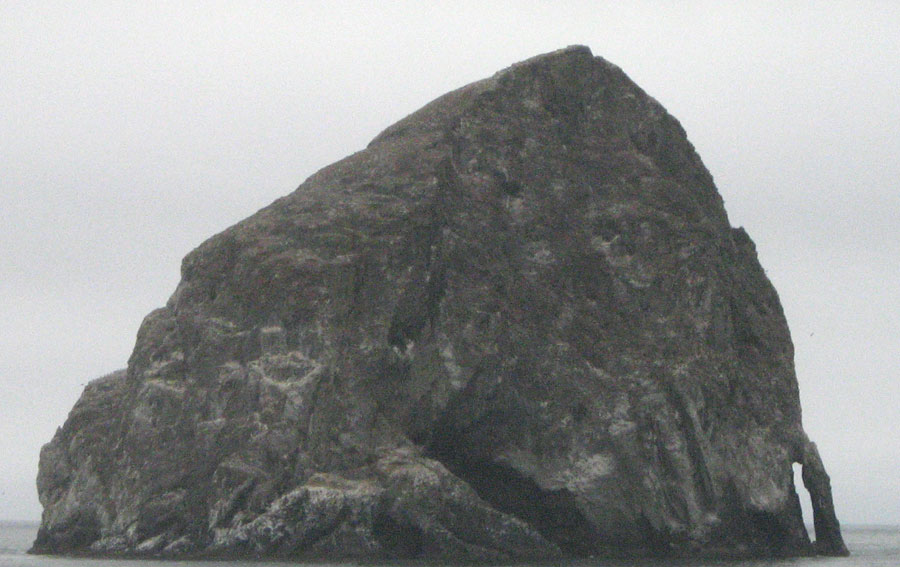 The monolith that visually best sums up Cape Kiwanda and Pacific City. It's iconic, but it shouldn't be confused with the Haystack Rock at Cannon Beach to the north.
Often, as you approach Pacific City on 101 just before the junction to town, you can see this rock in the distance, appearing as if it floats in the air.
One story has it that the original name of the rock was Chief Kiawanda Rock, named after the head of the local tribe - actually called the Nestugga (as opposed to Nestucca, which stuck to various area landmarks).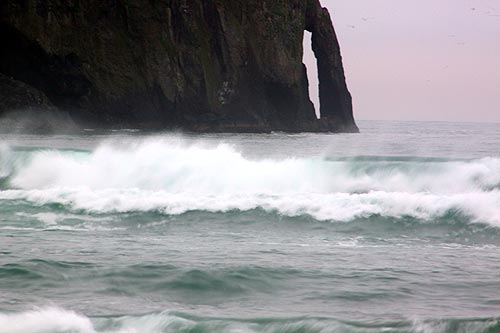 Free Fishing, Crabbing, Clamming and Parking on Oregon Coast Right After Holiday
Happening November 24 and 25. South coast events, Florence events, Newport events, Lincoln City events, Pacific City events, Rockaway Beach events, events, Seaside events, Astoria events
New with Upcoming Oregon Coast King Tides Includes More of Them, Photo Contes...
Four sets of dates; staggered dates for WA; photo contest; how photos are used. South coast events, Florence events, Newport events, Lincoln City events, Pacific City events, Rockaway Beach events, events, Seaside events, Astoria events
Famed Oregon Coast Exploding Whale Celebration in Florence Next Weekend
November 12 is Exploding Whale Day in Florence, with Paul Linnman. Florence events, south coast events, Newport events, Lincoln City events, Pacific City events, Manzanita events
An Oregon Coast Thanksgiving Feast? Holiday Stay Ideas from Pacific City to C...
Nothing beats the beach and creating your own feast for your relatives out there. Pacific City lodging news
Fencing Moved Atop Oregon Coast Landmark as Cape Kiwanda Sinkhole Dangers Grow
Geologists' report indicates it needed further safety measures. Pacific City, sciences
Tricks and Treats on Oregon Coast: Pacific City's Dory Halloween Oct. 28
Wacky boats hand out candy and fun at at the Kiawanda Community Center. Pacific City events
Oregon is Ready for Solar Eclipse: Travel Experts' Tips
State Parks is well prepared for the solar event; Travel Oregon's Tips. Sciences, South coast events, Florence events, Newport events, Lincoln City events, Pacific City events, Rockaway Beach events, events, Seaside events, Astoria events
U.S. Travel Tips: Rugged, Remote to Chic at Tierra Del Mar on Oregon's North ...
From elegant to surfing, hiking, hang gliding. Pacific City hotels, Tillamook, Oceanside