Exploring the Oregon Coast: Cape Foulweather and Cliffs

Virtual Tour of Depoe Bay, Gleneden Beach, Lincoln Beach, Otter Rock, Oregon Coast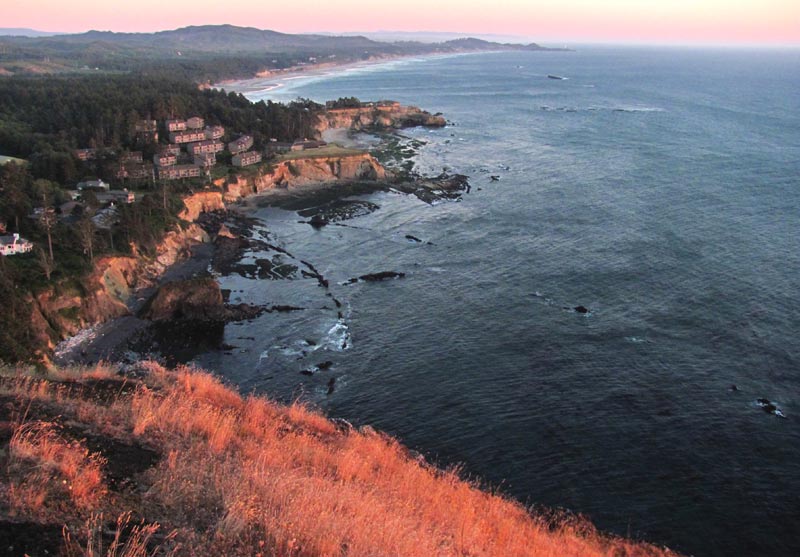 Just a tad south of Depoe Bay, two major landmarks have sparked the imaginations of generations - one for at least hundreds of years. Cape Foulweather is a basalt headland that is large enough to change weather systems on either side of it, while the Devil's Punchbowl is an intriguing cave where the tide swirls spectacularly and angrily.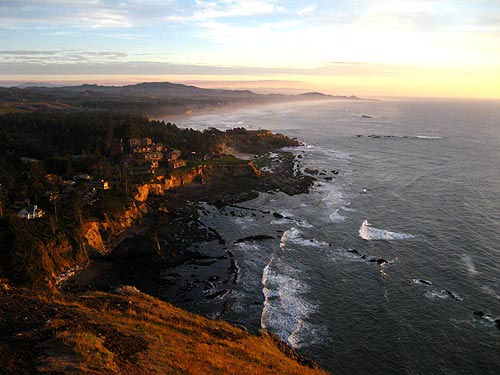 About four miles south of Depoe Bay, and roughly that many miles north of Newport, Cape Foulweather looms like a giant watchful being. It stands about 500 feet above the sea, and is accessed by a somewhat winding tangle of roads that connect from a very twisting section of 101. Here, a small parking lot and viewpoint allow visitors panoramic vistas, including this magnificent nearly-aerial view of Otter Rock, its odd beaches and its famed Devil's Punchbowl below. In this picture above, the area is illuminated by warm rays of the waning sunset.
Cape Foulweather was actually named by Britain's Captain James Cook in 1778, as he made his way up the coastline. Apparently he ran into some disagreeable weather, although he was somewhat impressed with the headland - enough to name it, anyway.
At the time, explorers referred to this area as New Albion.
Relevant Videos: Otter Crest Loop and Cape Foulweather