Odd at Oceanside: Unusual Tidal Conditions, Getting Around Maxwell Point

Three Capes Loop Virtual Tour, Oregon Coast: Oceanside, Netarts, Tierra Del Mar, Pacific City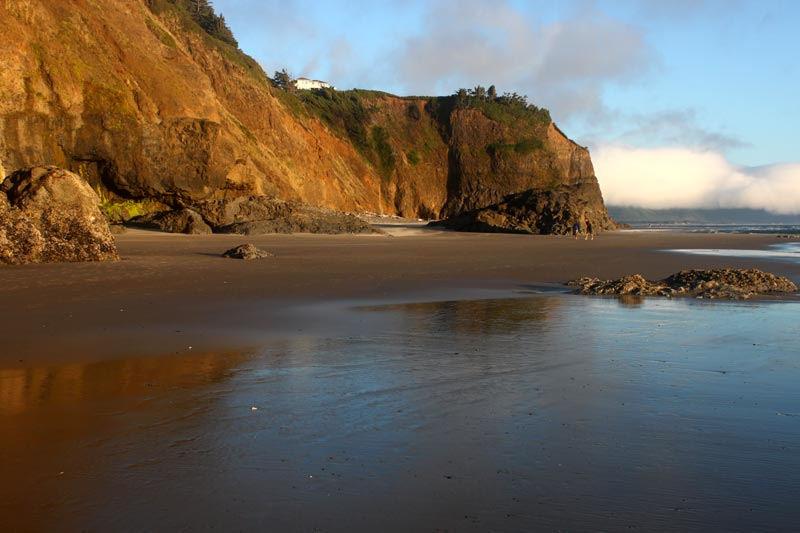 Normally, Maxwell Point at Oceanside is covered, indeed smothered, by raging waters and waves. It's impossible to go near it, much less get around the point (which is what the tunnel is for). In fact, it's often a spot where you get storm-watching wave drama, even in calmer conditions.
The vast majority of the time it's too dangerous to even approach.
Every once in a blue moon you get an extremely low tide that allows you free access, but that's only for a few hours.
However, increasingly over the years, summer sand levels have risen so high they keep the tide at bay, acting like a low tide event. In fact, it is a high sand level event.
You may find this part of the north Oregon coast icon wide open to access, and perhaps not in need of the famed Maxwell Point tunnel to get to the other side. It's a striking and wild sight, even to many locals, who are frequently in a state of "mind blown" when first witnessing this. It's still considered rather rare.
Here are numerous photos of this intriguing state, including some before and after.
Such conditions can last for two months or more in the summer – but they are not guaranteed and are dependent on other tide conditions. So remain wary of this spot and its dangers.
More: Unusually High Sand Level Events Continue on Oregon Beaches
Sep 28, 2012 ... (Oceanside, Oregon) – Much of the summer of 2012 has seen a return of the extraordinarily high sand levels that happened in 2011, but this ...