Covering 180 miles of Oregon coast travel: Astoria, Seaside, Cannon Beach, Manzanita, Nehalem, Wheeler, Rockaway, Garibaldi, Tillamook, Oceanside, Pacific City, Lincoln City, Depoe Bay, Newport, Wadport, Yachats & Florence.
1/12/07
Odd Oregon Coast: Castles, Carnivore Plants, Edible Beach Goo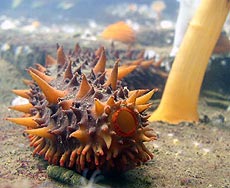 Sea cucumbers: not only are they edible but they're almost cute
(Oregon Coast) - If you think you've gotten to know the Oregon coast well, you're probably wrong. There's still tons to see, learn, taste and places to sleep on. But mostly, there's a lot beneath the surface you probably wouldn't have even imagined.
That's what all of January and December has been about at BeachConnection.net: each week we release a series of odd, freaky facts and interesting or humorous trivia.
Did you know there are a couple of castles on the Oregon coast? Are you aware of all the edible things you can pick up from local tide pools or near-shore waters? What about the eco-friendly secrets about Cannon Beach, or which town has the most outdoor eateries? Then, of course, what freaky plant on the central coast likes to eat meat?
It's time for another unusual journey around the Oregon coast.
Eco-Friendly In Cannon Beach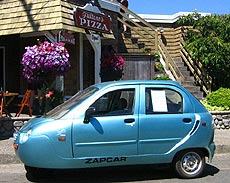 One of the marvels of Cannon Beach, Fultano's electric car
Two businesses there have an interesting head start on the rest of the world when it comes to saving its resources.

Tradewinds Motel, Rockaway Beach. All rooms at the Tradewinds Motel are immaculate and have TV's, VCR's and in-room phones with data ports. The oceanfronts all have a queen bed, a double hide-a-bed, kitchen, cozy firelog fireplace and a private deck. Some oceanfront units come with all those amenities but the kitchens. Both types sleep up to four people. Others are appointed with a queen bed, small fridge, and coffee maker – sizable for a two-person romantic getaway, yet still perfect for those on a budget. There is an elaborate oceanfront Jacuzzi suite that has two bedrooms, coming with a kitchen, double hide-a-bed, fireplace and private deck, sleeping as many as six. For those wanting bigger accommodations for family reunions or large gatherings such as weddings, some rooms can connect to create two-room and three-room suites. Some rooms are pet friendly.523 N. Pacific St., Rockaway Beach. (503) 355-2112 - 1-800-824-0938. www.tradewinds-motel.com
DragonFire Gallery recently started its own tea and coffee bar within the gallery space, called Dragonfire Tea & Coffee Bar. Among its featured products are Mam Coffees, Tevana teas and decadent desserts.
All their coffees are organic, shade grown and free trade. DragonFire also has something else very unique going on in its Earth-friendly approach: their cups are particularly eco-friendly, all made of a biodegradable form of corn. They look like regular plastic cups, however. It's a bit of "Star Trek" technology in an art gallery. 123 S. Hemlock St., Cannon Beach. 503-436-1533. www.DragonFireStudio.com
At Cannon Beach Fultano's Pizza, owner David Johnson has acquired an electric car to use as one of his delivery vehicles. The Xebra is a three-wheeled beast that plugs in to get its juice, weighs under 1000 pounds and seats four. It travels up to 40 miles on one charge, and whirs along at up to 40 mph.
There's no word yet from David how the kooky little contraption fares in stormy coastal weather, but it consistently causes people to stop and gawk while it's parked in front of his scrumptious Italian joint. 200 N. Hemlock and Second Street. www.CBfultanos.com (503) 436-9717.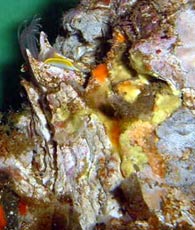 Giant Barnacles
Eating the Coast: Stuff on the Beach You Can Munch
According to the Seaside Aquarium, there are lots of edible things you can find on the beach. It's obvious that most things are edible - it's whether or not you like them," said Tiffany Boothe. "You can eat almost all species of snails, clams, octopi and fish. Most aren't going to make you sick."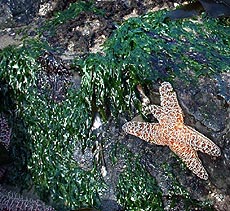 Sea Lettuce: a yummy salad it probably doth not make
Boothe said this list is stuff that is more commonly consumed, but most people aren't aware they're edible.
The table is set for quite the freaky feast. Here's Tiffany's list.
- Certain species of limpets. Limpets are related to snails and clams.
- Gumboot Chitons. These are the largest species of chitons in the world reaching lengths of 13 inches. On average, other species of chitons are about 2-3 inches long.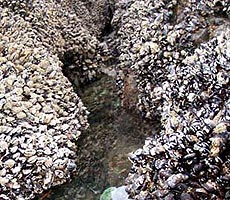 Clumps of clams
- Sea Urchin
- Muscles (some people know that these are edible but some do not).
BREATHTAKING CLIFFTOP IN NEWPORT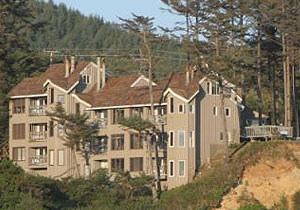 STARFISH POINT Newport - Offers only the finest in luxury condominium lodging. Every unit is focused on the beauty of the sea and the beach.
All units boast two bedrooms, two bathrooms, designer kitchens, wireless broadband Internet, fireplaces, Jacuzzi's and private decks. Friendly staff dedicated to high quality and superb customer service. 140 NW 48th Street, Newport. (541) 265-3751. (800) 870-7795. www.starfishpoint.com
- Seaweeds such as Sea Lettuce and Bull Kelp.
- Water Jellies
- California Sea Cucumber. This is the largest species of sea cucumber in our waters. An odd little tidbit: when threatened, the California Sea Cucumber will eject their internal organs. They are able to re-generate them in 6 - 8 weeks.
- Giant Barnacle. These are one of the world's largest barnacles. Individually they are five inches high and four inches wide. They are usually roasted and eaten.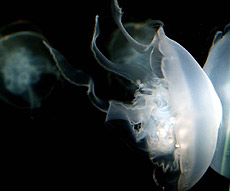 Would you like a little Jelly Fish with your sea cucumber?
- Giant Pacific Octopus
- Wolf Eel
- Of course scallops and other clams: Rock Scallop, Pink Scallop, Razor Clams, Cockle Clams, Goeducks, Butter Clams, etc.
Catch more at the Seaside Aquarium, on the Prom. (503) 738-6211.
Castles on the Coast
There is one real castle on the Oregon coast – and a crumbling, rather gothic looking structure that looks a lot like the ruins of a castle. One has an extraordinary history; the other is relatively new.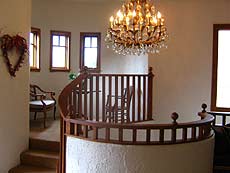 Interior of Arch Cape House
DIVE INTO LUXURY, HISTORY AT THE TIDES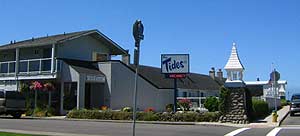 THE TIDES BY THE SEA, Seaside. For over 80 years a favorite of Seaside visitors. 51 oceanfront condos, individually owned and decorated. Suites for couples, small apartments with fireplaces and kitchenettes, one or two bed family units with fireplaces, kitchens and dining rooms. Oceanview cottages sleep anywhere from two to eight, w/ two bedrooms, some with lofts, fireplaces and kitchens. Heated outdoor pool, enormous grounds w/ picnic tables - all at quiet southern end of Seaside. 2316 Beach Drive. 800-548-2846. www.thetidesbythesea.com.
In Arch Cape, just south of Cannon Beach, you'll find a B&B called Arch Cape House, built to look like somewhere between a ski lodge and a European castle. This is a remarkable and elegant construction, peppered with artistic details, containing seven striking guestrooms filled with antiques, beautiful furnishings and a sense of the Victorian fused with modern grace.
Here, chandeliers and classy furniture inhabit the living room area, with a nifty little rounded nook in one corner - obviously part of the "tower." In the early evenings, owner Barbara Dau hosts "social hours" for the guests here, featuring wine and camaraderie in front of the fireplace.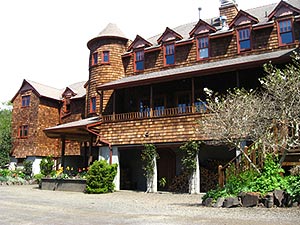 Arch Cape House
The rooms at Arch Cape House are jaw dropping at the very least. The "Ginger" features blue and white fabrics, oriental ginger jars and a love seat, with a king size bed from Austria. In "Gaugin," there's a cozy window seat, a funky bathtub, muted pastels of the artist and a queen size bed. The stunning "Heather" is on the top floor and features a private deck, vaulted ceilings and a sitting area with a love seat. The "Parisian" comes with a window seat, a wingback chair, and has a Victorian vibe. The gorgeous "Tower" is in the tower and it's huge, with a sitting area, large soaking tub, various antiques, and it's draped in dreamy white lace. The "Provence" is on the garden level and is sequestered away from the rest of this small palace, with terra cotta floors, Jacuzzi and French doors opening into a private patio. Look for East Ocean Rd., just north of the Arch Cape Tunnel. www.archcapehouse.com. 800-436-2848.
In Newport, you'll find the gutted remains of a condo spread over a rock structure called Jump-Off Joe, in the Nye Beach area (at the end of NW 11th). Empty floor foundations stare blankly into the sky, with no walls to protect you from plummeting over the side of the cliff. Periodic stairways go nowhere, or almost nowhere, and serve little or no purpose.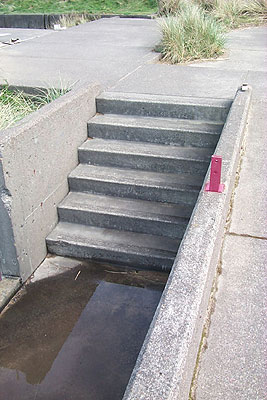 Jump-Off Joe condo remnants
Walk down the side trail to the bottom of the crumbling construction and you'll a host of disgusting debris left by homeless people or partying kids, as well as a large swath of graffiti, which pretty much ends any imaginative leap to Europe in the mind. Walk around it and see other things jutting out of it or cracking, as if some minor fortress housed a much more minor dignitary once.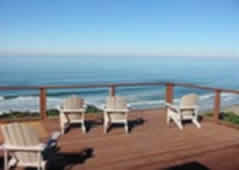 A1 Beach Rentals, Lincoln City. Perfect for large family vacations all the way down to a getaway lodging for two - with over 25 vacation rental homes to choose from. A breathtaking collection of craftsman or traditional beachfront homes, or oceanview houses – from one to seven bedrooms. In various areas of Lincoln City and overlooking the beach, with some in Depoe Bay. All kinds of amenities are available, like hot tubs, decks, BBQ, rock fireplaces, beamed ceilings and more. Some are new, some are historic charmers. Lincoln City, Oregon. 1-(503)-232-5984. www.a1beachrentals.com.
In fact, the history behind it is almost comical. In the late 70's, someone began fighting to build a condo on this bluff, which was obviously – to all the locals, anyway – a jitter or two away from crumbling further. The cliffs here had done so periodically over the century. Locals fought long and hard, and finally the developer won the rights to begin some of the research and legal clearances.
First, they had to find a geologist who would sign off on the stability of the bluff. They went through numerous geologists – all telling them this wasn't feasible here. Finally, they found one who did approve the project.
So after some more legal wrangling, it was built. Just before its completion, the ground shifted drastically and the condo foundation and building cracked. The "I told you so's" went rampant, and the law forced the developer to raze the building.
The slightly spooky – but always intriguing – foundation is all that's left now.
Creepy Meat-Eating Plants of Florence
It's called the Darlingtonia Botanical Wayside in Florence.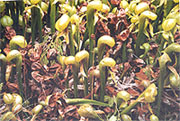 Freaky pitcher plants of Florence
Venture someplace a little scary on the Oregon coast sometime, with this bit of weird science that will remind you of the movie "Little Shop of Horrors" and that giant plant's cries of "FEED ME SEYMOUR!!"
The Darlingtonia Wayside features insect-chomping plants that mostly live between there and northern California. These rarities sit around, just waiting to catch bugs with their sticky parts, then slowly digest them. Insects get lured by the colors and smells that attract them, and they soon find themselves confused by clear areas that look like exits, only to get sucked into sticky parts that eventually cause their demise.
Picnic tables abound here, and this rainforest-like park features a wooden walkway which keeps you elevated and away from the protein-hungry plants.
The wayside is free, and you'll find it just off 101, near Mercer Rd., Florence, Oregon.
Who's Got the Most Outdoor Eateries?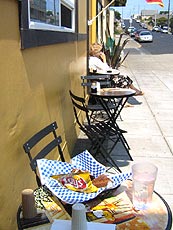 Cafe' Stephanie, Newport
There's an interesting little secret about Newport. This central coast resort town has a lot of dining al fresco possibilities – a lot more than anyone else. Newport has the most outdoor dining of any town on the coast. You'll find at least 12 of them: Rogue Ales Public House, Gino's, Lighthouse Deli (in South Beach), Kam Meng, Shirley's, Port Dock One, Local Ocean Seafood, The Coffee House, Village Market & Deli, Café Stephanie, Blu Cork Wine Bar and Nye Beach Scoop. The last four are in Nye Beach, where the sands are just a few steps away.
This makes the town especially inviting in those increasingly calm summer days or those stunning weeks of the "second summer," found in fall.
Cannon Beach has the second most, although it doesn't come close to Newport. In Cannon Beach, the list includes Warren House Pub, Gower St. Bistro, Bill's Tavern, Fultano's Pizza, Lumberyard Rotisserie & Grill and the Driftwood Inn.


D Sands Condominium Motel, Lincoln City. Getting a free, fresh baked cookie upon check-in is just the beginning. Every room is beachfront, and it's all right up against Lincoln City's most famous stretch of beach, next to the D River. Each room, comes as a suite or mini-suite, and has a kitchen and balcony or patio. Some have gas fireplaces, while all have a DVD Players with movies available for renting (and movie rentals come with free popcorn). There's a heated indoor pool, a spa, and this fabulous beach is lit at night. Rooms sleep anywhere from two, four to six - including a deluxe fireplace suite. Gift certificates are available, and they offer special occasion packages as well. To make a reservation and see a virtual tour of the rooms, visit our website at www.dsandsmotel.com. 171 S.W. Highway 101. 800-527-3925.
Weiss' Paradise Suites & Vacation Rentals - Seaside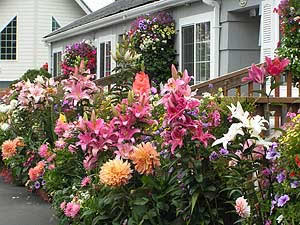 Unique Luxury Accommodations in Seaside. 1BR Suites, 1BR & 2BR Duplex Units and 3BR Houses, units for 2-8 people. Rent our entire property for 20-26. All units close to beach, river and Broadway St.
Suites are designed for two adults; vacation rental units for families. All units have kitchen and many have fireplace, deck and jetted tub. Enjoy comfy robes & slippers, luxury bath amenities, quality linens and more. See us on The Travel Channel's "Great Escapes" show in August 2006. 741 S. Downing St., Seaside. 800-738-6691. www.SeasideSuites.com
RELATED STORIES
OREGON COAST VIRTUAL TOURS
Explore Every Beach Spot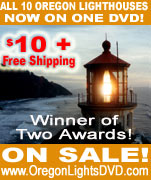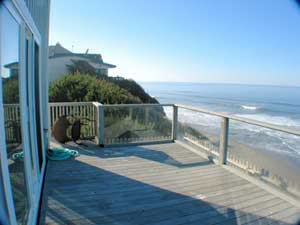 Lincoln City Vacation Homes There's something for everyone among this selection of wondrous homes: smaller homes with a view to a large house that sleeps 15. All the homes are either oceanfront or just a few steps away from the sand – all with a low bank access and fantastic views. Most are in the Nelscott area; one is close to the casino. You'll find a variety of goodies, depending on the home: fireplaces, multiple bedrooms, dishwashers, Jacuzzis, washer/dryers, hot tubs, cable TV, VCR, barbecues; there's a loft in one, and another sprawling home has two apartments. Pets are allowed in some homes – ask ahead. Each comes with complete kitchens so you'll have a home away from home. Most have the seventh night free. Prices range from winter $85 to summer $230 per night. www.getaway2thecoast.com. 541-994-8778.
For weekly updated info on lodgings and accomodation reviews, see the Travel News section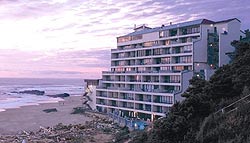 Inn At Spanish Head, Lincoln City. It's Lincoln City's only resort hotel built right on the beach with all oceanfront rooms - nestled against a rugged cliffside overlooking a soft, sandy beach. Enjoy dining in the penthouse restaurant and bar - whether you're in the mood for a casual meal or a candlelight dinner. They offer an array of seafood specialties, juicy steaks and other Northwest favorites, including a decadent Sunday buffet. Rooms range from bedrooms to studios to one-bedroom suites with microwaves and refrigerators to full kitchens. Hotel amenities include wi-fi, spa, saunas, exercise room and a year-round heated swimming pool. Kids will love the game room and easy beach access. Full-service conference and meeting rooms for that inspirational retreat; extensive, gorgeous wedding possibilities. Near the south end of Lincoln City at 4009 SW Highway 101. 1-800-452-8127 or 541-996-2161. www.spanishhead.com