Covering 180 miles of Oregon coast travel: Astoria, Seaside, Cannon Beach, Manzanita, Nehalem, Wheeler, Rockaway, Garibaldi, Tillamook, Oceanside, Pacific City, Lincoln City, Depoe Bay, Newport, Waldport, Yachats & Florence.
07/24/08
Twisted Tales of an Oregon Coast Holiday
By Andre' Hagestedt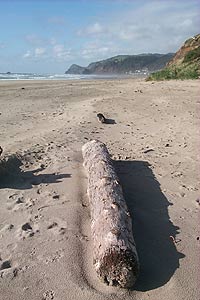 Lincoln City in moments quieter than the Fourth of July weekend
(Oregon Coast) - Again it's the fourth of July, which is not merely a holiday to me and the Oregon coast - it's a season. Well, more correctly it's a series of celebrations along the coast that last three days or more, especially this year, as the holiday fell on a weekend. Then, normally, the coast has big shindigs from the third through the fifth of July, depending on what area you're dealing with. But in this case, the whole holiday turned into more of a half week kind of thing, filled with beachy discoveries, fireworks, fine food, more fireworks and plenty of bar jaunts of one bizarre kind or another.
This year, the fourth fell on a Friday, and the third is the big celebration in Depoe Bay. This time around, with the oppressive heat turning me to mush in the Portland area, I couldn't wait for the third and sped out of P-town early to the night in Lincoln City on July 2.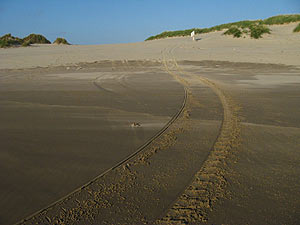 An ATV trail at the Sand Lake Campground area
I began the drive by heading down Highway 6, munching in Tillamook, then briefly taking in the massive dunes of the Sand Beach Campground area, off Galloway Road, near the junction of Sand Lake Road and the Three Capes Loop.
Rarely do I tread upon beaches I haven't explored before: I've literally documented every single beach access from Astoria to Florence, some 180 miles. But that doesn't mean I've walked the entire length of that stretch of coast, although I'm very close to having done that - within a few miles, actually. This beach is one of those I haven't thoroughly explored before, and in fact parts of it I've never walked on in my 12 years of detailing the coastline.
This is one stunning, even peculiar area, which definitely resembles some post-apocalyptic world where sand dunes and beachy fauna have replaced civilization. Except for the proliferation of noisy, perhaps even dangerous ATV's, which lend the place a "Mad Max" feel.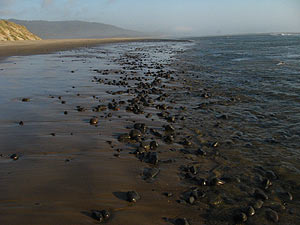 The secretive beach at Sand Lake, beyond the ATV running ground
Tread the quarter mile of dunes dirtied by manic vehicles (and sometimes laden with glass and other undesirable materials) and you'll find a dirty beach for a ways. But beyond the borders for the ATV's exists a pristine, even rarely walked upon beach, on either side of the border. I only walked the southern section, however.
You eventually round a bend towards the odd little bay formed around Whalen Island State Park, all the while with Pacific City's Cape Kiwanda still in the distance. There's some magic in this place, in spite of the periodic intrusion of meathead vehicle noise.
This and the constant ruddy state of Pacific City's beaches has led me to firmly believe driving on any part of our beaches, no matter how small the allowed territory, should be forever banned. It sucks, dear Oregon politicians. Get rid of it.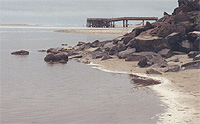 Lincoln City's Siletz Bay was packed with people on the fourth, as people claimed their fireworks-watching spot while enjoying the area's qualities.
Within an hour I'm settled in Lincoln City, working feverishly on my laptop for this website. By midnight, I've hit my fave Lincoln City bar, Maxwell's, for a spot of karaoke on a dead Wednesday night. I ddi David Bowie's "Young Americans" to a handful of half-attentive folks, changing the brief acapella section near the end (where he sings "ain't there one damn song that can make me break down and cry) to some other obscenity-laden rant about why can't we find more legal ways to download episodes of the new season of "Battlestar Galactica." Yes, when drinking, the big nerd in me comes out flailing.
The next day I'm staying with a friend in Depoe Bay – Angie, who works at the Depoe Bay Winery. There's a sneakily addictive little eatery down the way called Avast (more of Depoe Bay's new pirate theme), with a really scrumptious chili dog I can't get enough of. They also have incredible seafood specialties, and an obscenely good clam chowder that has been described as "so addictive it's like crack." I managed to lunch or breakfast there every time I've been in Depoe Bay these days.
It's Thursday the third, and I wander aimlessly around the central coast as a thickening fog slowly envelopes the whole area. The fireworks display in Depoe Bay is starting to look doomed.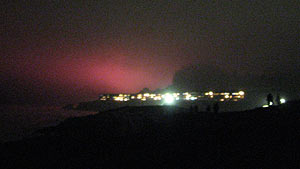 Depoe Bay's fireworks were dispersed by a big fogbank, creating an eerie flash and glow in the distance
Just before dusk, I get together with my Newport pals Robert and Deb, and we indulge in lots of silliness at the Tide Pool, the bar near the secret spot we've staked out for our annual meeting for Depoe Bay's show. We arrive at this hidden section of cliffs with a good view of the Boiler Bay area almost a mile away (where they shoot off the fireworks), and sure enough, the fog is thick and unforgiving. The fireworks are totally lame to many, but not to me, as the strange effects caused by the cloud cover create an unusual feel and look to my more discerning eyes. By the end of the show, most had already left this area. But I was fascinated by the dispersed flash and fuzzy, bright firework shapes, often resembling some sci-fi movie about the end of the world. It was irresistible.
Later in the evening, it's more carousing at local bars in Depoe Bay, although I was blown off by the karaoke DJ and the bartender was a total bitch for some reason.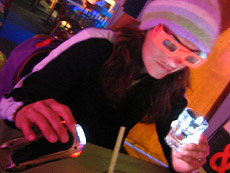 Last year's celebration in Depoe Bay bars featured all of us - including my friend Deb - playing with funky 3D glasses and wacky lights.
Friday morning meant more food at Avast, and then a long, slow trip back up the coast to Manzanita - some 100 miles. The beaches whizzed by, the Fourth of July traffic was snarled and slow moving, especially through Lincoln City, and I wound breathing an intense sigh of relief as I passed beyond the city's limits to the more open highway just south of Cascade Head and Neskowin. The beaches and streets of Pacific City were nuts. The stretch between there and Tillamook, including Tierra Del Mar and the Galloway Road area, was quite crammed with vehicles and tourists. Bay City, the Tillamook Bay and Garibaldi and its giant "G" carved into the hillside were also buzzing with tourists. Rockaway Beach was an exercise in holding back road rage, with its scores of human beings and their cars jockeying for good spots for its big celebration later that evening.
I didn't stop until I got into Nehalem, munching down on fine pasta at the new Pizza Garden in town (owned by famed madman pizza chef Phil Kaufman, who ran the original Guido's a few years ago in Wheeler.)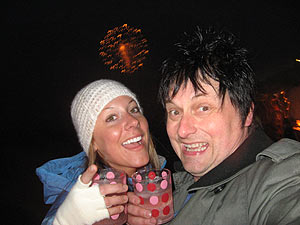 A little bit of the Canadian show "Trailer Park Boys" in Rockaway: Abby-Normal and I wandering the beach with mixed drinks.
My original plan was to indulge in Seaside's massive display, then crawl around its insane bars, but my Rockaway pal Abby (whom I call Abby-Normal) beckoned to me and I ended up hanging with her at Rockaway's wild and wooly celebration. Her parents live a couple blocks from the beach. We took advantage of their copious bar, made some mixed drinks, and headed for the sand to watch the big stuff go off.
Lately, I, as well as numerous other friends around Portland and the coast, have become completely immersed in the underground Canadian TV show "Trailer Park Boys." One of those regular characters constantly has a rum and coke in his hand, no matter what the situation. He's even been known to crawl out of car accidents, drink still intact. It's hilarious. In an homage to that character, Julian, we proudly carried our mixed drinks on the beach that night.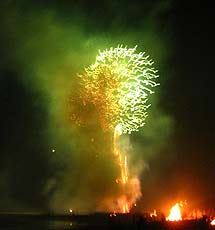 Rockaway's finale is pretty impressive for a relatively small locale (photo from 2006)
Then the really kooky stuff happened: the local bars. We dug our roots into the Blue Water, which featured an extensive outdoor section right on the beach, as well as a bulging host of wacky locals and wild tourists. One dude, who never wore a shirt (also like another character on Trailer Park Boys), was slimy and sketchy to say the least, and seemed anxious to come and join Abby and me. I managed to ignore his requests for company and shielded Abby from the unpleasantness of this unwanted weirdo.
Karaoke was on tap, and one of my favorite tunes to do is Peter Gabriel's "Solsbury Hill" - a stunning, interesting pop tune if there ever was one. It's also in a strange time signature (not 4/4), and I sometimes love messing with the minds of all the drunks and announcing over the mic "I'll buy a drink for the first person who can guess the time signature on this tune." Once, someone actually got it. The other 20 or so times I've challenged the audience, no one has ever come close.
So, at the end of the song, I ask if anyone guessed it. A horde of people shouted out odd answers, including one lady who screamed "69" - which makes no sense, but it's funny. Now, being the innate lounge lizard I am, I quipped over the mic: "I think I just propositioned - someone just yelled 69."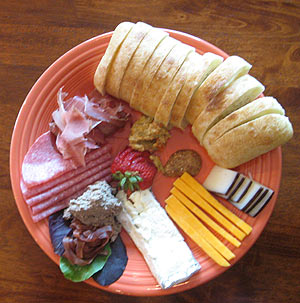 A fabulous meat and cheese plate I indulged in this weekend at Newport's Village Market & Deli, which features their own unbelievably outstanding housemade pate.
All of a sudden, the KJ, who was right next to me, grumbled: "that's my wife."
Now, at the time I didn't realize the brevity of this and assumed he was just joking with me (although I don't doubt it was his wife). But shortly thereafter, I slowly realized it seemed he really thought I'd transgressed some comedic boundary, and he wasn't just playing around with me. I think it's entirely possible the guy had some odd jealousy problem going on. This really hit home when I later complimented him on his KJ abilities, and he just gave me what appeared to be a dirty look.
Geez dude….have a sense of humor.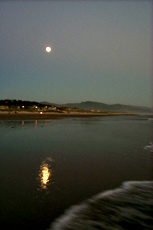 Manzanita's beaches at dusk
The fifth of July held more promise for fireworks fun, as Pacific City often holds theirs on the fifth. I didn't feel like driving back down that 70-mile stretch, so I simply moped around my Manzanita pad for the day, having breakfast (around 1 p.m.) at Pizza Garden again. Eventually, I hooked up with friends Rachel and Dave and got them hooked on Trailer Park Boys via a DVD of season four that I'd rented from Netflix. I suppose it's now part of my duty to spread the word on this unbelievably hilarious show. It's amazing how many people in Portland and the north coast are already aware of this comedic gem.
As night fell, there were more odd adventures in local wateringhole The Wateringhole in Nehalem. Somehow, a kooky argument broke out over which deceased rock star had more social impact: John Lennon or Dimebag Phillips from Anthrax. The gentleman in Phillips' corner got really upset and had to leave the table. Sigh, whatever.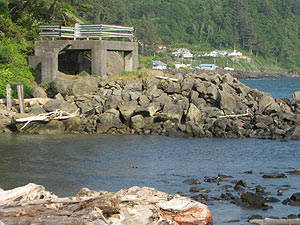 Barview's Jetty Park features a mysterious lookout building
As Sunday rolled around, it was time for me to end my wacky little trip up and down the coast. But first I went south to explore some parts of Garibaldi and Tillamook Bay, including that goofy "B" painted on the side of the hill at Barview. It's like the low budget little brother of the giant G looming over Garibaldi. Apparently, Barview wasn't willing to be completely overshadowed.
At Barview, the Jetty Park was filled with a plethora of visitors. There were those simply there to take snapshots or gawk at the north jetty of Tillamook Bay, with its constant barrage of waves battering the sides, making this curious, continuous splashing action down its length.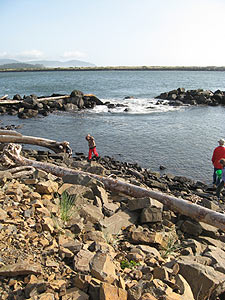 The boulders along the shore of the park provide a fab view of the jetty of Tillamook Bay.
Some were there at the boulders that created part of the shoreline here – a shoreline where the sandy beaches typical of Rockaway Beach meet the rugged cove and rocky sands of the edge of Tillamook Bay. Those folks were capturing some sort of sea life, clams or something.
Others were climbing the odd lookout-like structure that sits at one end of a cove within this little cove. Barview Jetty Park, besides being a much-loved campground, is a varied environment, with a lot to occupy your time with.
Down the road, in Garibaldi, the giant smokestack now seems to be host to a small campground. A small village of tents have popped up beneath it. There's even a sign saying "Welcome to the Old Mill Resort." Not exactly a luxury spa, but it's an interesting, even humorous campground – if that's actually what it is.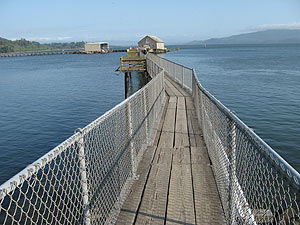 Garibaldi's seemingly endless pier
The long pier at Garibaldi seems to go on forever, but there were plenty of people lined along its enormous length on this big vacation weekend. The water of the bay was a pristine blue under the warm, sunny skies of this day.
From here, it was a quick jaunt down to my fave spot for quiet and solitude: the beaches of the tiny village of Cape Meares (which lies just beneath the cliff of the same name). On this day, there were plenty of people here on this dramatic beach, but it is always ultra-relaxing, no matter that a bevy of people are buzzing around. It's still easy to be alone and take in this unusually pristine beach, at least for a while.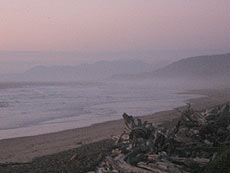 The soothing beach at Cape Meares during more peaceful moments
This spot, like so many other times, was my last stop – a brief moment or two to suck in that regenerating energy only the ocean is capable of imparting, just before I zip to our Portland office along winding, forested Highway 6. A favorite little ritual of mine pops up again – a heretofore unknown quirk I can't seem to resist. Just before turning my back on the ocean and stepping into my car to begin the drive inland, I turn quickly to the sea and mumble, "goodbye ocean."
Sentimental as hell. But I'm a wuss for the coast.
OREGON COAST VIRTUAL TOURS
Explore Every Beach Spot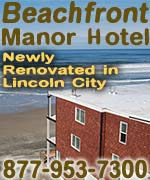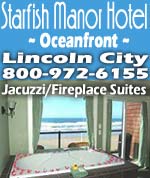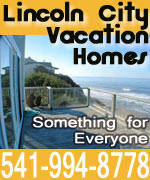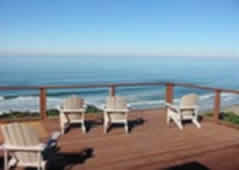 A1 Beach Rentals, Lincoln City. Perfect for large family vacations all the way down to a getaway lodging for two - with over 25 vacation rental homes to choose from. A breathtaking collection of craftsman or traditional beachfront homes, or oceanview houses – from one to seven bedrooms. In various areas of Lincoln City and overlooking the beach, with some in Depoe Bay. All kinds of amenities are available, like hot tubs, decks, BBQ, rock fireplaces, beamed ceilings and more. Some are new, some are historic charmers. Lincoln City, Oregon. 1-(503)-232-5984. www.a1beachrentals.com.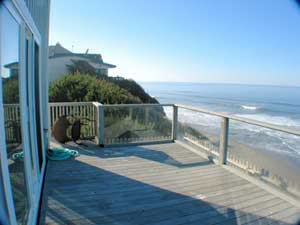 Lincoln City Vacation Homes Something for everyone: smaller homes with a view to a large house that sleeps 15. All are either oceanfront or just a few steps away – all with a low bank access and fantastic views. Most are in the Nelscott area; one is close to the casino. You'll find a variety of goodies: fireplaces, multiple bedrooms, dishwashers, Jacuzzis, washer/dryers, hot tubs, cable TV, VCR, barbecues; there's a loft in one, and another sprawling home has two apartments. Pets allowed in some homes – ask first. Each comes with complete kitchens. Most have seventh night free. Prices range from winter $85 to summer $230 per night. www.getaway2thecoast.com. 541-994-8778.

Tradewinds Motel, Rockaway Beach. All rooms are immaculate and have TV's, VCR's and in-room phones w/ data ports. Oceanfronts have queen bed, a double hide-a-bed, kitchen, cozy firelog fireplace and private deck. Both types sleep up to four people. Others are appointed for a two-person romantic getaway, yet still perfect for those on a budget. Elaborate oceanfront Jacuzzi suite has two bedrooms, kitchen, double hide-a-bed, fireplace and private deck, sleeping as many as six. For family reunions or large gatherings such as weddings, some rooms can connect to create two-room and three-room suites. Some rooms pet friendly. 523 N. Pacific St., Rockaway Beach. (503) 355-2112 - 1-800-824-0938. www.tradewinds-motel.com
RELATED STORIES
Click here for video of Dec. storm aftermath
Oregon Coast Best of Awards for the Year And the winners are: best of Oregon coast restaurants, lodgings, science, odd events in nature and stunning moments for 2007
Watching Transformations of Oregon Coast Beaches Seasons change and so do beaches, revealing different sides and a variety of eye-popping sights