(Pacific City, Oregon) - The Nestucca Bay encompasses Oretown (along Highway 101) and an area called Cannery Hill, over to the little village of Woods (just NE of Pacific City), and of course around Pacific City itself and its beaches. These are all well known names on the north Oregon coast – but they didn't always go by those names.

European settlers began arriving in what became the Nestucca Valley in the 1870's, settling in and around what later was known as Highway 101 and towns like Hebo, but also around Neskowin and Pacific City. Land began to be surveyed here in 1875.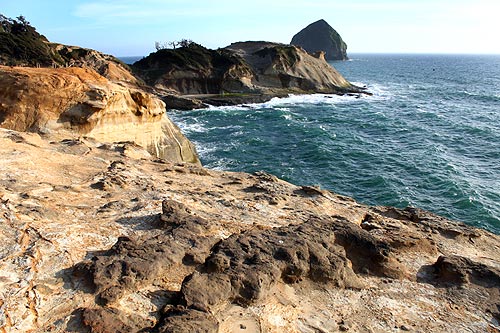 Before that, however, the Oregon coast native people known as the Nestuggas and Killamooks lived here. These names evolved into Nestucca (as in the Nestucca River) and of course, Tillamook.
It was quite rough around here in those early pioneer days of the 1870's. In fact, one potential homesteader who had just acquired land here took one look and turned around and went home due to its ruggedness. At the time, it was primarily flat, sometimes marshy land, and getting around the area could take two to three days.
Part of the problem was a major forest fire around here a decade or two before settlers arrived, which destroyed most of the forest land closer to the coastline.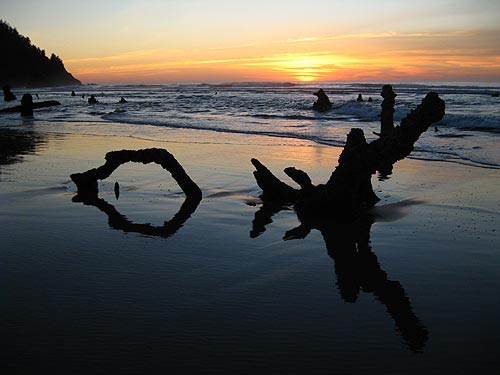 Neskowin
Local tribes were actually responsible for helping out the early settlers – and these folks were among the whites that turned on them eventually and herded them into reservations to the south. The natives would ferry recent arrivals around, across the rivers and the bay. They even helped keep them from starving at times by providing dried meats when their own supplies ran out.
Though not always confirmed, it seems the original name of Haystack Rock was Chief Kiawanda Rock, named after an early leader of the tribe – from about 60 years before that.
Interestingly enough, there are two Haystack Rocks on the Oregon coast: the other is the more famous one at Cannon Beach.
His name, Kiawanda, has also morphed over the century and a half, turning into Cape Kiwanda. But the local community center still goes by Kiawanda.
Interestingly enough, Pacific City was known as Ocean Park when it was first created around 1893 – and it was actually a bit east of where it is now. It was later changed to Pacific City in 1909 because of Ocean Park, Washington.
Just before 1880, the two tribes of Nestuggas and Killamooks had dwindled down to about 200. They were then led by a chief named Nestugga Bill to the Siletz area by Lincoln City when they were forced onto the those reservations.