Oregon Travel: Three Capes Loop, Oceanside to Pacific City by Satellite, Map

Three Capes Loop Virtual Tour, Oregon Coast: Oceanside, Netarts, Tierra Del Mar, Pacific City
(Oceanside, Oregon) – Thanks to the miracle of Google Earth and its mapping technology, you can literally wander the beaches of the Oregon coast from your laptop – albeit in a bit of a blurry fashion. It's an armchair tourist expedition that could be entitled "How to Move Up 25 Miles of Oregon Beaches in a Few Keystrokes."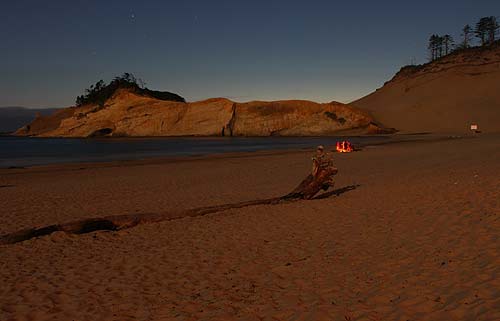 Starting with the Google Map/Google Earth feature (see at the bottom), you can start soaring over Cape Kiwanda. Those massive sand hills yield so much more from up here.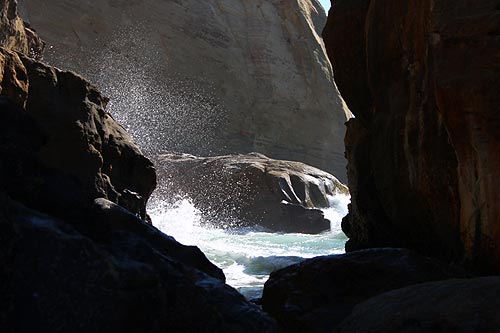 Some fascinating new views of those intricate sea canyon walls at the tip of the Pacific City landmark come into light as well.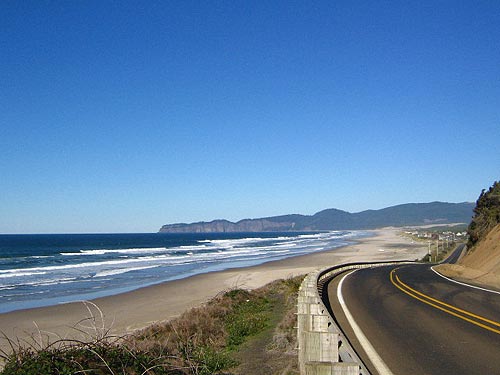 Continue moving the cursor up northward and you'll quickly be over the northern part of Cape Kiwanda State Park, through the flat lands of Tierra Del Mar, over the sandflats around Whalen Island State Park, into the sprawling dunes of the Sand Lake Recreation Area, and then you bump into that big headland: Cape Lookout.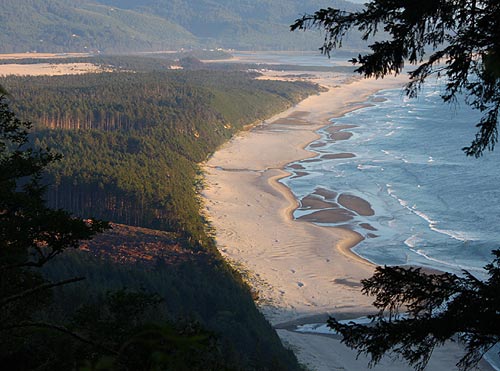 The second cape along that tour doesn't seem so large all of a sudden. It's a five-mile loop if you hike around the headland, but here, with this satellite imagery, you burn no calories at all.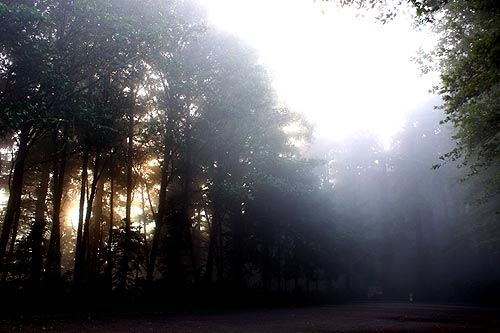 You can even catch vague glimpses of the secret beach just below the south face of Cape Lookout, but these are fuzzy. Fascinating how the trees completely hide the trail going down there.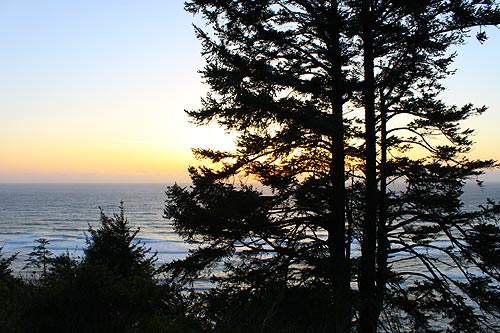 From here, if you're good at recognizing landmarks, you may be able to spot Anderson's Viewpoint, where the hang gliders go sailing off of. Beneath that begins Cape Lookout State Park, and periodic glimpses of how that area is actually laid out: impossible to see clearly from the ground, or unless you've hiked all of the area.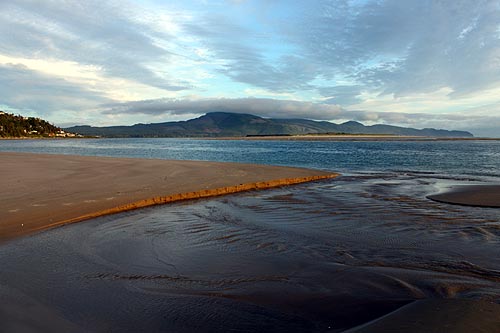 After Cape Lookout, you round around Netarts and its varied little enclaves. Netarts Bay practically glows a deep blue from above, and the spit wanders on past the boat docks and Happy Camp.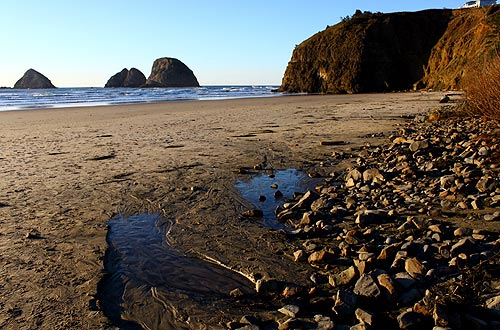 Soon, your digital eyes can round this beach's bend to Oceanside, practically the final leg of this journey-on-high. Three Arch Rocks and even Lost Boy Beach (never accessible) become visible.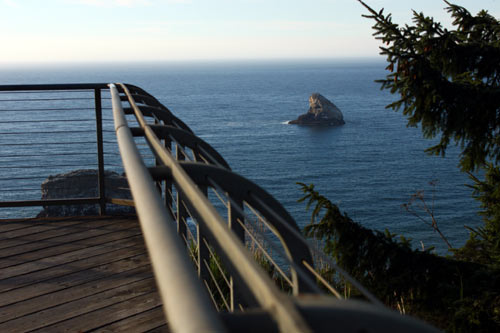 Checking out Cape Meares and the adjacent Short Beach (not to be confused with Short Sands by Manzanita) ends this ethereal little sojourn.
But why stop now? This digital excursion doesn't have to end. You can keep wandering and zooming in and out all you want.
Thanks to Google Earth for the use of the technology.
Much more on the Three Capes Loop is available at the Oceanside, Netarts, Pacific City Virtual Tour – or the Complete Beach Access Guide to Pacific City, Oceanside and Netarts.