Covering 180 miles of Oregon coast travel: Astoria, Seaside, Cannon Beach, Manzanita, Nehalem, Wheeler, Rockaway, Garibaldi, Tillamook, Oceanside, Pacific City, Lincoln City, Depoe Bay, Newport, Waldport, Yachats & Florence.
11/20/07
Memorable Novembers on the Oregon Coast
By Andre' Hagestedt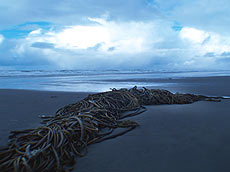 November storms mean wild sights like this: huge amounts of bull kelp washing up (photo Tiffany Boothe ,Seaside Aquarium)
(Oregon Coast) - When November rolls around, it always brings me back to some of the more eventful times I've had goofing around the coast - and just how varied and full of surprises the region can be. Especially those days of discovery, when I'd just begun exploring the Oregon coast in incredible detail, just before and during my excruciating, painstaking documentation of every single beach access, bar, restaurant and whatever else. These were times when the idea of bouncing around the beach at anything but summer was still a bit odd to me, and I was slowly making that epiphany that the coast and its weather had a lot more than met the eye.
It was, of course, a time of numerous adventures as well.
The first time I discovered the coast's wild mood swing surprises was in 1991, a trip that is now, in retrospect, a rather melancholy and bittersweet memory. My mother and I went to Lincoln City sometime just after Halloween and spent the night in a suite with a gorgeous ocean view. Being a landlubbing Salem guy at the time, I figured November meant nasty weather on the beach. Wrong. I was awed to discover bright, beautiful days, although they were quite cold and windy at times – but not all the time.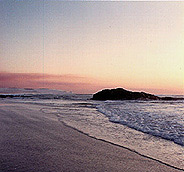 Lincoln City on a cold but beautiful November day, 1991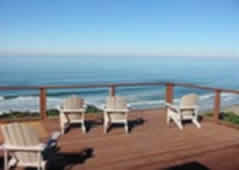 A1 Beach Rentals, Lincoln City. Perfect for large family vacations all the way down to a getaway lodging for two - with over 25 vacation rental homes to choose from. A breathtaking collection of craftsman or traditional beachfront homes, or oceanview houses – from one to seven bedrooms. In various areas of Lincoln City and overlooking the beach, with some in Depoe Bay. All kinds of amenities are available, like hot tubs, decks, BBQ, rock fireplaces, beamed ceilings and more. Some are new, some are historic charmers. Lincoln City, Oregon. 1-(503)-232-5984. www.a1beachrentals.com.
Still, the sunsets were amazing, and I spent considerable time just shooting pics of the intense colors. Oddly though, my mother was tired the entire time and I don't remember ever wandering the beach with her. I even tried dragging her bar hopping with me, which she was actually quite intrigued by (me too, as it was hard to imagine Mom in my wacky nocturnal environment). But she wound up nodding off into a deep sleep, and I amused myself with a horror movie festival on TV that was still running a few days after Halloween.
The next morning, Mom dragged me shopping at the Factory Stores @ Lincoln City. She found a small, stuffed bear she loved; and in her sometimes-kooky manner, she purchased it, gave it to me and told me to give it to her for Christmas. OK. Whatever. I laughed at this quirk then, and I still laugh at it now.
A few months later, she discovered she had leukemia - and would pass away later in the year. It would be the last really good memory I'd have of her as a seemingly healthy person. It turned out this was why she was so fatigued in that November trip.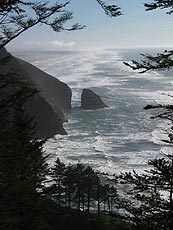 Wondrous moments just north of Florence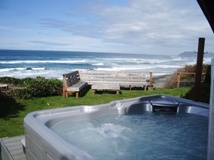 Arch Cape Property Services. Dozens of homes in that dreamy, rugged stretch between Cannon Beach and Manzanita known as Arch Cape. Oceanfront and ocean view , or just a short walk from the sea.
All homes are immaculate and smoke free; some pet friendly (with a fee). Some with broadband, indoor or outdoor hot tubs, fireplaces, decks, and fire pits or barbecues. Call about tempting winter specials that go until March (not valid holidays, however). www.archcaperentals.com 866-436-1607.
On a more pleasurable note, such pleasant weather surprises hit home in early November of 1996. My girlfriend at the time, Kathy, and I cruised the winding, twisting road around Heceta Head Lighthouse and Sea Lion Caves under amazing, cloudless, blue skies and almost balmy temperatures. I felt like I was in another world. I had no idea the coast could be like this so late in the year. The whole thing was quite ethereal, traversing those twisted stretches of highway, under direct sunlight, as ocean vistas appeared and disappeared between rolling hills and glimpses of the beach.
In November of 1997, Kathy and I spent the weekend in Newport. On the 30th, a grey, overcast day, we ventured out into the ocean aboard the fabulous Discovery Tours cruise. These are too much fun - and not just because I couldn't stop doing an impression of Leonardo DiCapprio in "Titanic" by standing at the tip of the boat with my arms outstretched. We spotted whales, whales spotted us, and it was a load of fun learning to get your "sea legs" in these bouncy conditions.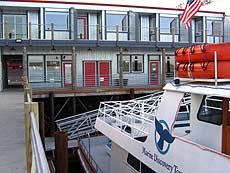 Discovery Tours, Newport

Tradewinds Motel, Rockaway Beach. All rooms are immaculate and have TV's, VCR's and in-room phones w/ data ports. Oceanfronts have queen bed, a double hide-a-bed, kitchen, cozy firelog fireplace and private deck. Both types sleep up to four people. Others are appointed for a two-person romantic getaway, yet still perfect for those on a budget. Elaborate oceanfront Jacuzzi suite has two bedrooms, kitchen, double hide-a-bed, fireplace and private deck, sleeping as many as six. For family reunions or large gatherings such as weddings, some rooms can connect to create two-room and three-room suites. Some rooms pet friendly. 523 N. Pacific St., Rockaway Beach. (503) 355-2112 - 1-800-824-0938. www.tradewinds-motel.com
We simultaneously giggled about - and felt horrible for - some woman who got seasick immediately. The poor lady had announced to employees she was a writer doing a story on the tour for some publication. Ouch.
We felt lucky we didn't get ill. But at one point, we realized we didn't feel that great either and had to quit moving around for the last 30 minutes of the cruise. That's karma, I suppose.
The next day was December 1 and extremely sunny. But most importantly, to me anyway, was that I'd always wanted to be on the coast in December. I was as delighted as a little kid over this goofy detail. The bayfront was hopping full of people, it was windless and relatively warm, and it was the first time I noticed the smell of fish processing activities there, which can sometimes be hideous.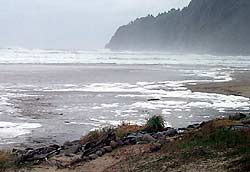 Stormy Manzanita
Some of the starkest differences in weather I've encountered were in 2001. By this time, I was editor of a publication called Oregon Coast Guide, which eventually morphed into BeachConnection.net via a long string of stages. I went over to Manzanita to hang with my pal Molly, a close friend who worked for Nehalem Bay Winery. It was the night before Thanksgiving, and for some reason we stayed up late, drinking ourselves silly, and told ghost stories by candlelight, while a sizable storm pounded the roof. Poor girl: she went off to bed spooked.
The next day, I slowly drove down to Salem to join my dad for the big feast. Somewhere about the Three Capes Tour, a mighty storm hit. I tried stepping out at the parking lot of Cape Kiwanda to get some photos, but not only did I have to fight my car door in the fierce wind, but I had to battle the wind and a wall of nearly horizontal rain to even stand up. One gust shoved me back to my car. I took that as a sign, gave up and drove off.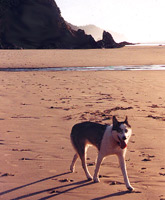 Molly's dog struts around Hug Point in 2001
Not even a week later, I visited Molly again, and with her dog, we wandered Hug Point (south of Cannon Beach) in windless, cloudless conditions and temperatures so warm I almost removed my shirt. Freaky.
Also freaky: we discovered some bizarre, prehistoric-looking bug lurking in one of the sea caves of this placid, late autumn strand. I think we both ran squealing in horror.
Less than 20 minutes later, we encountered tremendous rainsqualls near Seaside as we drove northward. By the time we got to Fort Stevens and the always-intriguing Wreck of the Peter Iredale, it had cleared somewhat. We were able to climb around the metallic skeleton of the ship under cold, overcast skies and occasional drizzle.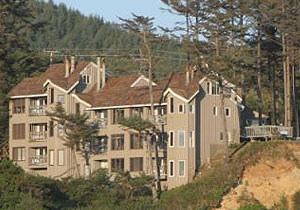 STARFISH POINT Newport - Offers only the finest in luxury condominium lodging. Every unit is focused on the beauty of the sea and the beach.
All units boast two bedrooms, two bathrooms, designer kitchens, wireless broadband Internet, fireplaces, Jacuzzi's and private decks. Friendly staff dedicated to high quality and superb customer service. 140 NW 48th Street, Newport. (541) 265-3751. (800) 870-7795. www.starfishpoint.com
It was as if the Oregon Coast was somehow aware of its own reputation for moody weather and reluctant to give it up. Now, I look back and wonder if it wasn't trying to teach me a little something about its schizophrenic nature.
Other Novembers still stick in my mind for one reason or another, as if mystically this time of year has wacky alignment of the stars that manages to tweak with me in some way or another.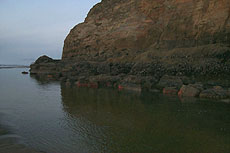 Hug Point on that ethereal day
One year, I remember an especially ethereal time at Hug Point, with the failing light casting a dim glow on a really low tide and nearly still waves, all under pristine blue skies. It looked just like summer, but it felt like November.
Last November, I stayed in Arch Cape for a few days and then drove back home to Portland on a stormy night, only to discover I'd left my power chord for my laptop back at my friend's pad. I had to drive back at just before midnight, dodging falling branches and giant sheets of rain along a very dark Highway 26, just so I could finish an hour's worth of work. I arrived around 1 a.m., droopy-eyed, and stayed the night again in Arch Cape. The next day was, of course, paradoxically pleasant and still, but I had to get back to P-town.
The rest of the month I remember battling a nasty cold that I'd caught from the woman I was dating. I was in the transition of moving down to Newport for a while, living there part time and Portland the rest. There were some massive, potent storms we dealt with at that little house in Nye Beach that month.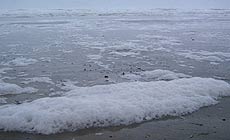 Stormy waves sneak up Nye Beach, November 2006
And now I ready myself for Thanksgiving dinner at a castle on the Oregon coast. I'll be at the Arch Cape House celebration, which promises to be extravagant. This year, it's the first I'm not spending with my dad or brother, but instead various coasties I've come to love as dearly as family members. I'll later hit the bars to drink with them – and whoop it up with all those former coasties who come back to the coast to visit their families, but beeline it for the bars to avoid them later in the evening.
This website boasts it's the teller of plenty of "beach secrets," and that's another T-day tradition that is indeed a bit of a secret, but not a beachy one. It's kind of universal. And I'll be at various watering holes along the north coast to help keep it alive.
We'll see how much of it I remember.

D Sands Condominium Motel, Lincoln City. Free, fresh baked cookie upon check-in is just the start. All rooms beachfront and up against Lincoln City's most famous stretch of beach: the D River. Each room comes as a suite or mini-suite, and has a kitchen and balcony or patio. Some w/ gas fireplaces, while all have a DVD Players; movies to rent come with free popcorn. Heated indoor pool, a spa, and this fabulous beach is lit at night. Rooms sleep from two, four to six - including a deluxe fireplace suite. Gift certificates orspecial occasion packages. www.dsandsmotel.com. 171 S.W. Highway 101. 800-527-3925.
Weiss' Paradise Suites & Vacation Rentals - Seaside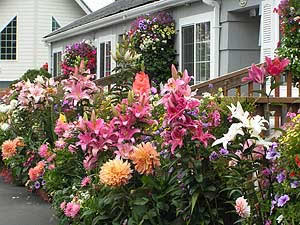 Unique Luxury Accommodations in Seaside. 1BR Suites, 1BR & 2BR Duplex Units and 3BR Houses, units for 2-8 people. Rent entire property for 20-26. Close to beach, river and Broadway St.
Suites are designed for two adults; vacation rental units for families. All units have kitchen and many have fireplace, deck and jetted tub. Comfy robes, slippers, luxury bath amenities, quality linens and more. 741 S. Downing St., Seaside. 800-738-6691. www.SeasideSuites.com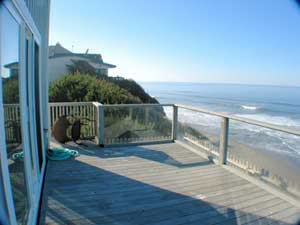 Lincoln City Vacation Homes Something for everyone: smaller homes with a view to a large house that sleeps 15. All are either oceanfront or just a few steps away – all with a low bank access and fantastic views. Most are in the Nelscott area; one is close to the casino. You'll find a variety of goodies: fireplaces, multiple bedrooms, dishwashers, Jacuzzis, washer/dryers, hot tubs, cable TV, VCR, barbecues; there's a loft in one, and another sprawling home has two apartments. Pets allowed in some homes – ask first. Each comes with complete kitchens. Most have seventh night free. Prices range from winter $85 to summer $230 per night. www.getaway2thecoast.com. 541-994-8778.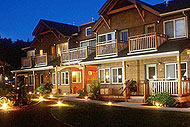 Inn at Cannon Beach. Beautifully wooded natural setting at quiet south end of Cannon Beach. Great during winter storms with a new book by the fireplace – or when the sun is out for family fun and beach strolling. Handsome beach cottage-style architecture. Lush flowering gardens and naturalized courtyard pond. Warm, inviting guest rooms. Continental buffet breakfast. Warm Cookies. Family and Pet Friendly. Welcome gifts. Smoke-free. Complimentary Wireless Connectivity. Wine and book signing events. 800-321-6304 or 503-436-9085. Hemlock At Surfcrest, Cannon Beach, Oregon. www.atcannonbeach.com.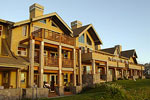 The Ocean Lodge. There will not be another property built like this in Cannon Beach in our lifetimes. Rare, premiere ocean front location; handsome, dramatic architecture and tasteful, fun (nostalgic) beach interiors. Overlooks Haystack Rock. 100 percent smoke free. Imaginative special occasion packages. Massive wood burning lobby fireplace. Library w/ fireplace, stocked with impressive book collection. Pet and family friendly. Lavish continental buffet breakfast. In-room fireplaces, mini-kitchens. Jacuzzi tubs in select rooms. DVD players, complimentary movies. Morning paper. Warm cookies. 888-777-4047. 503-436-2241. 2864 Pacific Street. Cannon Beach, Oregon. www.theoceanlodge.com
RELATED STORIES
OREGON COAST VIRTUAL TOURS
Explore Every Beach Spot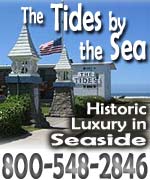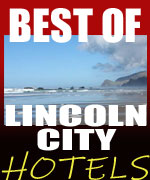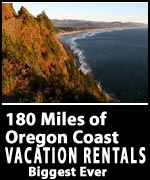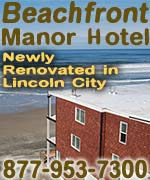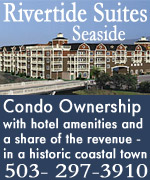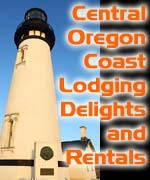 For weekly updated info on lodgings and accomodation reviews, see the Travel News section