Covering 180 miles of Oregon coast travel: Astoria, Seaside, Cannon Beach, Manzanita, Nehalem, Wheeler, Rockaway, Garibaldi, Tillamook, Oceanside, Pacific City, Lincoln City, Depoe Bay, Newport, Wadport, Yachats & Florence.
1/7/07
Oregon Coast Locals Offer Tips for Wild Storm Sights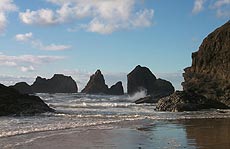 At Oceanside, storm waves eroded the basalt structure in the background, which used to be an arch
(Oregon Coast) - It's a way of life for many coastal residents (the latest self designation among many is the term "coasties"). The high winds, the battered road and businesses signs, the power outages, the excessive flooding and sometimes the run-for-cover approach that some must take when the roads won't allow them to return home, and they must find refuge in a local hotel. It's all part of that trade-off for that laidback lifestyle on the continent's edge, yet it's also something they look forward to.
Numerous coasties have spoken freely with BeachConnection.net in the last year and given away some of their favorite vantage points and storm watch secrets. It's part insider's tips and part warning, but the tidbits they've provided are all an interesting slant on one of the biggest tourism attractions of the entire Oregon coast.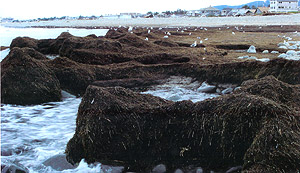 Storm-ravaged Seaside, at the Cove
The Seaside Promenade provides plenty of interesting vantage points to check out the nuttiness of the waves, but the southern end, at "the cove," is a big no-no, according to Seaside Aquarium manager Keith Chandler. He calls it a "boiling cauldron of death" during storms. Waves occasionally do wreak havoc on the streets here.
The real fun lays in watching rocky areas get smacked by waves, however. These explosions can be far more spectacular than on a simple beach. Depoe Bay is perfect for this, with large waves making mincemeat out of those basalt slabs. Meanwhile, you're watching from the safety of a high concrete wall. Also good for this are the rocky beaches in Yachats and just south of it - such as Neptune State Park - while watching from the parking lots or streets above. The high cliffs between Heceta Head Lighthouse and Florence are also particularly awesome.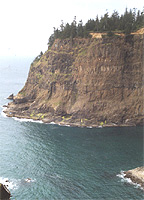 Cape Meares
DIVE INTO LUXURY, HISTORY AT THE TIDES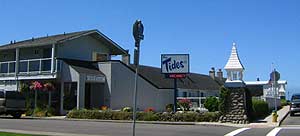 THE TIDES BY THE SEA, Seaside. For over 80 years, The Tides has been a favorite of Seaside visitors. History meets modern luxury here. 51 oceanfront condos, individually owned and decorated. Find suites for couples, small apartments with fireplaces and kitchenettes, one or two bedroom family units with fireplaces, kitchens and dining rooms. There are wonderful oceanview cottages that sleep anywhere from two to eight people, with two bedrooms, some with lofts, fireplaces and kitchens.
Meanwhile, the heated outdoor pool, enormous grounds with picnic tables and location at the quiet southern end of Seaside make for some memorable means of play and repose. 2316 Beach Drive. 800-548-2846. www.thetidesbythesea.com.
Cape Meares, west of Tillamook, is mind-boggling as immense breakers come barreling in from the sea and look frighteningly high from even this vantage point. The same is true with the colossal waves you can spot around Cape Falcon and Short Sand Beach - as seen from the viewpoints above Manzanita and just below Neahkahnie Mountain.
In Cannon Beach, David Johnson's restaurant, Fultano's Pizza, lies near the end of 2nd street, which dead ends at a particularly remarkable viewpoint for storm watchers.
"It's a great place to watch the ocean," said Johnson. "It comes together with the creek and then washes against the seawall. This is pretty awesome. From this location, you can also see the north end of the beach, which will disappear on a high tide. Big waves are moving in all directions, and the wind is blowing the tops of the waves into an amazing spray. This is probably among the best vantage points on the coast."
Suzy Willison, manager of the Pacific City - Nestucca Valley Chamber, reports gigantic waves slamming into the headland of Cape Kiwanda - hitting with so much energy they can be seen from the other side of the approximately 100-foot structure.
This town also can get quite flooded, with wild results, causing many to stop and snap pictures. The locals get used to running around in big rain boots and getting about in small boats in winter. It's just de rigueur at Pacific City.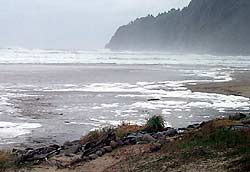 Foamy Manzanita

Tradewinds Motel, Rockaway Beach. All rooms at the Tradewinds Motel are immaculate and have TV's, VCR's and in-room phones with data ports. The oceanfronts all have a queen bed, a double hide-a-bed, kitchen, cozy firelog fireplace and a private deck. Some oceanfront units come with all those amenities but the kitchens. Both types sleep up to four people. Others are appointed with a queen bed, small fridge, and coffee maker – sizable for a two-person romantic getaway, yet still perfect for those on a budget. There is an elaborate oceanfront Jacuzzi suite that has two bedrooms, coming with a kitchen, double hide-a-bed, fireplace and private deck, sleeping as many as six. For those wanting bigger accommodations for family reunions or large gatherings such as weddings, some rooms can connect to create two-room and three-room suites. Some rooms are pet friendly.523 N. Pacific St., Rockaway Beach. (503) 355-2112 - 1-800-824-0938. www.tradewinds-motel.com
In Manzanita, giant chunks of frothy foam regularly float around the beaches of Manzanita, said Melissa Stetzel, manager of Nehalem Bay Winery. Parts of one beachside road sometimes get soaked by waves, though it sits on a bluff that's about six to ten feet high.
"There are big puffy clumps of white foam all over the beach," Stetzel said.
One storm in 2005 particularly stuck with her, with its surreal mix of stormy conditions, sun and warm temperatures.
"There was no wind or rain and it was warm like a spring day," Stetzel said. "Lots of people were walking on the beach checking it out. The foam was huge. Looked like bubbles in a bubble bath: light and airy and large."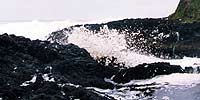 Wild foam at Cape Perpetua
On the central Oregon coast, the wind stirs up quite the unusual spectacle in certain spots, reports William Hanshumaker, Public Marine Education Specialist for the Hatfield Marine Science Center.
"The waves here have really whipped up the sea foam," Hanshumaker said. "In fact, at high tide it looks like a blizzard as you pass Seal Rock on Highway 101."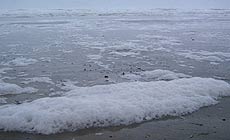 Storm surges at Newport leave behind foam
Hanshumaker said sea foam is formed by the cell walls of millions of plankton that trap the air as the wind and waves agitate the ocean. During windy conditions, which have been common lately, it can create monstrous flurries of foam that look like snow drifting across the highway.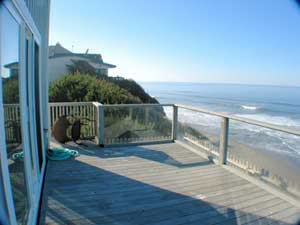 Lincoln City Vacation Homes There's something for everyone among this selection of wondrous homes: smaller homes with a view to a large house that sleeps 15. All the homes are either oceanfront or just a few steps away from the sand – all with a low bank access and fantastic views. Most are in the Nelscott area; one is close to the casino. You'll find a variety of goodies, depending on the home: fireplaces, multiple bedrooms, dishwashers, Jacuzzis, washer/dryers, hot tubs, cable TV, VCR, barbecues; there's a loft in one, and another sprawling home has two apartments. Pets are allowed in some homes – ask ahead. Each comes with complete kitchens so you'll have a home away from home. Most have the seventh night free. Prices range from winter $85 to summer $230 per night. www.getaway2thecoast.com. 541-994-8778.
In Newport, Village Market & Deli owner Deborah Trusty talks about being engaged in the wild surf and sounds from her home's vantage point above Highway 101 and the Agate Beach area. During such events, winds rattle her house constantly and often cause a back door to groan loudly throughout the night.
"Waves are big frothy, foamy and loud," Trusty said. "Huge seas rush onto the shore. The atmosphere is comprised of some balmy days, overcast, haunted looking and bewitching. If there was to be musical accompaniment: must be Celtic."
Newport's Danielle Emerick (at Starfish Point condominiums) has provided BeachConnection.net with various photos over the last year of a very muddy, storm-soaked Agate Beach area, or with storm-strewn logs flooding the bottom of the hotel's private beach access. She and others in the area note how fun it is to watch the creek slowly change directions over the course of the winter as storms scour the sand and literally move parts of the earth.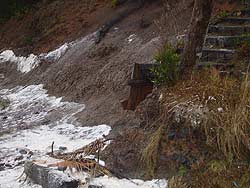 Storm-battered stairway at Starfish Point, Newport
Depoe Bay is not only famous for its whale watching but storm watching, especially with its large, rocky shelves and lava tubes which compress the wave action and make for some intense moments.
Peggy Leoni, owner of Trollers Lodge in Depoe Bay, has parts of her property overlooking the cliffs and gave up some different aspects for storm watching.
"The wave action is especially spectacular viewed from the Pelican Cottage and from the Gardner House." Leoni said. "Both homes are above the rocky ledge south of the inlet to the harbor. The waves break across the rocks and churn over the ledge. The view is absolutely hypnotic.
"The harbor inlet is lit at night, so the 'ocean channel' has 24-hour viewing. The waves bounce off the north jetty and meet the incoming action."
Newport's Guy DiTorrice had a wealth of knowledge to impart, much of it pragmatic and practical. He's known as "Fossil Guy" with his beach fossil tours. He's also the nature columnist for Beach Connection, and he's the former head of the Oregon Coast Visitors Association. For him, it's as much about interesting facts as it is awe.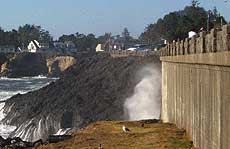 Spouting Horn of Depoe Bay
"It's very exciting for any one who hasn't seen normal Oregon coast winter surf," DiTorrice said.
He also offered some interesting tips for storm watchers.
"You'll see lots of mussel shells and barnacle fragments on the beach," DiTorrice said. "That's testimony to the amount of energy in the surf zone, impacting rocky shorelines and near-shore reefs. It makes for difficult whale migration observations as high-surf conditions mask any activity along the shoreline.
"Impressive surf-spouts - and photo opps - are at Depoe Bay's seawall as well as Whale Cove to the south, and Boiler Bay to the north of that community.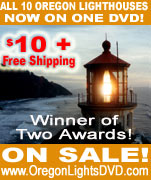 Safety is one of the biggest concerns, DiTorrice said, and made reference to various folks who had to be rescued on the beaches or in the water last winter. "Just remember: keep your butts well above the surf zone; already had one novice surfer discover how these waves can take a person offshore just as quickly as it moves one near shore.
"Exercise extreme caution on the beach between storms," he added. "Skies might be cleared up and the tide table predicts low tide, but offshore conditions and ongoing nightly winds are building surf conditions that are limiting bar access on most rivers and not providing much room for safe beachcombing."
Still, many local can't refrain from having a great, even joyous sense of humor about these events. "It was so windy it knocked off my jewelry," laughed Ekahni Books owner/Wheeler resident Peg Miller during one storm.
"It's some one of the best times of the year when the rain is going sideways," said Wheeler Antiques owner Garry Gitzen. "This is the stuff movies are made of. Why aren't they here making movies?"


D Sands Condominium Motel, Lincoln City. Getting a free, fresh baked cookie upon check-in is just the beginning. Every room is beachfront, and it's all right up against Lincoln City's most famous stretch of beach, next to the D River. Each room, comes as a suite or mini-suite, and has a kitchen and balcony or patio. Some have gas fireplaces, while all have a DVD Players with movies available for renting (and movie rentals come with free popcorn). There's a heated indoor pool, a spa, and this fabulous beach is lit at night. Rooms sleep anywhere from two, four to six - including a deluxe fireplace suite. Gift certificates are available, and they offer special occasion packages as well. To make a reservation and see a virtual tour of the rooms, visit our website at www.dsandsmotel.com. 171 S.W. Highway 101. 800-527-3925.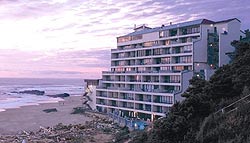 Inn At Spanish Head, Lincoln City. It's Lincoln City's only resort hotel built right on the beach with all oceanfront rooms - nestled against a rugged cliffside overlooking a soft, sandy beach. Enjoy dining in the penthouse restaurant and bar - whether you're in the mood for a casual meal or a candlelight dinner. They offer an array of seafood specialties, juicy steaks and other Northwest favorites, including a decadent Sunday buffet. Rooms range from bedrooms to studios to one-bedroom suites with microwaves and refrigerators to full kitchens. Hotel amenities include wi-fi, spa, saunas, exercise room and a year-round heated swimming pool. Kids will love the game room and easy beach access. Full-service conference and meeting rooms for that inspirational retreat; extensive, gorgeous wedding possibilities. Near the south end of Lincoln City at 4009 SW Highway 101. 1-800-452-8127 or 541-996-2161. www.spanishhead.com
BREATHTAKING CLIFFTOP IN NEWPORT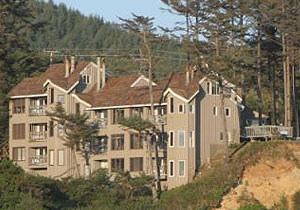 STARFISH POINT is located on the Central Oregon Coast - in Newport - and offers only the finest in luxury condominium lodging. At Starfish Point, every unit is focused on the beauty of the sea and the beach.
All of the units boast two bedrooms, two bathrooms, designer kitchens, wireless broadband Internet, fireplaces, Jacuzzi's and private decks - surrounding you in soothing relaxation. We have a friendly staff dedicated to high quality and superb customer service. 140 NW 48th Street, Newport. (541) 265-3751. (800) 870-7795. www.starfishpoint.com
RELATED STORIES
OREGON COAST VIRTUAL TOURS
Explore Every Beach Spot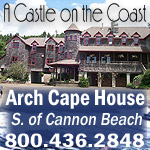 For weekly updated info on lodgings and accomodation reviews, see the Travel News section
Weiss' Paradise Suites & Vacation Rentals - Seaside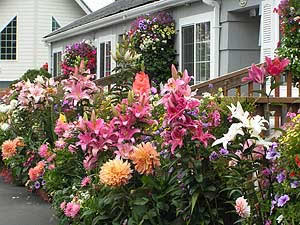 Unique Luxury Accommodations in Seaside. 1BR Suites, 1BR & 2BR Duplex Units and 3BR Houses, units for 2-8 people. Rent our entire property for 20-26. All units close to beach, river and Broadway St.
Suites are designed for two adults; vacation rental units for families. All units have kitchen and many have fireplace, deck and jetted tub. Enjoy comfy robes & slippers, luxury bath amenities, quality linens and more. See us on The Travel Channel's "Great Escapes" show in August 2006. 741 S. Downing St., Seaside. 800-738-6691. www.SeasideSuites.com