The Kooky Side of One Magical Oregon Coast Town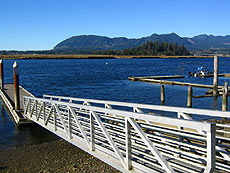 (Wheeler, Oregon) - Sure, it's not exactly the beach. Sure, it's not exactly a major tourist distraction along Highway 101 and the north coast, as that road meanders inland amidst the lush, green canopies and placid waters of Nehalem Bay. But the sleepy village of Wheeler has its charms, largely because there doesn't seem to be much here.
Or is there?
There's a quirky, kooky side to this quaint and tiny place. Take a closer look at the antique shops and some of the oddball impromptu events, or go hunting for the hidden artist colony. Observe the local herbal shop, Simple's Herbal Apothecary (503-368-4906), that doubles as a state-run liquor store (target marketing doesn't work here). Check out the home on the town's southern end that looks a bit like a lighthouse, where you'll sometimes see a faux speed limit sign announcing odd numbers like "23 mph." There's that wacky winery just outside town. And then what about that odd, paranormal legend about what happens if you make a wish in Wheeler?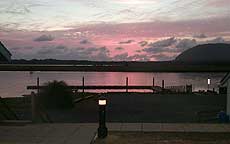 One seriously popular pastime on the coast is antique shopping, and on Wheeler's waterfront lies what could be a kind of Mecca for treasure hunters. The oddest, kitschiest things pop up at Wheeler Station – and big, too. A giant horse-drawn sleigh, enormous gas pumps or huge advertising signs have all made appearances (now you know where neighborhood dive bars get their décor). You may find a rounded, pseudo-futuristic TV sets from the 70's, or the child's record player you had as a kid in the 60's or 70's.

Tradewinds Motel, Rockaway Beach
If expansive ocean views, close proximity to golfing, fishing tours and quick access to seven miles of pristine beaches is your thing, then this quintessential beauty in Rockaway Beach is your ticket to vacation fun for families, couples or large groups. Some rooms are pet friendly. All rooms at the Tradewinds Motel are immaculate and have TV's, VCR's and in-room phones with data ports. The oceanfronts all have a queen bed, a double hide-a-bed, kitchen, cozy firelog fireplace and a private deck. Some oceanfront units come with all those amenities but the kitchens. Both types sleep up to four people. The non-oceanfront rooms are appointed with a queen bed, small fridge, and coffee maker – sizable for a two-person romantic getaway, yet still perfect for those on a budget. There is an elaborate oceanfront Jacuzzi suite that has two bedrooms, coming with a kitchen, double hide-a-bed, fireplace and private deck, sleeping as many as six. For those wanting bigger accommodations for family reunions or large gatherings such as weddings, some rooms can connect to create two-room and three-room suites. 523 N. Pacific St., Rockaway Beach. (503) 355-2112 - 1-800-824-0938. www.tradewinds-motel.com
Wheeler Station was until a few years ago one of two antique shops in town. The other was Pieffenschneider, which for a time was also the liquor store. But when that neighboring space became vacant, owners Sandy and Pat Sandhagen knocked out the wall between the two. Now, at some 10,000 square feet, Wheeler Station is a massive, meandering labyrinth of various rooms, all crammed with collectibles of beauty or varying degrees of chuckle-inducing kitsch.
Pat admits it's so big people really do get lost. "That's why we have the intercom," she said. "We've had to use it several times when some man was looking for his wife." (503) 368-5677.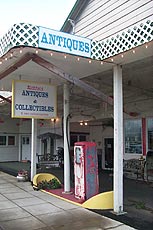 Now, antiquing has become the town's number one industry – all six blocks worth of this town. Three others inhabit the tiny town's meager length, including Wheeler Antiques, which is run by local historian and character Garry Gitzen. Inside, hidden in the back, is a formidable historical library, bequeathed to him by the former head of Tillamook County's historical museum, after he passed a few years back. Inside is a wealth of information about the old Tillamook County, including paperwork on intense research on Francis Drake's possible roles to the area a few hundred years ago.
Another mainstay antique shop is Richfield Antiques. Here, kooky conversations often pop up amongst the odd surprises lurking in this place. Like the picture book about Michael Jackson – which is full of chuckles and gossip possibilities, especially in light of his legal troubles in recent years. (503) 368-3398.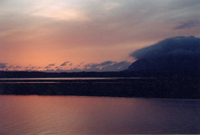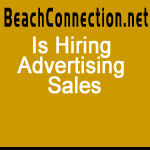 Walk these sidewalks and charming storefronts, with nearby Neahkahnie Mountain reflected in the water, and you won't notice that something's off at first. Like Ekhani Books (503-368-6881), once an art gallery and curio stores which morphed into hawking books – some of them quite rare. The fact you can purchase an MBA for nine bucks is your first clue. This certificate, a "Master of Beachcombing Arts," comes complete with signatures from "R. Sandy Shores" and Sir Francis Drake.
Ekhani owner Peg Miller and her boyfriend Garry Gitzen epitomize the wacky sense of humor you can find in this town. For years they hosted a variety of offbeat events, from yearly ones like the Mermaid Festival to the monthly Full Moon Party – an open mic free-for-all that was held at Miller's old store. At these, the wine poured freely and the social mixing between locals and tourists was a constant kick in the pants.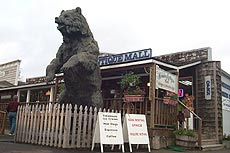 The pinnacle of zaniness in Wheeler tends to be with Miller and Gitzen, and they know it, although they admit the town's residents in general seem to be fueled by an interesting, offbeat sense of humor. "It's an outgrowth of living on the beach," she said. "Being around the ocean all the time just gets your brain thinking things other than the norm, like 'what if there really are creatures like mermaids living under there?' "
Weiss' Paradise Suites & Vacation Rentals - Seaside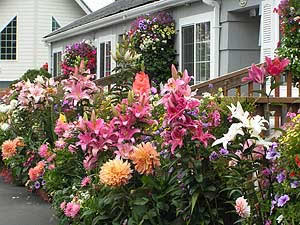 Unique Luxury Accommodations in Seaside. 1BR Suites, 1BR & 2BR Duplex Units and 3BR Houses, units for 2-8 people. Rent our entire property for 20-26. All units close to beach, river and Broadway St.
Suites are designed for two adults; vacation rental units for families. All units have kitchen and many have fireplace, deck and jetted tub. Enjoy comfy robes & slippers, luxury bath amenities, quality linens and more. See us on The Travel Channel's "Great Escapes" show in August 2006. 741 S. Downing St., Seaside. 800-738-6691. www.SeasideSuites.com
At 2002's first Mermaid Festival, the statue out front was dressed up in a mermaid outfit. Inside, a six-foot woman wandered about in mermaid garb. The next year, sea shanty singers from Washington and Idaho joined the fray of poets, visual artists and other performers.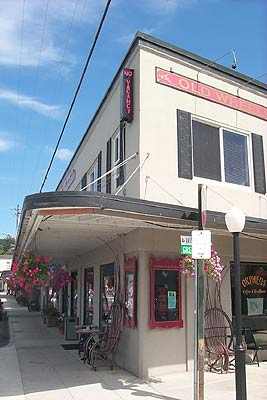 Old Wheeler Hotel
Now, the festival and the Full Moon parties are gone, but someone always seems to pick up the slack of wackiness eventually. For almost a year, a pizzeria a couple doors down called Guido's brought the silliness entirely new standards. The managers, owners and employees there were like a constant episode of "Seinfeld," making people laugh while building an enormous, fiercely devoted crowd. It sadly closed its doors in summer of 2006 after too many disagreements between co-owners, leaving a gaping hole in that town's heart.
Still, the impromptu gatherings in recent years seemed to really let fly the true colors of Gitzen, Miller and Wheeler. One night not too long ago, Gitzen, on a whim, dragged out an old movie projector and started projecting oddball, B&W training films on the post office wall across the street from Miller's former hotel, Maggie's Guestrooms. Pretty soon, a party broke out with locals, visitors and entertainers collecting in and around the store and above at the little B&B.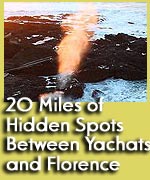 Then, one stormy January weekend in 2005, a group of Portlanders and south coast residents took over both Maggie's Guestrooms and the stately Old Wheeler Hotel, turning both places into a mad jam session and festival of oddball creative outlets. Those working at the lodgings still chuckle about the antics to this day.
Outside Old Wheeler Hotel (888-4theview) is cryptically designated "Artisans Row." But where, you're asking, are the artists, beyond the nearby, arty Treasure Café or the wacky, multi-colored shops across the way? Miller said some artists periodically have studios tucked away in little, secretive places, like rooms in basements and such. This population ebbs and flows over the years, but always adds a new, funky dimension to this already colorful and offbeat little place. You can, at times, visit these working artists' studios, but you must check with Ekahni Books to visit these or to see if there really is anyone in residence at the time.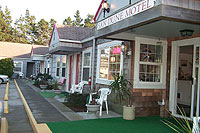 San Dune Inn
Just outside Wheeler lurk more surprises. In Manzanita, one of the most lively and entertaining places to stay on the entire coast is San Dune Inn (503-368-5163), with a host of surprising freebies to choose from, like bikes and a variety of beach equipment,, and a sense of humor and kooky fun that often makes for unforgettable stays. There are numerous addicts to the unassuming little motel, and some of the more regular guests become the targets of hilarious pranks by management and employees – which in turn causes them to return more often. This is a place with a bit of a cult.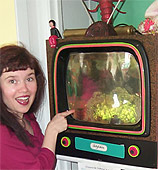 In nearby Nehalem, Wanda's Cafe & Bakery is more than a delicious, rather innovative breakfast spot (it's actually recently added dinner on the weekends). Its décor is one wacky collection of Americana knick-knacks, including dozens of old toasters. There's also a fish tank decorated like a TV set that's labeled a "telefishin," with a dinosaur skeleton inside occasionally moving its jaws. (503) 368-8100.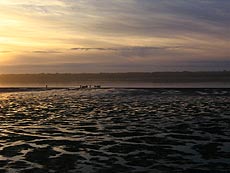 Nehalem Bay at low tide
Just south of Wheeler, there's a whole hidden world of maritime fun at Jetty Fishery. Highlights here include the annual Crab Derby – which, among other prizes, includes a giveaway for a vasectomy. (503) 368-5746.
Bars on the coast are always a hotbed of inadvertent humor, especially in northern Tillamook County, where the semi-toothless contingents and coastal characters gather to get truly goofy after the sun goes down. Add to that the sometimes unnecessary sense of reckless abandon the tourists feel when they mix alcohol with being out of town, and you have a veritable circus of soused surrealism. You're bound to see chunks of this kind of amusing behavior at The San Dune Pub in Manzanita, The Watering Hole in Nehalem and the quiet but cozy Sea Shack in Wheeler.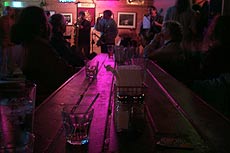 San Dune Pub
But perhaps the flagship of local nuttiness is at the Nehalem Bay Winery, just two miles outside of Wheeler. Here, it resembles parts of France or Germany's Black Forest, sitting in the middle of lush pastures, small mountains and thick forests. The winery even looks a bit like an old, rustic European home from some angles. But inside the tasting room, it's tie-dye t-shirts over dress attire for employees. The décor boasts everything from local history and comic pictures to images of Ken Kesey scrawled on the walls.
After all, it's here where Kesey sometimes showed up to read his works, hang out or just show off the Further bus. And it's here where big pig roasts and music festivals break the mold of most any winery you'll find in Oregon.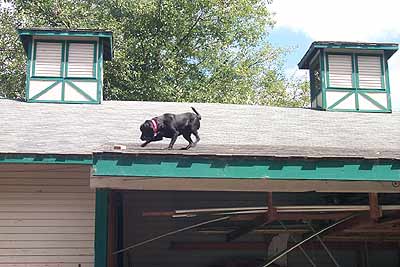 The astounding "roof woof" of the winery
Melissa Stetzel, spokesperson for the winery, said much of the winery's unusual, fun-filled approach comes from owner Ray Shackelford, a renowned coastal character. "We wanted to be different and not look like wine snobs. We just want to have a good time. We don't want to follow any rules. And the day we follow the rules, we'll be wondering what's going on. That's not the winery way."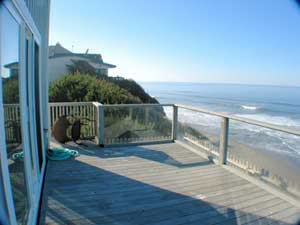 Lincoln City Vacation Homes There's something for everyone among this selection of wondrous homes: smaller homes with a view to a large house that sleeps 15. All the homes are either oceanfront or just a few steps away from the sand – all with a low bank access and fantastic views. Most are in the Nelscott area; one is close to the casino. You'll find a variety of goodies, depending on the home: fireplaces, multiple bedrooms, dishwashers, Jacuzzis, washer/dryers, hot tubs, cable TV, VCR, barbecues; there's a loft in one, and another sprawling home has two apartments. Pets are allowed in some homes – ask ahead. Each comes with complete kitchens so you'll have a home away from home. Most have the seventh night free. Prices range from winter $85 to summer $230 per night. www.getaway2thecoast.com. 541-994-8778.
So, the good times roll. Every Memorial Day features an increasingly high-profile blues festival. June boasts a lot of reggae. Until 2001, Shackelford's Juneteenth Celebration featured classical music; now it's an ever-growing reggae festival. And every August brings an ambitious bluegrass festival that in the past has snagged talents like David Grisman, Laurie Lewis, Jim Hurst, Missy Raines and the Austin Lounge Lizards. These and other festivals always feature a lot of families, wandering dogs, food and much wine and beer. They're like the typical American family picnic, but slightly skewed if not occasionally inadvertently humorous.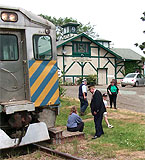 Train at the winery
The Nehalem Bay Winery is at 34965 Highway 53. 888-368-9463.
During the summer months, the Oregon Coast Explorer train brings visitors around Tillamook Bay and Nehalem Bay to the winery a few times a day. Stetzel said some opt to forego the return route and stick around the winery. Sometimes, just as in Wheeler, impromptu jam sessions erupt if musicians are among the visitors. "All of a sudden, you've got a crowd. There's always a big surprise waiting."
Surprises are de rigueur in this community, it seems, tucked away behind the beauty of the bay, the nearby beaches and the hiking possibilities.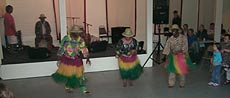 African fun at the winery in June
One aspect of Wheeler that has increasingly caught the eye of the tourism media is its startling legend of the "Wheeler Moment," where, if you make a wish, you just may find it happening. Or certainly, hang about long enough and you'll have strange coincidence of some kind or another.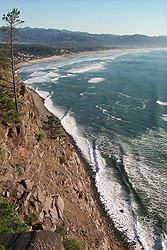 Above Manzanita and the bay
Portland writer Don Campbell was in town this year to do a story on the Old Wheeler Hotel, and heard a lot about the Wheeler Moment legend. During his research, he had tow such odd coincidences where he ran into not one – but TWO – long lost friends. One was a relative of his wife from back east whom she had not seen in years.
Other locals talk of an endless array of simply thinking about a problem needing solving, and some oddly timed bit of serendipity happens where the answer seems to just fall in their laps unexpectedly.
These tales go on, and on, and on….(more here on Wheeler Moments)
Stetzel, like Miller, believes there is something different about Wheeler, a kooky quality where it takes itself less seriously than even neighboring Nehalem or Manzanita. "It's in the water," Stetzel joked. "I think this area's a magnet for people from all walks of life. And with Wheeler's little art community, it's a little offbeat. And that's pretty cool."