Covering 180 miles of Oregon coast travel: Astoria, Seaside, Cannon Beach, Manzanita, Nehalem, Wheeler, Rockaway, Garibaldi, Tillamook, Oceanside, Pacific City, Lincoln City, Depoe Bay, Newport, Wadport, Yachats & Florence.
12/12/06
Give the Gift of Lodging on the Oregon Coast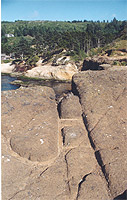 Strange hidden spots of Depoe Bay, where numerous lodgings are selling gift certificates
(Oregon Coast) – So you're one of those people with little or no imagination: you regularly choose gift certificates and some one-size-fits'em-all approach to that-which-will-appear-under-the-tree.
Heck, maybe you're even a re-gifter!
OK, we're just kidding there. We watch a lot of Seinfeld at BeachConnection.net.
You're not cheap, just imagination-challenged. Why not hide that approach well by giving the gift of lodging from the Oregon coast. Think about it: your loved one(s) get to enjoy some beach time because of you. They'll love you even more. And it's entirely possible they'll take you with them.
You both win bigtime.
BeachConnection.net discovered bundles of such places on the Oregon coast that offer gift certificates – and not just lodgings. You can get some good eats, gourmet ice cream, books and other gift ideas. There's even a Discovery Cruise in here.
Seaside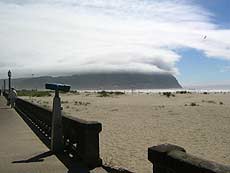 The Tides by the Sea. Give a little bit of history too with this stunning condo/hotel by the ocean. If this 80-year-old place could talk… 2316 Beach Drive. 800-548-2846. www.thetidesbythesea.com.
Zinger's Homemade Ice Cream. Extremely yummy ice cream that's made in-house and gives gourmet a new dimension. "Yup, we have'em – in any denomination," said owner Mike Exinger. "Folks would have to send a check to the PO Box (since we're closed in December) and we'll get them out." Online emporium (www.cafepress.com/zingers) has the new 2007 line of logo clothing (and they do take credit cards): get a t-shirt, sweatshirt, mug, or a pair of Zinger's boxer shorts. Broadway Ave., Seaside. Homemade@ZingersIceCream.com for more information.
Rogers Inn Vacation Homes. Their gift certificates actually come with staying at one of their lodgings and taking advantage of their winter special, which is $192.50 for two nights lodging. With that, you get certificates for two spa treatments at Day Spa on Broadway, two dinners at Guido & Vito's Italian Eatery and two root beer floats at Flashback. 888-717-7367. www.RogersInn.com.

Tradewinds Motel, Rockaway Beach
If expansive ocean views, close proximity to golfing, fishing tours and quick access to seven miles of pristine beaches is your thing, then this quintessential beauty in Rockaway Beach is your ticket to vacation fun for families, couples or large groups. Some rooms are pet friendly. All rooms at the Tradewinds Motel are immaculate and have TV's, VCR's and in-room phones with data ports. The oceanfronts all have a queen bed, a double hide-a-bed, kitchen, cozy firelog fireplace and a private deck. Some oceanfront units come with all those amenities but the kitchens. Both types sleep up to four people. The non-oceanfront rooms are appointed with a queen bed, small fridge, and coffee maker – sizable for a two-person romantic getaway, yet still perfect for those on a budget. There is an elaborate oceanfront Jacuzzi suite that has two bedrooms, coming with a kitchen, double hide-a-bed, fireplace and private deck, sleeping as many as six. For those wanting bigger accommodations for family reunions or large gatherings such as weddings, some rooms can connect to create two-room and three-room suites. 523 N. Pacific St., Rockaway Beach. (503) 355-2112 - 1-800-824-0938. www.tradewinds-motel.com
Beach Books. Perfect for the beach bum/bookworm in your life. 37 N. Edgewood.
Seaside, Oregon. (503) 738-3500.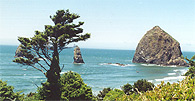 Cannon Beach
Three Cannon Beach properties in one: The Waves Oceanfront Motel, The White Heron Lodge, or The Argonauta Inn. Gift certificates can be customized and sent that day to the purchaser or the recipient. 188 W 2nd Street, Cannon Beach, OR 97110, or phone 503 436-2205 or 1 800 822-2468. www.thewavesmotel.com.
Arch Cape House. Stay in a castle on the coast. They not only have gift certificates all year, but incredible wedding possibilities. Social hour in the eve; gourmet breakfast in the morning. Look for East Ocean Rd., just north of the Arch Cape Tunnel. www.archcapehouse.com. 800-436-2848
Various Eateries and Lodgings in Cannon Beach: The Surfsand Resort, Wayfarer Restaurant, Lumberyard Rotisserie & Grill and The Stephanie Inn, as well as The Inn of the Four Winds in Seaside. All have some kind of gift certificate situation or another. www.martinhospitality.com. See the story on this for more details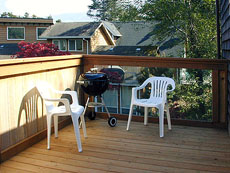 San Dune Inn, Manzanita
Manzanita
San Dune Inn. Gift certificates offered in any denomination (one night, two nights, etc. or a flat dollar amount). Dorcas Lane. Manzanita, Oregon. (888) 368-5163. www.sanduneinn.com
Oceanside
Grazelza Gunch House. Holiday gift certificates for this stunning vacation rental in Oceanside are available. Give the gift of a beach house – for a night or two, anyway. In Oceanside. (503) 768-3086 in Portland, (503) 801-4433 on north Oregon coast. www.oceansidegraz.com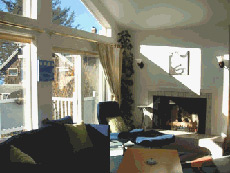 Grazelza Grunch House: wouldn't you want to give this to a friend?
Lincoln City
A-1 Beach Rentals. Gift certificates for any of their 15 homes in Lincoln City. Also, in December and January, they are offering $25 gift certificates to the Sip and Sand restaurant for a two-night or longer stay (Sundays through Thursdays). 503-232-5984. www.a1beachrentals.com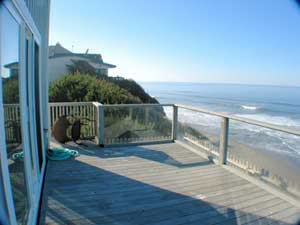 Lincoln City Vacation Homes There's something for everyone among this selection of wondrous homes: smaller homes with a view to a large house that sleeps 15. All the homes are either oceanfront or just a few steps away from the sand – all with a low bank access and fantastic views. Most are in the Nelscott area; one is close to the casino. You'll find a variety of goodies, depending on the home: fireplaces, multiple bedrooms, dishwashers, Jacuzzis, washer/dryers, hot tubs, cable TV, VCR, barbecues; there's a loft in one, and another sprawling home has two apartments. Pets are allowed in some homes – ask ahead. Each comes with complete kitchens so you'll have a home away from home. Most have the seventh night free. Prices range from winter $85 to summer $230 per night. www.getaway2thecoast.com. 541-994-8778.
'D' Sands Condominium Motel. Tourists can purchase a gift certificate for any dollar amount they wish. 171 SW Hwy 101. Lincoln City, Oregon. 800-527-3925. www.dsandsmotel.com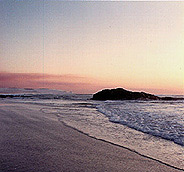 Lincoln City beaches
Inn At Spanish Head. Gift certificates are on sale now – perfect for Christmas, say managers. 4009 SW Hwy 101. Lincoln City, Oregon. 800-452-8127. www.spanishhead.com
Coast Inn Bed & Breakfast. Exceptional lodging always a welcome gift. 4507 SW Coast Ave. Lincoln City, Oregon. 888-994-7932. www.oregoncoastinn.com.
Cavalier Beach-front Condominiums. Come and get'em, the certificates are hot and yummy as wassail on a Christmas night. 325 NW Lancer St. Gleneden Beach, Oregon. 888-454-0883. www.cavaliercondos.com.
Depoe Bay
Trollers Lodge. Can do via phone with a credit card number (Visa or MC or Discover); can do specific dollar amount or specific room or house. 355 SW Hwy 101, Depoe Bay * (800) 472-9335 or (541) 765-2287. www.trollerslodge.com.
Inn at Arch Rock. Overlooking oceanic fun in Depoe Bay. 70 Sunset NW. Depoe Bay, Oregon. 800-767-1835. www.innatarchrock.com.
Surfrider Resort. Gift cards are available in any denomination, and can also be used at the Surfrider Restaurant or any of their Westover Inns sister properties. 3115 NW Hwy 101. Depoe Bay, Oregon (just north of Depoe Bay, in the Lincoln Beach area). (800) 662-2378 or (541) 764-2311. www.surfriderresort.com
Starfish Manor Hotel. Online purchase available. 2735 NW Inlet Ave Lincoln City. 800-972-6155. www.onthebeachfront.com.
Nantucket Inn. Online purchase available. 3135 NW Inlet Ave., Lincoln City. 800-972-6155.
www.onthebeachfront.com.

Nelscott Manor. Online purchase available. 3037 SW Anchor Ave Lincoln City. 800-972-6155. www.onthebeachfront.com.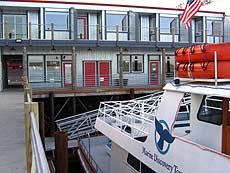 Anchor Pier Lodging, above the Discovery Tour ship
Newport
Anchor Pier/Discovery Sea Life Cruises and Rocket Rides. You can give a gift certificate for the new upscale bayside lodging called Anchor Pier or for a sea cruise, or their fast paced equivalent, the Rocket Ride. 345 SW Bay Blvd., Newport, Oregon. (541) 265-6200 w 1-800-903-2628. www.AnchorPier.com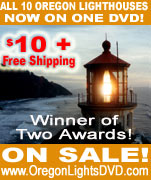 Nye Cottage Beads. Gift certificates for all sorts of bead goodies. 208 NW Coast Street, Unit 1. Newport, Oregon. 866-592-5556. www.nyecottage.com.
Starfish Point. Beautiful lodging overlooking the ocean. 140 N.W. 48th Street. Newport, Oregon. 800-870-7795. www.starfishpoint.com
Rogue Ales' House of Rogue Bed and Beer. These will get you goodies at all their outlets, including Portland and Astoria. 748 SW Bay Blvd on Newport's Historic Bayfront. www.rogue.com. For reservations and gift certificates: Stacey@rogue.com or 541-961-0142.
Yachats
See Vue Motel. Overlooking very secretive beaches south of Yachats. 95590 Hwy 101 S.
Yachats, Oregon. 866-547-3237. 541-547-3227. www.seevue.com
For more, see An Eclectic Oregon Coast Beachy Gift Guide


D Sands Condominium Motel, Lincoln City. Getting a free, fresh baked cookie upon check-in is just the beginning. Every room is beachfront, and it's all right up against Lincoln City's most famous stretch of beach, next to the D River. Each room, comes as a suite or mini-suite, and has a kitchen and balcony or patio. Some have gas fireplaces, while all have a DVD Players with movies available for renting (and movie rentals come with free popcorn). There's a heated indoor pool, a spa, and this fabulous beach is lit at night. Rooms sleep anywhere from two, four to six - including a deluxe fireplace suite. Gift certificates are available, and they offer special occasion packages as well. To make a reservation and see a virtual tour of the rooms, visit our website at www.dsandsmotel.com. 171 S.W. Highway 101. 800-527-3925.
DIVE INTO LUXURY, HISTORY AT THE TIDES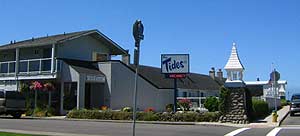 THE TIDES BY THE SEA, Seaside. For over 80 years, The Tides has been a favorite of Seaside visitors. History meets modern luxury here. 51 oceanfront condos, individually owned and decorated. Find suites for couples, small apartments with fireplaces and kitchenettes, one or two bedroom family units with fireplaces, kitchens and dining rooms. There are wonderful oceanview cottages that sleep anywhere from two to eight people, with two bedrooms, some with lofts, fireplaces and kitchens.
Meanwhile, the heated outdoor pool, enormous grounds with picnic tables and location at the quiet southern end of Seaside make for some memorable means of play and repose. 2316 Beach Drive. 800-548-2846. www.thetidesbythesea.com.
BREATHTAKING CLIFFTOP IN NEWPORT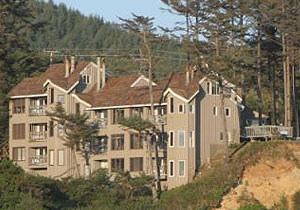 STARFISH POINT is located on the Central Oregon Coast - in Newport - and offers only the finest in luxury condominium lodging. At Starfish Point, every unit is focused on the beauty of the sea and the beach.
All of the units boast two bedrooms, two bathrooms, designer kitchens, wireless broadband Internet, fireplaces, Jacuzzi's and private decks - surrounding you in soothing relaxation. We have a friendly staff dedicated to high quality and superb customer service. 140 NW 48th Street, Newport. (541) 265-3751. (800) 870-7795. www.starfishpoint.com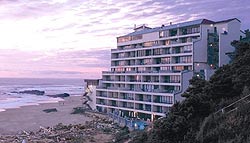 Inn At Spanish Head, Lincoln City. It's Lincoln City's only resort hotel built right on the beach with all oceanfront rooms - nestled against a rugged cliffside overlooking a soft, sandy beach. Enjoy dining in the penthouse restaurant and bar - whether you're in the mood for a casual meal or a candlelight dinner. They offer an array of seafood specialties, juicy steaks and other Northwest favorites, including a decadent Sunday buffet. Rooms range from bedrooms to studios to one-bedroom suites with microwaves and refrigerators to full kitchens. Hotel amenities include wi-fi, spa, saunas, exercise room and a year-round heated swimming pool. Kids will love the game room and easy beach access. Full-service conference and meeting rooms for that inspirational retreat; extensive, gorgeous wedding possibilities. Near the south end of Lincoln City at 4009 SW Highway 101. 1-800-452-8127 or 541-996-2161. www.spanishhead.com
RELATED STORIES
OREGON COAST VIRTUAL TOURS
Explore Every Beach Spot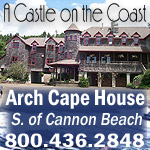 Weiss' Paradise Suites & Vacation Rentals - Seaside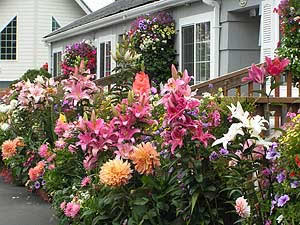 Unique Luxury Accommodations in Seaside. 1BR Suites, 1BR & 2BR Duplex Units and 3BR Houses, units for 2-8 people. Rent our entire property for 20-26. All units close to beach, river and Broadway St.
Suites are designed for two adults; vacation rental units for families. All units have kitchen and many have fireplace, deck and jetted tub. Enjoy comfy robes & slippers, luxury bath amenities, quality linens and more. See us on The Travel Channel's "Great Escapes" show in August 2006. 741 S. Downing St., Seaside. 800-738-6691. www.SeasideSuites.com
For weekly updated info on lodgings and accomodation reviews, see the Travel News section