Oregon Coast Virtual Tour: Fishing Rock State Recreation Site a Splashing Good Time

Virtual Tour of Depoe Bay, Gleneden Beach, Lincoln Beach, Otter Rock, Oregon Coast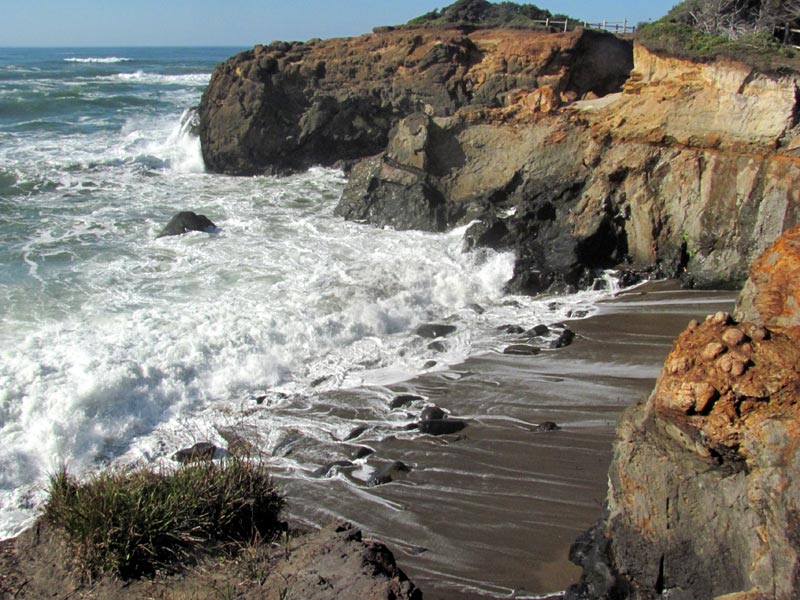 (Depoe Bay, Oregon) – There isn't much that alerts you to the existence of this uncompromisingly rugged little chunk of coastal cliffs. Sure, there's a sign along this part of Highway 101 that says "Fishing Rock State Recreation Site," but there's no visual clue what that's about. Here, in the Lincoln Beach area, between Gleneden Beach and Depoe Bay, and where the highway just zooms you along past any landmark or street, you can't see the deliciously delightful ocean just beyond the trees and the neighborhoods.
So if curiosity gets the better of you and you meander down this puzzling gravel road that appears to go nowhere, you're in for a treat.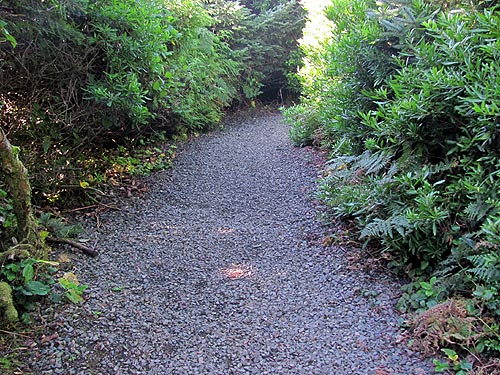 First, however, you have to get through the labyrinth-like path cut through thick, otherwise impenetrable brush. Even that looks a bit confusing as still no ocean views from here.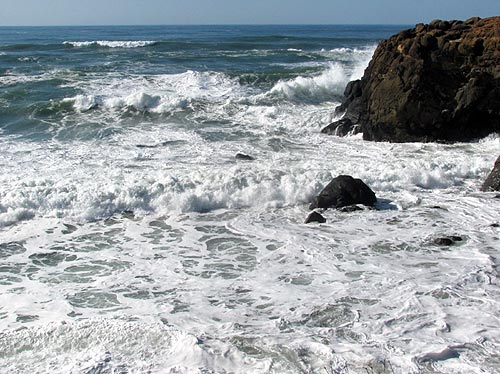 Eventually you come out to wondrous views like this, where even in the calmest conditions the ocean explodes in endless configurations of watery pyrotechnics. The basalt rocks of Fishing Rock State Park jut out into the sea and don't allow for any gradual rise of the tide line, creating a constant barrier to the power of the Pacific. With nowhere else to go but up, the waves knock around, splash about and create a constant raucous.
When larger storms come, the place is wilder and more violent than any Hollywood action flick.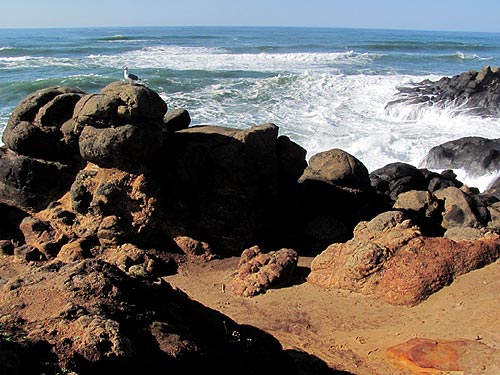 Look down and westward from the tip of the main section and the show begins: odd, pockmarked rock structures of varying shades of beige mixed with bubbly basalts and odd knobs populate this place. This is where much of the major splashing is conducted.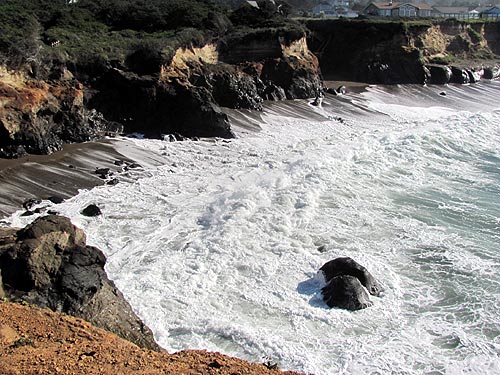 To the left (or south), you see a mysterious cove, filled with large, black sands of unusual proportions. This place beckons that much more because there is no way down there. Not that you could survive for long if you did. The ocean prefers covering it completely most of the time.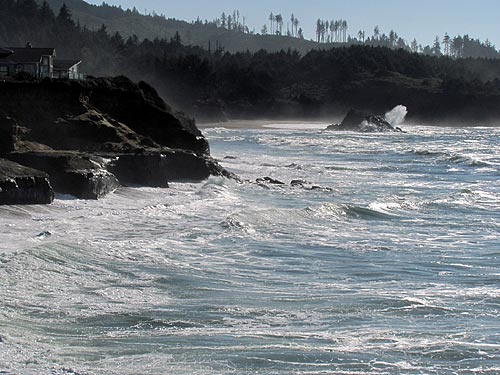 A bit further south lie the headlands that house Fogarty Creek State Recreation Site and beyond that even Whale Cove. But you can't see any of those, Instead, more rough seas are visible from here at almost any time of the year. More splashing against jagged, black shapes. More oceanic monsters firing up in the air.
You'll find Fishing Rock State about two blocks west of Highway 101, the entrance to which is about two miles north of Depoe Bay.