Covering 180 miles of Oregon coast travel: Astoria, Seaside, Cannon Beach, Manzanita, Nehalem, Wheeler, Rockaway, Garibaldi, Tillamook, Oceanside, Pacific City, Lincoln City, Depoe Bay, Newport, Wadport, Yachats & Florence.
12/29/06
Odd Celebrity Tales and Trivia of the Oregon Coast
By Andre' Hagestedt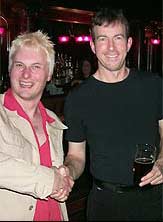 Editor Andre' Hagestedt (left) with King Crimson's Trey Gunn (at right)
(Oregon Coast) – Arnold Schwarzenegger, Sean Penn, King Crimson, Keannu Reeves, Star Trek, Seinfeld, John Cleese, David Ogden Stiers, Larry Norman, Heart and maybe even Ted Nugent. They're not names you'd associate with Oregon's coastline - but they have their connection.
There are a few celebrities who make – or have made – their part time homes on the coast. In my more-than-a-decade of being a writer and photographer covering northwest Oregon, I've come across quite a few stories. Some of them are personal encounters and famous folks I've gotten to know. Sometimes these tales are about celebrities who are coastal residents. At other times, it's been accounts of the famous wandering through for whatever reason.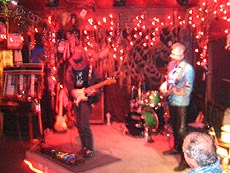 The Landmark in Yachats occasionally has big names floating through
Whether or not you're the type to get star struck, at the very least it's an interesting new dimension to the Oregon coast, and certainly off the beaten path of your regular pockets of tourism knowledge.
David Ogden Stiers
The former star of the super hit series "M*A*S*H" from the seventies lives in Lincoln County. He's also been a part of several series since then, as well as having made guest appearances on "Matlock" and "Outer Limits" in the past 20 years. In fact, some of his roles have been as orchestra conductors – one which he knows well. He makes occasional guest appearances on the coast and around Oregon conducting orchestras - from the Newport Symphony Orchestra to the Oregon Symphony.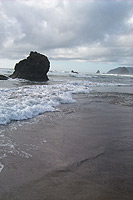 Cannon Beach: you may bump into a famous pair of rock stars or a major writer
Ursula K. Le Guin
She's the famous science fiction author who penned "The Lathe of Heaven," which was made into a surreal movie in the 80's. That story was even set in Portland. Ms. Le Guin resides in Portland with her husband Charles Le Guin – also an author. They are part time residents of Cannon Beach, and Ursula periodically shows up at lectures and functions on the coast and in Portland. In recent years, she's become involved in some local issues on the north coast.
Heart's Wilson Sisters
The ladies from the rock band Heart - Ann and Nancy Wilson – have had a part time home in Cannon Beach for quite a long time. I distinctly remember one interesting story from a friend back in the 90's who said he was playing pool with a woman he didn't know at a bar in Cannon Beach, and after a while realized it was one of the Wilson sisters.
Jazz Bassist Glen Moore
Sure, he's not exactly a superstar in the media, in the regular sense. But the longtime jazz innovator, part of the free-jazz group Oregon, is definitely one of the most cutting edge musicians in the world. Moore currently lives in Portland, but for many years lived in Lincoln City (the only member of the band with the state's name to actually live here). He's shown up at some coastal gigs with singer Mary Kadderly, but mostly can be found performing in Portland.
Back in the 90's, the former owner of the now defunct Driftwood Mac record store once told me how he moved into Moore's former house and claimed there was definitely an awe-inspiring "creative vibe" about the place. This would be no surprise.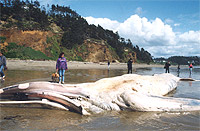 Beached whale in Oceanside, 1998, with members of Larry Norman's family behind it
Larry Norman
He's known as the first Christian rocker ever, essentially considered the grand daddy of the genre back in the early 70's, after departing from the band People immediately after their hit "I Love You." Norman lives in Salem, where I became close friends with his brother, Charles, years ago.
Charles was Larry's guitarist for many years and was part of a Norwegian supergroup called Merchants of Venus. In fact, several Norman family members and I drove out to Oceanside in '98 to check out an enormous beached whale.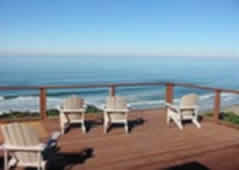 A1 Beach Rentals, Lincoln City. Perfect for large family vacations all the way down to a getaway lodging for two - with over 25 vacation rental homes to choose from. A breathtaking collection of craftsman or traditional beachfront homes, or oceanview houses – from one to seven bedrooms. In various areas of Lincoln City and overlooking the beach, with some in Depoe Bay. All kinds of amenities are available, like hot tubs, decks, BBQ, rock fireplaces, beamed ceilings and more. Some are new, some are historic charmers. Lincoln City, Oregon. 1-(503)-232-5984. www.a1beachrentals.com.
Charles once told me a strange, surreal story about how he, Larry and other family members were in Lincoln City one year during an incredible storm. Charles claimed they discovered later that this storm resulted in a water spout offshore, which then dumped fish on land in the area. I've never been sure if he was pulling my leg or not, and I've never been able to track down and confirm such an event. But I've always thought it was a rather biblical tale – amusingly appropriate because of Larry's place in music history.
Larry loves to hang out in Lincoln City, he told me recently. He often stays there several years ago with his then-teenage son, favoring a motel near the 15th Street ramp and the beach there.
Larry retired from performing in the summer of 2005 with a final blowout show in Salem that also featured rocker Frank Black (who idolizes Larry). I was lucky enough to be hired as one of the photographers to document the historical event.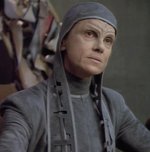 Megan Cole in Star Trek: Next Generation
Seinfeld and Star Trek on the Coast
If you're wandering around the Nehalem Bay area and you happen to hear a voice and see a face that seems to ring particularly familiar, like you've heard her and seen her on TV somewhere, you may not be far off.
One north coast resident, whom you'll find volunteering in some interesting spots, was a part time star on some major TV shows, as well as a live theater performer who has made a mark with plays dealing with dignity in dying.
Megan Cole – otherwise known as Liz Cole - played small parts on "Seinfeld," "ER" and two of the Star Trek series. She was on "Next Generation" in a couple roles, played a ruling Romulan dignitary on two of the final episodes of "Deep Space Nine," and she was part of a small story arc on "Seinfeld" in the 90's, in the "Suzie" episode, playing a co-worker of the Elaine character.
She occasionally performs small shows in the area, usually one-woman productions that are reportedly top notch.

Tradewinds Motel, Rockaway Beach
If expansive ocean views, close proximity to golfing, fishing tours and quick access to seven miles of pristine beaches is your thing, then this quintessential beauty in Rockaway Beach is your ticket to vacation fun for families, couples or large groups. Some rooms are pet friendly. All rooms at the Tradewinds Motel are immaculate and have TV's, VCR's and in-room phones with data ports. The oceanfronts all have a queen bed, a double hide-a-bed, kitchen, cozy firelog fireplace and a private deck. Some oceanfront units come with all those amenities but the kitchens. Both types sleep up to four people. The non-oceanfront rooms are appointed with a queen bed, small fridge, and coffee maker – sizable for a two-person romantic getaway, yet still perfect for those on a budget. There is an elaborate oceanfront Jacuzzi suite that has two bedrooms, coming with a kitchen, double hide-a-bed, fireplace and private deck, sleeping as many as six. For those wanting bigger accommodations for family reunions or large gatherings such as weddings, some rooms can connect to create two-room and three-room suites. 523 N. Pacific St., Rockaway Beach. (503) 355-2112 - 1-800-824-0938. www.tradewinds-motel.com
Pat Boone and His Hotel In Waldport
That's right, believe it or not, singer Pat Boone (a friend of Larry Norman's and a former neighbor of Ozzy Osburne) had some ownership in the Waldport hotel called the Pat Boone Inn. It was eventually called the Bayshore Resort, the Bayshore Inn and now it's a Howard Johnson's. I remember staying there a lot as a kid, sometime in the early 70's. Steve Wyatt, when he was curator of the Newport History Center in the 90's, reminded me that the lighted sign for the hotel featured a picture of Boone, wearing – get this – a pink leisure suit.
In the late 70's, that hotel hosted a group that was to become darkly infamous later. The Heaven's Gate cult, which offed themselves in California in the late 90's, held a big meeting there about 1978.
King Crimson's Trey Gunn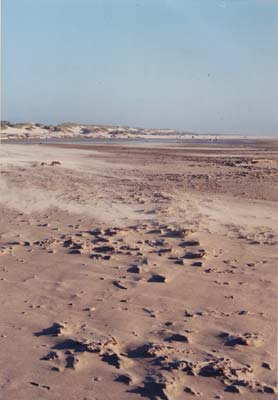 Beaches of Florence, where a small tsunami was witnessed by Gunn in the 80's
This band has been an obsession of mine ever since high school, and I've been lucky to interview most of its members, who have been some of the most influential musicians in the world, who in turn have played with dozens of other major artists. I've had the pleasure of talking to drummer Bill Bruford (Yes, Genesis), bassist Tony Levin (Peter Gabriel) and Pat Mastelleto (Mr. Mister – who also had an Oregon connection in his early years).
Bassist/Warr guitar player Trey Gunn has played with Crimson leader Robert Fripp (arguably the most influential guitarist of all time) since the 80's, and a part of Crimson since 1994. Just before getting snapped up by the Holy One of Art Rock, Gunn was a student at University of Oregon.
Gunn is partially responsible for some of the most surreal and intriguing music of the last 15 years, between his work with Crimson and his own solo career. Appropriately enough, his connection to the coast is pretty freaky.
Weiss' Paradise Suites & Vacation Rentals - Seaside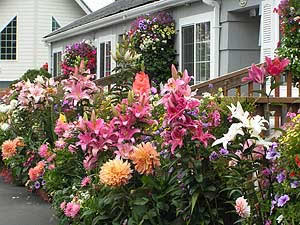 Unique Luxury Accommodations in Seaside. 1BR Suites, 1BR & 2BR Duplex Units and 3BR Houses, units for 2-8 people. Rent our entire property for 20-26. All units close to beach, river and Broadway St.
Suites are designed for two adults; vacation rental units for families. All units have kitchen and many have fireplace, deck and jetted tub. Enjoy comfy robes & slippers, luxury bath amenities, quality linens and more. See us on The Travel Channel's "Great Escapes" show in August 2006. 741 S. Downing St., Seaside. 800-738-6691. www.SeasideSuites.com
Bassist Gunn, who now lives in Seattle, told me an especially weird beach tale about his years at UofO. About 1985, he recalled, an earthquake in Japan was to result in a tsunami hitting the Oregon coast. Gunn, like thousands of others, zipped out to Florence to check it out. He saw one of the rarest events ever on this coast.
In an interview with me in the 90's, he described it as a single wave that went all across the horizon, slowly coming in. He said that when it finally hit the beach, it was only about a three-foot wave.
"It was the weirdest thing I've ever seen," he told me.
John Cleese: A Fish Tale from Wanda's?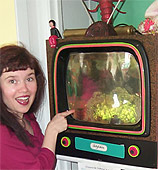 There's actually a fish named Wanda inside this wacky fishtank
Indeed, this tale is true. According to Wendy, owner of Wanda's Café & Bakery in Nehalem, the former Monty Python icon dropped in one day in the spring of 2003.
Wendy says he popped in for coffee, and it took a while for someone to recognize him. But it was unmistakably Cleese – tall, very English and well dressed He eventually struck up a conversation with Wendy, saying he had to check out the place because of the movie, "A Fish Called Wanda," which he starred in. He was also intrigued by the fact the owner was named Wendy – the name of his wife in the movie. She, in turn, was delighted to tell him there was indeed a fish called "Wanda" in the whimsical fish tank in the restaurant.
The story doesn't end there. Cleese left in a gold luxury car, just as a diner noticed a $100 bill lying on the floor where he stood moments before. After trying to chase down the car to give it back, everyone weighed the evidence and decided it was likely he did it on purpose. Wendy says that night, the employees gathered at a local watering hole, bringing along all the Cleese and Python videos and stuff they could find and putting them in a pile on the table, and they drank the night away on "Cleese's tab."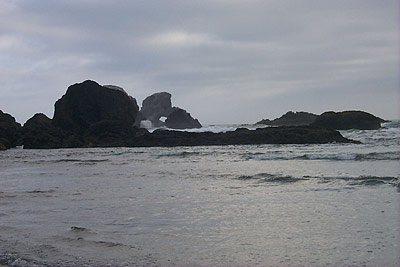 "Goonies Rock," in the distance, with the hole, is a landmark featured at the end of the movie
Movies, Rock Stars and Sundry Others
Among the others linked to the coast in some way: Marv and Rindy Ross (of rock band Quarterflash) had a pad in Oceanside in the 80's. Alternative rock band Everclear, from Portland, had a song on their first album called "Nehalem," apparently about a real girl who moved there.
Numerous movies have been filmed on the coast, especially in Astoria. "Short Circuit," "Free Willy" and "Kindergarten Cop" were all filmed in the atmospheric North Coast town. That's right, now-California Governor Arnold Schwarzenegger spent time there. "Goonies" was also filmed in Astoria, Cannon Beach and some parts of the South Coast near Port Orford.
In the spring of 2004, during the big yearly Republican gathering in Seaside, there were a few sightings of Schwarzenegger wandering the town with a security entourage. His presence there was brief and kept secret.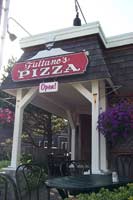 Sean Penn was spotted in Fultano's Pizza in Cannon Beach in the spring of 2006. Owner Dave Johnson said he and two friends bought pizza slices for lunch. Later in the year, he and other big stars inhabited Astoria for the filming of a movie he was directing.
There's a video of the Yachats area, sold by its Visitors Center or given to press, which features beautiful, serene moments of the area's beaches. It's all set to some wonderful electronic music, created by former Oregonian Patrick O'Hearn (Missing Persons, Frank Zappa, Mark Isham). O'Hearn and his brother Rob grew up in Eugene. Eventually both were part of Missing Persons.
There's a rumor rocker Ted Nugent "adopted" a stretch of highway around Neskowin for many years, sponsoring its cleaning up (just as many businesses do, as you see on highway signs). A niece of Nugent's resides in Portland.
One of my favorite celebrity-on-the-coast experiences was back in 1999, when I happened across an antique store in Wheeler (which is now defunct), which also doubled as a liquor store. Behind the counter was a head shot of Keannu Reeves, autographed and signed to "Mom." The owner told me that was for her, when Reeves was in the area to film "Point Break."

D Sands Condominium Motel, Lincoln City. Getting a free, fresh baked cookie upon check-in is just the beginning. Every room is beachfront, and it's all right up against Lincoln City's most famous stretch of beach, next to the D River. Each room, comes as a suite or mini-suite, and has a kitchen and balcony or patio. Some have gas fireplaces, while all have a DVD Players with movies available for renting (and movie rentals come with free popcorn). There's a heated indoor pool, a spa, and this fabulous beach is lit at night. Rooms sleep anywhere from two, four to six - including a deluxe fireplace suite. Gift certificates are available, and they offer special occasion packages as well. To make a reservation and see a virtual tour of the rooms, visit our website at www.dsandsmotel.com. 171 S.W. Highway 101. 800-527-3925.
DIVE INTO LUXURY, HISTORY AT THE TIDES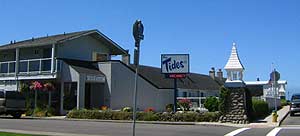 THE TIDES BY THE SEA, Seaside. For over 80 years, The Tides has been a favorite of Seaside visitors. History meets modern luxury here. 51 oceanfront condos, individually owned and decorated. Find suites for couples, small apartments with fireplaces and kitchenettes, one or two bedroom family units with fireplaces, kitchens and dining rooms. There are wonderful oceanview cottages that sleep anywhere from two to eight people, with two bedrooms, some with lofts, fireplaces and kitchens.
Meanwhile, the heated outdoor pool, enormous grounds with picnic tables and location at the quiet southern end of Seaside make for some memorable means of play and repose. 2316 Beach Drive. 800-548-2846. www.thetidesbythesea.com.
RELATED STORIES
OREGON COAST VIRTUAL TOURS
Explore Every Beach Spot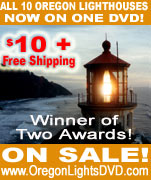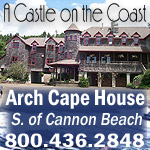 For weekly updated info on lodgings and accomodation reviews, see the Travel News section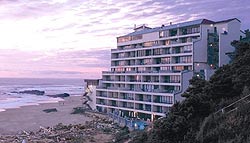 Inn At Spanish Head, Lincoln City. It's Lincoln City's only resort hotel built right on the beach with all oceanfront rooms - nestled against a rugged cliffside overlooking a soft, sandy beach. Enjoy dining in the penthouse restaurant and bar - whether you're in the mood for a casual meal or a candlelight dinner. They offer an array of seafood specialties, juicy steaks and other Northwest favorites, including a decadent Sunday buffet. Rooms range from bedrooms to studios to one-bedroom suites with microwaves and refrigerators to full kitchens. Hotel amenities include wi-fi, spa, saunas, exercise room and a year-round heated swimming pool. Kids will love the game room and easy beach access. Full-service conference and meeting rooms for that inspirational retreat; extensive, gorgeous wedding possibilities. Near the south end of Lincoln City at 4009 SW Highway 101. 1-800-452-8127 or 541-996-2161. www.spanishhead.com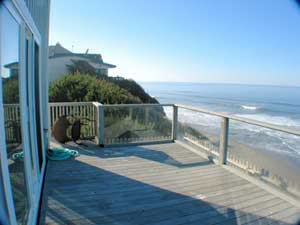 Lincoln City Vacation Homes There's something for everyone among this selection of wondrous homes: smaller homes with a view to a large house that sleeps 15. All the homes are either oceanfront or just a few steps away from the sand – all with a low bank access and fantastic views. Most are in the Nelscott area; one is close to the casino. You'll find a variety of goodies, depending on the home: fireplaces, multiple bedrooms, dishwashers, Jacuzzis, washer/dryers, hot tubs, cable TV, VCR, barbecues; there's a loft in one, and another sprawling home has two apartments. Pets are allowed in some homes – ask ahead. Each comes with complete kitchens so you'll have a home away from home. Most have the seventh night free. Prices range from winter $85 to summer $230 per night. www.getaway2thecoast.com. 541-994-8778.
BREATHTAKING CLIFFTOP IN NEWPORT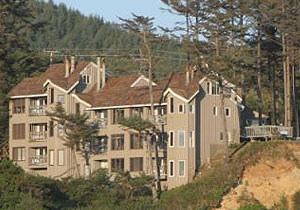 STARFISH POINT is located on the Central Oregon Coast - in Newport - and offers only the finest in luxury condominium lodging. At Starfish Point, every unit is focused on the beauty of the sea and the beach.
All of the units boast two bedrooms, two bathrooms, designer kitchens, wireless broadband Internet, fireplaces, Jacuzzi's and private decks - surrounding you in soothing relaxation. We have a friendly staff dedicated to high quality and superb customer service. 140 NW 48th Street, Newport. (541) 265-3751. (800) 870-7795. www.starfishpoint.com