Strange Tale of Jump-Off Joe, Newport's Nye Beach

Virtual Tour of Newport, Oregon Coast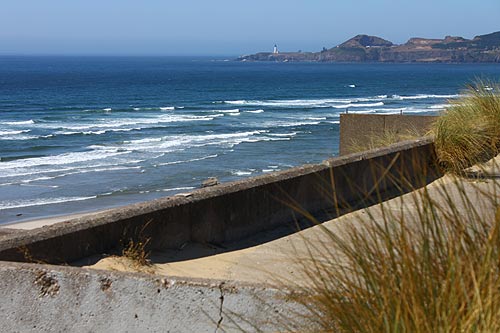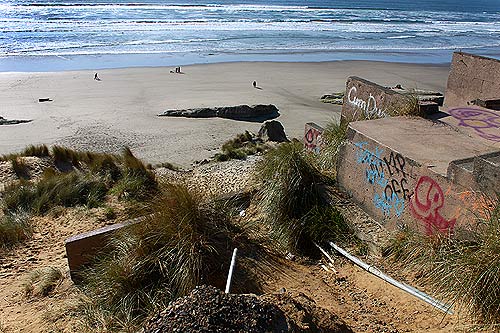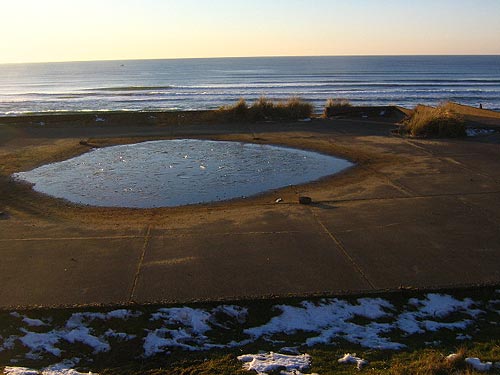 The Jump-Off Joe story continued from last tour stop....
Meanwhile, in the '20s and '30s, two other structures popped up that came and went - both becoming arches and both sometimes getting falsely nicknamed Jump-Off Joe. One was a rock tunnel a ways south of the Natatorium (a warm salt-water bath that stood about where the Turnaround is now). This one was possibly located right in front of where the Vietnam Memorial currently sits. Another tunneled structure was mostly called Elephant Rock and Slipper Rock - located just south of the bluff that's now called Jump-Off Joe. The photo above Slipper Rock was likely taken from the bluff currently called Joe.
Which brings us to the '80s, when another outcropping dominated the view here, eventually grew an arch and took the name Jump-Off Joe. Above it, lie the remnants of a failed construct of condos, which began to crumble in the unstable sandstone shortly after being finished in 1985.
In 1994, the current Jump-Off Joe lost its arch, and it's been steadily crumbling away ever since. Like its predecessors, less is visible each year.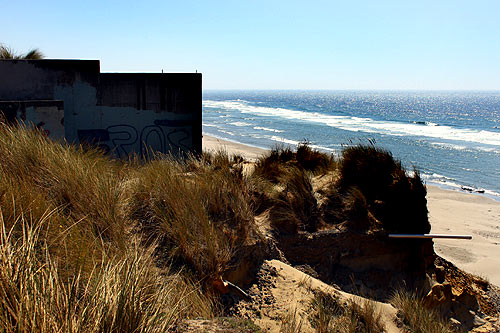 Also see: The Crazy, Hazy Tale of a Spectacular Oregon Coast Real Estate Failure Jump Off Joe is a wacky and twisting, turning bit of history on the Oregon coast