Yaquina Head Lighthouse and its History, Lore

Virtual Tour of Newport, Oregon Coast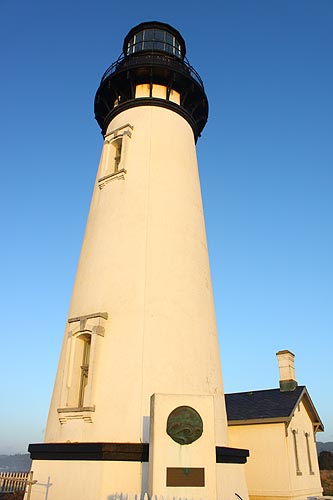 Like Heceta Head, there have been tales of hauntings for Yaquina Head's lighthouse. Purportedly, a lighthouse keeper assistant named Higgins died on a fall on the winding, twisting stairway. Thereafter, other lighthouse keepers were afraid to wander up the steps alone, should they encounter the presence of their otherworldly predecessor.
In the early 2000s, the Bureau of Land Management - which oversees the lighthouse - received a letter from a descendant of Higgins which debunked this myth. It turns out Higgins moved to Portland and eventually became a dockworker - never dying in the lighthouse at all.
The scariest story involving the lighthouse involves a Hollywood movie crew filming a horror flick there. Apparently, they left it such a mess – smothered in cobwebs and other spooky fixings – that the BLM had to threaten a lawsuit to get them to come and clean it up.
Pictured here is the inside of the lighthouse. It is open to the public for tours but these schedules periodically change. 541-574-3100.
Lighthouse History Archives (from 2006): Oregon Lighthouse Still Under Wraps – For Now Newport's Yaquina Head Lighthouse goes under renovation and comes out looking different
Is Newport's Yaquina Head an Old Oregon Coast Volcano? (Video) - Its origins are actually some 300 miles away, say geologists. Yet there was a brief time when local scientists thought it was once a volcano in these prehistoric waters.
Freaky Facts About Oregon Coast Lighthouses - They are the stuff legends are made of, and often ghost stories appear through these lore. Oregon's lighthouses are some of the state's biggest tourist attractions