Cape Lookout State Park Beaches: Wild, Wondrous Skies, Trees

Three Capes Loop Virtual Tour, Oregon Coast: Oceanside, Netarts, Tierra Del Mar, Pacific City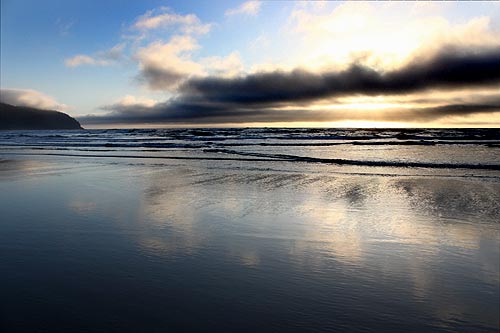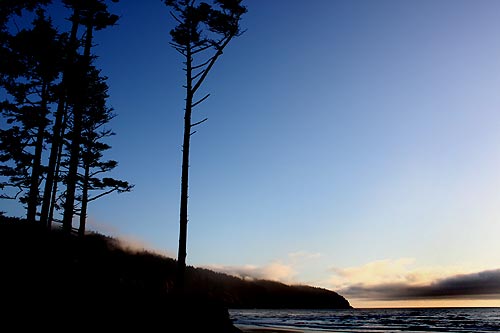 Something about Cape Lookout State Park seems especially conducive to stunning skies. Sunset along these soft, sandy beaches can fire up these clouds just offshore and at times create incredible reflections in the wet strand closer to the tideline.
Massive, soaring trees here at Cape Lookout– stripped bare from the middle downwards by constant winds and wild conditions – offer up impressive silhouettes during such sunset moments. Grand and stately in stature, these are monsters by most Oregon coast arboreal standards.
The beach goes on for about a quarter mile to the south, but several miles to the north, becoming less and less hospitable to the hiker as it thins out closer to the Netarts Spit, getting a bit dangerous.
More updates on Cape Lookout State Park below.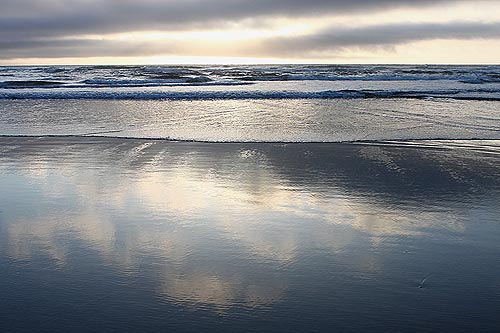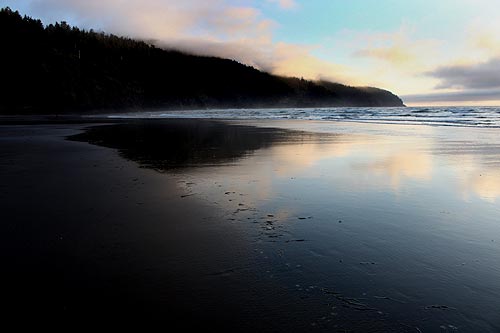 First Day Hikes: New Year's Walks Beyond the Oregon Coast
9 Dec 2018 at 6:00am
(Above: Cape Lookout State Park). This year, however, even though the First Day Hikes have been around since 2012, these guided sojourns into nature are publicized equally around the state ...
When and How Cannon Beach Was Named - Oregon Coast History with a Twist
29 Nov 2018 at 10:59pm
Chunks of the ship washed up in what is now Arch Cape, the tiny unincorporated village just south of Cannon Beach. One of the survivors was dispatched to retrieve as much as he could, but only one of ...
Quirky Oregon Coast History: How Cannon Beach Got Its Name
29 Nov 2018 at 7:58pm
Parts of it washed up a ways south of there in what?s now called Arch Cape, a tiny unincorporated village between Manzanita and Cannon Beach. This was shortly after the wreck in 1846, and one of the c...
King Tides Project Needs Help from Oregon Coast Photo Aficionados
7 Dec 2018 at 11:02am
Friends of Cape Falcon Marine Reserve, Friends of Netarts, and Haystack Rock Awareness Program, among others. The King Tides Project began in Australia, where the highest tides of the year have long b...