Cape Lookout State Park Beaches: Wild, Wondrous Skies, Trees

Three Capes Loop Virtual Tour, Oregon Coast: Oceanside, Netarts, Tierra Del Mar, Pacific City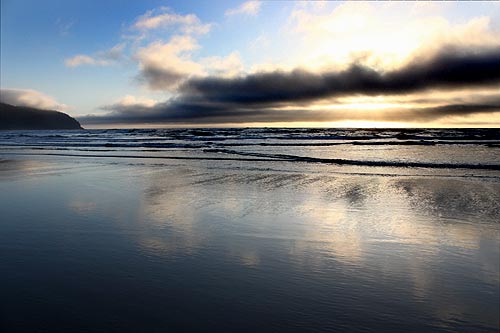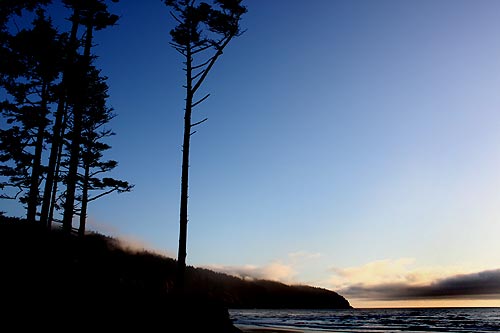 Something about Cape Lookout State Park seems especially conducive to stunning skies. Sunset along these soft, sandy beaches can fire up these clouds just offshore and at times create incredible reflections in the wet strand closer to the tideline.
Massive, soaring trees here at Cape Lookout– stripped bare from the middle downwards by constant winds and wild conditions – offer up impressive silhouettes during such sunset moments. Grand and stately in stature, these are monsters by most Oregon coast arboreal standards.
The beach goes on for about a quarter mile to the south, but several miles to the north, becoming less and less hospitable to the hiker as it thins out closer to the Netarts Spit, getting a bit dangerous.
More updates on Cape Lookout State Park below.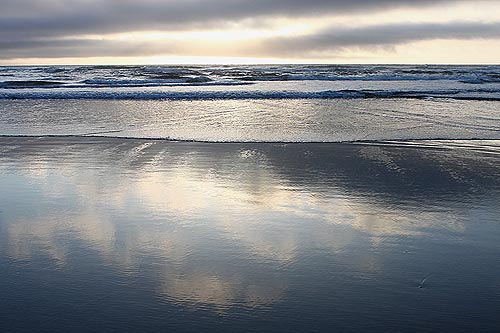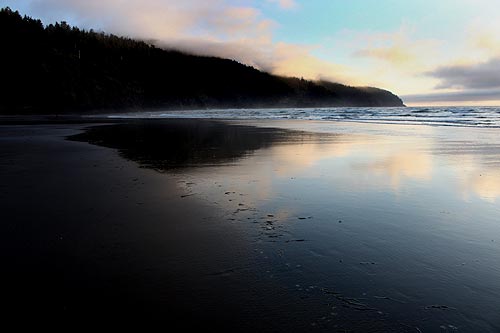 Cape Kiwanda, Oregon Coast: Complete Travel Guide, Info
16 Jun 2017 at 5:35pm
(Pacific City, Oregon) ? One of two centerpieces to Pacific City (the other being Haystack Rock), Cape Kiwanda State Natural Area is the southernmost cape in the north Oregon coast's famed Three Capes ...
Cape Meares Lighthouse History and Its Future on Oregon Coast
15 Sep 2019 at 6:33am
It all depends how you think of it, in this rather unusual dual existence. The Cape Meares Lighthouse near Oceanside is only 38 feet high, but it sits on a cliff a little over 200 feet high. And its ...
Cape Meares State Scenic Viewpoint: What You Don't Know About this Oregon Coa...
1 Feb 2018 at 7:47pm
(Oceanside, Oregon) ? An ?outstanding? outstanding headland if there ever was one, Cape Meares State Scenic Viewpoint, on the north Oregon coast, is as lovely as it is ancient. A short drive from ...
Oregon Coast Geology Fun Facts: Behind the Look of Cape Kiwanda
29 Dec 2012 at 8:00am
At Pacific City, Cape Kiwanda and Haystack Rock have been an engaging means of repose for decades now, but its natural history goes back millions and millions of years. Here are just a few fun facts ...