Cape Lookout's Beauty and Stranger Sides, Oregon Coast

Three Capes Loop Virtual Tour, Oregon Coast: Oceanside, Netarts, Tierra Del Mar, Pacific City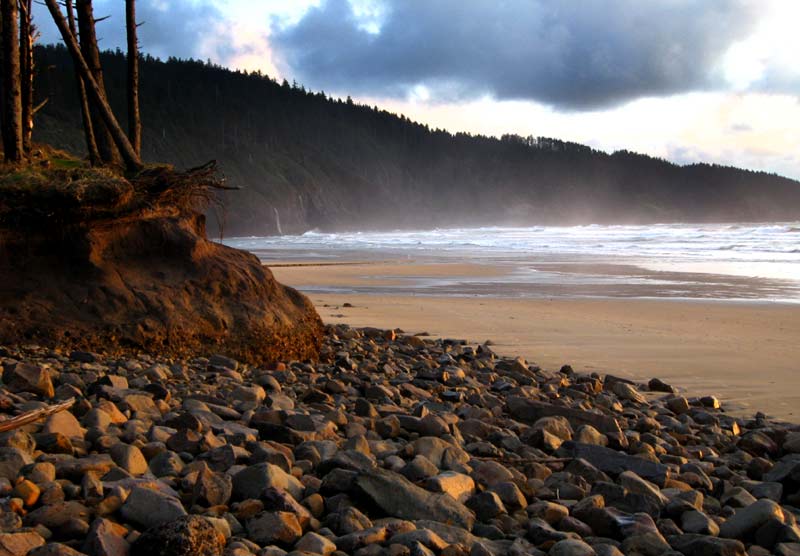 (Oceanside, Oregon) - Somewhere between the bustling small town of Pacific City and the clandestine quiet of the village of Oceanside, there's a monster of a state park. Cape Lookout State Park, which doesn't necessarily include the cape of the same name, encompasses some five miles of beaches, before it dead ends along the Netarts Spit, around Netarts. There's loads of camping to be had, some intriguing pristine sands, and during the winter it's even an awesome storm watching spot.
The beaches meander on to the north, while to the south, the park abruptly dead ends at the cape itself. A trail traipses upwards onto the cape, upon which you can also continue hiking to other magnificent sights and sites.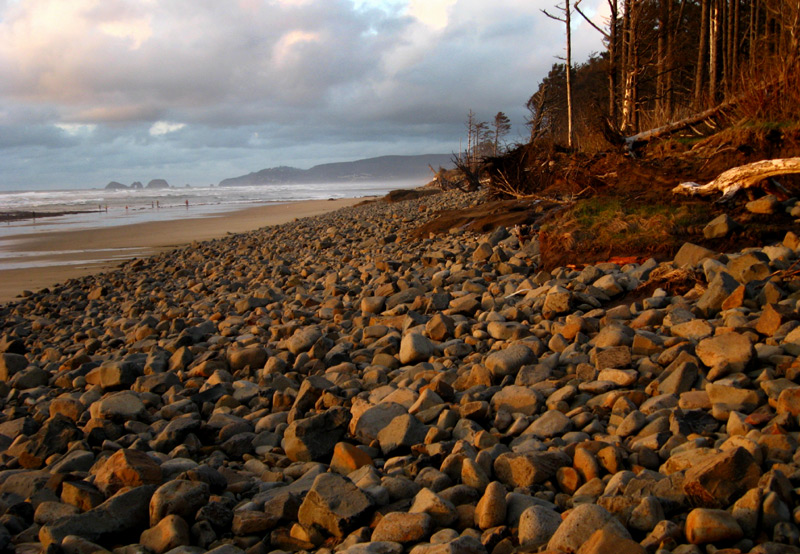 There's really only a handful of access spots to the beaches: a high bluff lines the eastern side of the sands much of the way and doesn't allow access back to civilization. The beach here is at first covered in large, polished stones, giving way to a flatter, sandy area. This can be a very tiny and dangerous during rougher seas, as the beach is not that broad and then easily eaten up by big tides.
From here, you can see Oceanside's famed Three Arch Rocks in the distance.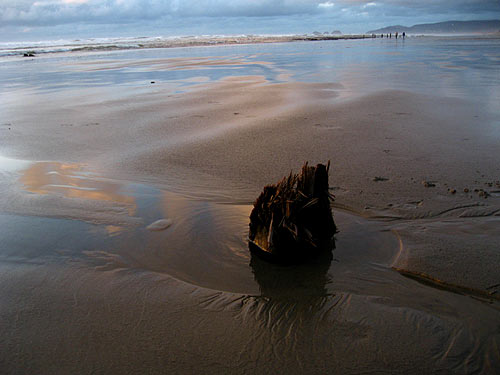 Every few years or so, weather conditions create rougher seas than normal during winter, and more sand is scoured away than other years. The result is some fantastic sights at times, like bits of a ghost forest that are revealed here - an area not really known for this unusual example of geology and botany. Stumps some 2,000 to 4,000 years old emerged one year this past decade, part of a stand of trees that was buried somewhat abruptly by sand and tides, and thus preserved beneath the beach.
That same winter - 2007 - conditions were so unruly they exhumed all sorts of wild things along the Oregon coast. But in Neskowin, about 20 miles south of here, there is a ghost forest that is visible year-round. So much scouring happened there that some of the 100 or so ancient stumps were uprooted, and wound up scattered all over Cape Lookout State Park in a myriad of pieces.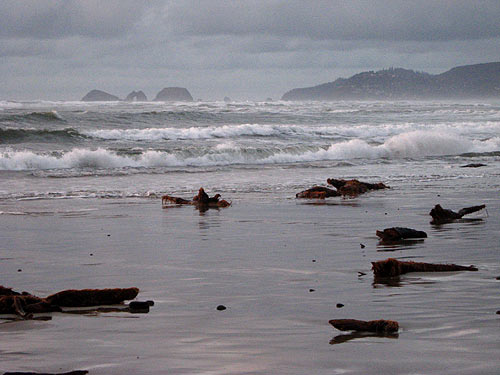 This could be the beginning of the end of the ghost forest at Neskowin, if such conditions continue through the decades.
It remains to be seen what happens this winter, as the Oregon coast is in the same weather pattern that brought on such erosion events as 2007.