An Oregon Coast Treasure: the Stone Shelter at Cape Perpetua

Upper Lane County - Florence to Yachats Virtual Tour, Oregon Coast
Published 07/20/2012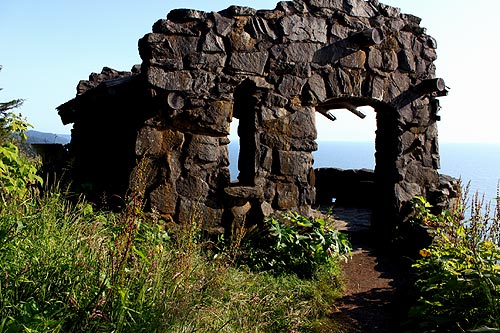 (Yachats, Oregon) – A little less than an eighth of a mile from the main parking lot of Cape Perpetua – but several hundred feet in the air – sits a rather remarkable spot that not everyone seems to find. This part of the central Oregon coast is filled with viewpoints whose levels of drama put Jersey Shore and Shakespeare to shame, and Cape Perpetua is the mother of all viewpoints here, with an aerial view to a huge number of delights found along Highway 101 below.
Along these hiking paths is the famed stone shelter that overlooks a vast vista of ocean and sky, framed by a dense layout of rain forest firs and lush, green cliffs sitting directly beneath.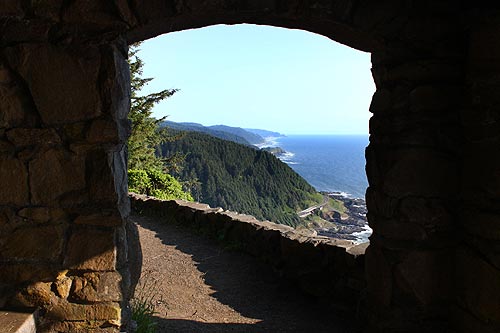 At first glance it looks a bit like a ruin of something else. Often the question that arises is: what was that? It even has a kind of medieval hut vibe, as of some ancient European settlers from the 1300's had settled here briefly and left behind this rustic curiosity.
Indeed, the stone shelter atop Cape Perpetua is simply that: a shelter made of stone, set there for the enjoyment of those who want to soak in the dramatic views, especially if there is crazed weather.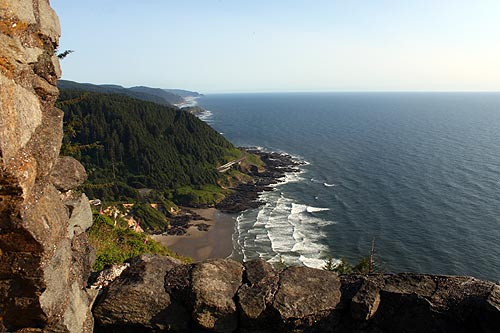 It was built around 1933 by the Civilian Conservation Corps, as part of the economic stimulus of the Roosevelt administration in reaction to the Great Depression. During their time at Cape Perpetua, the CCC built its camp where the Cape Perpetua Visitors Center is now, and then a series of trails, the public campground that's still used today and then the West Shelter that you come across near the top.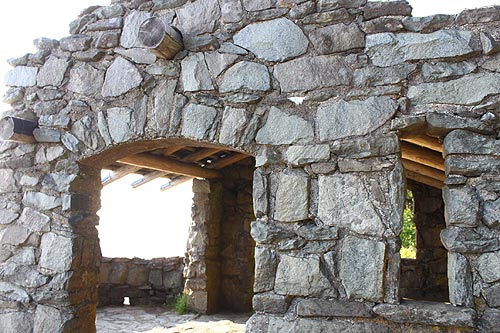 The CCC also built a huge array of other landmarks along the Oregon coast, including Ecola State Park by Cannon Beach and hundreds of other campgrounds, roads and recreation areas throughout Oregon.
When World War II rolled around, the stone shelter became an observation station, looking for enemy boats or aircraft.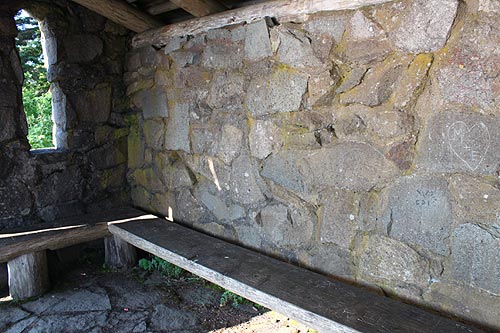 Now, of course, no one is looking out for anything but the view. And what a breathtaking series of views they are. To the south you can see chunks of Heceta Head from the side without the lighthouse. Directly to the west, those wild, untamed rugged cliffs below provide that heady feeling of looking down a sheer drop off and into that massive ocean. Meanwhile, all around sits that endless horizon.
Cape Perpetua is about five miles south of Yachats, and the winding, slow drive up to the top of the cape is only about a mile or two, but can take a bit over five minutes. Along the way, some have reported seeing bears off to the roadside.