Discovering a Secret Beach on Oregon Coast, near Depoe Bay, at Fogarty Beach

Virtual Tour of Depoe Bay, Gleneden Beach, Lincoln Beach, Otter Rock, Oregon Coast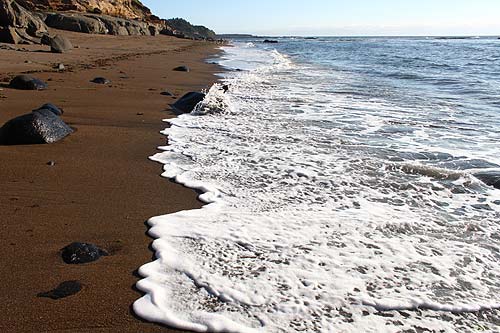 By Andre' Hagestedt
(Lincoln City, Oregon) – It's the middle of summer 2012, and conditions along the Oregon coast are intensely calm and often balmy warm. It's one of those summers you write home about, if you're a visitor. If you're a resident, you shout about it to friends who live elsewhere – sometimes with a sense of disbelief.
Two major surprises occurred because of these extra calm conditions. One, it brought in a lot more sand than usual, and higher sand levels mean unusual access to areas you can't always get to. It pushes the tide out farther, like a constant low tide event.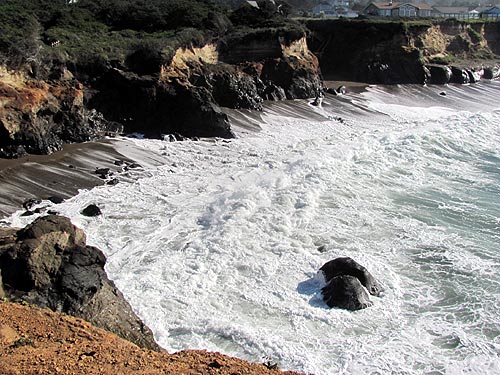 Above: what this beach normally looks like: inaccessible.
Secondly, whales were in great abundance. They're attracted closer to shore by calmer conditions that allow better feeding. But even more importantly, they're easier to spot when waves are calm and low. Much easier.
These played a role in some incredible sights that summer at Fogarty Beach, between Depoe Bay and Lincoln City. You could find a stretch of beach normally not traversable, and to the endless delight of visitors, whales were so close to shore here their blowholes were actually quite loud. It was spectacular.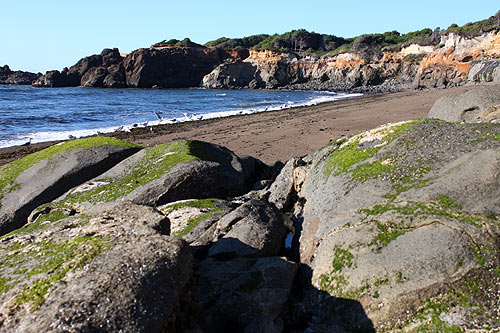 This is what led to this find: a wondrous little secret beach between Fogarty Beach and Fishing Rock State Recreation Site. Head to the very northern edge of this rather esoteric little cove-like stretch of large sands, and you usually bump into this bunch of blob rocks. You can't go much farther. But thanks to calm seas and higher sand levels, all of a sudden you could get to the other side.
For someone like me, who has documented literally just about every tiny beach access and hidden spot between Florence and Astoria, this is a rare find: a strand I've never been on. Usually, this spot is too dangerous and wave-smothered to even think about visiting. You can see it from the viewpoints looking south on Fishing Rock state park (which is itself a clandestine spot). You never see it anything less than completely covered by manic seas.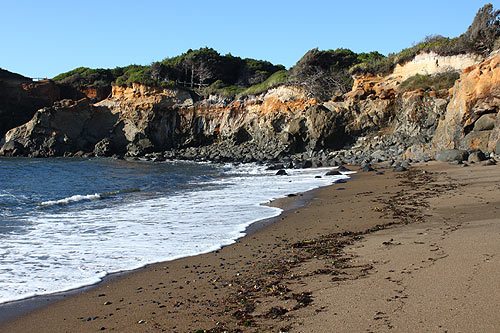 Here, however, at this moment in time, I could explore it. For about a half hour, I recaptured that sense of awe and discovery from watching LOST the first three seasons.
The spot is only a couple hundred feet long, and its width, even on this tranquil day, is tiny. If there were any sizable sneaker waves I would've been in trouble.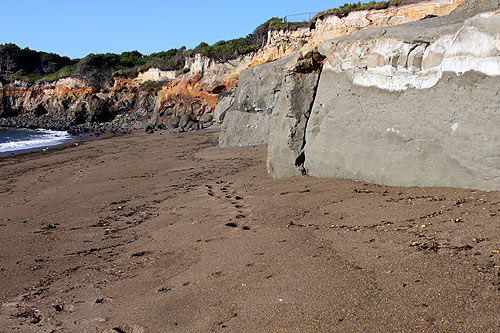 As you wander towards the long, finger-like outcropping of Fishing Rock, the cliff always closely hugs the shoreline. It slowly changes from an odd slate gray to the sandstone and softer sediments much of the central Oregon coast is known for.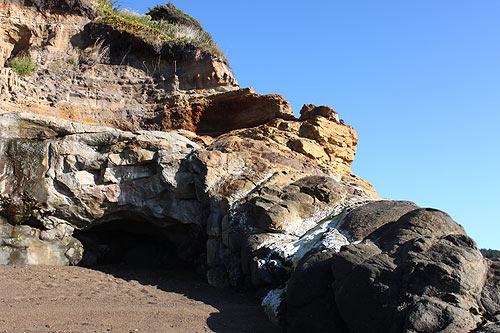 Immediately after the blob rocks that guard its entrance, there is a little hole burrowed into the cliff by the batterings of the tide.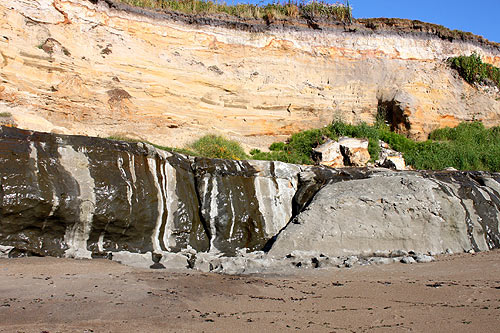 Funky mini-caves like this abound throughout this secret spot, sometimes lurking in high places.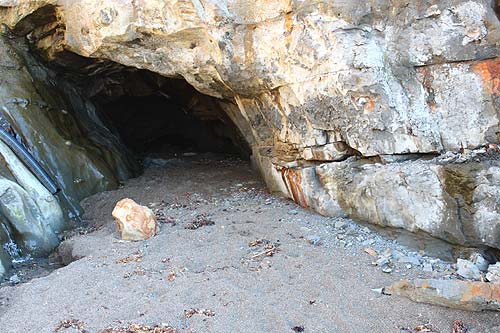 In another spot, there's a tiny but actual sea cave hiding inside a big groove in the cliffs. From outside it's dark and slightly foreboding, and frankly I've seen enough Buffy the Vampire Slayer episodes to not enter, as surely someone is in there breeding half human, half shark people.
Then, upon closer, impression, there's nothing scary in there. In fact, it's tiny. Whew. The world is stil safe from mutant sea monsters.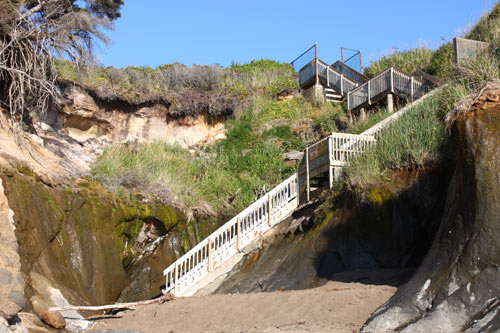 As you wander close to this secret spot's edge, it's another discovery suited to the show LOST. Some sort of ancient human construct. Perhaps there are "others" here? A Dharma Initiative, maybe? (OK, it's just someone's private entrance to this beach).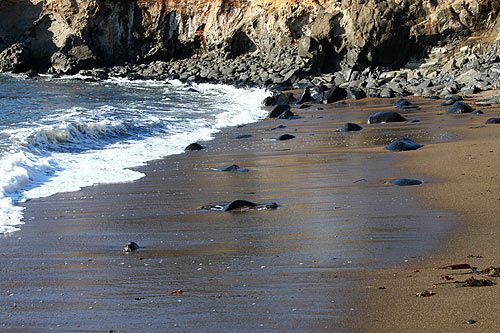 At the end of this tiny cove, those large, coarse grains of sand and the rocky mini-labyrinth make for stunning sights. The blue of the sky is reflected in the wet sand, and those basalt chunks take on a shiny sheen as waves make little acrobatic moves over them. It's thoroughly pleasant and engaging.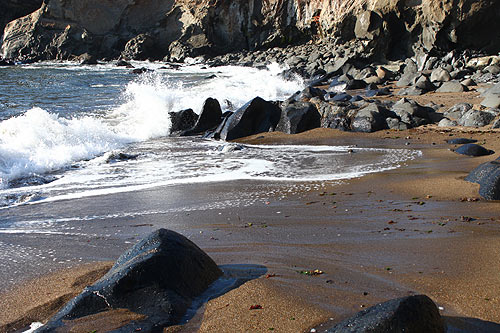 Unfortunately, it won't last for long. The season ended and so did access to this amazing little spot. It's no longer safe to try and get to anymore, and even if you could get there, it's not safe to stay.
Perhaps next summer conditions will again become favorable for periodic access. Until then, the only way to see it is from above, at Fishing Rock State Recreation Site.