North Point: Hidden Rocky Cliff at Depoe Bay a Constant Oregon Coast Stunner

Virtual Tour of Depoe Bay, Gleneden Beach, Lincoln Beach, Otter Rock, Oregon Coast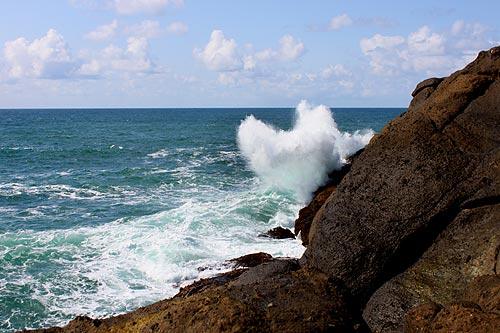 (Depoe Bay, Oregon) - At first glance, it's a barren, maybe even alien landscape, made of black, craggy and semi-smoothed over basalt structures, all hovering above a surfline that's rather crazy no matter how calm the conditions.
It's called North Point, and if it has an official name at all isn't clear. However, it's one of two viewpoints in Depoe Bay called Depoe Bay Scenic View Area. No, not confusing at all.
It's also a big secret of this central Oregon coast town - one spectacular stretch of clandestine cliffs that are hiding in plain sight.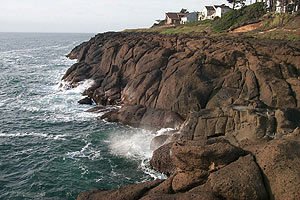 You'll find a lot lurking in this perhaps one eighth of a mile chunk of coastline, which is tucked away behind a handful of neighborhood streets at the northern end of Depoe Bay. You can't really see it from anywhere - except that part of it is the most prominent rocky feature as you look out to the ocean from anywhere in downtown Depoe. But the actual accesses are even hard to see from the streets in back of town.
That rocky promontory that juts out contains another kind of spouting horn: a section of the rock seems to squeeze much of the wave action into a nearly constant spray of sea water. From this section you can look back to Depoe Bay as if you were on a boat.
Whales have been known to loiter quite close to this area, providing absolutely breathtaking encounters with a behemoth cetacean maybe within thirty feet of you.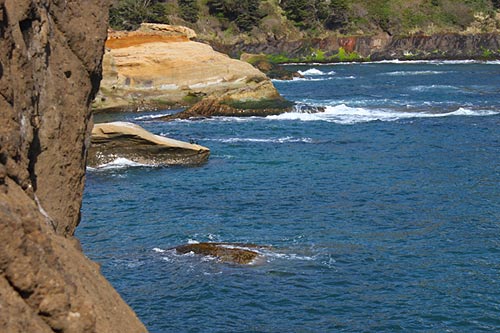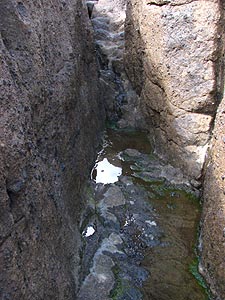 All sorts of curious structures abound here. Waves bounce off surfaces and make daring acrobatic leaps with regularity. One chunk on the northern part looks a bit like train track embedded in the rock; another small formation resembles the goofed up replica of Stonehenge in the "Spinal Tap" flick.
One of the more spectacular features of the North Point is a sunken area that feels a little bit like a miniature basement, complete with steps going down that have formed naturally.
On more temperamental days, you can feel the waves resonate through the basalt as they slam it.
Consequently, this rocky shelf is not an area to be trifled with or tested. Stay clear of the edge - well clear of it, as slippery spots may exist and that could still cause you to tumble down.