Gleneden Beach State Rec Site, near Depoe Bay and Lincoln City, Oregon Coast

Virtual Tour of Depoe Bay, Gleneden Beach, Lincoln Beach, Otter Rock, Oregon Coast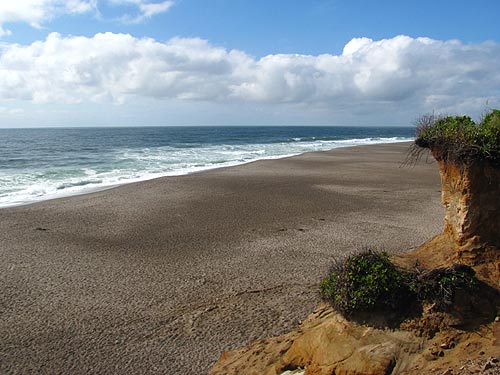 (Depoe Bay) - Near milepost 122, a ways after Lincoln City and the Salishan Resort, and just before you get to the Lincoln Beach area, sits this gem of a state park on the central Oregon coast.
A large parking lot allows for plenty of beachgoers, but during slower seasons you'll find yourself largely alone at Gleneden Beach State Recreation Area - or Gleneden Beach State Park as it was once known. Picnic tables, a small lawn area, and a picnic shelter for groups are also the highlight on this area above the beach. There are restrooms aplenty as well.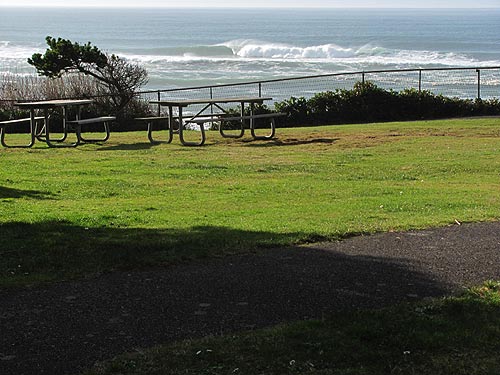 One of the treats here is a sort of defacto lookout point at the end of the road next to the parking lot. The end of the road and the cliff here have started to fall apart, but you can still hang out here just beyond the barriers and look down on the surf. This is particularly satisfying at night, when you can stop at the edge and shine your headlights down there, and then sit back and take in the nocturnal surf show.
Descend down a fairly short path, through a thick forested stretch, and you'll find the opening to this magnificent and rather unique beach. It's all sand here – and comprised of coarse, large sand granules as well. Yellow sandstone cliffs in one state of crumbling or another also add to the atmosphere.
Things get interesting on this strand because of the steep tide line here, which causes the waves to come in rather hard and heavy, but then dissipate quickly. It's even a little alarming at first, as it makes quite a raucous with big waves, then suddenly it becomes timid at your feet because of the rapid rise of the beach.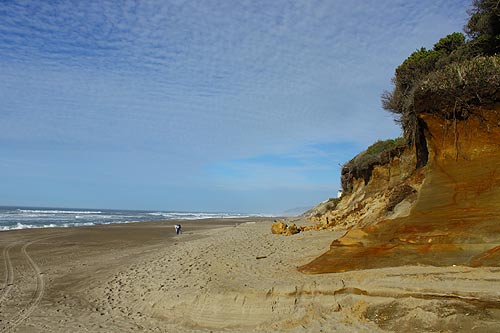 Numerous dark grains of sand populate the area too, which changes the color of the beach in interesting ways.
Walk a ways to the north and you'll start encountering the backstreet neighborhoods and hidden accesses of Gleneden Beach. Walk south and you'll quickly enter Lincoln Beach. Within a mile, this beach then dead-ends at the point known as Fishing Rock. To the north, it keeps going for miles until you reach the end of the Salishan Spit.
Gleneden Beach State Recreation Area and Lincoln Beach are popular areas for surfers.
Coordinates of Gleneden Beach State Park: Lat.: 44.876165 N. Long.: -124.038634 W