Covering 180 miles of Oregon coast travel: Astoria, Seaside, Cannon Beach, Manzanita, Nehalem, Wheeler, Rockaway, Garibaldi, Tillamook, Oceanside, Pacific City, Lincoln City, Depoe Bay, Newport, Wadport, Yachats & Florence.
4/19/07
NOTE: for the updated story on this, see Brown Breakers Mystify Oregon Coast Tourists; Shops Questioned Thick brown patches of foam are freaking out visitors, but it's a good thing
Spectacular Spring Sights Continue on Oregon Coast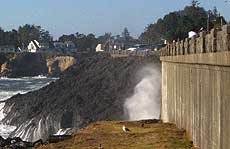 Spouting Horn, Depoe Bay
(Oregon Coast) – It's a potpourri of wild, natural events this spring, as the coastline is full of stuff that is keeping tourism officials on their toes. From crazy weather like a funnel cloud, brown spots on the surf, wild waves that continue wow visitors, whales going bonkers, remnants of prehistoric forests dotting the coastline, some prime hunting for agates and fossils, and interesting creatures washing up on the beaches, it's as if the Pacific Ocean is putting a crazy, mixed up show that dazzles with enough intensity to rival anything in Las Vegas several times over.
Best of all, this show is free. Admission is by a full tank of gas for the ride over.
It's a sunny Saturday in Depoe Bay, with a couple fistfuls of moody clouds hovering overhead, threatening to rain on this bright parade of ocean waves and whale watchers at the Whale Watch Center. Half a dozen volunteers are gathered inside the oceanfront building, trying to point out the whales passing by to visitors from who-knows-where.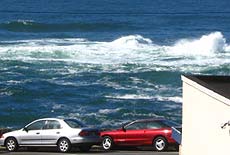 Raucous waves at Depoe Bay under the sun
Morris Grover, head of the Whale Watch Spoken Here program, stands at his post with a pair of binoculars. He practically doesn't blink as he waits for one whale to come back and spout again, literally counting the minutes.
DIVE INTO LUXURY, HISTORY AT THE TIDES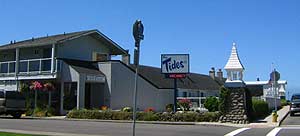 THE TIDES BY THE SEA, Seaside. For over 80 years a favorite of Seaside visitors. 51 oceanfront condos, individually owned and decorated. Suites for couples, small apartments with fireplaces and kitchenettes, one or two bed family units with fireplaces, kitchens and dining rooms. Oceanview cottages sleep anywhere from two to eight, w/ two bedrooms, some with lofts, fireplaces and kitchens. Heated outdoor pool, enormous grounds w/ picnic tables - all at quiet southern end of Seaside. 2316 Beach Drive. 800-548-2846. www.thetidesbythesea.com.
"We've already spotted 20 whales, and we've only been open two hours," he says with glee. There are still plenty of whales to catch sight of for another month and a half, all the way to the end of May. Grover is quick to point that out.
But half the show here are the massive waves that come pounding in with paradoxical ferocity. This is, after all, a nice day that's actually a little on the warm side.
Meanwhile, down the street, Depoe Bay's spouting horn is shooting off, spraying the passing cars with sea water, which is a might bit messier to clean off your windshield than mere rain.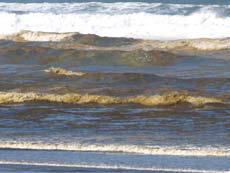 Brown waves at Seaside (photo: Tiffany Boothe/Seaside Aquarium)
The waves are huge, causing the horn to shoot high in the air. To the untrained eye, they're the result of a storm the night before. Or are they?
"Those waves out there were formed probably a day or two ago," Grover said. "A storm out there kicks these in, and it takes a while for them to get here."
It's a common sight these days on the Oregon coast. Big winds out on the ocean are causing spectacular waves. It's sometimes like watching winter storms in direct sunlight.
Those waves have caused problems, though. One young girl from Washington recently had a nearly deadly run-in with a log at Cannon Beach because of crazed tides knocking stuff around.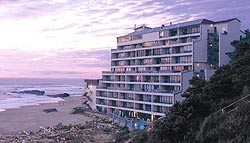 Inn At Spanish Head, Lincoln City. Lincoln City's only resort hotel built right on the beach with all oceanfront rooms - nestled against a rugged cliffside overlooking a soft, sandy beach. Dine in penthouse restaurant and bar, for casual meal or candlelight dinner. An array of seafood specialties, juicy steaks and other Northwest favorites, including decadent Sunday buffet. Rooms range from bedrooms to studios to 1-bedroom suites with microwaves and refrigerators to full kitchens. Also, wi-fi, spa, saunas, exercise room and year-round heated swimming pool. Kids will love the game room and easy beach access. Full-service conference/meeting rooms for that inspirational retreat; extensive wedding possibilities. 4009 SW Highway 101, Lincoln City. 1-800-452-8127 or 541-996-2161. www.spanishhead.com
The wild waves are augmented by a mysterious run of brown patches that have been causing tourists to the coast to quiz locals about oil spills or other pollution.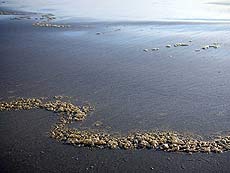 Brown stuff washing up on the beaches (photo: Boothe)
It is, in fact, millions and millions of diatoms: the microscopic creatures that are part of the phytoplankton family. They just happen to make the sea brown where they congregate.
This past weekend, the brown goo was floating lazily along central coast bays, and getting mixed in with breakers there and on the north coast.
In Seaside, on Wednesday, the brown spots were especially heavy. Although Seaside Aquarium's Tiffany Boothe said she noticed the stuff had dissipated quite a bit south of Seaside, and that it wasn't as prominent in places like Cannon Beach.
Gary Dieboldt, owner of Flashback Malt Shoppe in Seaside, was asked about it so many times he finally called the Seaside Aquarium to doublecheck on it. "I had about a half dozen, maybe ten people ask me just today," Dieboldt said. "They're thinking it's an oil spill or something, or asking if a ship wrecked out there."
The rest of the coast is filled with one kind of drama or another. In Tillamook, employees at the police department Tuesday caught pictures of a funnel cloud hovering over the west end of town. The cold weather funnel did not touch down or cause any damage, but the somewhat rare event in Oregon caused quite a media stir.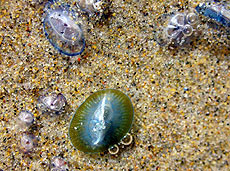 Infant velella velella (photo: Tiffany Boothe, Seaside Aquarium)
Up and down the coast, little baby velella velella are still washing up. These infant versions of the jellyfish known as "purple sails" usually start washing up in great numbers in early summer. They quickly start to smell bad as they rot on the beaches.
"But there's not enough right now to make any offensive odors, and certainly not enough to cover rocks," said Guy DiTorrice, a beach expert from Newport. "Good sign that we'll see more - and larger ones - as the spring winds turn to summer."
Other tiny beasties washing up include gooseberries – otherwise known as comb jellies. Their scientific name is Pleurobrachia, and Seaside Aquarium's Boothe says they periodically show up on the Oregon coast when west winds push them onshore.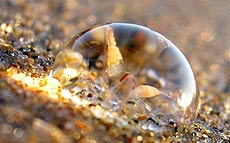 Gooseberry up close: they look like bubbles in the sand
Gooseberries are barely a quarter inch in diameter, and look like big bubbles sitting by the tide line.
They are actually completely unrelated to jellyfish, although these translucent, spherical creatures are often mistaken for them. Gooseberries come with two feathery tentacles, which can be retracted into special pouches. The name comb jelly refers to the eight rows of hair-like cilia on their bodies, which vibrate and enables them to swim.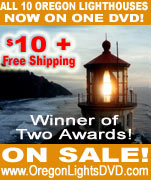 "They are both residents of near shore and open ocean habitats," Boothe said. "They are abundant at times along the West Coast, but as with all jellies they are not seasonal. They can wash up anytime. They can swim, but not against the ocean's currents. So like the purple sails, they are at the mercy of the ocean. Strong west winds will strand them on the beach."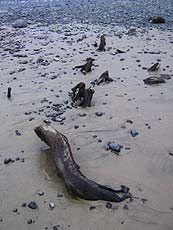 4000-year-old stumps at Newport
The wonders of nature are creating some time-tripping fun as well. During the winter, extremely low sand levels opened up the view to strange structures usually buried well beneath the sand. Ancient tree stumps, from forests anywhere from 2000 years old to 80,000 years old, popped up everywhere from Brookings to Gearhart. Noted Oregon geologist Roger Hart pointed out about a dozen sites, including just beneath Cape Perpetua, south of Waldport, South Beach, Newport, Neskowin, Rockaway and Hug Point. The ones at Hug Point and near Yachats were reportedly around 50,000 to 80,000 years old.
DiTorrice says the most highly publicized ones – in Newport – are mostly covered up, but some evidence still remains to be seen of these.
"Sands are moving back onto the beaches," DiTorrice said. "So, most of the stumps are covered back up again, with a few still poking their heads out south of Lost Creek and north of Thiel Creek in Newport."
Other changes in the landscape are catching regular visitors off guard, but delighting rock hunters.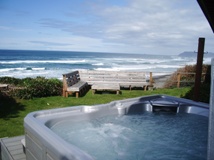 Arch Cape Property Services. Dozens of homes in that dreamy, rugged stretch between Cannon Beach and Manzanita known as Arch Cape. Oceanfront and ocean view , or just a short walk from the sea.
All homes are immaculate and smoke free; some pet friendly (with a fee). Some with broadband, indoor or outdoor hot tubs, fireplaces, decks, and fire pits or barbecues. Call about tempting winter specials that go until March (not valid holidays, however). www.archcaperentals.com 866-436-1607.
"Big Creek at Agate Beach in Newport is back to its northerly detoured-flow, due to the sand there," DiTorrice said. "Rock cobble piles and gravel bars are abundant there. Hunters of agates, rocks and fossils have been picking through, although these are also getting covered with the seasonal in-migration of offshore sandbars. It happens every year.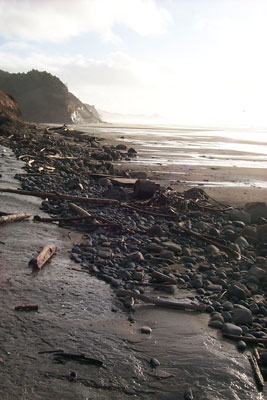 The northern beaches of Newport are full of surprises
"There's still some nice rock collecting south of Lost Creek and north of Thiel Creek, both south of the bridge out of the northern end of Newport."

While the Seaside Aquarium Wednesday went to Cannon Beach to quarantine a spectacular specimen of a dead elephant seal that had washed up, no baby seals or molting pups have been seen lately. DiTorrice noted the notorious spate of dead birds has been seen in his area, however.

"I've been on five of the eight access points here in the last week and have seen a small handful of the annual dead birds - maybe one or two per mile of beach," DiTorrice said.

For those amateur paleontologists, DiTorrice says the north end of Newport will make for good sight seeing as well – as you're only allowed to look, not dig things out.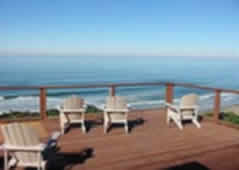 A1 Beach Rentals, Lincoln City. Perfect for large family vacations all the way down to a getaway lodging for two - with over 25 vacation rental homes to choose from. A breathtaking collection of craftsman or traditional beachfront homes, or oceanview houses – from one to seven bedrooms. In various areas of Lincoln City and overlooking the beach, with some in Depoe Bay. All kinds of amenities are available, like hot tubs, decks, BBQ, rock fireplaces, beamed ceilings and more. Some are new, some are historic charmers. Lincoln City, Oregon. 1-(503)-232-5984. www.a1beachrentals.com.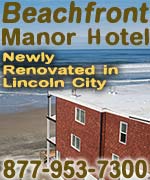 "There's a large boulder with a number of fossil whale bones exposed south of Spencer Creek at Beverly Beach State Park," DiTorrice said. "I haven't seen the boulder for about ten years. It sits just west of the Beverly Beach store and shows a series of rib bones and a shoulder blade. You can also see the pick and chisel marks from folks who couldn't find enough collectible items on the beach and needed to vandalize this rock for their personal entertainment. Of course, these are the same folks who insist on chiseling into the sandstone walls/cliffs here and causing all the erosion that's moving the highway. But that's another story."
For the beachcomber looking for sundry treasure, DiTorrice said this season is playing out well.
"It has been a good winter for commercial crabbing floats, especially those painted with neon and fluorescent colors," DiTorrice said. "I picked up over two dozen of these in the past few months, compared to normally finding a handful during our winter walks. Also found twice as many of the white 'banana' floats that are usually attached to fishing nets. I'd be happy to trade them with anyone needing a quality, recycled inventory."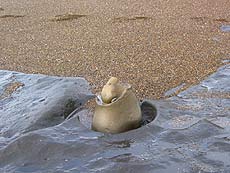 Low sand levels and low tides mean strange sights, like this geological oddity at Fogarty Beach on the central coast
You can reach DiTorrice for these wacky trades at www.oregonfossilguy.com.

Spring means spring cleaning for a lot of people, but for avid beachcombers like DiTorrice, it means more discoveries, and maybe more stuff at home, rather than less.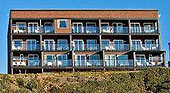 The Starfish Manor Hotel. 17 lavish suites - all beachfront - feature Jacuzzi or outdoor hot tub, gas fireplace, luxury robes & linens, TV, two-headed showers. Three large suites have kitchens. Private deck w/ BBQ available. No smoking or pets. Perfect for romantic getaway, honeymoon. 2735 NW Inlet Ave., Lincoln City, Oregon 1-800-972-6155. www.onthebeachfront.com
"I've heard stories about some old glass floats popping up here and there, but have yet to see any one showing them off or confirming sited locations," DiTorrice added. "Guess it was my year to help with the beach clean-up by packing home the Styrofoam floats which decorate my front yard. It's hard to miss my house in Agate Beach: beach rocks surrounding the newspaper drop-box, culled rocks and fossils lining the driveway and a pile of colorful floats at the steps of our front porch."
The wild sights of spring will likely continue through to early May, when the weather starts to calm down a bit more. In the meantime, April will likely mean more crazed conditions, freaky sea foam and little oddities washing up onshore.
This latter half of spring, after the spring breaks have ended, is often called the "secret season" on the coast, because awe inspiring natural delights like these are quite common, but the beaches are generally deserted of tourists. It's also a time when some of the most inexpensive lodging prices are available, making this the most interesting and varied season on Oregon's coast.

D Sands Condominium Motel, Lincoln City. Free, fresh baked cookie upon check-in is just the start. All rooms beachfront and up against Lincoln City's most famous stretch of beach: the D River. Each room comes as a suite or mini-suite, and has a kitchen and balcony or patio. Some w/ gas fireplaces, while all have a DVD Players; movies to rent come with free popcorn. Heated indoor pool, a spa, and this fabulous beach is lit at night. Rooms sleep from two, four to six - including a deluxe fireplace suite. Gift certificates orspecial occasion packages. www.dsandsmotel.com. 171 S.W. Highway 101. 800-527-3925.
Weiss' Paradise Suites & Vacation Rentals - Seaside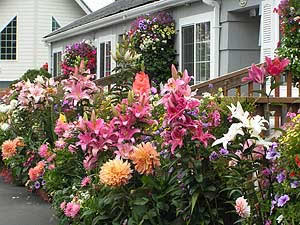 Unique Luxury Accommodations in Seaside. 1BR Suites, 1BR & 2BR Duplex Units and 3BR Houses, units for 2-8 people. Rent entire property for 20-26. Close to beach, river and Broadway St.
Suites are designed for two adults; vacation rental units for families. All units have kitchen and many have fireplace, deck and jetted tub. Comfy robes, slippers, luxury bath amenities, quality linens and more. 741 S. Downing St., Seaside. 800-738-6691. www.SeasideSuites.com

Tradewinds Motel, Rockaway Beach. All rooms are immaculate and have TV's, VCR's and in-room phones w/ data ports. Oceanfronts have queen bed, a double hide-a-bed, kitchen, cozy firelog fireplace and private deck. Both types sleep up to four people. Others are appointed for a two-person romantic getaway, yet still perfect for those on a budget. Elaborate oceanfront Jacuzzi suite has two bedrooms, kitchen, double hide-a-bed, fireplace and private deck, sleeping as many as six. For family reunions or large gatherings such as weddings, some rooms can connect to create two-room and three-room suites. Some rooms pet friendly. 523 N. Pacific St., Rockaway Beach. (503) 355-2112 - 1-800-824-0938. www.tradewinds-motel.com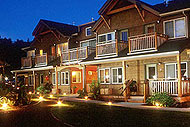 Inn at Cannon Beach. Beautifully wooded natural setting at quiet south end of Cannon Beach. Great during winter storms with a new book by the fireplace – or when the sun is out for family fun and beach strolling. Handsome beach cottage-style architecture. Lush flowering gardens and naturalized courtyard pond. Warm, inviting guest rooms. Continental buffet breakfast. Warm Cookies. Family and Pet Friendly. Welcome gifts. Smoke-free. Complimentary Wireless Connectivity. Wine and book signing events. 800-321-6304 or 503-436-9085. Hemlock At Surfcrest, Cannon Beach, Oregon. www.atcannonbeach.com.
BREATHTAKING CLIFFTOP IN NEWPORT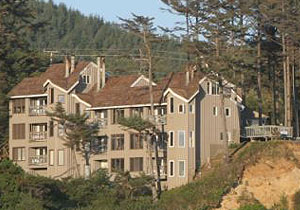 STARFISH POINT Newport - Offers only the finest in luxury condominium lodging. Every unit is focused on the beauty of the sea and the beach.
All units boast two bedrooms, two bathrooms, designer kitchens, wireless broadband Internet, fireplaces, Jacuzzi's and private decks. Friendly staff dedicated to high quality and superb customer service. 140 NW 48th Street, Newport. (541) 265-3751. (800) 870-7795. www.starfishpoint.com
RELATED STORIES
SPECIAL SECTIONS
oregon coast weather
oregon coast mileage chart & map
day trips, suggested itineraries
Oregon Coast Lodging Specials
Search BeachConnection.net's 1,000 pages
Oregon Coast Real Estate
OR TAKE THE VIRTUAL TOUR

ASTORIA
Where the Columbia meets the Pacific, Land of Lewis & Clark and loads of atmosphere & history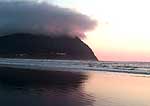 SEASIDE
The Promenade, Tillamook Head, family fun & broad, sandy beaches

CANNON BEACH
A mysterious lighthouse, upscale yet earthy, a huge monolith, fine eateries & an art mecca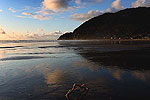 NEHALEM BAY
Manzanita's beaches, Nehalem and Wheeler's quirky beauty; laid back Rockaway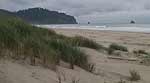 TILLAMOOK BAY
Garibaldi, Barview, Bay City, Tillamook & an oceanfront ghost town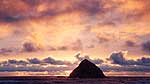 THREE CAPES LOOP
The hidden secret of the coast: Cape Meares, a lighthouse, Oceanside, Netarts and Pacific City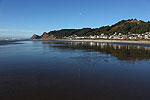 LINCOLN CITY
& THE CORRIDOR OF MYSTERY
Miles & miles of unbroken beaches, Cascade Head, Neskowin and many manmade attractions

DEPOE BAY
A spouting horn downtown, freaky hidden cliffs and whales, whales, whales

NEWPORT
Time-tripping Nye Beach, a bustling bayfront, marine science-central and two lighthouses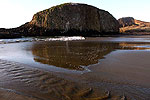 WALDPORT / SEAL ROCK
Pristine, even secretive sands and wild geologic landmarks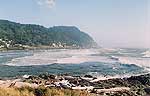 YACHATS
Constantly dramatic wave action, a mix of the rugged & upscale

UPPER LANE COUNTY
25 miles of deserted beaches & oodles of wonders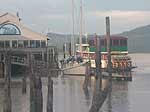 FLORENCE
A lighthouse, ancient bayfront and miles and miles of fluffy dunes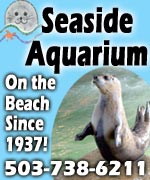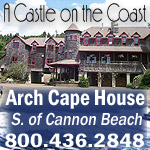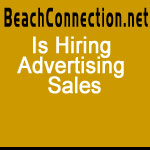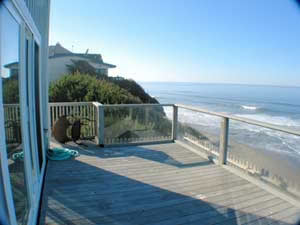 Lincoln City Vacation Homes Something for everyone: smaller homes with a view to a large house that sleeps 15. All are either oceanfront or just a few steps away – all with a low bank access and fantastic views. Most are in the Nelscott area; one is close to the casino. You'll find a variety of goodies: fireplaces, multiple bedrooms, dishwashers, Jacuzzis, washer/dryers, hot tubs, cable TV, VCR, barbecues; there's a loft in one, and another sprawling home has two apartments. Pets allowed in some homes – ask first. Each comes with complete kitchens. Most have seventh night free. Prices range from winter $85 to summer $230 per night. www.getaway2thecoast.com. 541-994-8778.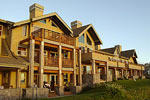 The Ocean Lodge. There will not be another property built like this in Cannon Beach in our lifetimes. Rare, premiere ocean front location; handsome, dramatic architecture and tasteful, fun (nostalgic) beach interiors. Overlooks Haystack Rock. 100 percent smoke free. Imaginative special occasion packages. Massive wood burning lobby fireplace. Library w/ fireplace, stocked with impressive book collection. Pet and family friendly. Lavish continental buffet breakfast. In-room fireplaces, mini-kitchens. Jacuzzi tubs in select rooms. DVD players, complimentary movies. Morning paper. Warm cookies. 888-777-4047. 503-436-2241. 2864 Pacific Street. Cannon Beach, Oregon. www.theoceanlodge.com