Covering 180 miles of Oregon coast travel: Astoria, Seaside, Cannon Beach, Manzanita, Nehalem, Wheeler, Rockaway, Garibaldi, Tillamook, Oceanside, Pacific City, Lincoln City, Depoe Bay, Newport, Wadport, Yachats & Florence.
4/29/07
Brown Breakers Mystify Oregon Coast Tourists; Shops Questioned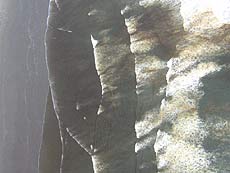 Brown spots on surf at Seaside (Aerial photos BeachConnection.net/Seaside Helicopters)
(Seaside, Oregon) – It's not pollution. It's not algae. It's not an oil spill from a shipwreck, nor is it sewage or sludge of some sort.
The brown waves at Seaside in recent weeks are actually a good thing, especially if you like razor clams. But it's spooking visitors to the area and causing them to ask about it in large numbers every day.
It's actually a form of phytoplankton causing all the raucous - the basic, bottom of the food chain in the ocean on which most all life depends. They're called diatoms, and they are microscopic plant-like creatures that are actually responsible for most all sea foam you see on the beaches. They are about 100 micrometers long – or 1000 times the size of a virus. Still, they're not visible with the naked eye.
DIVE INTO LUXURY, HISTORY AT THE TIDES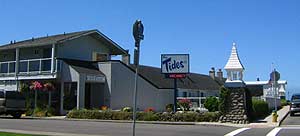 THE TIDES BY THE SEA, Seaside. For over 80 years a favorite of Seaside visitors. 51 oceanfront condos, individually owned and decorated. Suites for couples, small apartments with fireplaces and kitchenettes, one or two bed family units with fireplaces, kitchens and dining rooms. Oceanview cottages sleep anywhere from two to eight, w/ two bedrooms, some with lofts, fireplaces and kitchens. Heated outdoor pool, enormous grounds w/ picnic tables - all at quiet southern end of Seaside. 2316 Beach Drive. 800-548-2846. www.thetidesbythesea.com.
This particular form of phytoplankton is so abundant right now on the north coast that it's causing really dark patches along with very dark, brown chunks of foam in the Seaside area. In recent weeks, this was so along most of the Oregon coast, including the central coast, where big chunks of brown foam floated lazily along the waves, until some of it washed ashore. There it would create dark, oily-looking patches in the sand as well as large tracts of brown foam and goo along the beaches.

Dark spots of foam near the Necanicum River
Along the rest of the coast, it's mostly disappeared in the last two weeks. But in Seaside, it's heavier than ever, causing visitors to barrage local merchants with questions about it.
"It's a good thing," said Keith Chandler, manager of the Seaside Aquarium. "It's a healthy thing. It's just a lot of diatoms."
Early in April, it was more visible and prominent in many spots along the central coast, as there are numerous bays and highpoints which allow viewers to look down and catch sight of the phenomenon. These natural structures create spaces of deep, calmer waters where the waves don't break up the banks of brown stuff. It makes their presence even more pronounced and spectacular.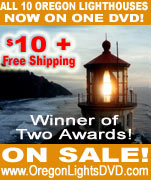 Near Depoe Bay, both Boiler Bay and Whale Cove were excellent vantage points from which to catch the diatom masses lazily drifting along, although the numerous high spots above Newport's beaches made for great viewing as well.
Now, however, it's mostly gone on anywhere south of Tillamook Head, meaning towns like Cannon Beach, Manzanita, Pacific City and Newport can't see much of it.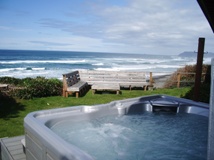 Arch Cape Property Services. Dozens of homes in that dreamy, rugged stretch between Cannon Beach and Manzanita known as Arch Cape. Oceanfront and ocean view , or just a short walk from the sea.
All homes are immaculate and smoke free; some pet friendly (with a fee). Some with broadband, indoor or outdoor hot tubs, fireplaces, decks, and fire pits or barbecues. Call about tempting winter specials that go until March (not valid holidays, however). www.archcaperentals.com 866-436-1607.
The diatoms eat large amounts of nitrates and phosphates, which are extremely heavy in the freshwater runoffs from the Columbia River, Chandler said. "That's why it's so brown here on these beaches. They're living off the nitrates and phosphates coming down from the Columbia. That creates these huge blooms of diatoms. They've got a lot of stuff to feed off. It's like gravy to these diatoms. Or like pudding to them."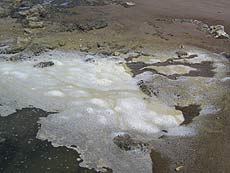 Big foamy pools at Lincoln City, with some brown areas surrounding it
This all spells good times for razor clam fans.
"That's the reason we've got the best razor clamming in the world around here, because they eat diatoms," Chandler said.
It was causing a fury up and down the coast earlier in the month, but now that fury is limited to the brown wave beaches of Seaside, Gearhart and Warrenton - and it's gotten darker and stranger.
Gary Dieboldt, owner of Flashback Malt Shoppe in Seaside, was asked about it so many times he finally called the Seaside Aquarium to doublecheck on it. "I had about a half dozen, maybe ten people ask me just today," Dieboldt said. "They're thinking it's an oil spill or something, or asking if a ship wrecked out there."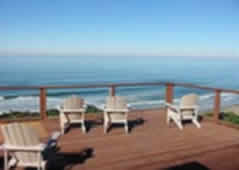 A1 Beach Rentals, Lincoln City. Perfect for large family vacations all the way down to a getaway lodging for two - with over 25 vacation rental homes to choose from. A breathtaking collection of craftsman or traditional beachfront homes, or oceanview houses – from one to seven bedrooms. In various areas of Lincoln City and overlooking the beach, with some in Depoe Bay. All kinds of amenities are available, like hot tubs, decks, BBQ, rock fireplaces, beamed ceilings and more. Some are new, some are historic charmers. Lincoln City, Oregon. 1-(503)-232-5984. www.a1beachrentals.com.
Above the town, Seaside Helicopters owner Gary Turel is playing answer man to the myriad of tourists flying over the area in his unique amusement ride. "They're asking me about it all the time," Turel. "I kept saying I thought it was algae, until I found out what it really was. I want to make sure I get that right."
In his helicopter ride, which takes you a high up in the air, above the world, you can see the marked difference between Cannon Beach and Seaside. The north side of Tillamook Head, which divides the two towns by six miles, has a lot of brown in it. The Cannon Beach side, to the south, has very little.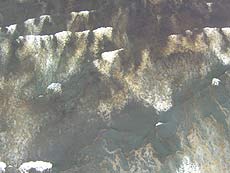 Above Seaside this week
Chandler said that's the influence of the Columbia River, whose large currents and nutrient runs don't have the same effect south of the massive headland.
Down on the central coast, there are now only small patches of brown foam, instead of the large ones seen two weeks ago - and even then, nothing like the sepiatoned look the Seaside area now has.
"It's all pretty clear now," said Guy DiTorrice, a Newport beach expert. "The winds and the currents have washed everything pretty clean, at least from what I saw coming over the bridge today. It's definitely not what it was two weeks ago."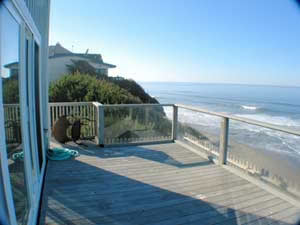 Lincoln City Vacation Homes Something for everyone: smaller homes with a view to a large house that sleeps 15. All are either oceanfront or just a few steps away – all with a low bank access and fantastic views. Most are in the Nelscott area; one is close to the casino. You'll find a variety of goodies: fireplaces, multiple bedrooms, dishwashers, Jacuzzis, washer/dryers, hot tubs, cable TV, VCR, barbecues; there's a loft in one, and another sprawling home has two apartments. Pets allowed in some homes – ask first. Each comes with complete kitchens. Most have seventh night free. Prices range from winter $85 to summer $230 per night. www.getaway2thecoast.com. 541-994-8778.
The beaches of Lincoln City were much foamier than usual this week, however, indicating there is still a large presence on the central coast.
When diatoms get so abundant in the ocean, they may wash ashore during storms or westerly winds. This usually happens early spring, mid summer, and early fall. This is another natural occurrence that can contribute to the giant floating masses of brown foam. The recent storms of April agitated the surf and brought this stuff up from the depths a bit more.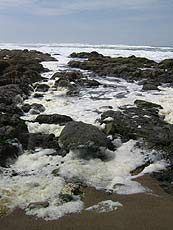 Extreme amounts of foam at Lincoln City
Morris Grover, head of the Whale Watch Center in Depoe Bay, said storms that throttled the beaches and headlands periodically in April have made for a lot of big waves, even during calmer, sunnier days that have punctuated the spring weather lately.
"If you put a lot of water into a blender and put it on high for a while, it'd be all foamy too," Grover said. "But with all this phytoplankton out there, it's like a big protein shake."
BeachConnection.net staff found some massive residue from the creatures on a Lincoln City beach this week however, although very few brown patches were seen on the waves.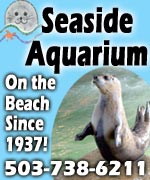 Tiffany Boothe, with the Seaside Aquarium, said the creatures leave behind residue after they scarf down the nitrates and phosphates, which creates more interesting scenery on the coast. "They leave behind carbohydrates, fats, proteins and vitamins," Boothe said. "Their bodies also store oil to live on. If you look closely at the bubbles created by phytoplankton you will notice that they look as if they have oil in them, as in the photographs here."
Weiss' Paradise Suites & Vacation Rentals - Seaside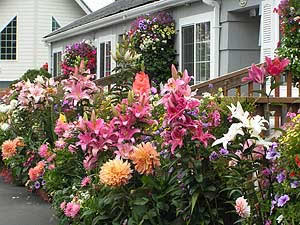 Unique Luxury Accommodations in Seaside. 1BR Suites, 1BR & 2BR Duplex Units and 3BR Houses, units for 2-8 people. Rent entire property for 20-26. Close to beach, river and Broadway St.
Suites are designed for two adults; vacation rental units for families. All units have kitchen and many have fireplace, deck and jetted tub. Comfy robes, slippers, luxury bath amenities, quality linens and more. 741 S. Downing St., Seaside. 800-738-6691. www.SeasideSuites.com
It's often mistaken for oil or pollution, but it's not. Tourists to the Oregon coast will undoubtedly vividly remember seeing dark, oily-looking patches on the beaches, often in great abundance. While occasionally this is an environmental problem, such as the oil along Waldport's beaches during the New Carissa shipwreck debacle back in the late 90's, it is rarely what it seems.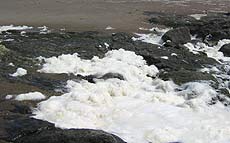 Foam at Lincoln City so thick it starts to float across the beaches
The brown diatom patches leave these dark stains on the beaches because of the materials in their bodies. "It's not really so much of a stain as it is a lot of the stuff accumulates on the beaches," Chandler said. "The stuff, like the brown bubbles, feels a little oily, but that doesn't mean it is oil. It just comes from a lot of it piling on the beaches. The tide will come and clean it out. Just like a ketchup stain – it comes right out."
When diatoms wash ashore, because they're microscopic, they look like crude oil, said Boothe. "If you look very closely at a thin layer of the stuff you will see it is dark green, and not a crude oil at all."
Diatoms and other types of phytoplankton are also largely responsible for the regular sea foam you see on the coastline. Those bubbles that hit the beaches are from the breakdown of the skeletons of phytoplankton. High winds and heavy surf whip air into the water, and when combined with the dissolved organic matter from the phytoplankton, these help create the bubbles.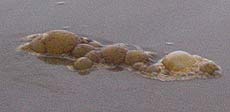 Chunk of the dark stuff that's prevalent on the northern beach of Seaside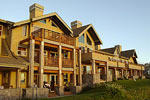 The Ocean Lodge. There will not be another property built like this in Cannon Beach in our lifetimes. Rare, premiere ocean front location; handsome, dramatic architecture and tasteful, fun (nostalgic) beach interiors. Overlooks Haystack Rock. 100 percent smoke free. Imaginative special occasion packages. Massive wood burning lobby fireplace. Library w/ fireplace, stocked with impressive book collection. Pet and family friendly. Lavish continental buffet breakfast. In-room fireplaces, mini-kitchens. Jacuzzi tubs in select rooms. DVD players, complimentary movies. Morning paper. Warm cookies. 888-777-4047. 503-436-2241. 2864 Pacific Street. Cannon Beach, Oregon. www.theoceanlodge.com
Officials at NOAA (National Oceanic and Atmospheric Administration) say that waters have been quite cold this past winter, which bodes well for the spring and summer reproductive cycles of the tiny beasties. Phytoplankton has already begun blooming early this year, and the zooplankton have been reproducing earlier than usual. This makes for lots of the bubble-making stuff already. Add spring storms to that and you have a recipe for lots of large brown, foamy blobs on the ocean.

Everything in the ocean feeds on diatoms and other plankton, either directly or indirectly. Even the great baleen whales filter planktons and diatoms for part of their diet.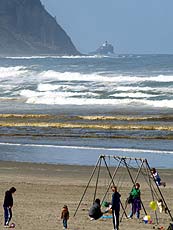 Typical look of Seaside beach these days (photo Seaside Aquarium)
Other wild sights are sometimes on tap because of another form of phytoplankton called dinoflagellates. These little creatures glow in the water at night, and on the beaches for a few hours after washing up on shore. It's nicknamed "glowing sands" because they emit a faint, bluish, green glow when stepped on or disturbed. This is only visible in very dark conditions at night.
This exciting and somewhat rare event happens when large amounts of phytoplankton are present on the beaches, and high tides or stormy conditions wash them up. While this happens much more frequently during the warmer summer and fall months, seasonal occurrences like this one, with large amounts of phytoplankton blooms, may result in a sighting or two of these during the spring.
BeachConnection.net staff spotted some tiny hints of this one night on a Lincoln City beach earlier this week.

D Sands Condominium Motel, Lincoln City. Free, fresh baked cookie upon check-in is just the start. All rooms beachfront and up against Lincoln City's most famous stretch of beach: the D River. Each room comes as a suite or mini-suite, and has a kitchen and balcony or patio. Some w/ gas fireplaces, while all have a DVD Players; movies to rent come with free popcorn. Heated indoor pool, a spa, and this fabulous beach is lit at night. Rooms sleep from two, four to six - including a deluxe fireplace suite. Gift certificates orspecial occasion packages. www.dsandsmotel.com. 171 S.W. Highway 101. 800-527-3925.

Tradewinds Motel, Rockaway Beach. All rooms are immaculate and have TV's, VCR's and in-room phones w/ data ports. Oceanfronts have queen bed, a double hide-a-bed, kitchen, cozy firelog fireplace and private deck. Both types sleep up to four people. Others are appointed for a two-person romantic getaway, yet still perfect for those on a budget. Elaborate oceanfront Jacuzzi suite has two bedrooms, kitchen, double hide-a-bed, fireplace and private deck, sleeping as many as six. For family reunions or large gatherings such as weddings, some rooms can connect to create two-room and three-room suites. Some rooms pet friendly. 523 N. Pacific St., Rockaway Beach. (503) 355-2112 - 1-800-824-0938. www.tradewinds-motel.com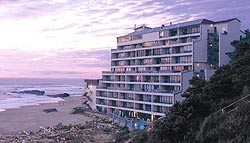 Inn At Spanish Head, Lincoln City. Lincoln City's only resort hotel built right on the beach with all oceanfront rooms - nestled against a rugged cliffside overlooking a soft, sandy beach. Dine in penthouse restaurant and bar, for casual meal or candlelight dinner. An array of seafood specialties, juicy steaks and other Northwest favorites, including decadent Sunday buffet. Rooms range from bedrooms to studios to 1-bedroom suites with microwaves and refrigerators to full kitchens. Also, wi-fi, spa, saunas, exercise room and year-round heated swimming pool. Kids will love the game room and easy beach access. Full-service conference/meeting rooms for that inspirational retreat; extensive wedding possibilities. 4009 SW Highway 101, Lincoln City. 1-800-452-8127 or 541-996-2161. www.spanishhead.com
RELATED STORIES
OREGON COAST VIRTUAL TOURS
Explore Every Beach Spot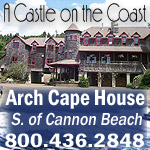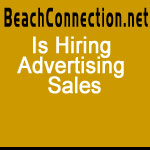 BREATHTAKING CLIFFTOP IN NEWPORT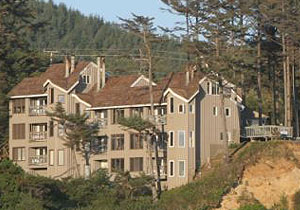 STARFISH POINT Newport - Offers only the finest in luxury condominium lodging. Every unit is focused on the beauty of the sea and the beach.
All units boast two bedrooms, two bathrooms, designer kitchens, wireless broadband Internet, fireplaces, Jacuzzi's and private decks. Friendly staff dedicated to high quality and superb customer service. 140 NW 48th Street, Newport. (541) 265-3751. (800) 870-7795. www.starfishpoint.com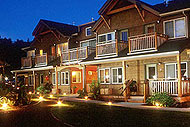 Inn at Cannon Beach. Beautifully wooded natural setting at quiet south end of Cannon Beach. Great during winter storms with a new book by the fireplace – or when the sun is out for family fun and beach strolling. Handsome beach cottage-style architecture. Lush flowering gardens and naturalized courtyard pond. Warm, inviting guest rooms. Continental buffet breakfast. Warm Cookies. Family and Pet Friendly. Welcome gifts. Smoke-free. Complimentary Wireless Connectivity. Wine and book signing events. 800-321-6304 or 503-436-9085. Hemlock At Surfcrest, Cannon Beach, Oregon. www.atcannonbeach.com.