Covering 180 miles of Oregon coast travel: Astoria, Seaside, Cannon Beach, Manzanita, Nehalem, Wheeler, Rockaway, Garibaldi, Tillamook, Oceanside, Pacific City, Lincoln City, Depoe Bay, Newport, Waldport, Yachats & Florence.
05/14/07
Lowest Tides of the Year This Week on Oregon Coast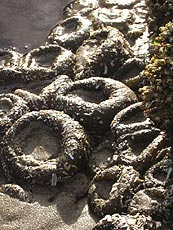 (Oregon Coast) - The lowest tides of the year are coming to the Oregon coast this week – in most places, that is. It depends a bit on where you're looking at and when, with some interesting differences between areas of the coast that are bound to stump tourists.
On May 17 and 18 – Thursday and Friday - you'll find the lowest minus tides between 7 a.m. and 8 a.m. But there's just a sliver of a difference between the north coast and the central coast – just enough for it to be inaccurate to declare that record for the entire coast, and for it to be a bit confusing.
DIVE INTO LUXURY, HISTORY AT THE TIDES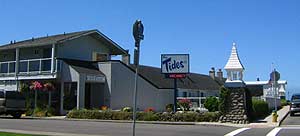 THE TIDES BY THE SEA, Seaside. For over 80 years a favorite of Seaside visitors. 51 oceanfront condos, individually owned and decorated. Suites for couples, small apartments with fireplaces and kitchenettes, one or two bed family units with fireplaces, kitchens and dining rooms. Oceanview cottages sleep anywhere from two to eight, w/ two bedrooms, some with lofts, fireplaces and kitchens. Heated outdoor pool, enormous grounds w/ picnic tables - all at quiet southern end of Seaside. 2316 Beach Drive. 800-548-2846. www.thetidesbythesea.com.
On the central coast, you'll find minus tides around 2.5 feet, which will mean some extraordinary sights. These happen at in and around 7:20 a.m. on both days (see the Hatfield Marine Science Center's prediction here).
But on the north coast, around Seaside, the minus tides of those days aren't quite the lowest of the year, although they're close, and they happen about 20 minutes later or so. There, the big minus tide on May 17 occurs at 7:47 a.m. and will be about minus 1.7 feet. But the actual lowest tide for the north coast is at minus 1.8 feet, happening at 7:3 a.m. on June 15.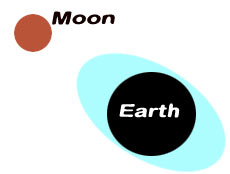 Gravity from the moon creates a bulge (in light green) in the oceans on both sides of the Earth
According to Tiffany Boothe of the Seaside Aquarium, June actually has five extremely low tides in a row in June, with the 13th through the 17th ranging from minus 1.4 feet to minus 1.8.
"Here, the lowest tides of the year are in June, though this can change yearly," she said. "Last year the lowest tides were in July and August. Also, during the new moon this month the tides are about one foot lower than during the full moon."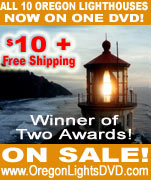 Bill Hanshumaker, public information officer with the Hatfield, said tides are brought about by the moon tugging at the oceans. Gravity makes a bulge in the bodies of water, which creates the high tide. On the opposite side of the Earth there is another high tide, because of the inertia of the ocean water, and because the Earth is being pulled towards the moon but the ocean water lags behind. This creates another "bulge" on the other side.
Consequently, these bulges on both sides of the Earth create low spots at the points in between the bulges. These are the minus tides.
The lowest tides of the year come when a combination of elements come into play.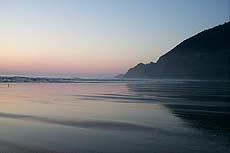 Manzanita's beaches become nearly endless at low tides
"It has to do with the tilt of the Earth and the bulge of gravity on the water from the sun and the moon," Hanshumaker said. "It depends on the geography of the place as well. It depends on where you are, and if that place is closest to the moon because of the tilt."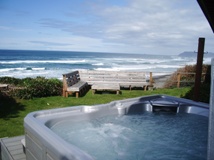 Arch Cape Property Services. Dozens of homes in that dreamy, rugged stretch between Cannon Beach and Manzanita known as Arch Cape. Oceanfront and ocean view , or just a short walk from the sea.
All homes are immaculate and smoke free; some pet friendly (with a fee). Some with broadband, indoor or outdoor hot tubs, fireplaces, decks, and fire pits or barbecues. Call about tempting winter specials that go until March (not valid holidays, however). www.archcaperentals.com 866-436-1607.
Hanshumaker said we live around the 45th parallel, which is halfway between the pole and the equator. That can make a difference in low tides and high tides as well.
There are also other seasonal forces at work on these kinds of tides.
"There are some sideways forces that affect the tides too," Hanshumaker said. "Currents can affect the tides as well." These move in directions that increase or decrease a tide.
Topography of an area can also have something to do with how tides work. The Bay of Fundy, near Nova Scotia, has the widest tidal range in the world, which swings back and forth as much as 50 feet.
Geographic location plays a part in the differences between the north and central coast as well. There was briefly some controversy this spring on the Oregon coast about the different tidal numbers between Seaside and Newport – which are about 140 miles away. Boothe and BeachConnection.net tried to figure out why there were such differences in tides between the NOAA information the aquarium had and the data from the Hatfield.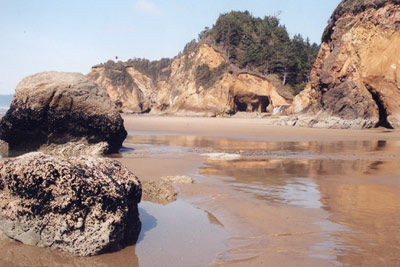 Hug Point, near Cannon Beach, is another outstanding spot to see low tide action
Boothe emailed NOAA about that difference.
"They told me it has to do with where you're taking the measurements, as well as topography of the area, and other aspects," Boothe said. "So we not only have different high and low tide numbers, but they can happen at slightly different times – even only a little over one hundred miles away."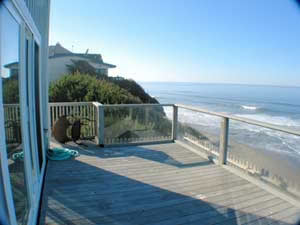 Lincoln City Vacation Homes Something for everyone: smaller homes with a view to a large house that sleeps 15. All are either oceanfront or just a few steps away – all with a low bank access and fantastic views. Most are in the Nelscott area; one is close to the casino. You'll find a variety of goodies: fireplaces, multiple bedrooms, dishwashers, Jacuzzis, washer/dryers, hot tubs, cable TV, VCR, barbecues; there's a loft in one, and another sprawling home has two apartments. Pets allowed in some homes – ask first. Each comes with complete kitchens. Most have seventh night free. Prices range from winter $85 to summer $230 per night. www.getaway2thecoast.com. 541-994-8778.
Scientists behind tide tables like the ones from NOAA and the Hatfield are quick to point out these are actually just predictions and may not be written in stone. Wine, rain, freshwater water run-offs and other geographic factors can influence the tides as well.
What all this means is that this week will see some incredible low tides, as well as some dates in June, July and August.
It also means some spectacular and unusual moments at certain beaches along the Oregon coast. Here's a guide for what to look for in some spots.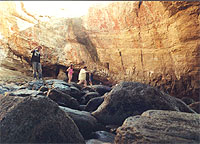 Inside the Devil's Punchbowl
Devil's Punchbowl
Between Newport and Depoe Bay, this monster often puts on a might display, especially in winter storms, where the tide swirls around inside this circular area with frightening ferocity. You'll find it at the tip of Otter Crest, which is just on the south face of Cape Foulweather, as you travel between those two towns.
It was once a solid structure – an outcropping made of malleable sandstone. Then, somewhere in the distant past, a sea cave was eaten out of it. And then, a little more recently (in geologic terms, anyway), the roof of the sea cave fell in, leaving the top open and visible to world, with all its tidal madness.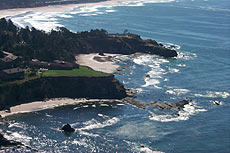 Above the Devil's Punchbowl and Otter Rock
One of the more unforgettable moments on the entire coast can be had when tidal conditions are low enough to allow people to enter this normally rambunctious place. It's possible this week will yield minus tides low enough to allow such passage – but MAKE you look carefully first. These predicted minus tides don't necessarily mean the water level will be low enough to enter. Don't take kids in there, in case something goes wrong. And do not dally long in that place, as the tide is wont to come back in quickly sometimes.
It's not a place to mess with or take for granted, but it is unbelievable at low tides. You walk around the inside and see walls that are usually being torn at by the ocean, as well as intriguing colors you'll just have to see for yourself to believe.
It can be accessed by beach access just to the north of the Otter Rock headland. Follow the signs to "marine gardens."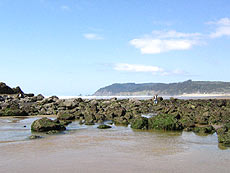 Low tide around Haystack Rock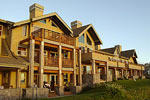 The Ocean Lodge. There will not be another property built like this in Cannon Beach in our lifetimes. Rare, premiere ocean front location; handsome, dramatic architecture and tasteful, fun (nostalgic) beach interiors. Overlooks Haystack Rock. 100 percent smoke free. Imaginative special occasion packages. Massive wood burning lobby fireplace. Library w/ fireplace, stocked with impressive book collection. Pet and family friendly. Lavish continental buffet breakfast. In-room fireplaces, mini-kitchens. Jacuzzi tubs in select rooms. DVD players, complimentary movies. Morning paper. Warm cookies. 888-777-4047. 503-436-2241. 2864 Pacific Street. Cannon Beach, Oregon. www.theoceanlodge.com
Cannon Beach
There are two particularly fascinating aspects to low tide in this charming town on the north Oregon coast.
One of the state's favorite tourist attractions is, of course, Haystack Rock. Here, an unbelievably wide array of tide pools emerge beneath the seastack, which is actually the third highest in the world.
Given low enough tides, you may be able to find hidden sea caves on parts of the rocky monolith that are normally not even visible.
At the northern end of Cannon Beach, Chapman Point beckons, but doesn't let you through to the other side. On that other side sits the clandestine Crescent Beach, only visible from above and at a distance, from Ecola State Park. However, it can be reached by a mile and a half trek through a trail that begins near the start of the road that leads you to the state park.
But at low enough tides, you can get between the two rocky masses from the northern accesses of the town, and into the pristine wonderland of Crescent Beach.

Mysterious beaches of Yaquina Head
Yaquina Head, Newport
These days, one of its more popular features is the intertidal area, carved out of an old rock quarry. These wheelchair-accessible paved paths weave in and out of rocky tide pool areas that were created to see what happens when rocky shelves are left alone to become colonies of marine life.

There's also an interpretive center here, as well as access to the noisy beach via a long staircase. This one's a bear coming back up, but it's worth it. The large cobblestones make quite a rattling noise when attacked by the tide – which tends to hit here with sizable force because the tide line is at a fairly steep incline.
At low tides, these are especially engaging, as you get to see chunks of land you've never been able to gaze at before.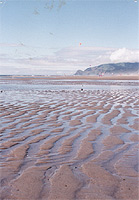 Near Lincoln City's Taft Bay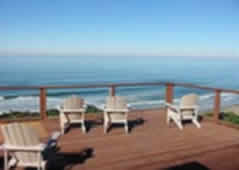 A1 Beach Rentals, Lincoln City. Perfect for large family vacations all the way down to a getaway lodging for two - with over 25 vacation rental homes to choose from. A breathtaking collection of craftsman or traditional beachfront homes, or oceanview houses – from one to seven bedrooms. In various areas of Lincoln City and overlooking the beach, with some in Depoe Bay. All kinds of amenities are available, like hot tubs, decks, BBQ, rock fireplaces, beamed ceilings and more. Some are new, some are historic charmers. Lincoln City, Oregon. 1-(503)-232-5984. www.a1beachrentals.com.
Taft and Siletz Bay
Taft is a charming little place to go wandering – either on the beach or along the business district. A funky-colored surf shop sits nearby, as well as coffee shops, a hamburger stand near the beach that's weathered all sorts of economic weather and managed to remain there seemingly forever, and there's Mo's Chowder on the bayfront.
On the beach at the northern end of Siletz Bay, there is a bend just before you enter the bay and the community of Taft (if you're walking on the beach from the north). At this bend, the low tide can yield some intriguing, odd colored rock formations at the tide line. This depends on the sand levels, however.
Across the bay is a kind of refuge which is often the home of a great number of seals, especially in the winter months. Their barking and carousing is always an occasion for pause and amusement, and aside from the Sea Lion Caves near Florence or the Bayfront in Newport, it's the closest you can get to these boisterous creatures.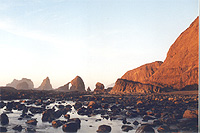 Oceanside
This is by far one of the most engaging wonderlands on the coast during low tides.
The beaches here are often shielded from the wind by the headland called Maxwell Point - about 100 yards north of the parking lot - looming above like a tall, dark, watchful god To the south, it's about three miles of sandy beach leading straight to Netarts Bay, with not much else other than rocks, boulders and driftwood piled up next to the vegetation line. About a mile down, you'll find some minor trails meandering through the brush underneath the Three Capes residential development, and if you're lucky, oddly colored slabs of rock become visible if the tide is low enough.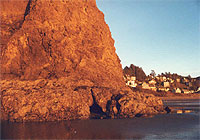 The real fun of Oceanside's beach lies inside Maxwell Point, however. The concrete tunnel here is a gateway to a stunning, secret world. Entrance into the tunnel is somewhat unadvisable during really wet days, because of falling rocks from the cliffs.

Rarely visible sight: tide so low that Maxwell Point is visible and easily walked around. But if conditions are calm, on the other side sits a stunning beach where enormous boulders and weirdly shaped sea stacks give the entire area a feel like something out of the old ``Star Trek'' series. The entire area is cluttered with stuff to play on as well as a sense of the serene and the surreal.
The landscape changes drastically in many ways at low tides. Entire new vistas of rocky marine gardens show themselves. Not to mention, you can walk around Maxwell Point to get to its other side, instead of having to go through the tunnel.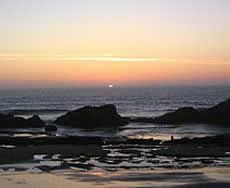 Seal Rock State Park
This dynamic and enchanting beach wayside – between Newport and Waldport - offers a few winding paths and a lot of basalt or sandstone to frolic on and ascend, including a few structures which provide some beautiful views of an often wild surf. Clambering up and down these is some of the most amusement you can have on Oregon's coast.
Part of the rocks here at Seal Rock is a bird sanctuary, so stay away from the signs that designate it as such.
BREATHTAKING CLIFFTOP IN NEWPORT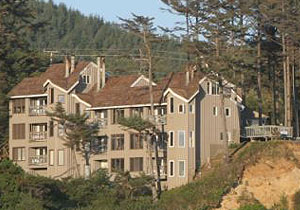 STARFISH POINT Newport - Offers only the finest in luxury condominium lodging. Every unit is focused on the beauty of the sea and the beach.
All units boast two bedrooms, two bathrooms, designer kitchens, wireless broadband Internet, fireplaces, Jacuzzi's and private decks. Friendly staff dedicated to high quality and superb customer service. 140 NW 48th Street, Newport. (541) 265-3751. (800) 870-7795. www.starfishpoint.com
There is one area of sea stack rocks that forms a narrow split, which is climbable and full of fun, especially at extreme low tides. This section of rock channels the tide farther in than other spots on this beach and at the same time allows you to climb around on it, taking you out over the rough tide and offering you a somewhat unusual little viewpoint from which to watch the action.
Look for the large grooves – or simply the patterns of diagonal lines made by rocks slightly separated from other rocks: these are the remnants of once active fault lines.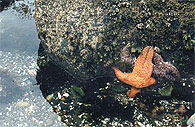 Bob Creek Wayside
More tide pools populate this obscure but fascinating place. They really emerge at lower tides, clinging to odd, mushroom-shaped rocky blobs at the southern end. At this end, there's also a small sea cave and a huge boulder that creates a sort of arch by leaning up against the cliffs here.
At the north end, you'll find plenty of mussels – but you'll have to cross the creek to do so. During the winter that's difficult, if not impossible and certainly unwise. During the summer months it's much easier. When the extreme minus tides roll around, it'll be a piece of cake.

D Sands Condominium Motel, Lincoln City. Free, fresh baked cookie upon check-in is just the start. All rooms beachfront and up against Lincoln City's most famous stretch of beach: the D River. Each room comes as a suite or mini-suite, and has a kitchen and balcony or patio. Some w/ gas fireplaces, while all have a DVD Players; movies to rent come with free popcorn. Heated indoor pool, a spa, and this fabulous beach is lit at night. Rooms sleep from two, four to six - including a deluxe fireplace suite. Gift certificates orspecial occasion packages. www.dsandsmotel.com. 171 S.W. Highway 101. 800-527-3925.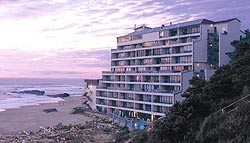 Inn At Spanish Head, Lincoln City. Lincoln City's only resort hotel built right on the beach with all oceanfront rooms - nestled against a rugged cliffside overlooking a soft, sandy beach. Dine in penthouse restaurant and bar, for casual meal or candlelight dinner. An array of seafood specialties, juicy steaks and other Northwest favorites, including decadent Sunday buffet. Rooms range from bedrooms to studios to 1-bedroom suites with microwaves and refrigerators to full kitchens. Also, wi-fi, spa, saunas, exercise room and year-round heated swimming pool. Kids will love the game room and easy beach access. Full-service conference/meeting rooms for that inspirational retreat; extensive wedding possibilities. 4009 SW Highway 101, Lincoln City. 1-800-452-8127 or 541-996-2161. www.spanishhead.com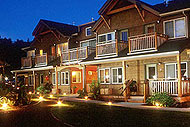 Inn at Cannon Beach. Beautifully wooded natural setting at quiet south end of Cannon Beach. Great during winter storms with a new book by the fireplace – or when the sun is out for family fun and beach strolling. Handsome beach cottage-style architecture. Lush flowering gardens and naturalized courtyard pond. Warm, inviting guest rooms. Continental buffet breakfast. Warm Cookies. Family and Pet Friendly. Welcome gifts. Smoke-free. Complimentary Wireless Connectivity. Wine and book signing events. 800-321-6304 or 503-436-9085. Hemlock At Surfcrest, Cannon Beach, Oregon. www.atcannonbeach.com.
RELATED STORIES
SPECIAL SECTIONS
oregon coast weather
oregon coast mileage chart & map
day trips, suggested itineraries
Oregon Coast Lodging Specials
Search BeachConnection.net's 1,000 pages
Oregon Coast Real Estate
Oregon Coast Pictures
Atypical Things to Do
Oregon Coast Camping
OR TAKE THE VIRTUAL TOUR

ASTORIA
Where the Columbia meets the Pacific, Land of Lewis & Clark and loads of atmosphere & history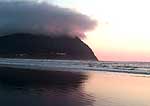 SEASIDE
The Promenade, Tillamook Head, family fun & broad, sandy beaches

CANNON BEACH
A mysterious lighthouse, upscale yet earthy, a huge monolith, fine eateries & an art mecca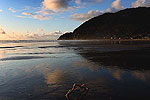 NEHALEM BAY
Manzanita's beaches, Nehalem and Wheeler's quirky beauty; laid back Rockaway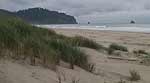 TILLAMOOK BAY
Garibaldi, Barview, Bay City, Tillamook & an oceanfront ghost town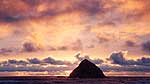 THREE CAPES LOOP
The hidden secret of the coast: Cape Meares, a lighthouse, Oceanside, Netarts and Pacific City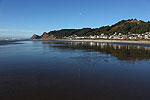 LINCOLN CITY
& THE CORRIDOR OF MYSTERY
Miles & miles of unbroken beaches, Cascade Head, Neskowin and many manmade attractions

DEPOE BAY
A spouting horn downtown, freaky hidden cliffs and whales, whales, whales

NEWPORT
Time-tripping Nye Beach, a bustling bayfront, marine science-central and two lighthouses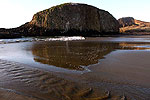 WALDPORT / SEAL ROCK
Pristine, even secretive sands and wild geologic landmarks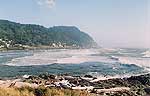 YACHATS
Constantly dramatic wave action, a mix of the rugged & upscale

UPPER LANE COUNTY
25 miles of deserted beaches & oodles of wonders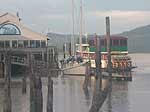 FLORENCE
A lighthouse, ancient bayfront and miles and miles of fluffy dunes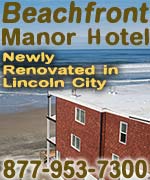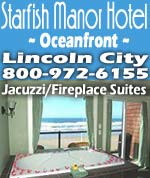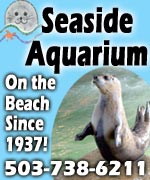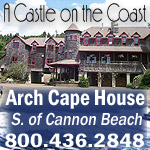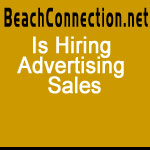 Weiss' Paradise Suites & Vacation Rentals - Seaside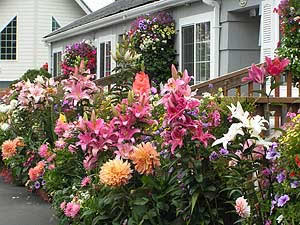 Unique Luxury Accommodations in Seaside. 1BR Suites, 1BR & 2BR Duplex Units and 3BR Houses, units for 2-8 people. Rent entire property for 20-26. Close to beach, river and Broadway St.
Suites are designed for two adults; vacation rental units for families. All units have kitchen and many have fireplace, deck and jetted tub. Comfy robes, slippers, luxury bath amenities, quality linens and more. 741 S. Downing St., Seaside. 800-738-6691. www.SeasideSuites.com
For weekly updated info on lodgings and accomodation reviews, see the Travel News section

Tradewinds Motel, Rockaway Beach. All rooms are immaculate and have TV's, VCR's and in-room phones w/ data ports. Oceanfronts have queen bed, a double hide-a-bed, kitchen, cozy firelog fireplace and private deck. Both types sleep up to four people. Others are appointed for a two-person romantic getaway, yet still perfect for those on a budget. Elaborate oceanfront Jacuzzi suite has two bedrooms, kitchen, double hide-a-bed, fireplace and private deck, sleeping as many as six. For family reunions or large gatherings such as weddings, some rooms can connect to create two-room and three-room suites. Some rooms pet friendly. 523 N. Pacific St., Rockaway Beach. (503) 355-2112 - 1-800-824-0938. www.tradewinds-motel.com