Intriguing Objects Near Smelt Sands Beach, Yachats, 804 Trail

Yachats Virtual Tour, Oregon Coast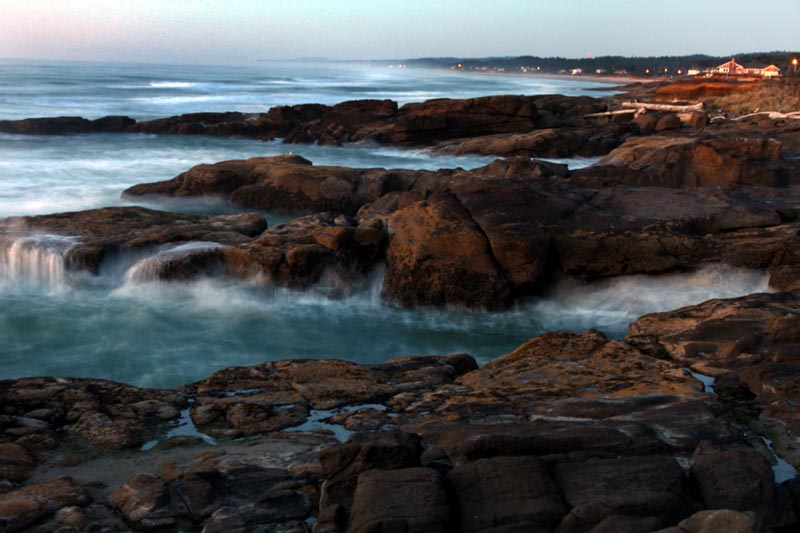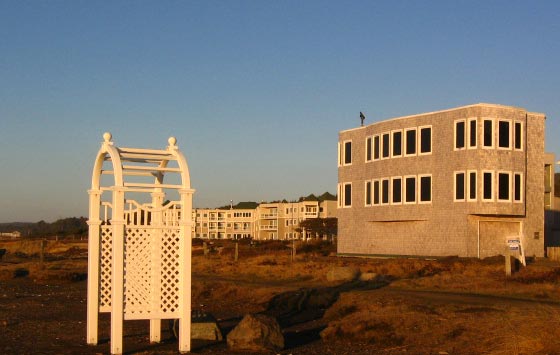 At top: waves turn to surreal mists in a long exposure photo of Yachats' 804 Trail, near the entrance to Smelt Sands.
These days, you can walk this living monument of the 804 Trail and have close access to tide pools, major rock formations, and a few interesting, slightly quirky homes - such as this one pictured here, which looks like a ship.
In the foreground is this other intriguing object: a kind of wedding ceremony gate. It is bolted into the ground and not going anywhere. Strangely, locals won't answer any questions about it. Although it does appear to have been built around the turn of the millennium by a local. So the mystery remains.
This oddly shaped structure resembles either a sea faring vessel or a space faring one - it's up to the viewer's imagination. Either way, it's a beautiful and unusual addition to one of Oregon's more dramatic coastlines, and it features beautiful stained glass windows on one side. It has - at least in the past - been a vacation rental.
Not far from that funky ship-shaped residence, look for one of the more spectacular blowholes on the coast. At the right high tide, this spouting horn can soar maybe 20 or 30 feet into the air.
Below, more scenic intrigue with the telescope in Smelt Sands Beach, this time in an actual misty fog colored purple by sunset. Below that: many micro areas of the trail have rocks with pits or little holes in them. These likely come from rock-boring clams that are adapted to drill into rock and then grow into the holes, expanding them further. It's likely exposure to the sea opened them wider along the millennia.