Taft and Siletz Bay, End of Lincoln City

Lincoln City, Oregon Coast Virtual Tour, Inland 101, Neskowin, Corridor of Mystery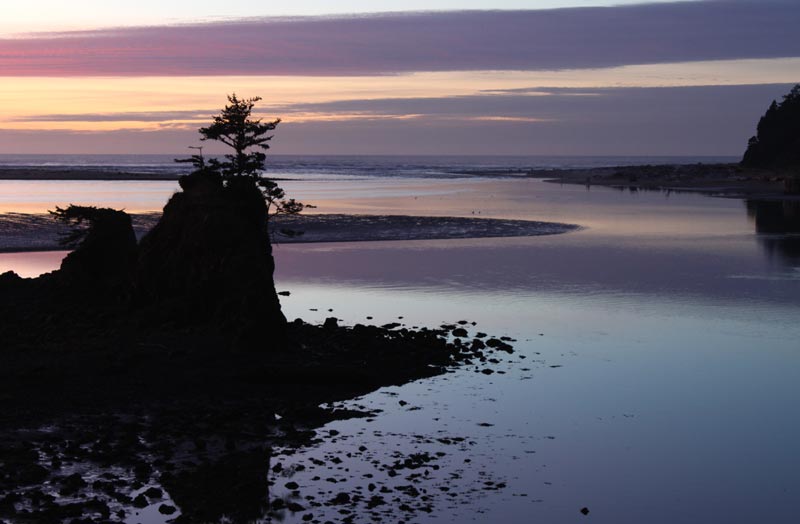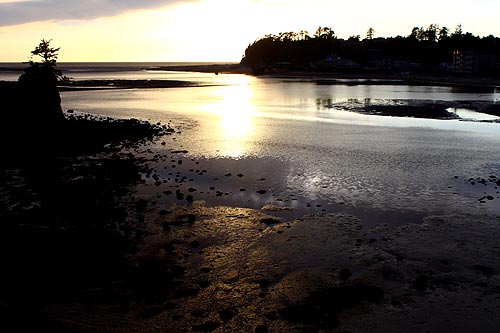 Now you'll encounter these views of the bay, including the Salishan Spit in the distance, from different vantage points along the bay.
On your way out of town, heading south, there are some other hidden tidbits. Josephine Young Park is one seriously unknown park, tucked away behind a neighborhood that's tucked away behind Highway 101.
Just south of the bridge after Siletz Bay Park, there's a street on the west side of the highway called Keys Place. Take that and look for the signs leading to the park. This little wayside overlooks mostly mudflats of the Siletz Bay, but parts of it are traversable. There's some dunes along the shore as well, plus picnic spots for the hungry.
As you look east on the highway heading south, you'll see Siletz Bay National Wildlife Refuge. You can't miss the striking mountains and weird, barren trees near the highway. This is the wildlife refuge: home to many different kinds of seasonal birds.
Fun and Trippy Facts:
1 - This estuary system has some ghost forests - the 300-year-old kind (not like the ones found on beaches as those are older and a different origin). These ghost forests actually do come from the 1700 quake and subsequent tsunami. See the difference Explanations of Neskowin Ghost Forest Wrong, Say Oregon Coast Geologists
2 - Those dead trees you're seeing in this Lincoln City reserve and estuary may well be the formation of future ghost forests in action. They've been drowned and killed by salt water already (see the above article)
Keep clicking to explore Glenden Beach, Lincoln Beach, Depoe Bay and the Otter Rock area - plus all the deliciously cool places in between.
Below: the refuge at night, in an eerie fog