Spouting Horn Firing Off at Cook's Chasm, Geology

Upper Lane County - Florence to Yachats Virtual Tour, Oregon Coast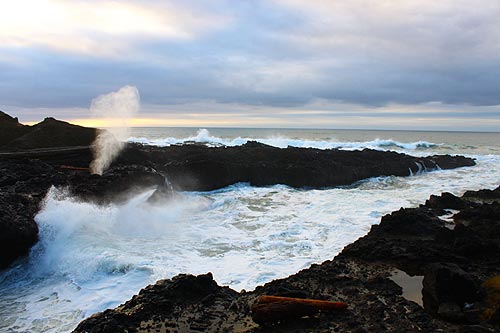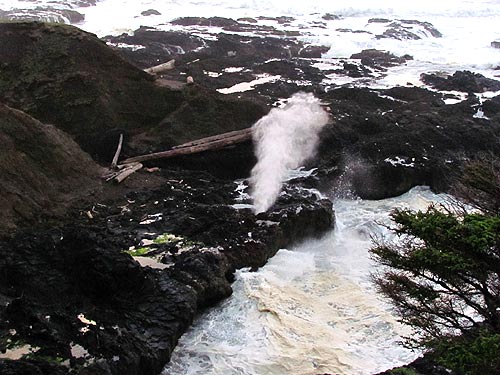 And here is the Chasm itself - in all its chasm-y glory.
This huge fissure in the basalt causes stormy seas to make a grand, spurting impression, shooting sea water high into the air. Meanwhile, visitors can explore the sea goo-covered areas near the waters edge. At the botton you see the Spouting Horn with no real activity. Need a place to stay near here?
Ever seen it lit up by sunset? Below is a unique version of this legendary attraction fired up by the colors of dusk, hitting it at just the right angle.
More About Yachats, Cook's Chasm and local geology:
Geologic Wonders and Frights of Central Oregon Coast, Yachats Area About 50 million years ago there was (and still is) a kind of soft spot in the Earth's crust that allowed all sorts of enormous lava flows to erupt
A Natural Maker of Monsters on Central Oregon Coast A sudden and thunderous gush of sea of water erupts from the black basalt in a white plume - Yachats and Cook's Chasm