The Unknown Blowhole of the Oregon Coast - Yachats

Yachats Virtual Tour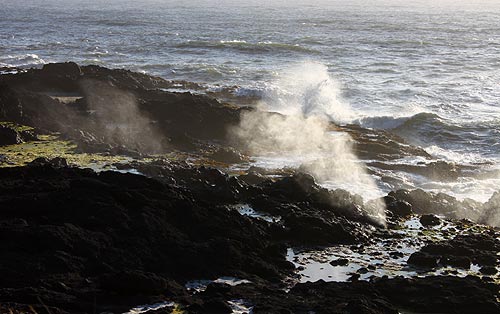 (Yachats, Oregon) – Along Ocean Road, in the tiny town of Yachats, sits an even tinier attraction that periodically gets rather large.
This fairly hidden chunk of town sits on the southern side of the bay, where few dare to venture, certainly compared to the numbers that wander the more well traveled beaches of the 804 Trail and the Yachats Recreation Area. Consequently, this little visitor magnet is quite clandestine.
It's called a blowhole – sort of the little brother to the more well known Spouting Horn in places like Depoe Bay or other parts of Yachats. This one sits close to you and to the ocean waves along the curve of Ocean Road, thus it's able to spray you considerably once it really gets going.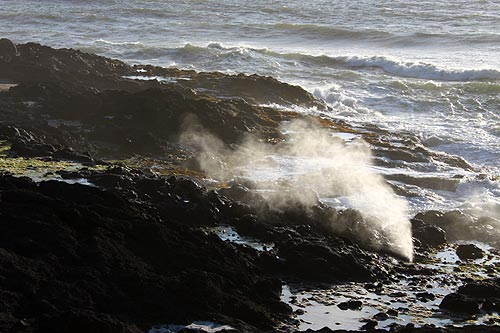 Yet many times it's non-existent, not doing a thing, and thus aiding and abetting its cloistered life. If you can't see it, you don't know it's there.
At other times, it emits just a small woosh of spray. The tides here can make a huge difference. Within a half hour's time frame it can go from shooting impressive showers of water into the air to a tiny mist.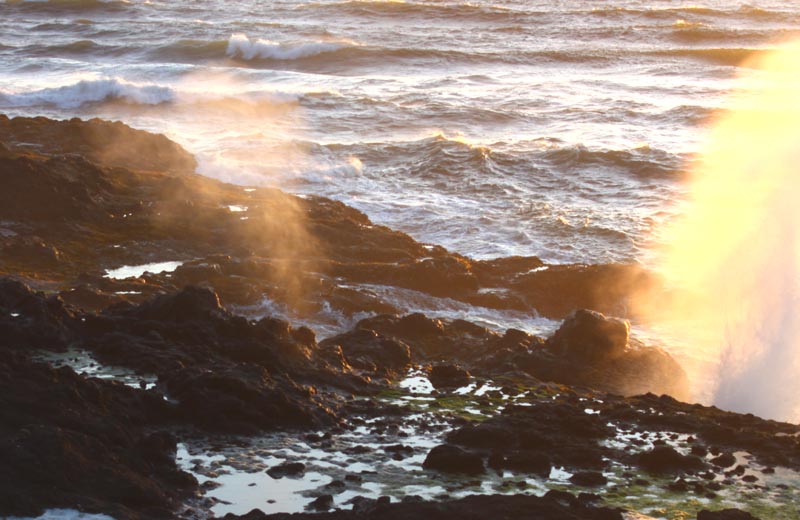 One of its most distinctive features is the hissing noise it makes. When it's in small mode it's a timid sound, akin to when you squeeze your garden hose to make it spray in various directions. And the sound is even briefer. Under wilder conditions, it erupts with a mighty shower and a distinctively loud hiss, often coupled with a deeper boom somewhere underneath as pockets of air get slammed into oblivion. Then there's that fairly immediate, heavy splash sound as large amounts of water that had just been rocketed into the air come back down in a forceful drop, walloping the rock and tidal areas like a high-flying wave crashing on this rocky shore.
There are numerous well known blowholes along the Oregon coast – or Spouting Horns, whatever you want to call it. The ones at Cook's Chasm near Yachats and the large one in downtown Depoe Bay are the most famous: structures you would classify as a spouting horn because of their size.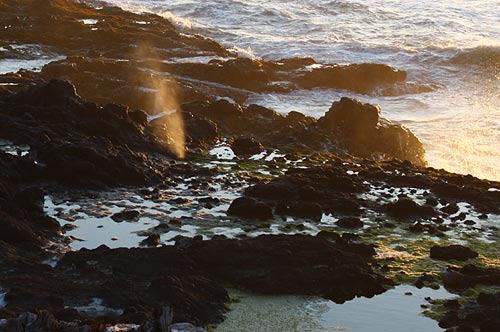 Both are crevices or holes in basalt rock, where sea water comes shooting out with sometimes extraordinary force. The ocean has eroded the ancient basalt, millions and millions of years old, by wearing away underneath a rocky shelf and then also opening a hole of some sort.
Now, epochs later, under the right conditions, the ocean waves get squeezed into that space and all that energy has nowhere to go but through that opening – be it big or small.
In the case of the blowhole at Yachats, it's one of a few in the area, but the least well known. There's a semi-secret one just a short walk from the mighty display of the spouting horn at Cook's Chasm, and another famous one near the Fireside Motel within Yachats city limits.