Central Oregon Coast Secret: Magical, Time-Tripping Stonefield

Upper Lane County - Florence to Yachats Virtual Tour, Oregon Coast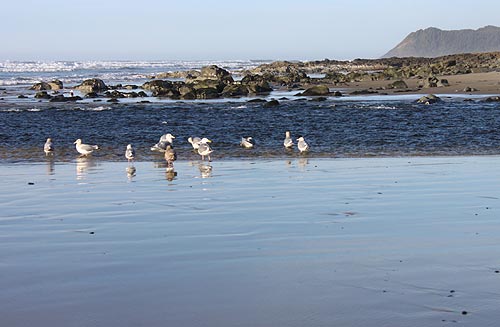 (Florence, Oregon) – Between Florence and Yachats is a sort of really rugged, untamed section of the central Oregon coast where everything seems new and eye-popping, no matter how many times you've hung out there. Probably because the beaches themselves in this 25-miles stretch are rather complex, and sometimes even impossible to get to. It doesn't hurt this perception that things change like crazy around here because of the massive pounding the landscape gets by the sea.
About halfway between those towns, somewhere around milepost 172, you'll find a place where you can walk through time, back more than 45 million years ago, in fact. In a place full of hidden spots and beaches tucked away from roads more traveled, Stonefield Beach is even more secretive than many. Indeed, there's almost nothing marking its existence at all. The main parking lot for this beach has a kind of marker, but nothing real clear.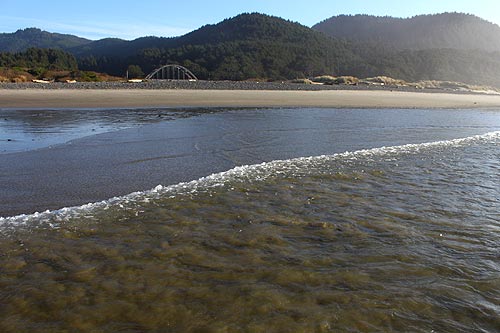 In fact, you could even say that Stonefield has a sort of dual personality. It has two sides – both which straddle Ten Mile Creek.
According to official signage – at least once you get into the tiny parking lot on the south side of the creek – it all says Stonefield Beach. However, if you park on the northern side of the creek, you'll find yourself shutting off your car in what appears to be an open field, and then a trail from here takes you on a confusing route through huge bushes that may or may not be a natural maze.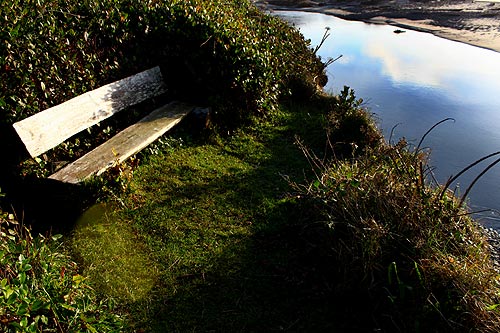 The south side is a tiny parking area butting up against soft, pristine sands – about an eighth of a mile worth of beach, actually. It's bordered by the creek, which is crossable by foot, but rather strenuously so. This parking lot officially closes during the winter because tidal conditions can overrun it, so parking here just happens along the side of the tiny, almost-unmarked road that leads here from 101.
The raging creek is probably why there is that second, unmarked section on the north side. It's not even clear that it is still called Stonefield Beach here (but it is, according to Oregon State Parks). That name is no surprise, either.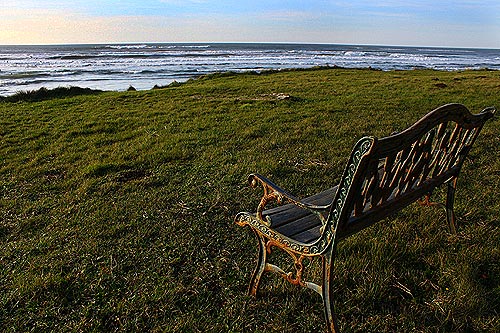 But first: the route to this ethereal and esoteric beach.
The trail leads you into these high bushes, which are kept fairly open by cutting, though it does get claustrophobic. It's not even clear if you've entered legally, since a wacky-shaped BnB and its property immediately neighbor this maze-like structure. But at one point you come out next to a tranquil spot next to the creek, with a bench and the roar of the ocean not far.
Getting down to the beach is a bit odd, done so via a tiny set of rusted, wave-battered metal steps. But once down here, you see Stonefield is aptly named. At least during lower sand levels, you can see a labyrinth and constantly complex landscape of basalt bulges and rocky slabs, where the tide weaves in and out or smacks these rocks with complete disregard for human life. It's at once alien and engagingly beautiful. These rocks are the oh-so ancient remnants of massive volcanoes in the area, lava flows more than 40 million years old. From the signed parking lot at Stonefield and its fluffy sands to here, you've walked from the most recent deposits of the ocean to structures millions and millions of years old.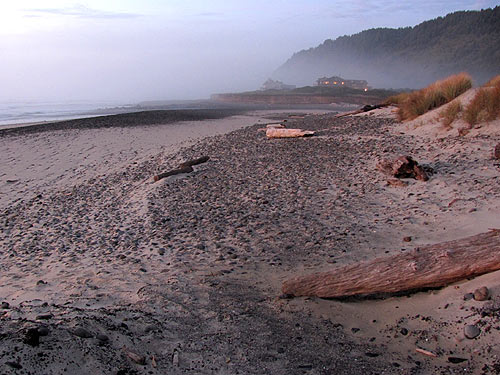 The vegetation line here – actually a cliff several feet high in spots – is like a geologic cutaway as well. It's a cross section through the passage of time. Who knows what heady delights a geologists would find in these sedimentary layers?
In the distance you can see Highway 101 lowering itself from a cliff farther north, on its way down here. This is, in fact, the last real beach access for a few miles, until about the Bob Creek access. Although there's an RV park a mile north of here where an access or two might sit. This keeps all this area quite hidden from the general populace and from beach-destroying crowds.
That keeps Stonefield a magical little secret beach.