A Curious Knoll and Deserted Beach on the Central Oregon Coast: Ocean Beach Picnic Ground and Roosevelt Beach

Upper Lane County - Florence to Yachats Virtual Tour, Oregon Coast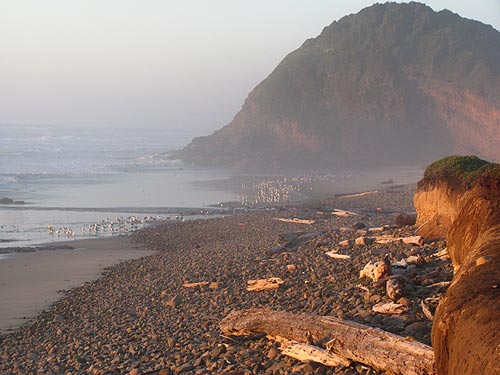 (Florence, Oregon) – There may be one beach that's consistently devoid of people, even on higher density weekends like big holidays. It sits about halfway between Florence and Yachats – an area of intricate beaches filled with labyrinth-like rock structures that interrupt the sand.
This beach doesn't have those, but it actually has two different names: Roosevelt Beach and Ocean Beach Picnic Area. Roosevelt Beach is actually part of the Rock Creek Campground, which is tucked away behind this double-dog secret stretch of sand.
In between the two is a curious little headland – a kind of knoll with two identical indentations on both sides, making a mirror image from the north or the south.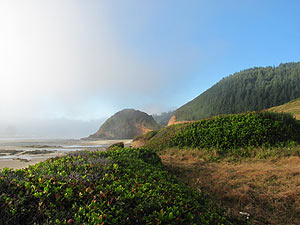 Ocean Beach Picnic Area is a bit less of a secret, partially because of the prominent signage on the highway, but it's still not unusual to find yourself quite alone here. For years, access to the beach from here was cut off because winter storms had torn away the safe descent, but someone had fastened a rope at the old access point so you could half repel down the four-foot embankment to the sand.
Then, in recent years local authorities built a sturdier concrete and metal stairway, where you exit the cliff's edge to a place where a tiny waterfall spills out next to you.
The point at the knoll often features some dynamic wave acrobatics, no matter how calm the weather.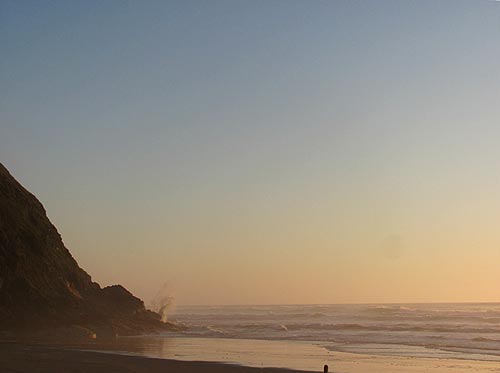 On the other side, there's Roosevelt Beach and the campground. You could enter the beach at the campground, or park on one of a couple unmarked gravel spots and walk down an interesting, rather spectacular yet placid grassy field to the cliff that stands about four or five feet above the beach. Access down to and up from the beach is not easy here, however. In fact, it's downright impossible from most spot along here. But the semi-aerial views are breathtaking, and often the only living creatures on this strand are flocks of birds
The Forest Service operates Rock Creek Campground accessible by turning inland. 16 campsites are nestled in the forest here.