Rock Creek Campground, Roosevelt Beach Views

Upper Lane County - Florence to Yachats Virtual Tour, Oregon Coast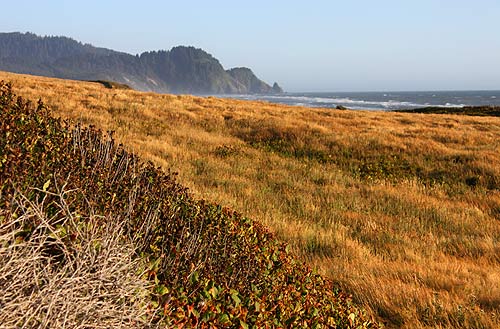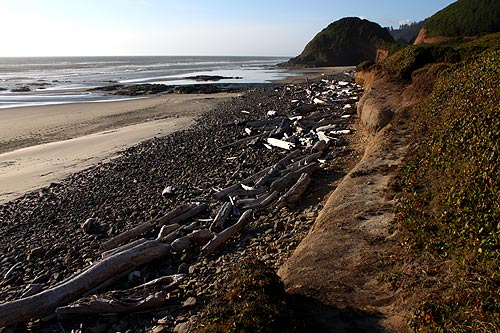 If this bluff looks familiar, that's because it's the same mound of rock and ground that forms the end of Ocean Beach Picnic Area just on the other side: it has an identical indentation on both sides.
The Forest Service operates Rock Creek Campground (also called Roosevelt Beach), accessible by turning inland. Numerous campsites are nestled in the forest here.
But the real discovery is the beach. If you're not camping here, you can find this gem by looking for a couple of unmarked dusty patches on the side of the road immediately south of a small bridge – and just the other side from the headland at Ocean Beach. You'll find a long stretch of bluffs which allow you access to Roosevelt Beach at various points.
You'll find this charming creek spilling into the ocean. The strand wanders on for a while and disappears out of sight beyond the sandstone bluffs, meanwhile dotted with intriguing rock structures and covered half in stones and half in sand.
It's a fascinating and enchanting spot, made more so by the fact it's largely hidden and very unpopulated.