Covering 180 miles of Oregon coast travel: Astoria, Seaside, Cannon Beach, Manzanita, Nehalem, Wheeler, Rockaway, Garibaldi, Tillamook, Oceanside, Pacific City, Lincoln City, Depoe Bay, Newport, Waldport, Yachats & Florence.
10/21/07
Another Crazed Romp Through a Myriad of Oregon Coast Bars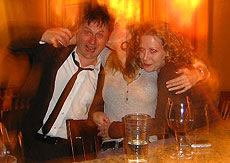 Kooky friends in one bar in Newport
By Andre' Hagestedt
(Oregon Coast) – It's an epic so broad it spans many years and a good 180 miles of coastline, and it had to be told in two parts. Last week was part one, spreading the weird cheer of strange, sauced experiences dating back to 1993, and stretching from Astoria to Florence.
This time, the timeline is primarily since 2000 and the bars are mostly on the central coast. But that's where they're at their freakiest.
And it's here where I bare all about my own part in all this as well. I haven't exactly been a spectator in the bars all the time.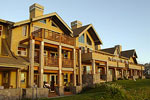 The Ocean Lodge. There will not be another property built like this in Cannon Beach in our lifetimes. Rare, premiere ocean front location; handsome, dramatic architecture and tasteful, fun (nostalgic) beach interiors. Overlooks Haystack Rock. 100 percent smoke free. Imaginative special occasion packages. Massive wood burning lobby fireplace. Library w/ fireplace, stocked with impressive book collection. Pet and family friendly. Lavish continental buffet breakfast. In-room fireplaces, mini-kitchens. Jacuzzi tubs in select rooms. DVD players, complimentary movies. Morning paper. Warm cookies. 888-777-4047. 503-436-2241. 2864 Pacific Street. Cannon Beach, Oregon. www.theoceanlodge.com
The Odd, the Mean and the Freaky
For a while last year I lived in Newport about half the time, which is a town much more ripe with oddities than you'll believe. It's actually a bit much, sometimes.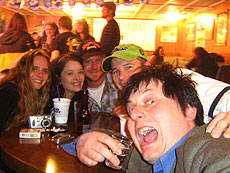 Making friends with actual nice people in a Newport bar
There's the kooky old cat I encountered in Moby Dick's a couple years ago, who was apparently still shell-shocked from the Vietnam War after all these years. He was literally a bit like a cat that takes to you really fast, then after you pet it for a while, it freaks out and turns around and bites you. We started off okay, albeit off kilter. He had a morbid hobby where he memorized the exact number of dead in any given war, even in the 9/11 attacks. Things started to hint at going sour when he got a tiny bit irritated with the fact I didn't know these facts, and even indignant at the idea the general populace didn't share this need to know these stats as well as he.
After a time, he started getting insulting, calling me names for one crazy, meaningless thing or another, like the fact I checked out some girl but wasn't going up to hit on her. I finally got up and left with him swearing at me.
The way I dress – usually in a suit – seemed to freak out the locals. Twice I've been asked at Newport bars: "Were you in a wedding?" Whatever. Another time, some rough 'n' tumble weirdo came up to me at Moby Dick's - after he and two white trash cracker friends were seen snickering at me as I entered – and in a heavy smokers' voice asked me where I got the suit. I didn't really remember, and I told him so. My brother, meanwhile, was making wacky faces at him behind his back, during this particularly high school display of redneckism.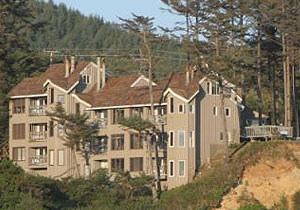 STARFISH POINT Newport - Offers only the finest in luxury condominium lodging. Every unit is focused on the beauty of the sea and the beach.
All units boast two bedrooms, two bathrooms, designer kitchens, wireless broadband Internet, fireplaces, Jacuzzi's and private decks. Friendly staff dedicated to high quality and superb customer service. 140 NW 48th Street, Newport. (541) 265-3751. (800) 870-7795. www.starfishpoint.com
For some reason he took a liking to me and gruffly told me, "you're alright man."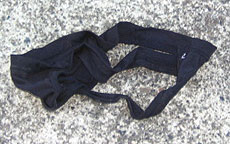 The infamous panties found in the parking lot of a bar in Nehalem
Yay. Approval from the creepy, crusty set.
I once joked with a friend that Newport's idea of formal wear was a Rogue Brewery T-shirt. I love their beer, but I don't wear t-shirts. And I don't get the reverse snobbery held by some of the locals about how wearing something other than serious grubbies is frowned on. It's also caused me to joke that Newport REALLY needs a dress code.
On the other hand, someone at the Wateringhole in Nehalem wound up in a particularly vulnerable state of undress one night in 2006. I arrived there one noon to have lunch, and next to my car was sitting some lady's black thong underwear on the pavement. Apparently, someone had a good time in the parking lot the night before. However, they did so parked right up in front of the bar. That must have been quite a show.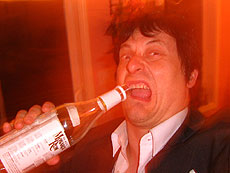 Watch out for this guy at coastal bars
My Scandalous Bar Behaviors
I am no angel, either. I will fully admit this. How many times I've played weird pranks on friends and bartenders I can't count. And then there's the various wacky makeout sessions I've wound up involved in.
Once, I hooked up with a yummy girl from Salem while at Maxwell's in Lincoln City. She told me she had escaped her hometown because her ex-husband was just getting out of prison that weekend – and he'd been thrown in there because he'd beaten her. Um, not my scene, kitten.
There was the wacky Portland stripper I briefly dated, whom I ran into in Girtle's one September, while she was with another guy. She wound up kissing me heartily in front of the bar and him, which turned a lot of heads because they'd seen her earlier macking on the other, uh, gentleman. I only discovered that fact later.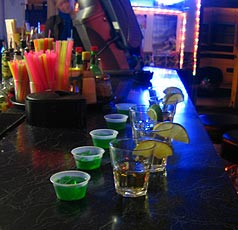 Insanity will soon ensue at the Sand Bar, in Newport
Nice. I wound up part of a coastal Jerry Springer moment.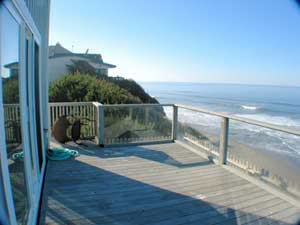 Lincoln City Vacation Homes Something for everyone: smaller homes with a view to a large house that sleeps 15. All are either oceanfront or just a few steps away – all with a low bank access and fantastic views. Most are in the Nelscott area; one is close to the casino. You'll find a variety of goodies: fireplaces, multiple bedrooms, dishwashers, Jacuzzis, washer/dryers, hot tubs, cable TV, VCR, barbecues; there's a loft in one, and another sprawling home has two apartments. Pets allowed in some homes – ask first. Each comes with complete kitchens. Most have seventh night free. Prices range from winter $85 to summer $230 per night. www.getaway2thecoast.com. 541-994-8778.
The woman I dated in Newport last year caused me excessive embarrassment – unbeknownst to me until much later. It turned out that while we were still together she'd fooled around with several people she'd met at Nye Beach's The Sand Bar, where we liked to hang around on weekends. She apparently had serious problems holding her alcohol, which exhibited itself once by her flipping off the bouncer at another bar, as he insisted we leave because it was closing time.
I can at least laugh at it all now.
Then there was the serious beauty I locked lips with once in a bar in Manzanita, who, it turned out, had a boyfriend. I should regret that one, but I don't. She was hot.
Hotter still was her friend, who scolded me for the incident at the time. I wound up with a serious crush on that woman, that I still have today. She was, for a while, a sort of official on the north coast, and very high profile. Last I knew she lived in Portland. I'm still hoping to run into her again.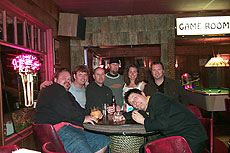 Me and a group of Portland pals invade Snug Harbor
Surrealism of Snug Harbor
Lincoln City cloisters what is probably the strangest of bars in the entire state, with Snug Harbor, at the very southern end of town. The David Lynch-like stories there never seem to cease.
A host of oddball, regular characters have occupied it over the years, like the guy who comes in either in semi-drag or a long overcoat, apparently wearing little underneath.
Once, I saw a disturbingly obese woman continually run around the bar, lifting her shirt and showing off body parts best left unseen. She was also missing a few teeth. I stared slack-jawed much of the time from a distance – because, well, it was so freaky you couldn't take your eyes off this thoroughly unusual display. Unfortunately, she noticed me staring once, and came over to chat with me. That was scary.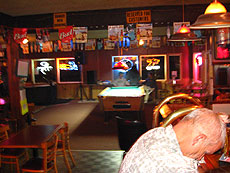 Garibaldi's Ghost Hole Pub: a sight not too uncommon in dive coastal bars is people half passed out
On the fourth of July, circa 2002, I dragged a friend out to bar hop with me a bit. He apparently needed a bit of entertaining, as he'd just been through a divorce, and was still awfully shy about going out.
We wound up at Snug Harbor, which was oddly completely dead on this holiday. Some freak chick, however, periodically flashed us her hideous breasts and ranted on loudly about one complaint or another about the management there. Then, as my friend was faced away from her, talking to me, I watched in silent glee as she prepared a couple spit wads and a straw. She then smacked him in the dome with them.
She was soon booted out of there, but not before we laughed heartily at her wild antics.
Another time, around 2004, I witnessed in awe and major bemusement as a group in there took pennies, inserted them in their buttocks (with their clothes still on, of course), and played this weird game of trying to drop the coins in a small bowl by crouching over it and letting the pennies fall. I've never seen anything like it.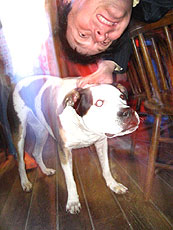 Another delightful, interesting sight more common in coastal bars is people bringing their dogs in to just hang out.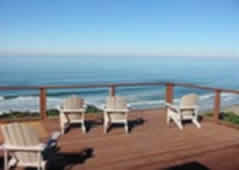 A1 Beach Rentals, Lincoln City. Perfect for large family vacations all the way down to a getaway lodging for two - with over 25 vacation rental homes to choose from. A breathtaking collection of craftsman or traditional beachfront homes, or oceanview houses – from one to seven bedrooms. In various areas of Lincoln City and overlooking the beach, with some in Depoe Bay. All kinds of amenities are available, like hot tubs, decks, BBQ, rock fireplaces, beamed ceilings and more. Some are new, some are historic charmers. Lincoln City, Oregon. 1-(503)-232-5984. www.a1beachrentals.com.
Last year, a man there recognized me from TV, from my segments on the Oregon Coast Show. He then, in turn, tried to convince me he used to be the lead singer of heavy metal band Scorpians.
Now, everyone with any slight knowledge of music knows Scorpians were a German band. I heard no trace of a kraut accent on him.
Finally, most recently, some creepy woman who was missing a load of teeth in the front plopped down next to me and proceeded to giggle incessantly while hitting on me. Worse yet, she had horrible breath, which caused me to stare at the gaping hole in her smile and think of it as a "blow hole of bad breath." She kept insisting I looked like a famous singer, and mumbled many things I never understood.
I couldn't keep from laughing sometimes, but I was eventually creeped out enough to want to leave. That's the only time one of those wacky experiences forced me out of there. In spite of that, I still recommend the place highly enough. It kicks ass while completely bending reality. It's a non-stop hoot.


D Sands Condominium Motel, Lincoln City. Free, fresh baked cookie upon check-in is just the start. All rooms beachfront and up against Lincoln City's most famous stretch of beach: the D River. Each room comes as a suite or mini-suite, and has a kitchen and balcony or patio. Some w/ gas fireplaces, while all have a DVD Players; movies to rent come with free popcorn. Heated indoor pool, a spa, and this fabulous beach is lit at night. Rooms sleep from two, four to six - including a deluxe fireplace suite. Gift certificates orspecial occasion packages. www.dsandsmotel.com. 171 S.W. Highway 101. 800-527-3925.
Weiss' Paradise Suites & Vacation Rentals - Seaside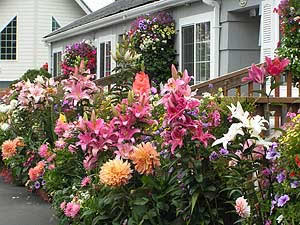 Unique Luxury Accommodations in Seaside. 1BR Suites, 1BR & 2BR Duplex Units and 3BR Houses, units for 2-8 people. Rent entire property for 20-26. Close to beach, river and Broadway St.
Suites are designed for two adults; vacation rental units for families. All units have kitchen and many have fireplace, deck and jetted tub. Comfy robes, slippers, luxury bath amenities, quality linens and more. 741 S. Downing St., Seaside. 800-738-6691. www.SeasideSuites.com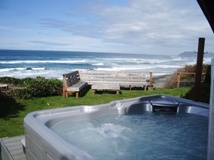 Arch Cape Property Services. Dozens of homes in that dreamy, rugged stretch between Cannon Beach and Manzanita known as Arch Cape. Oceanfront and ocean view , or just a short walk from the sea.
All homes are immaculate and smoke free; some pet friendly (with a fee). Some with broadband, indoor or outdoor hot tubs, fireplaces, decks, and fire pits or barbecues. Call about tempting winter specials that go until March (not valid holidays, however). www.archcaperentals.com 866-436-1607.

Tradewinds Motel, Rockaway Beach. All rooms are immaculate and have TV's, VCR's and in-room phones w/ data ports. Oceanfronts have queen bed, a double hide-a-bed, kitchen, cozy firelog fireplace and private deck. Both types sleep up to four people. Others are appointed for a two-person romantic getaway, yet still perfect for those on a budget. Elaborate oceanfront Jacuzzi suite has two bedrooms, kitchen, double hide-a-bed, fireplace and private deck, sleeping as many as six. For family reunions or large gatherings such as weddings, some rooms can connect to create two-room and three-room suites. Some rooms pet friendly. 523 N. Pacific St., Rockaway Beach. (503) 355-2112 - 1-800-824-0938. www.tradewinds-motel.com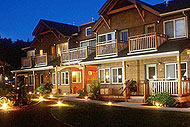 Inn at Cannon Beach. Beautifully wooded natural setting at quiet south end of Cannon Beach. Great during winter storms with a new book by the fireplace – or when the sun is out for family fun and beach strolling. Handsome beach cottage-style architecture. Lush flowering gardens and naturalized courtyard pond. Warm, inviting guest rooms. Continental buffet breakfast. Warm Cookies. Family and Pet Friendly. Welcome gifts. Smoke-free. Complimentary Wireless Connectivity. Wine and book signing events. 800-321-6304 or 503-436-9085. Hemlock At Surfcrest, Cannon Beach, Oregon. www.atcannonbeach.com.
RELATED STORIES
OREGON COAST VIRTUAL TOURS
Explore Every Beach Spot