Photos of Newport Chamber, Visitors Center, Central. Oregon Coast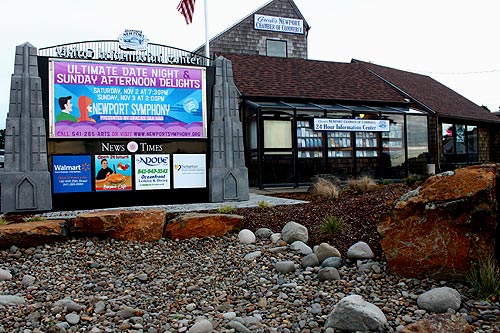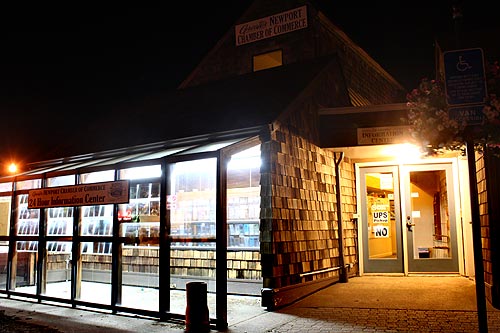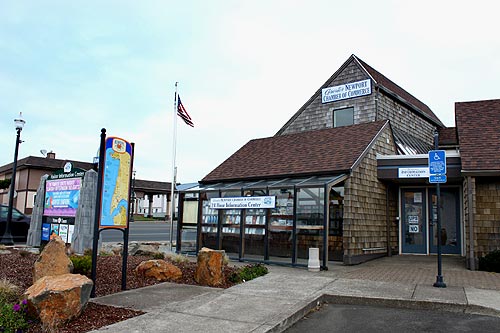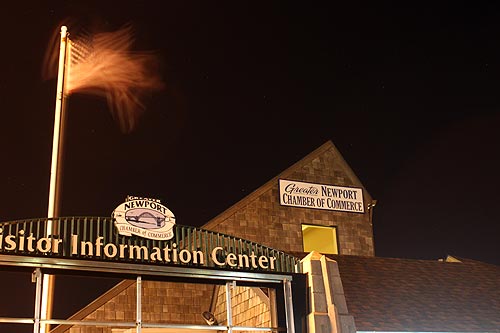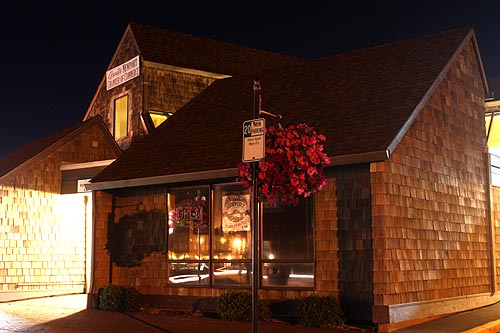 Newport Chamber, Visitors Center, Central. Oregon Coast - visitor news, events, updates from the Chamber.
At the Newport, Oregon Chamber and Visitors Center, you'll find 24-hour visitor information in a covered kiosk/lobby. During businesses hours, peruse a much larger array of brochures about Newport lodging and Newport restaurants, dining. Ask questions about Newport and its many attractions in person, as well as activities about hiking, clamming, ocean tours, whale watching and more.
The chamber also spearheads numerous events throughout the year, such as the massive Newport Seafood and Wine Festival, the Amazing Race and other high-profile happenings.
Look for full Greater Newport Chamber of Commerce info at newportchamber.org. 541-265-8801 or 1-800-COAST44. 555 SW Coast Highway. Newport, Oregon (about halfway through Newport on Highway 101).
News from and about Greater Newport, Oregon Chamber of Commerce, Visitors Center
Dock that floated across Pacific brings hundreds of visitors to Oregon coast
8 Jun 2012 at 12:12pm
On Thursday, biologists with the Oregon Department of Fish & Wildlife worked with ... Where is it and how do I get there,'" said Lorna Davis, executive director of the Newport Chamber of Commerce. ...
Waiting to exhale: Though legal, Oregon?s pot industry still struggles for ac...
3 Nov 2018 at 11:18pm
?Oregon is poised to be America?s breadbasket for cannabis ... the state have begun to admit marijuana-based ventures into their ranks. ?At the Newport Chamber of Commerce, any legitimate business ...
Best Places to Start a Business in Oregon
17 May 2015 at 10:00am
That economic diversity describes Oregon, whose corporate citizens include athletic brand Nike and automotive retailer Lithia Motors. To determine the best places to start a business in the ... The ...
Loretta Macpherson
20 Dec 2014 at 8:01am
Loretta met Gordon when she was a staff worker for the Oregon House of Representatives, and later worked as his secretary in the House. She belonged to many clubs in Newport; she was President of the ...
Highway 20 realignment appears back on track
3 May 2014 at 5:00pm
According to Oregon Department of Transportation data there have been ... Lorna Davis, executive director of the Greater Newport Chamber of Commerce, said the road will have both immediate and ...
Oyster Farms owner: Food is safe after norovirus outbreak
25 Feb 2016 at 11:56am
Background: Norovirus outbreak linked to Oregon oyster company sickens 17 They still don ... executive director of the Greater Newport Chamber of Commerce. ?We're not concerned at all about the safety ...
Oregon businesses gear up for total eclipse of the sun
25 Jan 2017 at 2:31am
In the midst of one of the most severe winters in recent memory, few in Oregon are sunbathing or even thinking ... "There are still a few rooms available here," says Courtney Rand of the Newport ...

More Updates from the Newport, Oregon Chamber via FB

[CaRP] Can't open remote newsfeed [404].
Have you reserved your tickets yet for the Banquet & Balloon Auction? They a...
by Greater Newport Chamber of Commerce
25 Mar 2015 at 12:00pm
Have you reserved your tickets yet for the Banquet & Balloon Auction? They are going fast! Call 541-265-8801 to attend ?Masquerade on Bourbon Street? April 4th at the Best Western. Thank you to our Presenting Sponsor, the News-Times and to our Table Sponsors: Howard Adams-CPA, Salishan Spa & Golf Resort, Western Title & Escrow, Samaritan Pacific Communities Hospital, Columbia Bank, Rogue Ales, Bigfoot Beverages, Walmart, Chinook Winds Casino Resort, Newport News-Times, US Bank, Holiday Inn Express, The Storage Place, Mariner Enterprises, Thompson Sanitary Service, TCB Management/BBSI, City of Newport, Earthbound Beauty Day Spa and Aquarium Village.



The Greater Newport Chamber of Commerce Ambassadors were there for the ribbon...
by Greater Newport Chamber of Commerce
25 Mar 2015 at 10:15am
The Greater Newport Chamber of Commerce Ambassadors were there for the ribbon cutting at the Big 5 Grand Opening!


Ribbon Cutting at the Big 5 Grand Opening


More Newport, Oregon Visitor Information at the Newport, Oregon Virtual Tour, Map
See Newport, Oregon News Updates: Local Newport, Oregon News, Travel News