Approaching Kiwanda, Handicap Accessible Viewpoint

Three Capes Loop Virtual Tour, Oregon Coast: Oceanside, Netarts, Tierra Del Mar, Pacific City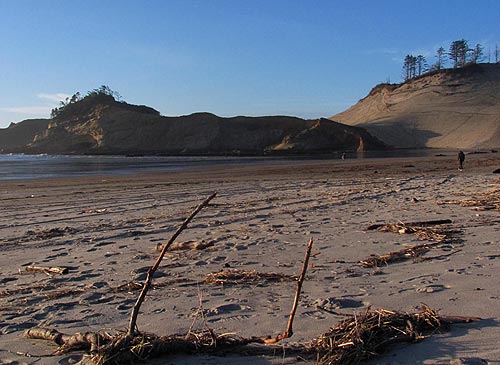 (Pacific City, Oregon) - It's a few miles from one end of the Nestucca Spit to the southern face of Pacific City's Cape Kiwanda. Hit the beach here from the main access in the big business district and you'll find lots of soft, fluffy sand, as sand dunes rise at the vegetation line to tower over the beaches, even as you continue south along the spit.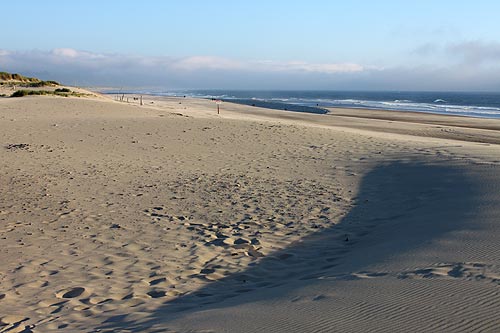 There's an airport here in Pacific City, not far from the beaches.
At the big parking lot, you'll encounter numerous surfers getting prepared to hit the waves or returning from them. Occasionally you'll see one of the Dory boats land onshore, which they do in a most spectacular way by heading straight for the beach at a high speed and literally stranding themselves there.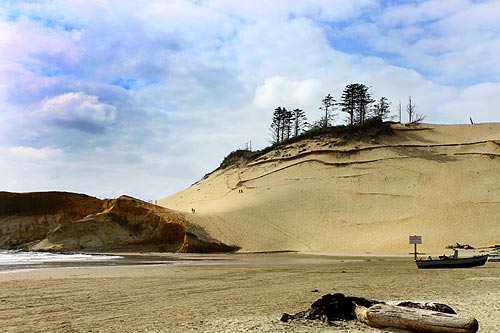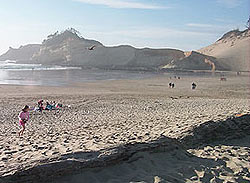 Driving is allowed on the beaches, and folks will use this to pick up their boats, or sometimes just to park their trucks there, set up lawn chairs and do a beachy kind of tailgating thing.
At the edge of the parking lot, there's a handicap accessible viewing platform, which allows not only wheelchairs but those with cameras in hand to check out the scenery without going for a long journey on the beach.
Above you, Cape Kiwanda looms ever closer as you walk towards it, with its towering dune.