Covering 180 miles of Oregon coast travel: Astoria, Seaside, Cannon Beach, Manzanita, Nehalem, Wheeler, Rockaway, Garibaldi, Tillamook, Oceanside, Pacific City, Lincoln City, Depoe Bay, Newport, Waldport, Yachats & Florence.
09/02/08
Extraordinary Discoveries Still to Be Found on Oregon Coast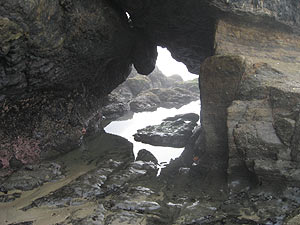 A stunning and strange cove appears at one secret spot in Newport
(Oregon Coast) - It's not all been discovered, although it's getting close. Many of the beaches that were the biggest secrets even five years ago seem to be well discovered these days. Where people shied from for various reasons, they now often flock. Even clandestine Oceanside, just west of Tillamook, is frequently buzzing with more people than before.
Sometimes, you have to not only read between the lines, but look between the beach accesses. The most insane discoveries still await there.
Plus, the more commonly known beaches have their sublime pleasures as well, which can sit tucked away in the craziest of places: hidden in plain sight, so to speak.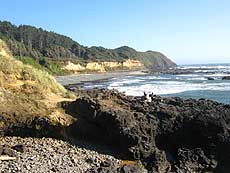 Rugged landscapes, like here at Strawberry Hill, dominate the sparsely populated area between Yachats and Florence.
Pacific City is an exploding mecca for tourists and part time residents in recent years, but its headland still cloisters wacky and wild stuff. While Manzanita and its beach aren't exactly a secret, there are things to look for you may not have noticed in the past. Nearby, just a hair south of the Arch Cape Tunnel, you'll find a beach so unusual it will blow your mind. It's almost impossible to find a secret in Newport, but one truly strange beach spot exists in a place you'd never think to look. And of course, the stretch between Yachats and Florence is essentially 25 miles of hidden beaches, but one definitely stands out.
It's time to hit the beach again, but give it a closer, second look.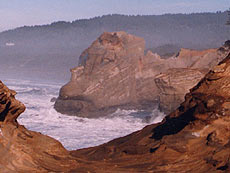 A mysterious ape-like face lurks in the cliffs of one part of Kiwanda, seen only from a particular angle.
Cape Kiwanda
Jutting out from a beach in front of Pacific City, this comparatively small headland is a land loaded with secrets. Its golden, wind chiseled features are craggy and alien in many spots, giving way to one wild discovery after another.
You first walk up a fairly steep incline of about thirty feet of loose sand that makes that climb harder. But at its top lay an abundance of treasures. It starts with the viewpoints on the southern side you've just entered, with the beachfront spreading out forever to the south. Various browns, yellows and shades of gold dot the landscape in increasingly stranger forms up here, including some of the wild delights and otherworldly places that are hidden and take some exploring to find.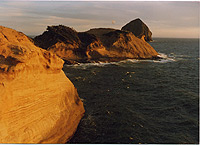 Amazing colors spring to life under the right sunlight conditions at Cape Kiwanda
Just below this main part of the headland there's a small cove with some odd surprises, including a small but long crack that occasionally spurts up ocean water out of nowhere.
Wander further to the north and you'll find a host of viewpoints where you can see the irregular shapes and colors of the features where you've just been. There are other, numerous coves in view here, where enormous waves slam against the grandiose, gold structures with dramatic intensity no matter what the weather.
And then there's always the top of the enormous dune that hovers of the eastern portion of Cape Kiwanda, where kids of all ages enjoy running up to the top and then sliding down on boards, sleds or even tumbling down with their bodies alone.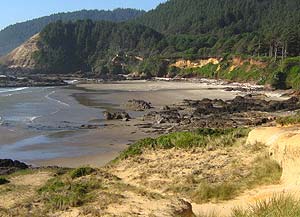 Strawberry Hill is a beach full of just about everything.
Strawberry Hill
This spot just south of Yachats has a variety of stuff for everyone, from tide pools, bubble-like rock structures for climbing to sandy stretches and stunning high viewpoints.
First, you step out on a rather stately bluff with breathtaking views all around you. To the south, there's a long stretch of cobblestone beach with towering cliffs directly behind you. West and north allows you access to a favorite spot of tide pool hunters, with large and small rocky blobs creating a labyrinth in the sand and providing plenty of places for starfish, mussels and other tide line dwellers to live.
It's as much fun for rough-housing and tide pool hunting as it is for a simple, hand-in-hand walk on the beach.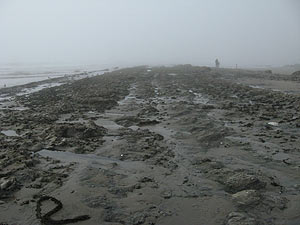 Odd rock structures jut out at weird angles at this hidden beach spot.
By Yaquina Head
This secret beach is full of all sorts of wonders, especially the crazy slabs of basalt set at odd angles, which protrude from the sand and make for a mesmerizing journey. There are plenty of other kooky rock structures which will never cease to fascinate you. Not to mention the lovely views of the Yaquina Head Lighthouse.
Just north of the entrance to the Yaquina Head Outstanding Natural Area, you'll find 58th Street tucked away behind some trees on the west side of the highway (it's accessible by turning onto 56th St.). At the bottom of 58th, you'll find a very secretive beach trail wandering down from this residential neighborhood to a stunning cove area on Yaquina Head's north face.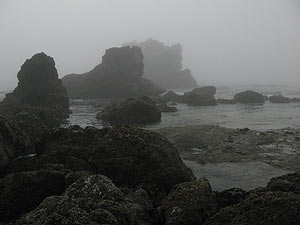 Jagged rock structures provide some strange shapes during a foggy moment
You can't walk very far towards Yaquina Head, but to the north it's at least six miles of clear beach as the path turns from weird rock structures to sand, ending all the way up at the Devil's Punch Bowl.
However, the quarter mile or so of beach left before the headland ends up in the most remarkable, even astounding rocky garden you'll ever find on the coast (although it's only accessible at lower tides). A vast array of strange shapes zig zag and intertwine around each other, littered with jagged basalt boulders of a myriad of shapes.
If you're really lucky, a small arch presents photographers of all ability levels with some unbelievable Kodak moments, including the large number of starfish and other freaky watery beings lying below it.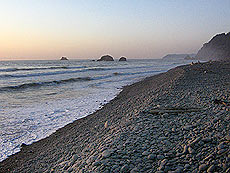 The beach at the end of Falcon Cove Road is sometimes called "Magic Rocks Beach" because of the esoteric noise it makes.
Falcon Cove Road
This secret strand is one of the more unusual spots on the coast. Here, the beach is mostly comprised of large, polished cobblestones. It's a strange place: essentially you're walking on a huge pile of rocks, sometimes carved into odd tiers, making it hard to traverse in places. The water crashes loudly on the steep shore, dissipates quickly, then it makes a weird noise as the waves recede and pull on the rocks.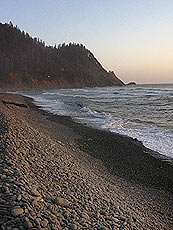 View to the south at Falcon Cove Road
On the south side, it's covered in large boulders and big, often pointy rocks, and you can sometimes make it around another, intriguing and secretive point.
Follow this hidden beach to the north and you'll run into the point bordering the other side of Arch Cape.
You'll find Falcon Cove Road immediately south of the Arch Cape Tunnel and a set of stunning viewpoints. It's a residential district, so you'll want to be respectful here as you park near a somewhat slippery, muddy beach access.
Manzanita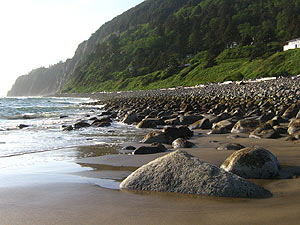 The mystical end of Manzanita's beach
The beaches of Manzanita are perfect for those who like long stretches of clean sand with a host of amenities nearby. Plus, it goes on for over two miles to the south on the Nehalem Bay Spit. And with civilization so close, you can quickly run for cover to a nearby eatery should the weather turn.
This beach is wide and beautiful, with the mysterious Neahkahnie Mountain looming overhead. At its northern end, for the last 200 feet before it ends up against the cliffs, it starts to turn into large cobblestones that are difficult to walk on but a fascinating stretch to wander nonetheless.
The most obvious beach accesses lie north of downtown and at the bottom of the main road, Laneda Rd. But there are numerous hidden ones south of there, between the homes, along the beachside roads. These eventually dead-end at a back entrance to Nehalem Bay State Park.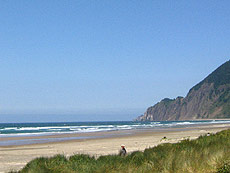 Manzanita
In this tiny town that's full of culinary pleasures, wondrous new objects can pop up on the beach at sufficient minus tides. Depending on the amount of sand lying around that time of year, different rock objects appear on an otherwise smooth, barren beach.
One rock looks a lot like a chair from some angles, with a large crack going down what would be its back. This barnacle-covered oddity has a much more indistinct shape, however, and sadly it's not a shape suited for sitting.
More striking, however, is that clandestine quality of this dead-end. It's easy to find yourself completely alone here, at least most of the time. And if your solitude is intruded upon by a person and/or their dog (as is often the case), they're not here for long.
The delicious stuff of Manzanita is a short walk away, containing several eateries, grocery stores and gift shops within blocks. Public restrooms are about six blocks up from the beach access on Laneda Ave.
RELATED STORIES
Click here for video of Dec. storm aftermath

Oregon Coast Best of Awards for the Year And the winners are: best of Oregon coast restaurants, lodgings, science, odd events in nature and stunning moments for 2007

Watching Transformations of Oregon Coast Beaches Seasons change and so do beaches, revealing different sides and a variety of eye-popping sights

Staggeringly Cool Ideas for Oregon Coast Romance Be it the season of Valentine's or be it any time of the year, Oregon's coastline has essentially cornered the market for cuddle-inducing possibilities and gushy activities for the hand-holding set

Day or Night Mysteries and Merriment on Oregon Coast It's more than just nightlife that comes to life, but the beaches offer major opportunities